America has been backed onto the ropes since Donald Trump was elected president in November of 2016, but we got a good punch in last night when Doug Jones defeated Roy Moore for the U.S. Alabama Senate seat. When the exit polls came in, there was a stark division between the way white people and black people voted, and it became clear that black voters — particularly black women — are responsible for the fact that a pedophile didn't get voted into Congress. We have always owed a lot to the efforts of black women who've regularly been erased from history and stripped of the credit they deserve. Finally, in 2017, which is beyond too late, we are starting to listen.
In an effort to keep listening, this is a list of the best recent work of some of 2017's most exciting artists and creators and movers and shakers, all of whom are black women.
In the presidential election last November, and in the Alabama Senate election last night, black women proved that they are stepping up in a big way for the Democratic party, while white women are only hurting the cause.
CNN exit poll shows black women, as usual, are delivering at a crucial moment. #AlabamaSenateElection https://t.co/XaonVZoJj6

— Charlotte Clymer 🏳️‍🌈 (@Charlotte Clymer 🏳️‍🌈)1513127580.0
It's important to point out that
the narrative of black voters "saving" Alabama is a dangerous one
— they are trying to protect themselves, their rights, and their livelihoods by voting for the only candidates that will work to dismantle the oppressive systems of racism that have been holding them back for hundreds of years. Meanwhile, white women,
especially evangelical ones
, thought electing a pedophile to Congress was better than electing a guy who thinks women should be able to make decisions about their own body and prosecuted Ku Klux Klan members who killed four black girls in a bombing. It's a problem we must address.
In the aftermath of the election, when these voter statistics were released, many began thanking black women for saving Alabama and swaying the election in the right direction. And that's great. But we have to do more, as poignantly pointed out by writer and speaker Austin Channing:
Thank black women by supporting black women. Pay us. Vote with us. Hire us. Read our writing. Fund our projects and… https://t.co/px0ZZr2K57

— Austin Channing Brown (@Austin Channing Brown)1513138829.0
We need to thank black women for the immense amount of work they're doing, yes, but then we must continue to listen and learn from them. Below is a (definitely incomplete) list of fantastic, important, and downright entertaining content made by black women in and around 2017 that everyone should know and follow and consume voraciously. We must amplify these significant voices and be true allies and listen and listen and listen some more.
Insecure, Issa Rae
The HBO series 
Insecure
is the brainchild of Issa Rae, who created, co-writes, and stars in the show. It's based on her runaway success of a web series 
Awkward Black Girl
, and it's hilarious, whip-smart, and super relatable. Rae is pretty much taking over the world, and we're here for it. It was recently announced that she's
developing a new series for HBO
, an L.A.-set drama that takes place in the '90s. She'll be working with another fierce female creator of color, Angela Flournoy, whose 2015 book 
The Turner House
, was a finalist for the National Book Award. Suffice it to say, we're beyond excited.
Sing, Unburied, Sing by Jesmyn Ward
Sing, Unburied, Sing
is a National Book Award winner and the third novel by Jesmyn Ward. Ward previously won the National Book Award for her 2011 novel, 
Salvage the Bones
. 
Sing
centers around a road trip — a black woman and her two children make their way to a prison to pick up their white father. It's part road novel, part ghost story, and all brilliant. One thing's for certain — Jesmyn Ward is a powerhouse.
@AprilDRyan, Twitter account of April D. Ryan
We are going to break it down on @CNNTonight @CNN at midnight eastern! Tune in. ✌🏾

— AprilDRyan (@AprilDRyan)1513140555.0
Journalist and author April D. Ryan has served as a White House correspondent since 1997. She's incredibly smart and insightful and respected in the journalism world. Her commentary is always on point, and she's become famous recently for asking the Trump administration the tough questions they don't want to answer. We need more reporters like April Ryan, though she is truly one-of-a-kind.
2 Dope Queens, Jessica Williams and Phoebe Robinson
2 Dope Queens
is a comedy podcast and live comedy show hosted by dope queens
Jessica Williams
and
Phoebe Robinson
. Williams broke out as a correspondent on 
The Daily Show
, and Robinson is a stand-up comic and author of 
You Can't Touch My Hair: And Other Things I Still Have to Explain. 
We're going to let the description of 
2 Dope Queens
speak for itself: "Phoebe Robinson and Jessica Williams are funny. They're black. They're BFFs. And they host a live comedy show in Brooklyn. Join the 2 Dope Queens, along with their favorite comedians, for stories about sex, romance, race, hair journeys, living in New York, and Billy Joel. Plus a whole bunch of other s**t."
@Ziwe, Twitter account of Ziwe Fumudoh
Comedian and writer Ziwe Fumudoh's Twitter account makes us laugh on a daily basis. Her hilarious writing has been featured on The Onion and Reductress. She's got her finger on the pulse of politics and pop culture, and her commentary is biting, current, and always chuckle-inducing.
Akilah Obviously, Akilah Hughes
Akilah Hughes
is a writer and comedian whose YouTube channel,
Akilah Obviously
, is full of content that beautifully juxtaposes the important issues of today with her upbeat, optimistic, and hilariously relatable point of view. For example, one of her most popular videos is called "
On Intersectionality in Feminism and Pizza
." Yeah, we're on board.
Gabi Fresh, Gabi Gregg
GabiFresh.com is the style blog of designer and fashion blogger Gabi Gregg. This woman is fierce as hell and all about spreading her message of body positivity. She made a splash in the fashion world with her bold call for more fashion-forward clothing choices for women of all sizes and body types, and she also uses her platform to speak up about political issues that are near and dear to her heart.
The Hate U Give by Angie Thomas
The Hate U Give
, released in early 2017. It is Thomas' debut novel and it opened at number one on The New York Times young adult bestseller list. The story's protagonist, Starr Carter, is a 16-year-old black high school student who watches her best friend get shot by a white police officer. The novel is incredibly of-the-time, and it's had an immense impact.
@Kashanacauley, Writing of Kahana Cauley
Kashana Cauley
is a former writer for 
The Daily Show
. Her work has appeared in places like
The New Yorker
, The New York Times, The Atlantic, BuzzFeed, Esquire, Pitchfork, and Rolling Stone. Not to mention,
her Twitter account
is always golden. Her work is sometimes hilarious, always poignant, and utterly readable. She's truly a great voice in the discourse today.
Pariah, Bessie, and Mudbound, films by Dee Rees
Pariah, about a young black lesbian woman learning to embrace her identity, premiered at the Sundance Film Festival. Her 2015 HBO film Bessie, starring Queen Latifah, won four Primetime Emmy Awards, and her newest film, Mudbound, which explores racism in the South during and after World War II, was sold to Netflix for a record $12.5 million. Needless to say, she's a rising star whose bright light isn't about to go out anytime soon.
Hunger by Roxane Gay
Bad Feminist
, became a New York Times bestseller. She describes 
Hunger
, her latest essay collection, as a testimony to "what it's like to live in a world that tried to discipline unruly bodies." The book explores Gay's experiences with her weight, body image, and relationship with food. There's no doubt her raw and honest voice is an important one.
Chewing Gum, Michaela Coel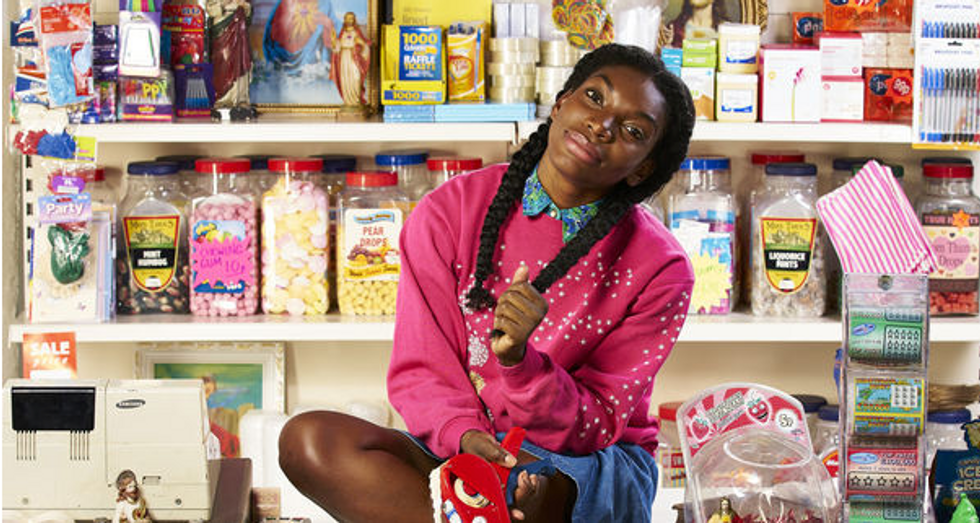 via: Channel 4
Michaela Coel
created and starred in British TV series 
Chewing Gum
. Oh yeah, she also wrote every single episode. The woman is a force to be reckoned with. The show's protagonist is 24-year-old Tracey Gordon, a sheltered, religious virgin who is desperate to have sex and make her way through the real world. Coel is fierce and fearless and she's just getting started. We can't wait to see what's next for her.
Every Body Yoga by Jessamyn Stanley
Instagram account
and you'll immediately feel the confidence and the positivity radiate out of her. You can take yoga classes with her or read her book to jumpstart your yoga journey. She's a ray of sunshine in this cynical world.