There were so many amazing speech moments at last night's 69th Primetime Emmy Awards. Whether you were crying along with Kate McKinnon or laughing at Alec Baldwin's takedown of Trump, it was impossible not to have some kind of reaction to the biggest stars in TV celebrating the best shows out there. But there was one speech that left us all scratching our heads.
Just what did Elisabeth Moss say to get her censored into silence by CBS?
Last night, Elisabeth Moss won the Emmy for Outstanding Lead Actress in a Drama.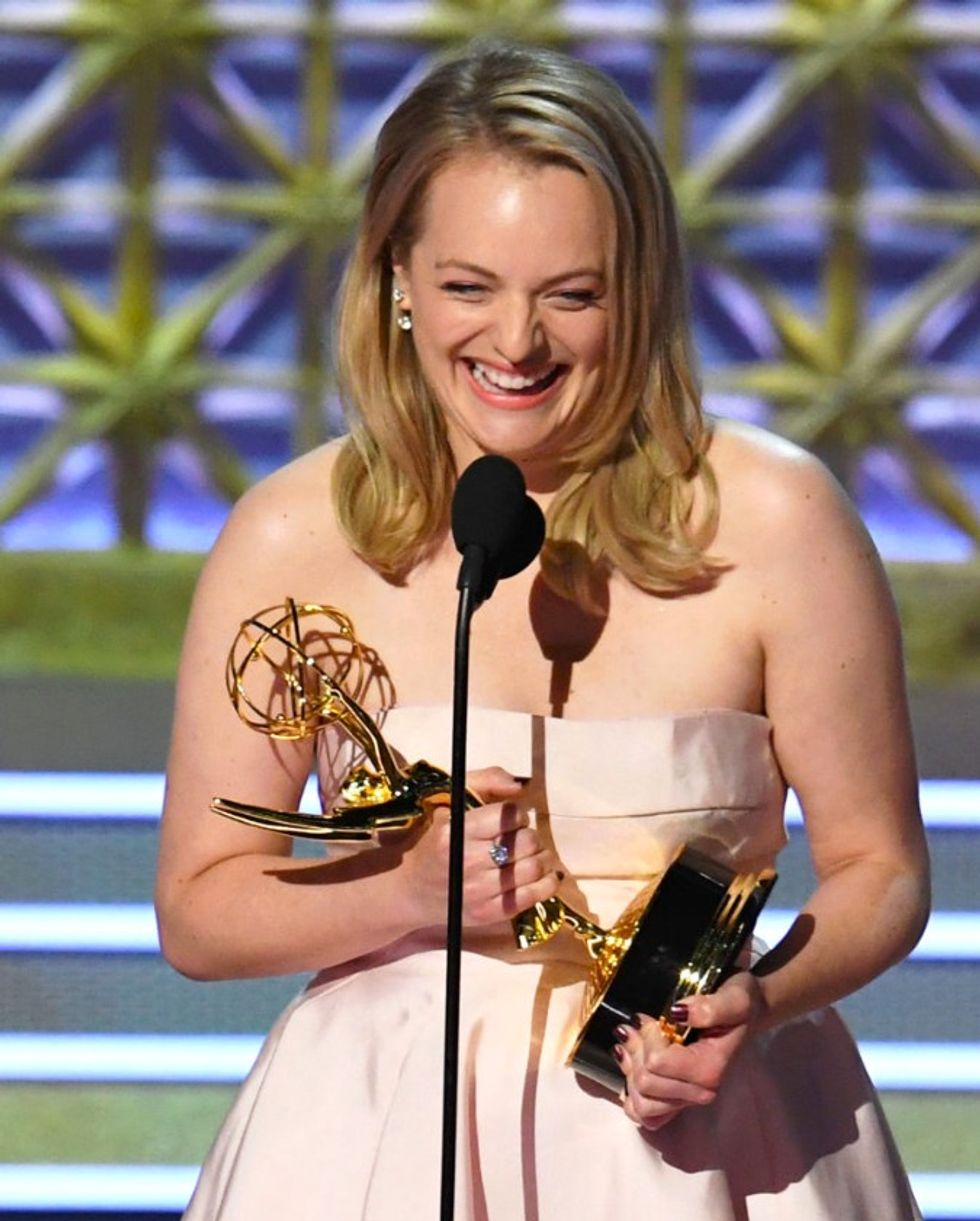 via: Getty
She was up against some incredibly talented women for the ward, including Evan Rachel Wood (for 
Westworld
), Viola Davis (for 
How to Get Away with Murder
), and Robin Wright (for 
House of Cards
). But in the end, it was Moss' captivating performance as Offred in 
The Handmaid's Tale
that got her the Emmy.
As she walked onto the stage to accept the award, Moss appeared to be completely astounded.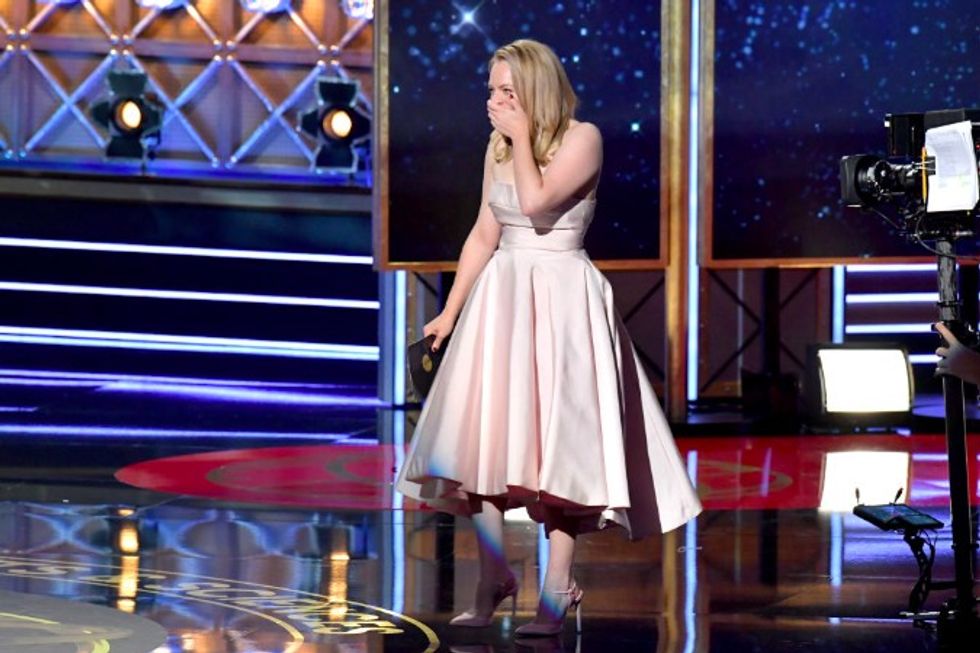 via: Getty
In her acceptance speech, she made sure to thank Hulu, her cast mates, and Margaret Atwood, who wrote the book 
The Handmaid's Tale 
in 1985. But as soon as she started thanking her family members, something rather surprising happened.
Moss' speech totally got censored! Here's a GIF of the bleeped moment. See if you can suss out what the Emmy's found bleep-able.
You can see a video of Moss' entire acceptance speech here.
It's pretty f**king badass, if we may say so ourselves. (We just can't say it on TV!)
Moss wasn't the only celebrity to get this kind of treatment from the Emmy's.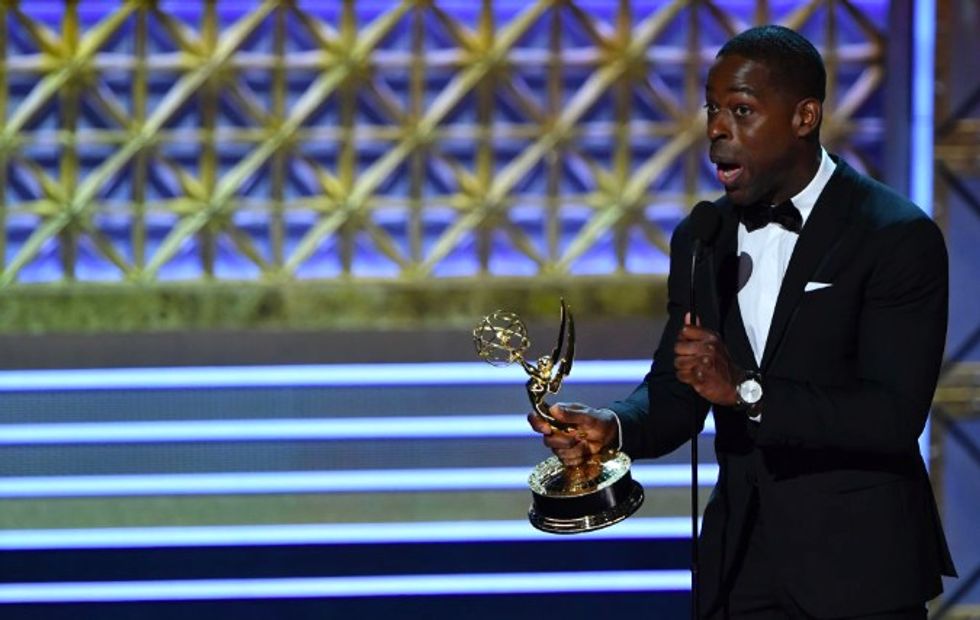 via: Getty
Sterling K. Brown won the Emmy for Outstanding Lead Actor in a Drama for his role as Randall Pearson in NBC's 
This Is Us
. His acceptance speech was going well — people were laughing and crying and having an altogether great time — but then CBS made a super weird move...
They started playing Brown off the stage.
You can watch the video of Brown's acceptance speech here:
But beware — it will probably make you uncomfortable. There has to be a better way to get people off the stage, right? This "blast music until they feel too awkward to keep talking and then literally turn the lights off" strategy is just so cringe-inducing.
Luckily, Brown got the chance to give the rest of his speech backstage. Here's a video:
Someone asked if he'd like to finish his speech, and he said, "You know what? I wouldn't mind finishing. Thank you for the invitation," before launching into the unedited conclusion.
This year's Emmy's featured a number of record-breaking winners.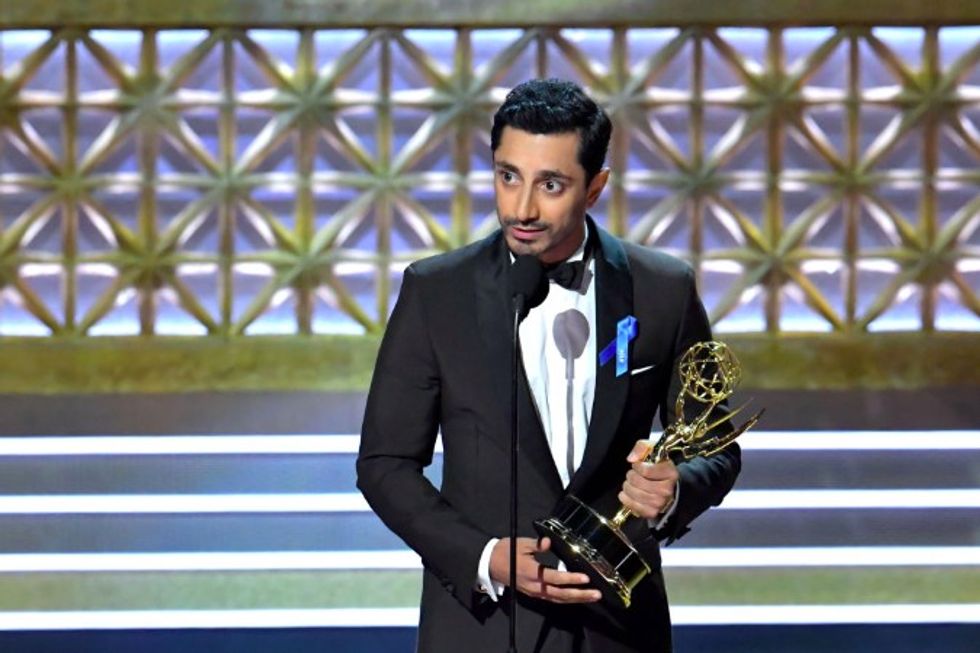 via: Getty
Among them was Riz Ahmed, who won the award for Outstanding Lead Actor in a Limited Series or Movie. He is the first Muslim
and 
the first South Asian man to win an Emmy for acting. In fact, before Ahmed's win, only one actor of Asian descent had won an Emmy — Archia Panjabi for her role as Kalinda Sharma on 
The Good Wife
.
Lena Waithe also made history for her writing Emmy.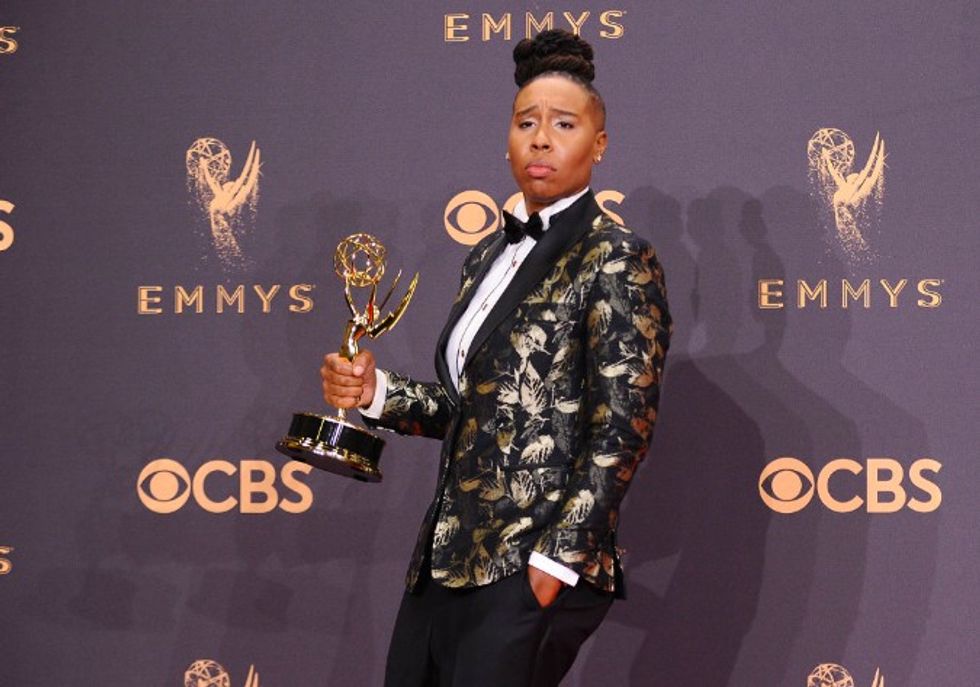 via: Getty
She's the first African-American woman to win an Emmy for Outstanding Writing For A Comedy Series. And as anyone whose seen the "Thanksgiving" episode of 
Master of None
can attest, it was well-deserved. But there's one person who doubled down on historic wins...
Donald Glover made Emmy history — twice.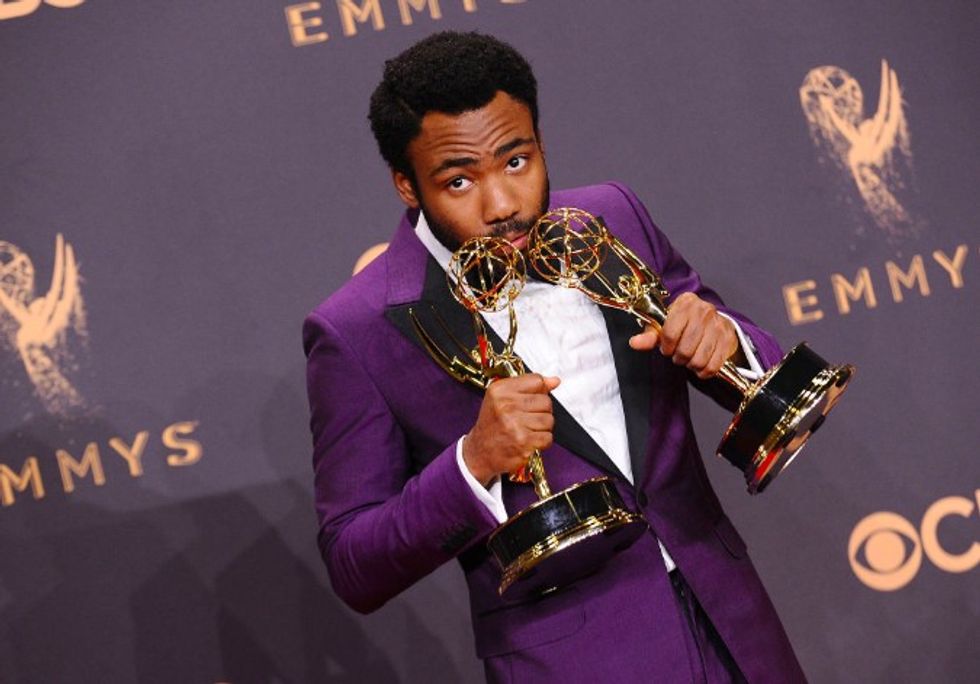 via: Getty
First, he won the Emmy for Outstanding Directing for a Comedy Series, making him the first black man to ever do so. Later in the evening, Glover also took home the Emmy for Outstanding Lead Actor in a Comedy Series. This award hasn't gone to a black man 
since 1985
, when Robert Guillaume won for 
Benson
. Glover was also nominated for both Outstanding Writing for a Comedy and Outstanding Comedy Series. Although he did not win those awards, his nominations made him the first black actor to ever be nominated for each of these categories in the same year.
Julia Louis-Dreyfuss took home her sixth straight win for Veep.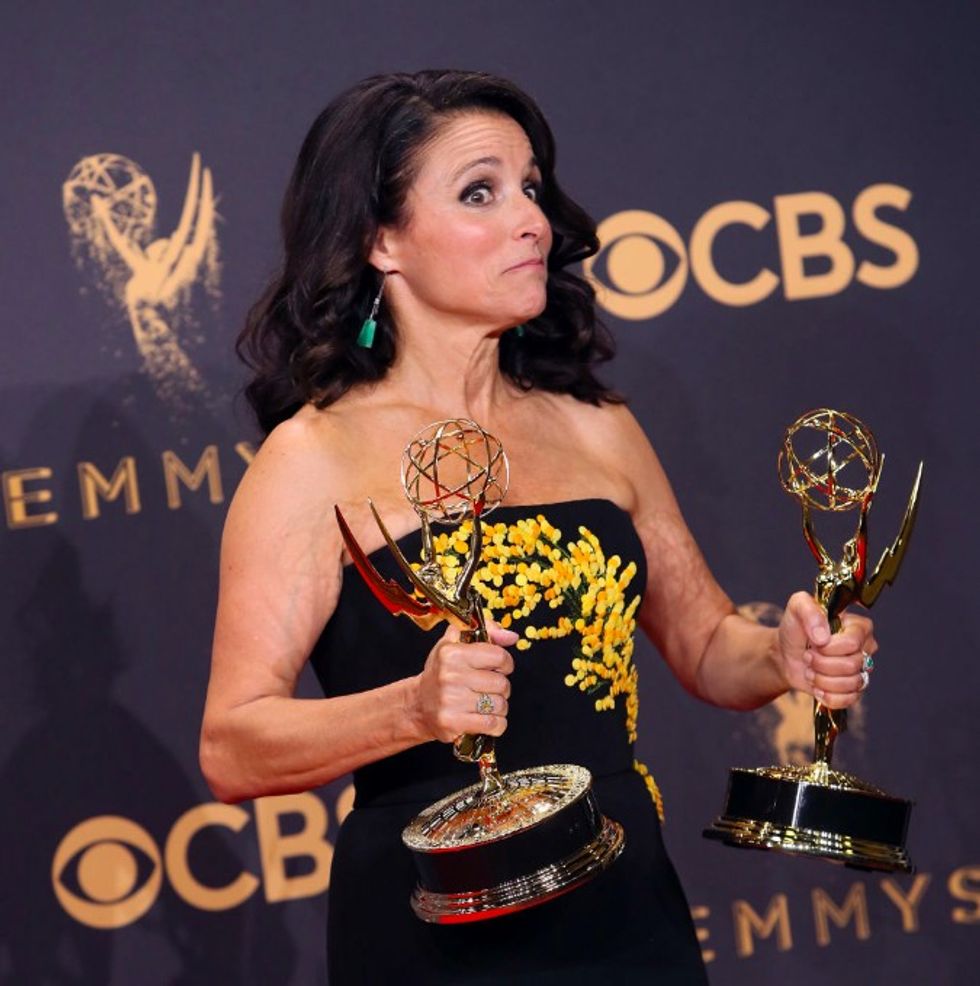 via: Getty
As a result, she now holds the record for most most Emmys won for the same role, 
and
the most consecutive wins. She's also now tied with Cloris Leachman for most acting Emmys — they each have eight. But the records for Louis-Dreyfuss don't stop there! She's also the first woman to win comedy Emmys for three different roles.
Hopefully, we'll see even more record-breaking Emmy wins next year! Especially after hearing this speech from Reese Witherspoon and Nicole Kidman:
After Big Little Lies won the Emmy for Outstanding Limited Series, Witherspoon and Kidman gave an impassioned plea for more awesome roles for women. We can't wait to see how Hollywood responds!