We, collectively, are all caramel enthusiasts. And if you're not, I think that you need to see a doctor.
There's just something extremely addictive about the sickly-sweet substance. Yes, I know that it's not good for your health, but that won't stop me from enjoying a good ol' iced caramel macchiato, with extra caramel.
Recently, Hershey's has had people talking because of one particular announcement. The chocolate company is set to release a new dairy product: Caramel flavored whipped cream. And we couldn't be more excited!
Keep reading to find out more!
When Hershey's released their milk chocolate flavored whipped cream last summer, we thought that it couldn't get any better.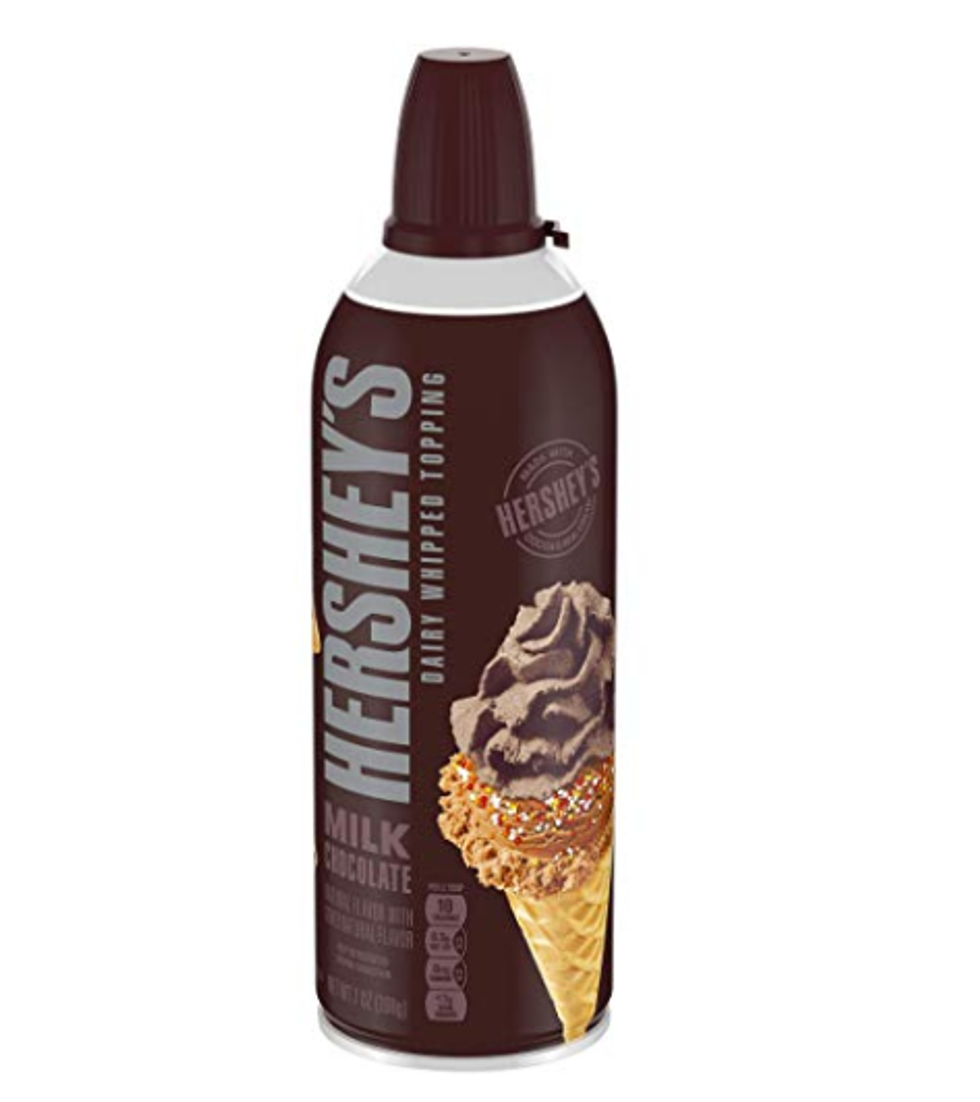 via: Amazon
The product proved to be extremely popular amongst fans with a sweet-tooth.
And now, with the introduction of caramel-flavored whipped cream, we're hyped!
An eagle-eyed shopper in Wisconsin spotted the product at a grocery store and couldn't help but share the new discovery.
And, obviously, news spread like wildfire.
WHOA! Here's a product nobody saw coming: Hershey's Caramel whipped cream!!! Found this beauty at Woodman's.… https://t.co/AfkFSR8v4P

— Candy Hunting (@Candy Hunting)1563134347.0
Candy Hunting (@CandyHunting) posted these pictures to their Instagram and Twitter accounts, which gained some attention. They wrote that they "found these" at Woodman's.
And, naturally, people went crazy!

via: Instagram
There are over one hundred comments like this one on
the post
!
The post has since received over three thousand likes on Instagram!
It seems like people are very excited about this new discovery. I mean, who wouldn't be? It's caramel flavored whipped cream! Everyone's already talking about what they would do with it.
You could put it on your morning coffee...
For a shot of energy on those dull Monday mornings! Or maybe you're one of those that needs double the sweetness on desserts? - this new invention would be perfect for you!
Or, if you're cool enough, you'll have it straight from the can!
Sounds amazing, doesn't it?
There's just one tiny thing...
There hasn't been any news on whether or not the product is going to hit stores nationwide or if this is a limited edition kind of product. It's not been listed on the official Hershey's website alongside the rest of the products... yet.
So we'll just sit and wait, I guess.
However, if it's anything like Hershey's milk-chocolate whipped cream that hit our shelves last year, we might not be waiting too long. After that one was spotted, it was in stores literally a few weeks later.
In the meantime, you could always indulge in other sweet treats...
Because that's exactly what we're going to be doing! Keep reading to see some amazing food products that I bet you didn't know existed! Prepare to have your mind blown!