Award season has descended upon us and with it an amplified discussion of the #MeToo movement and the Time's Up legal defense fund for victims of sexual harassment and assault. Men in Hollywood are facing a reckoning, and award shows this season have become platforms for this important cause and also reminders about how many men still out there may be walking around with skeletons in their closets.
While new accusations may emerge during this award show season and it's important that they do, it's also important that men who have already been accused of harassment or assault are no longer nominated, that abusers are no longer recognized with a statue for a part in a movie.
There is no separating the art from the sexual predator, and organizations like the Academy and the Hollywood Foreign Press need to step up their standards.
A few short weeks ago, James Franco won the Golden Globe for Best Actor in a Comedy for his role in The Disaster Artist.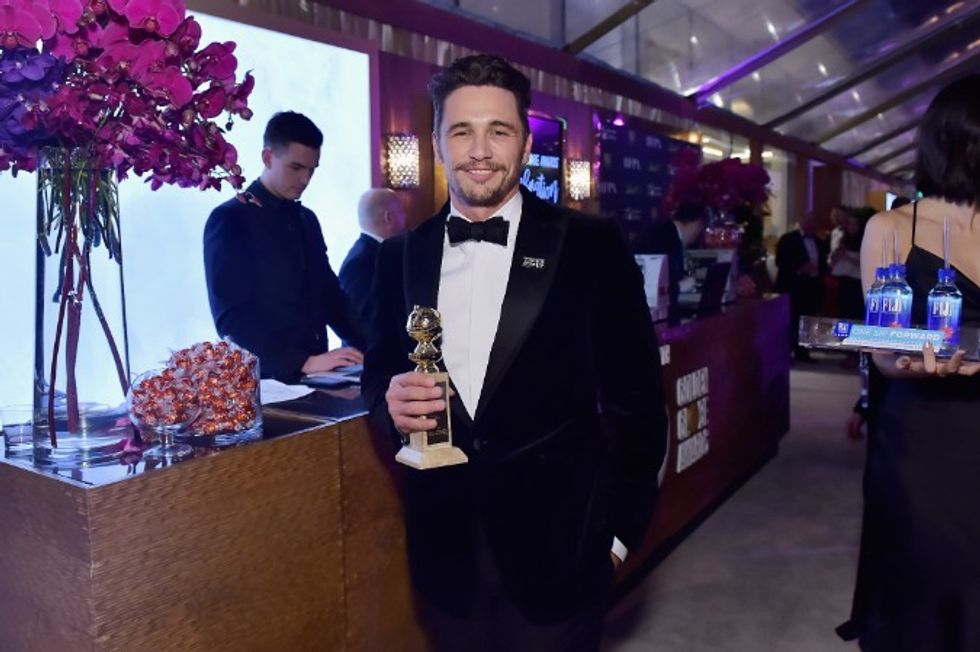 via: Getty Images
He showed up to the event — at which women wore black in solidarity with victims of sexual assault — wearing a Time's Up pin in support of the movement.
On Thursday, Franco again won for The Disaster Artist at the Critics' Choice Awards.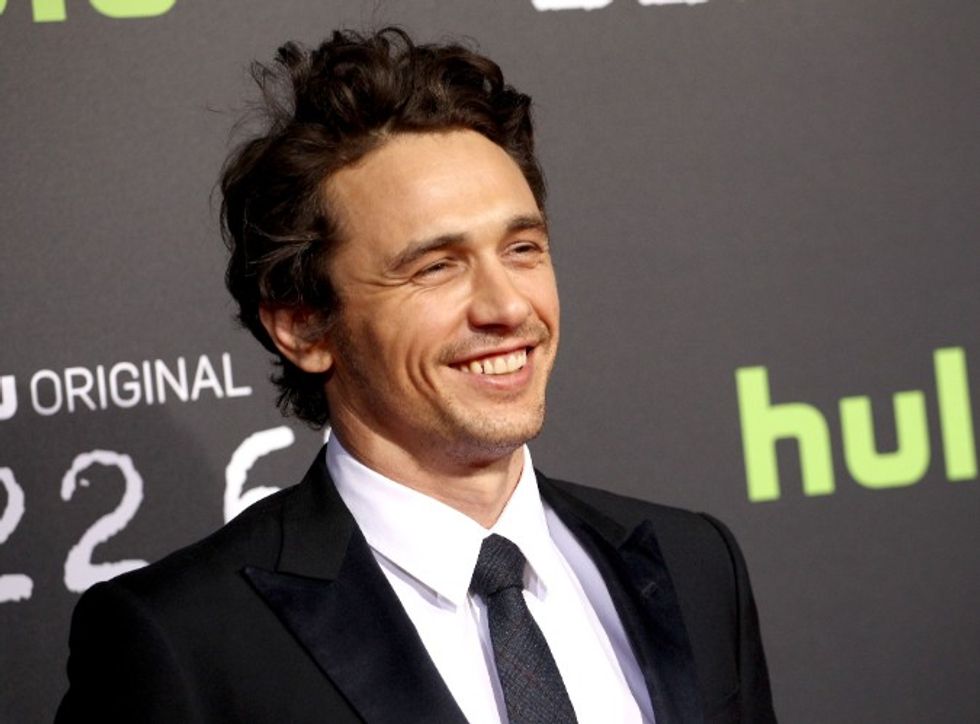 via: Getty Images
In between the two award shows,
five women accused Franco of sexual misconduct and assault
. Franco appeared on more than one late-night television show to
sloppily and incompletely address the allegations
.
James Franco is a sexual predator. But the real problem is that we already knew this. We've known this for years.
Cute #TIMESUP pin James Franco. Remember the time you pushed my head down in a car towards your exposed penis & tha… https://t.co/ZmeRYFua9P

— Violet (@Violet)1515392749.0
He was a known sexual predator long before the Golden Globes
. In 2014, he was caught propositioning a 17-year-old over text and took to television (
LIVE with Kelly and Michael
) to express that he was embarrassed and claimed that "social media is tricky."
But being predatory wasn't enough to exclude him from Hollywood award shows.
Hey James Franco, now that you have a Golden Globe why don't you give speaking roles that don't require nudity in y… https://t.co/EtyDv9OgSW

— Sarah Tither-Kaplan (@Sarah Tither-Kaplan)1515377999.0
He should have never been nominated for a Golden Globe. And after the Golden Globes, after five women formally came out with accusations against him, he should have been taken out of the category at the Critics' Choice Awards.
When he actually won, it just highlighted how inappropriate it was for him to even be considered for the award following the allegations.
What would have happened if James Franco was taken out of consideration for the award? Would the "symmetry" of the show be off? Too bad. If Hollywood is serious about fixing this problem, they must stop allowing known predators to be praised. Of course, this instance with James Franco is far from the first time this has happened...
Last year, Casey Affleck won the Academy Award for his role in Manchester by the Sea.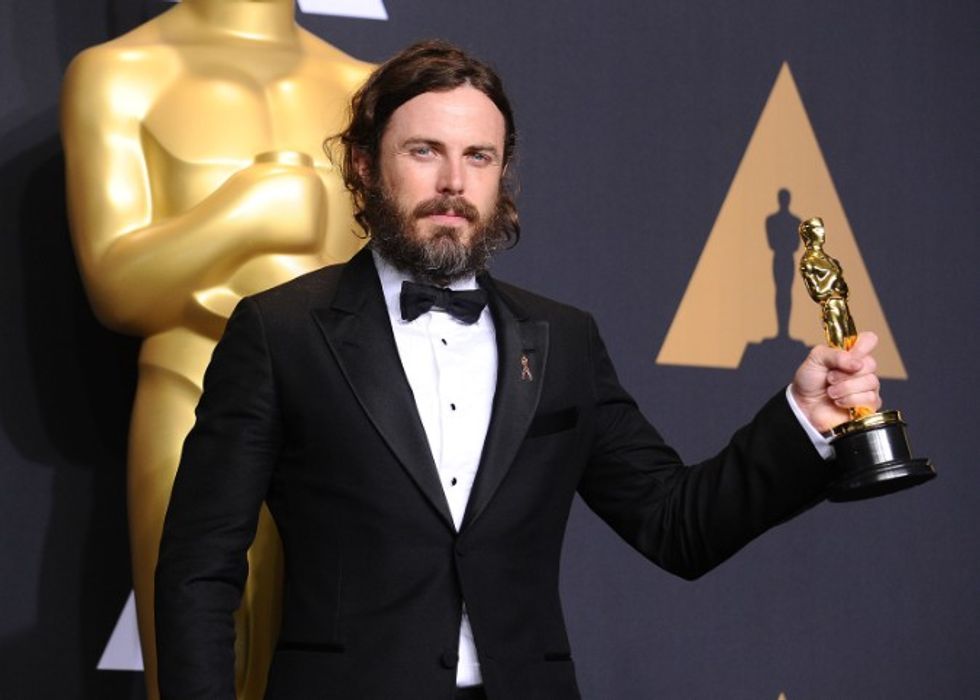 via: Getty Images
But in 2010, he was accused of sexual harassment by Magdelena Gorka, a cinematographer who worked with Affleck on 
I'm Still Here
.

Actress Constance Wu slammed the Academy
for even putting this guy in consideration for an award, tweeting out a statement that said, "He's running for an award that honors a craft whose purpose is examining the dignity of the human experience & young women are deeply human... Art doesn't exist for the sake of awards, but awards DO exist to honor all that art is trying to accomplish in like. So context matters."
I would also submit the idea that yes, the Academy Awards are perhaps the most notable entertainment awards in the world, but they're also just f***ing statues.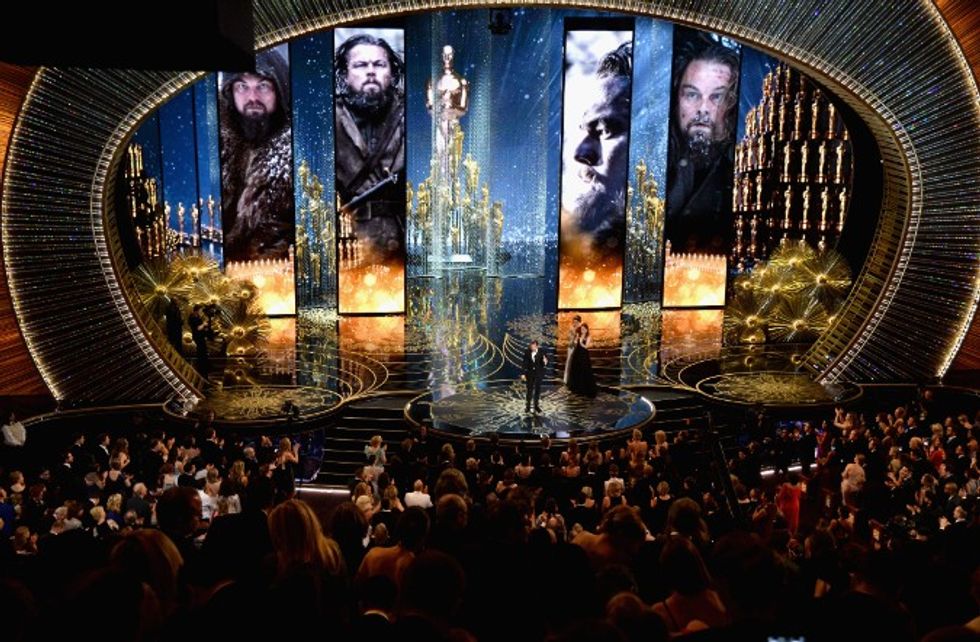 via: Getty Images
An Oscar is not — cannot be — worth more than a woman's life. But the Academy, and other organizations behind award shows, have proven time and again, with James Franco, with Casey Affleck, with Sean Penn, with Woody Allen, with David O. Russell, and I'm sure with many others, that men can still be known abusers and be rewarded for their films.
Of course there are many more steps that need to be taken to ensure that sexual abusers are silenced.
James Franco Is 'in a Really Bad Place' Amid Allegations about Sexually Inappropriate Behavior: Source https://t.co/xbibuuRx5n

— People (@People)1515721843.0
They shouldn't be paid to make movies to begin with. Their power and clout should be stripped from them immediately. Once they're accused they should disappear, like James Franco seems to be doing. They should have to face the consequences of their actions. But it is exceedingly easy for award shows to step up and remove sexual predators from their lineups. Who cares if there are five nominees instead of six? No one. But everyone will be wronged when a man who has preyed on women is honored with his name read aloud at a prestigious award show.
Preservation of tradition should not be worth the pain caused when a predator's name goes up in lights at the Oscars.
Did James Franco just win his last Award this season? #CriticsChoiceAwards

— Steve Pond (@Steve Pond)1515718234.0
A fundamental shift is occurring, and the systems that be must change with the tide. The days of men getting away with sexual misconduct of any kind are over, and the days of them being celebrated despite accusations must end too.