2018 may only be a few days old, but it's already about one million times better than its predecessor 2017. We already have some of the best news of the year. We know what you're thinking. It's so early in the year! How could we possibly know that we've already found the greatest news of the whole year?
Well, here it is:
Chip and Joanna Gaines are having another baby!
Yup. We called it. 2018 is going to be great (please please please).
In case you're not familiar with Chip and Joanna Gaines, they're the hosts of HGTV's home renovation show called Fixer Upper.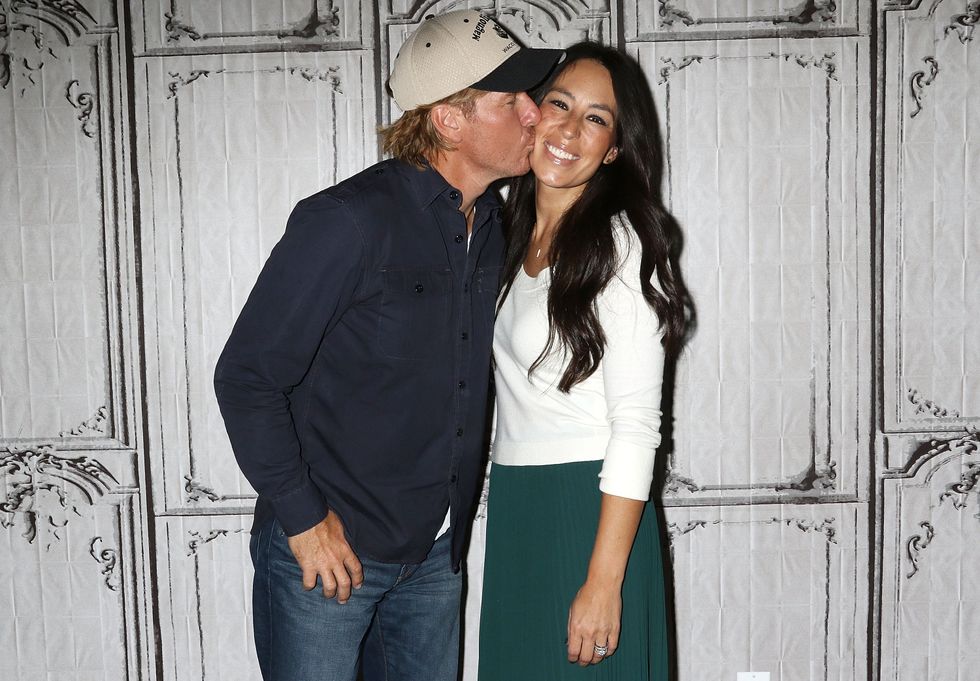 via: Getty
In the show, they guide their clients through the process of purchasing a house and then turn that house into a beautifully renovated home full of shiplap and farmhouse sinks.
They're also basically the perfect couple.
While the houses on Fixer Upper are incredible, the real appeal of the show — which is currently in its final season — is found in the relationship between Chip and Joanna. They constantly goof around with each other and show just how in love they are. They often bring their four kids (Drake, Ella, Duke, and Emme) to the houses they're working on. The whole family is basically too delightful for words — and now they're adding another member to the fold.
Chip started hinting at the news with this tweet right before the January 2 episode of Fixer Upper aired.
Everyone tune in now for tonight's #FixerUpper! We've got some BIG news to share.. hint #1 https://t.co/Qwl3ddbbTd

— Chip Gaines (@Chip Gaines)1514944989.0
Although we're not really sure that counts as a "hint." Anyone who couldn't guess the news from this tweet clearly hasn't been paying very close attention.
Chip then shared the perfect storm of events that led up to Baby No. 5.
Hint #3 You might recall a few months back.. the ever amazing, ever romantic @JOHNNYSWIM was in Waco. And they put… https://t.co/bz0mZjG5hj

— Chip Gaines (@Chip Gaines)1514948682.0
Apparently, a JOHNNYSWIM concert was involved. One thing led to another and next thing ya know, we've 
gained
another Gaines baby in the world (see what we did there?). The band later responded to Chip's tweet saying,
"We do what we can!"
The couple also shared this picture on Instagram of the couple's matching "bumps."
Here it is!
As you can imagine, the Internet is freaking out about the news.
Everyone is so thrilled for the soon-to-be family of seven. Although Fixer Upper will be coming to an end after this season, we're still definitely going to be paying attention to the Gaineses on social media as they welcome their newest little one and continue to make the world a better place.
Also, can we just say how nice it is to have a pregnancy announcement rather than a bunch of rumors we have to wait on for literal months?
Obviously, everyone gets to announce their pregnancies in their own way. We just happen to be bigger fans of the Gaines method than of the Kardashian "let's just hint at it forever but never actually confirm anything" approach. (In case you're still wondering about all those Kardashian pregnancy rumors, we can confirm the following. Kim:
expecting via surrogate
. Kourtney: not pregnant. Khloé:
pregnant
. Kendall:
not pregnant
. Kylie:
maybe already had a baby?!
)
Honestly, what would really make this news perfect would be the announcement that Chip and Joanna are having a baby...and also adopting the rest of us.
But since that is probably rather unlikely, we will happily settle for the happy baby news and dream about what his or her nursery will look like. Shiplap is 100 percent involved in that kid's nursery, right? It just has to be.
So there you have it. 2018 is gonna be a good year.
@chipgaines @jjsters14 OMG I've never been so excited for a baby that I have no relation to in my life!!! MANGOLIA FARMS BABY #5!!!

— annie is not ok (@annie is not ok)1514947847.0
Congratulations to Chip and Joanna from all of us here at 22 Words! We couldn't be more thrilled!