When it comes to parenting, it seems as though everyone out there has an opinion - whether or not they actually have kids themselves. But Lizzie McGuire star, Hilary Duff, faced a huge backlash this week, and it seems like the internet is divided about whether she's in the right or not.
Duff shared an image of her newest kid - her daughter with singer and songwriter, Matthew Koma. But eagle-eyed fans of the star noticed something about the image that many thought wasn't quite right. Duff's daughter, named Banks Violet Bair, is just eight months old - but she was sporting some jewelry that many think was far too grown up.
Hilary Duff is a ray of sunshine.
She's one of the few people in the world with a truly infectious smile - and when she laughs, it seems to light up the room.
She's best known for the role that made her.
Duff played the titular character in classic '00s teen sitcom, Lizzie McGuire  - which, for many of us, was the show that marked our childhoods.
It also spawned one of the most iconic spin-off movies of all time.
The 2003 teen romance was set in Rome, and gave us one of the best musical numbers of all time. You may also recognize her from teen rom-coms like A Cinderella Story, plus her cameo role in Gossip Girl.
Duff's love life has been something of a whirlwind.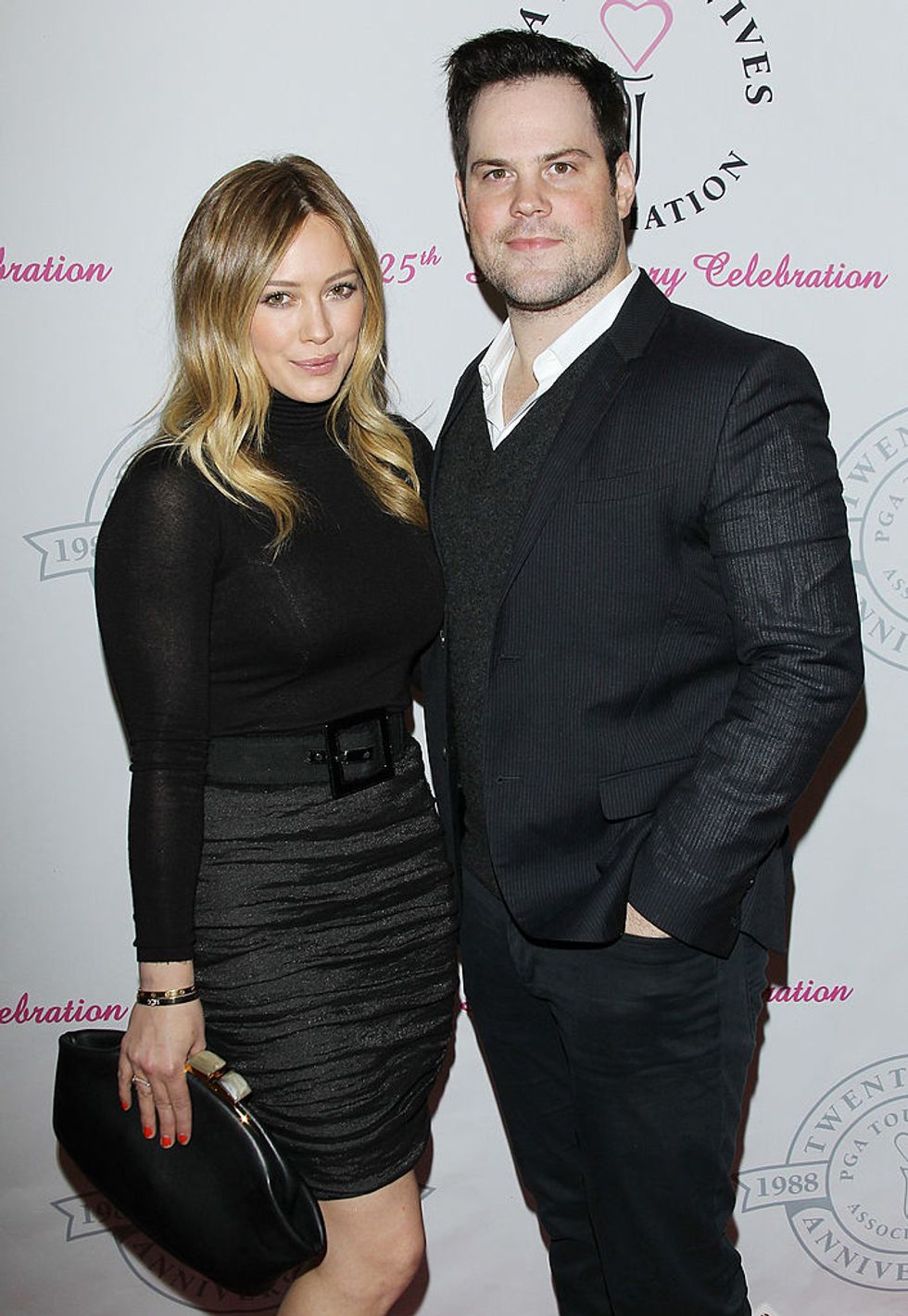 via: Getty Images
After dating musicians, Aaron Carter and Joel Madden, in her teens, Duff eventually married Canadian NHL player, Mike Comrie, in August 2010.
The pair had one child together.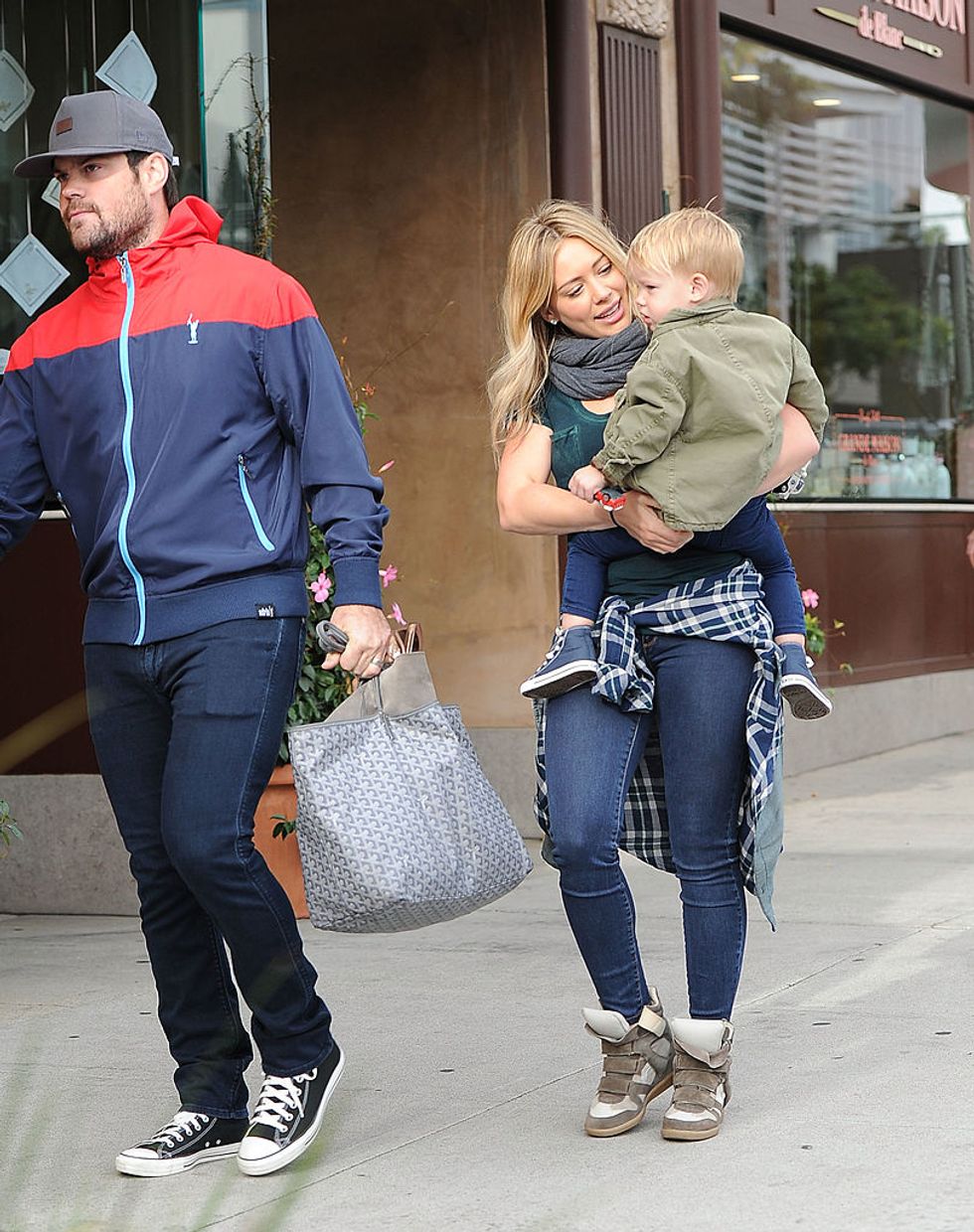 via: Getty Images
Their son, Luca Cruz Comrie, was born in March 2012 - and here are the three of them together.
It seems like Duff is still pretty obsessed with her baby.
Unfortunately, not all relationships are so simple.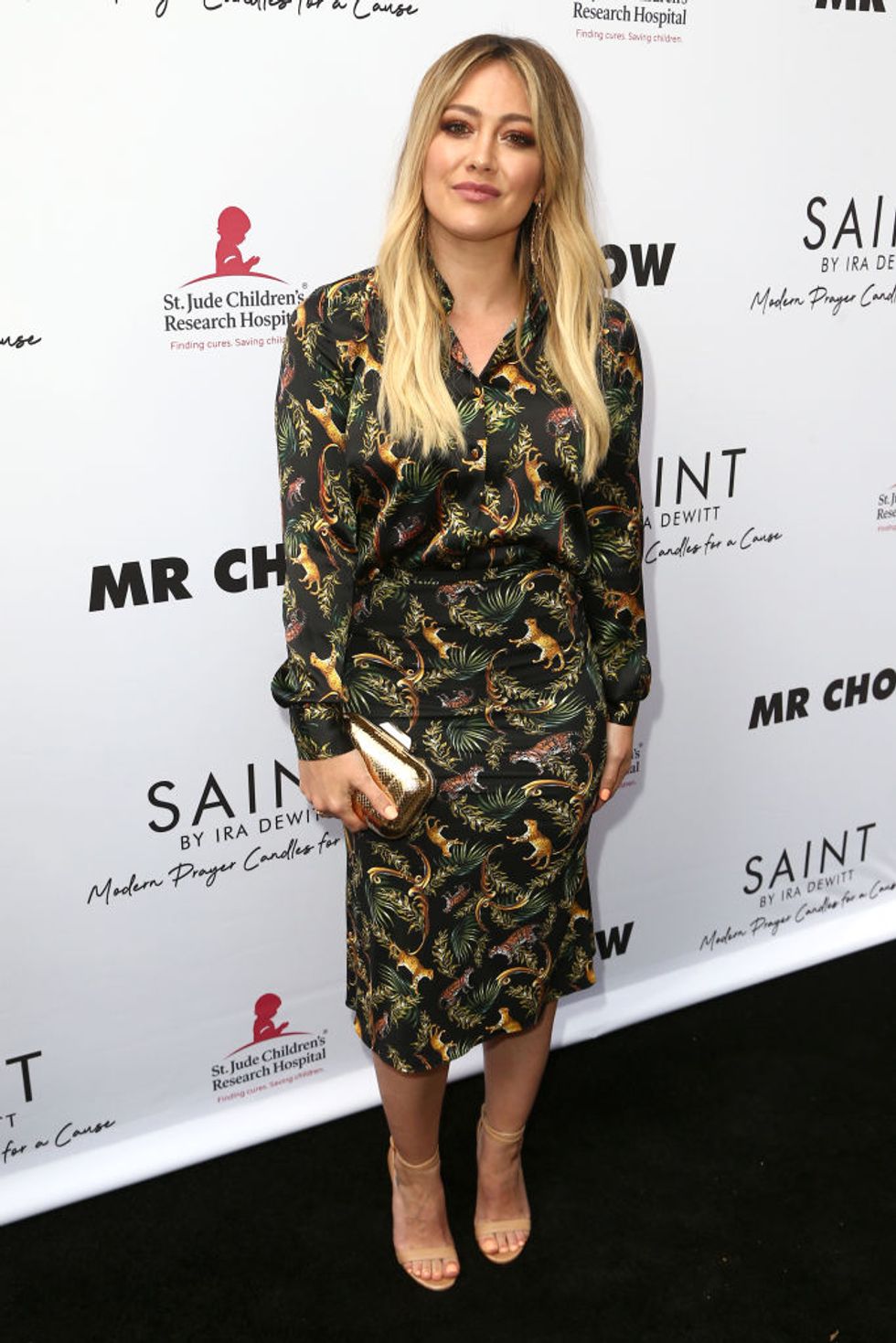 In January 2014, Duff and Comrie announced they were splitting up. Reportedly, their separation and divorce were amicable, and the two continue to co-parent Luca.
But love was just around the corner for Duff.
via: Getty Images
She met musician, singer, and songwriter, Matthew Koma, when working on her 2015 album, 
Breathe In. Breathe Out., 
and two years later, in January 2017, the pair got together.
And soon there was even more good news.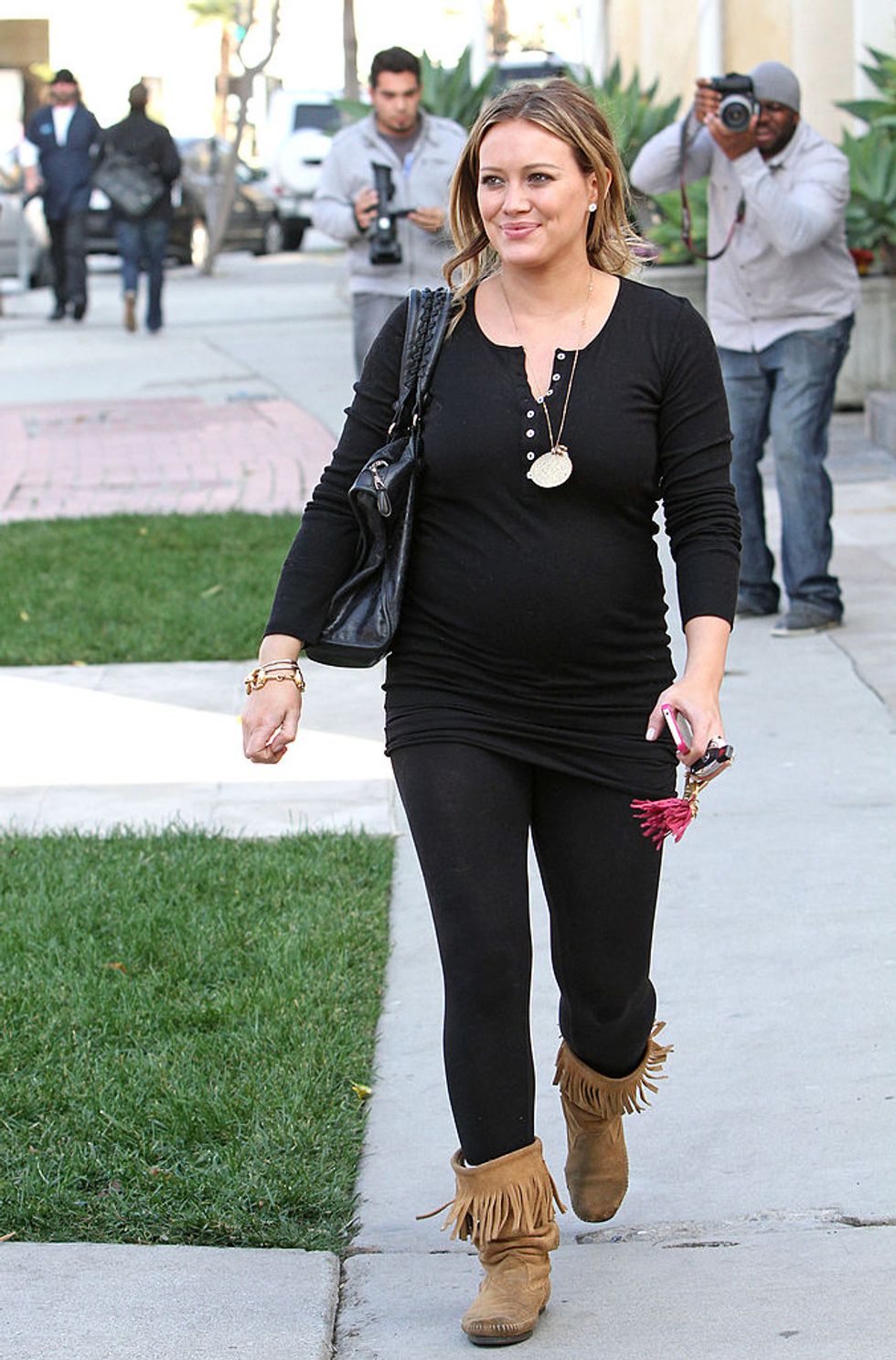 via: Getty Images
Duff announced that she and Koma were pregnant in June 2018.
And in October 2018, their family was complete.
Banks is absolutely adorable.
The whole family seem very close.
But fans started to notice something strange.
So they looked a little closer.
Duff then confirmed everyone's suspicions.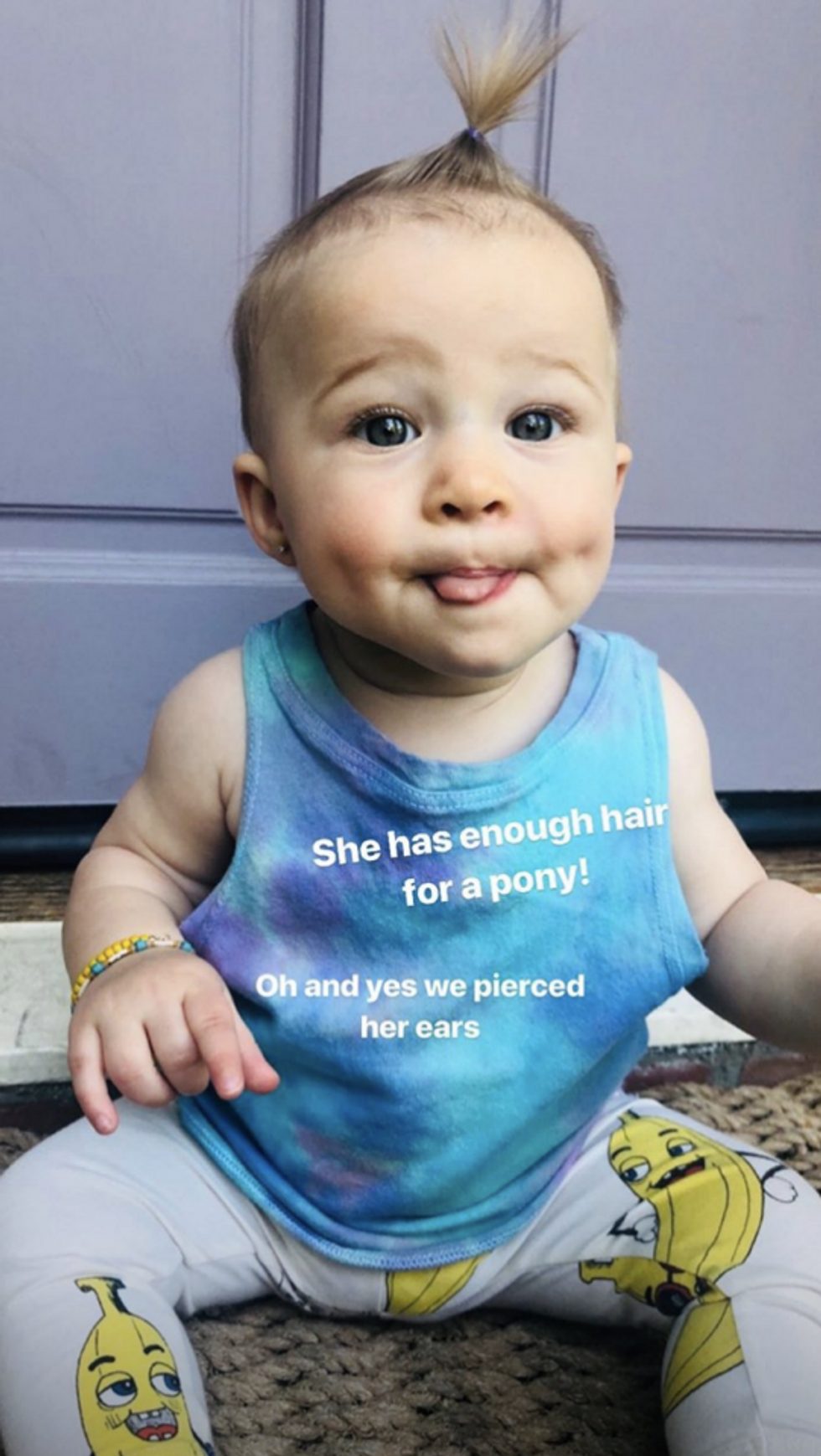 via: Instagram
She posted an Instagram story - which has since disappeared. But the internet is forever and screenshots quickly surfaced showing Duff's admission.
It seems to have been a fairly recent decision.
Many people are pretty annoyed.
"Just won an unfollow after seeing you pierced her ears, poor baby. Bye!" wrote one ex-fan. Another said, "I just don't get why you would do it. Babies are beautiful, why would they need their ears piercing?"
Some pointed out the problems with piercing a baby's ears.
"The risks are unreal and that throbbing pain in her ears, no matter how happy and looked after your child is, just isn't justified in my eyes," commented one baffled follower.
Some stood up for the star.
One fan spoke out, saying "My ears were pierced at the hospital, a day or so after I was born in Venezuela. It's a very common practice there. I'm glad it happened there and by a nurse, rather than [when I was] older when I can remember the pain. Sure, some may want to wait until the child can make that decision for themselves, but it's not that big of a deal if parents don't always wait. Plus the child can always choose not to wear earrings or close the holes if it's really that big of an issue."
While we aren't sure that we agree with Duff's decision, we do agree on one point.
No one out there is a perfect parent, and criticizing others won't make you feel any better in the long run. Or, as an Instagram user put it: "People need to stop judging what other people do, and look at what goes on in their own home." A parent's decision is exactly that - a parent's decision - but the internet doesn't seem to think so. One lady was recently criticized for breastfeeding her four-year-old and the comments on that post were truly savage...