It seems like you can't blink without reading about how there are issues with high school dress codes this time of year, and 99.9% of the time, they involve female students. Here's another one to add to the list.
Summer is a senior at Hickory Ridge High School in Harrisburg, North Carolina, where she is an honor roll student with a 4.4 GPA and a bright future ahead of her. But that came into question when she apparently defied the dress code by wearing a shirt which partially showed her shoulders and exposed her back.
According to local news stationWRAL, the principal asked Summer to put on a jacket, to which she questioned and thought it was "fine" under the rules, but the principal noted her lower back was "also completely exposed" which went against the school's dress code.
Summer complied and borrowed a friend's jacket to cover up her shirt, but the principal reportedly still wasn't satisfied and told the student to change her outfit all together.
"I completely understand why a dress code is put into place but I feel like after I put on that jacket it should have been subdued," Summer told WCNC.
Summer said that she's had problems with the principal before, so much so that her mother now has to be informed of any disciplinary action taken against her child before it happens. However, school officials could not get a hold of the teen's mother, so Summer continued on with her day.
It wasn't until later when she was in a school assembly and the principal allegedly told everyone to leave except for Summer, and she was left behind with a school security officer.
Recalling the incident,
Summer said
, "The security guard was within five feet of me, he had his hand on his gun. The principal said, 'I'm gonna give you an ultimatum. We have tried to call your mother. You either come with me to the control room to change your shirt or we will arrest you,'" she said. "I stayed in my seat just like a lot of role models that I have looked up to stayed in their seats. I mean, you have to stand up for what you believe in."
Summer was about to get handcuffed but her mom called back just in the nick of time, and she was led back to the control room, where school officials gave her a 10-day suspension and ordered not to attend any senior activities, including graduation.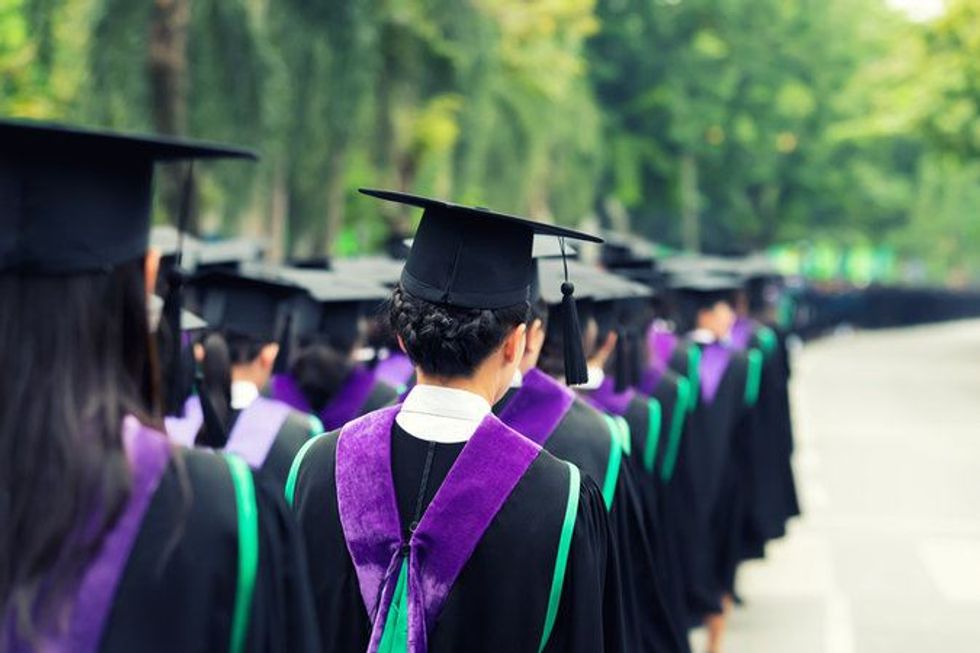 via: Getty
The official cause for her suspension notes nothing about the "illegal" t-shirt, but rather "insubordination". Summer also noted that the principal is still thinking about expelling her over the incident, which she believes would ruin her future entirely. "It's just sad because I worked so hard for four years to walk across that stage," she said. "We have drug dealers walking across that stage, we have sex offenders walking across that stage and then the 4.4 student who showed her shoulders can't." "This is my life, I'm on a pre-med track," she said. "A full ride means so much and that is on the line right now." The school has declined comment, citing student privacy. What do you think about this one?