It's hard not to love Terry Crews. The man is a legend thanks to a career that spans two major professions, multiple decades, and quite a few different personas. But how did Terry Crews become America's sweetheart, host to America's Got Talent, and our favorite Lieutenant on Brooklyn Nine-Nine?
It started with a football career that catapulted him into movies as a strong man. But it quickly became clear that Crews not only had athletic abilities, he also had some acting chops. Plus he's funny. It's not really a surprise that he managed to make the tough transition from athlete to an actor but it's still impressive.
So if you want to know every last detail of how he went from quarterback to leading man, just keep on reading. You might discover a few Terry Tidbits that you'd never heard before. Plus we promise there will be at least one picture of him shirtless.
It has been nearly 30 years since Terry Crews' name first entered the public consciousness.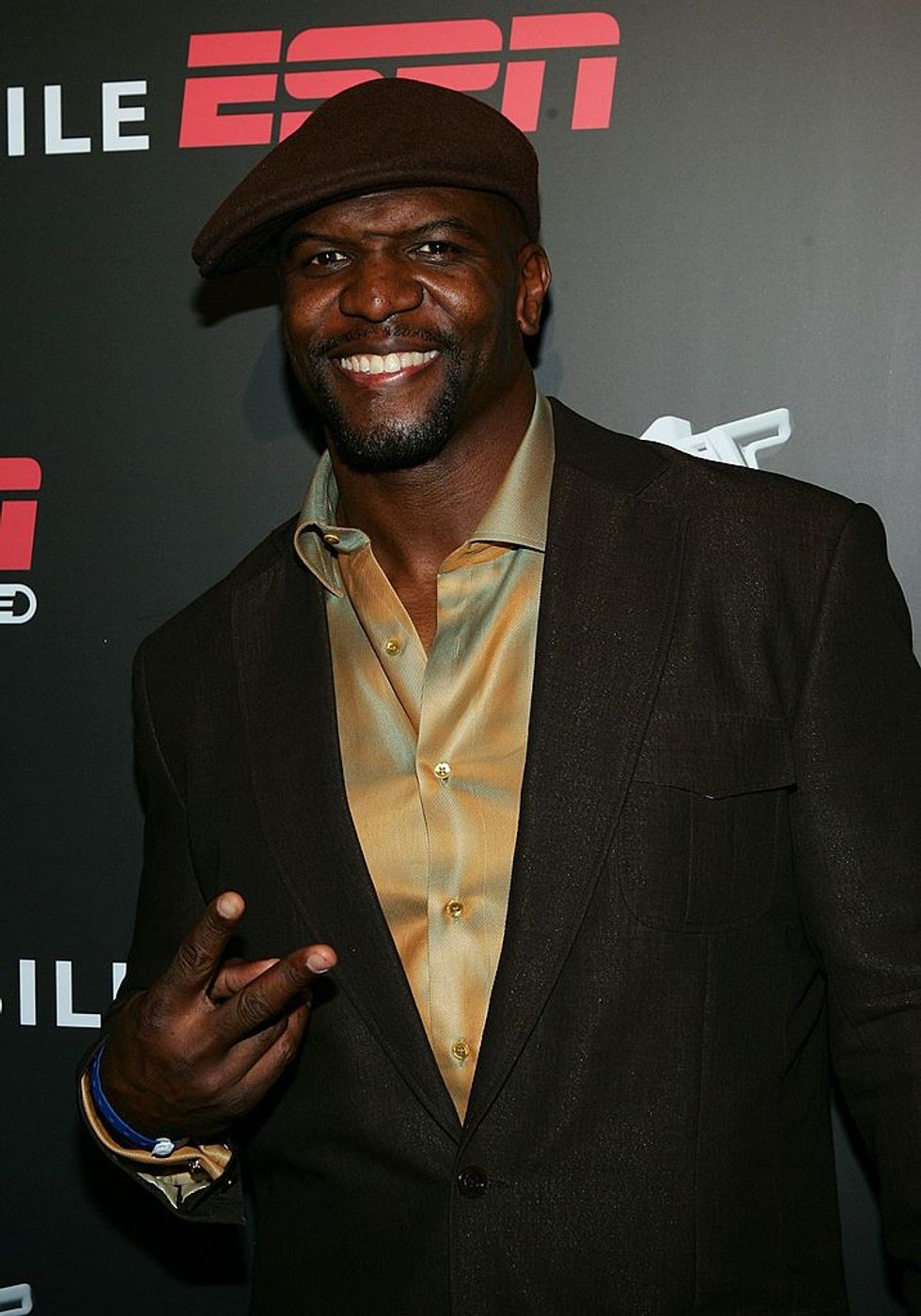 via: Getty
That was the year he was drafted for the Los Angeles Rams.
Terry Crews spent 6 years in the NFL.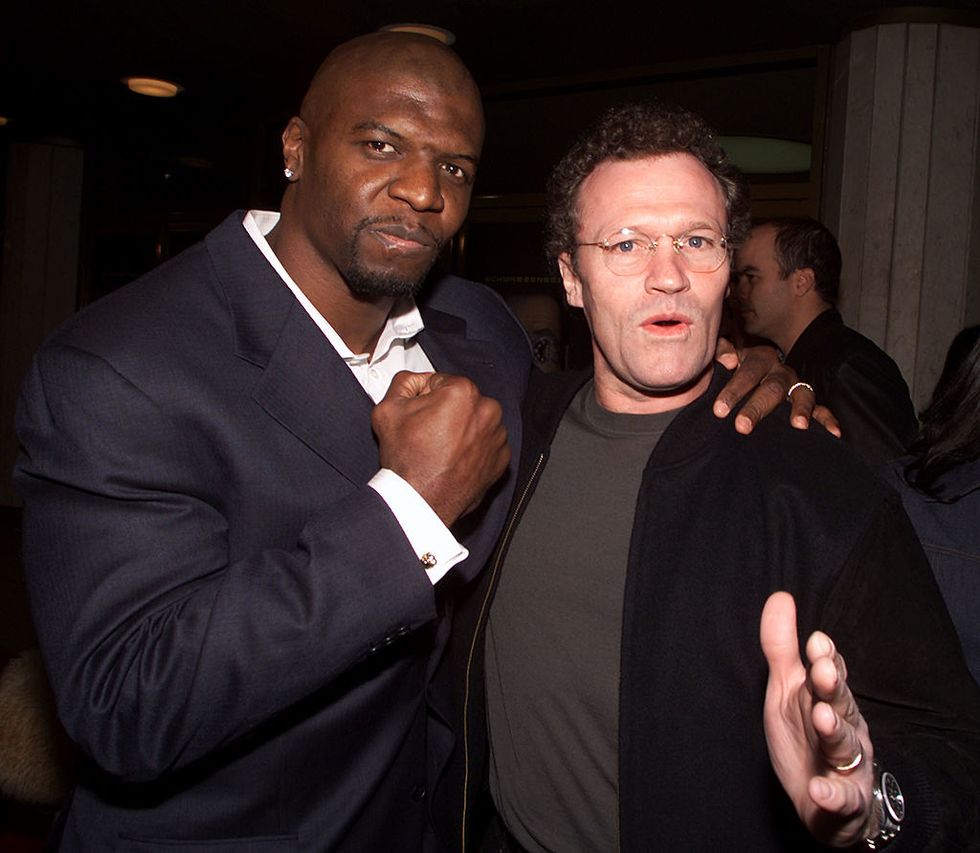 via: Getty
But that was just the beginning.
In those 30 years he's managed to grow from a football player into something much more.
A man who has built an amazing career to be worth a whopping $20 million dollars.
But he wasn't always a man whose name gets Googled next to "net worth".
Back when he was playing in the NFL he would do sketches to help supplement his NFL income.
That artistic bent is what helped him transition into a new career after he retired from the NFL: acting.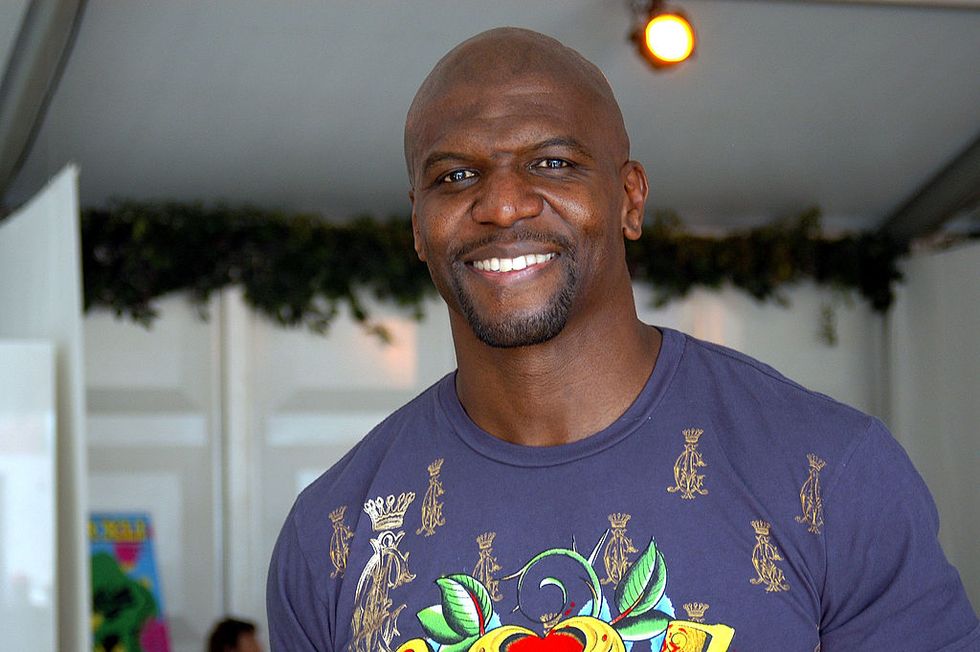 via: Getty
Thanks to his stature and impressive physique, he was able to land roles in 
The 6th Day 
and 
Training Day.
But those movies were just bit parts.
The moment we realized Crews needed to be in movies came in White Chicks.
If you don't remember, don't worry: we'll remind you.
It just took Crews' expressive face and a Michelle Branch song, and we were won over.
That was the moment we all knew that Crews was seriously funny.
It quickly led to more comedic bit-parts like President Dwayne Elizondo Mountain Dew Herbert Camacho in Idiocracy.
Unsurprisingly, these hilarious gigs have just kept coming.
Up to 2018's Deadpool 2 in which Crews played Bedlam of the X-Force.
But Terry Crews was destined for more than bit parts.
He just had a stop or two to make along the way.
Enter: Old Spice.
In 2010, Crews landed a role as the face of Old Spice deodorant.
The ads went viral.
Probably helped by the fact that they starred Crews wearing nothing but boxers.
Yeah, we told you you'd get shirtless Terry Crews.
And with his impressive bod (a height of 6'3" and a weight of 245 for anyone who's curious), we could watch these commercials all day.
Ads aren't the only thing Crews has done on TV though.
And here's where we really start to get into the juicy bits.
Crews' breakout role was as Terry Jeffords on Brooklyn Nine-Nine.
This is where we got to see the softer side of Terry.
Sure, he's still a powerfully built cop.
But he also sees himself as a momma bear for all his detectives.
And that's the true magic of Terry.
The tough outside with the soft and caramelly center.
Which may be why he's had so much success as a TV host.
It's the physique plus the charm, the poise plus the vulnerability, and Crews has it down pat.
He started his hosting career in 2014.
When he took on the role of host for Who Wants to Be a Millionaire.
But in tandem with his acting career his hosting gigs have also grown.
And now he's one of the most popular hosts America's Got Talent has ever seen.
The jump into America's Got Talent was an interesting transition.
Crews started hosting America's Got Talent: The Champions, a spinoff of the main show.
But quickly that spinoff gig turned into something huge.
The show changed things up for season 14 and had Crews take over hosting for Tyra Banks.
After becoming host Terry Crews has won our hearts.
Like that time he busted out the flute to defend a contestant.
But Terry won't just defend the underdog.
Why DOES Simon hate the flute so much?
He's also not afraid to get emotional.
Especially when you hit him at his roots.
If you don't remember when he got choked up after the Detroit Youth Choir...
You better rewatch it. It's beautiful.
If that's not enough to vault Terry into your "top host" slot, I don't know what is.
Maybe it's his amazing fashion choices?
What that moment on America's Got Talent really shows us is how far Terry Crews has come.
From a kid in Flint, Michigan, through the NFL, to America's beloved gentle giant, he has changed what it means to be manly.
There's a reason we can't stop talking about Terry.
He isn't afraid to talk about difficult things like sexual assault, or race, or gender roles.
And that's how he became the most popular TV host around.
Well, that and those chiseled abs.