After a historic collaboration with NASA, SpaceX has shown some true Christmas spirit by delivering presents into outer space...
And it was a truly festive treat for the astronauts in the ISS.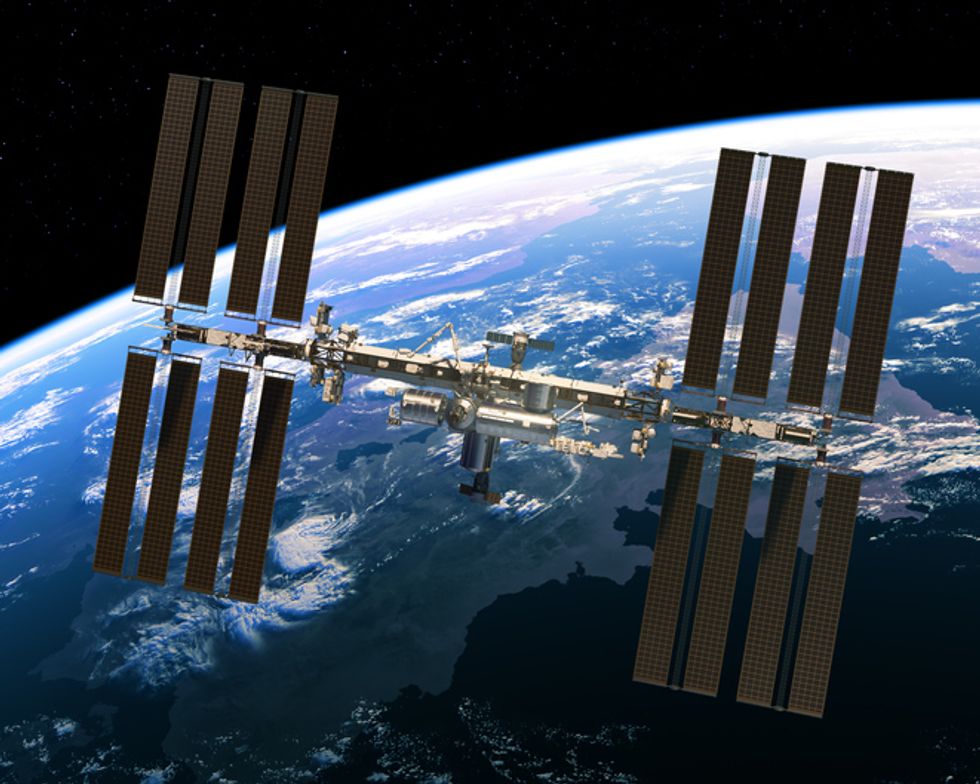 via: Getty Images
The people over at NASA created the International Space Station (ISS) as an outer-space office for astronauts all around the world to use for science and research. And now, thanks to Elon Musk's SpaceX, it has had a rather special Christmas delivery. Keep scrolling to see the festivities for yourself...
Now, ever since SpaceX has been on the scene, we have seen an iconic collaboration.
via: Getty Images
The 2 giant space organizations launched their first-ever spacecraft equipped with its own crew in May this year.
The journey started in Cape Canaveral in Florida.
via: Getty Images
The mission carried NASA astronauts, Doug Hurley and Bob Behnken to the ISS as part of their Crew Dragon human spacecraft development program.
The launch began at 4:33 P.M. EDT.
Targeting 4:33 p.m. EDT today for Falcon 9's launch of Crew Dragon with @NASA astronauts on board. Teams are closel… https://t.co/L9I3rKcFDt

— SpaceX (@SpaceX)1590583973.0
But there was always one thing that could have halted the mission altogether.
The weather.
via: Getty Images
But the conditions remained stable, and the spacecraft took off from NASA's Kennedy Space Center.
BBC News' science correspondent, Johnathan Amos, previously gave this warning:
via: Getty Images
"SpaceX and Nasa also need to listen to what the meteorologists are telling them about the conditions along the flight line in the event that the Dragon has to abort its ascent. If something goes wrong with its rocket, the capsule will need to splashdown somewhere along a swathe of ocean that stretches all the way up the eastern seaboard of the US and reaches across to the British Isles."
He continued:
via: Getty Images
"SpaceX has designated certain zones where the crew would ditch, and each one has to have benign wave and wind conditions. If any of these zones step outside the permitted criteria, the launch will not proceed… Even if it's a beautiful day back in Florida. And just to add to the complication, a tropical storm has formed off South Carolina."
So why was this launch so important?
via: Getty Images
Well, this is the final mission (of The Demo-2), and will also help to determine if the Falcon 9, "the rocket that carries it to orbit", will be certified for regular use by NASA.
On the way to the International Space Station, the rocket gave us some really important evidence.
Docking confirmed – Crew Dragon has arrived at the @space_station! https://t.co/KiKBpZ8R2H

— SpaceX (@SpaceX)1590934713.0
Obviously, you've heard about the flat-earth theory, right?
Well, images taken from the spacecraft showed us what the rest of us knew to be true...
Falcon 9 lifts off from historic Launch Complex 39A and sends Crew Dragon to orbit on its first flight with @NASA a… https://t.co/NrU5zWwoKS

— SpaceX (@SpaceX)1590889069.0
As it entered orbit, live footage was streamed to the world of the planet in all its round glory. A user commented saying: "One thing I can certainly clear up after watching that amazing event... The Earth is definitely
not
flat. Sorry Flat Earthers you've been debunked."
Here it is:
Tune in to hear @AstroBehnken and @Astro_Doug on Crew Dragon and for live views of Earth → https://t.co/bJFjLCzWdK https://t.co/P5nxAyAJFn

— SpaceX (@SpaceX)1590922177.0
And now, SpaceX has hit headlines once again with yet another epic mission...
SpaceX has just launched its eleventh Falcon 9 rocket...
But it sent the capsule into space for a rather sweet reason.
For Christmas, of course!
Launching from Florida on Sunday, the capsule is due to dock at the ISS at some point today to deliver some festive treats and supplies to the astronauts residing in the station. But, of course, the 6,400lb shipment also includes billions of microbes and crushed asteroid samples for a biomining study... Not to ruin Christmas, or anything.
It's the twenty-first cargo mission SpaceX has undertaken for NASA...
And marks the landmark 100th successful Falcon 9 launch for the company.
Because who says being in space should mean missing out on Christmas?
To learn more about SpaceX, scroll on for the background of its controversial founder, Elon Musk...