The Guinness Book of World Records is an intriguing phenomenon. Before the advent of the internet, Guinness records offered one of the very few opportunities to learn bizarre facts about people from all over the world. Without the Guinness Book, how would you know who the tallest man was, who could run the fastest, or who had the longest recorded fingernails before Wikipedia was a thing?
Even though the internet can now answer all those burning questions, the Guinness Book is still typically a more reliable source of verified recording breaking than the wide open web. Some Guinness fans are simply trivia lovers, others have aspirations of someday breaking a record themselves. But one-upping the record-breaking all-time greats is a feat not many can perform.
As the old saying goes, if you want something done right you have to do it yourself. Beloved actor Hugh Jackman has wanted his name in The Guinness Book of World Records since childhood, and he finally achieved the honor by breaking a record in a category all his own.
Hugh Jackman might be an Australian, but in many ways, he's truly America's Sweetheart.
The celebrity is a triple threat, with talents in acting, singing, and dancing that few in the industry can rival.
He's portrayed a number of memorable roles.
Jackman played the gentlemanly, accidental time-traveler who stole our hearts in
Kate & Leopold.
He warped our minds in The Prestige.
The sci-fi period thriller featured Jackman as tortured magician Robert Angier pitted against his rival Alfred Borden, played by Christian Bale
Jackman broke our hearts in Les Misérables.
The actor portrayed Jean Valjean, another tortured protagonist (but this time one with a fantastic singing voice).
We got to hear him sing again in The Greatest Showman, thank god.
Jackman stole the show in the movie musical as the famous circus ringleader P.T. Barnum.
The actor has some serious range.
In addition to killing the dramatic roles, Jackman has also done some more lighthearted material – see his work as the voice of the penguin Memphis in
Happy Feet.
Most people know Jackman as Wolverine.
The iconic
X-Men
character has been one of the most defining performances of the actor's long and illustrious career.
Jackman basically is Wolverine at this point.
He has portrayed the character in a number of films including
X-Men, X2: X-Men United, X-Men: The Last Stand, X-Men Origins: Wolverine, X-Men: First Class in a cameo, The Wolverine, X-Men: Days of Future Past, X-Men: Apocalypse,
and
Logan.
Whoa, that's a lot.
@GWR @RealHughJackman @Marvel @craigglenday @thismorning There can only be one #Wolverin @RealHughJackman… https://t.co/TWWUyhq5Z5

— 🇵🇭 PinoyCAN 🇨🇦 (@🇵🇭 PinoyCAN 🇨🇦)1550684258.0
Wolverine is Jackman's most reprised character by far, and clearly the role of a lifetime.
Now the character has earned him what is perhaps his greatest accolade yet.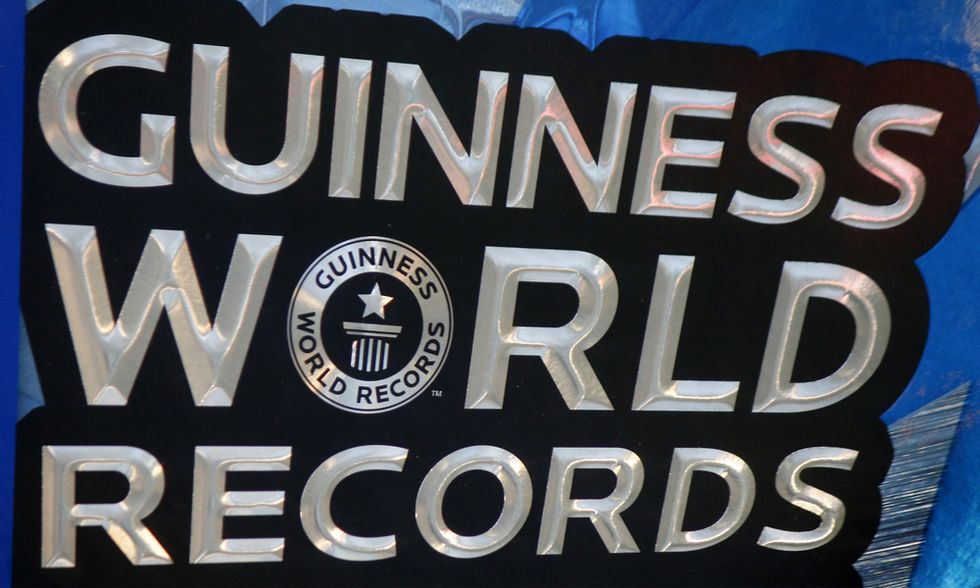 via: Shutterstock
Jackman was just awarded a certificate for setting the Guinness World Record for the "longest career as a live-action Marvel superhero."
Makes sense. As I said, he's played Wolverine A LOT.
His career as the character has spanned 16 years and 228 days, concluding with what is assumed to be his last performance as Wolverine in the 2017 film
Logan
.
Jackman received the honor on ITV's This Morning.
It's been a lifelong dream of @RealHughJackman's to become a world record holder, and today we've confirmed he's of… https://t.co/M1Vh3GCBNw

— This Morning (@This Morning)1550673083.0
The actor was surprised with the certificate during an interview with Alison Hammond.
The award was hand delivered.
Welcome to the family, @RealHughJackman. Congratulations on your record-breaking @Marvel career as Wolverine. https://t.co/p59RjWxQT1

— Guinness World Records (@Guinness World Records)1550665553.0
Craig Glenday, the Editor-in-Chief of Guinness World Records, made a guest appearance to announce Jackman's triumph.
The Wolverine actor was genuinely excited to get the award.
He looked like a kid on Christmas morning who's mom said they weren't doing big presents this year, and then got surprised with a Nintendo.
Jackman has actually always wanted to set a Guinness record.
"When I was a kid, the Guinness Book of Records was it," he said.
The dream preceded his acting aspirations.
At the tender age of ten, Jackman attempted to break his first record for "the most coins snatched off the elbow." Whatever that is, Jackman wanted to be the best at it.
Apparently, elbow-coin snatching is a little harder than he thought.
So he wrangled his brother into helping him break another record, this time for "the longest marathon playing badminton singles." With the record set at a game that spanned days, that attempt proved just as impossible.
By all accounts, Jackman had abandoned his hopes of becoming a record breaker.
@GWR @RealHughJackman @Marvel @craigglenday @thismorning it is what he deserves!!! Congrats @RealHughJackman 👏👊❤️ https://t.co/lzvKxU9K3p

— déia (@déia)1550672359.0
Until now. The actor will be featured in the 2020 Guinness Book of Records.
After so many years of waiting, he was truly thrilled to finally fulfill his lifelong dream.
"That's it, I've made it. This is why I got into showbiz, thank you," said a humbled Jackman.
His gratitude was palpable.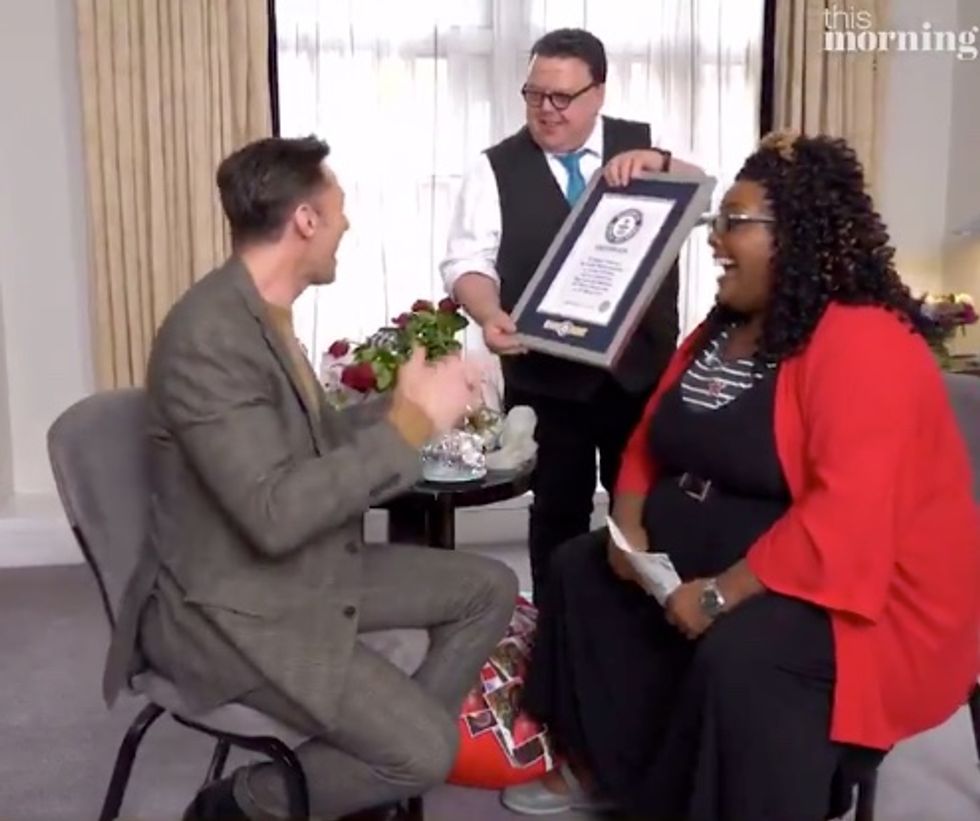 via: Twitter
Guinness Editor-in-Chief Craig Glenday said it was an "honor" to give Jackman his award and, "welcome him personally into the Guinness World Records family."
Glenday says meeting record holders is the highlight of his job.
How happy do I look to be hanging out with @RealHughJackman!? Was a real pleasure, and so glad to finally be able t… https://t.co/O0e1u16Wny

— Craig Glenday (@Craig Glenday)1550666467.0
He called Jackman and everyone in the Guinness family "the most interesting and amazing people on the planet."
But meeting a record breaker who's also an A-list movie star is on another level.
Even though Jackman is a huge celebrity, Glenday said the actor was totally "down-to-Earth."
If you've been following his frenemy rivalry with Ryan Reynolds, that holds up.
Job well done. @AviationGin @laughingmanco https://t.co/i9PmxE7jt9

— Hugh Jackman (@Hugh Jackman)1549465172.0
The actor clearly has a great sense of humor and doesn't seem to take himself too seriously.
That comes across in the video of his surprise award.
The other record I hear you're interested in, @RealHughJackman, is coin catching off the elbow. This is a bit more… https://t.co/QQe5gZznNM

— Craig Glenday (@Craig Glenday)1550667053.0
Jackman looked on the verge of tears as he laughed and embraced everyone in the room.
He also might have swallowed a piece of confetti?
It's definitely not the most newsworthy part of this video, but I also can't stop thinking about it.
Jackman shares his new record with another acting legend.
The record title for longest career as a live action Marvel superhero is shared by @RealHughJackman and fellow X-me… https://t.co/7l1Rm9DXQd

— Guinness World Records (@Guinness World Records)1550666638.0
Sir Patrick Stewart received the same Guinness recognition for his portrayal of the character Professor Charles Xavier, or Professor X.
Stewart also made a guest appearance on the show.
Hugh Jackman & Patrick Stewart Receive GUINESS WORLD RECORD for Longest Careers as Marvel Superheroes!… https://t.co/QP4GNaP2u4

— ComicBook NOW! (@ComicBook NOW!)1550687997.0
The two "superheroes" congratulated each other, proudly displaying their framed certificates.
Of his 16 years delivering Guinness awards, Glenday says this moment was a special one.
He called Jackman "charming" (duh), and remarked on his generosity in picture-taking after the broadcast.
Glenday even invited Jackman and his brother to try for another record.
The Editor-in-chief was well aware of Jackman's history of record-breaking attempts, which made handing him the certificate that much more exciting.
Maybe they'll try for record number two?
"Don't forget that you – and your brother – are welcome to pop into the office any time," Glenday said. Apparently, the badminton record is "only" 25 hours.