There's nothing quite like a healthy bit of political banter to brighten your day, is there?
When it comes to politics, people often come up with marvelous and inventive ways of expressing their feelings about their most hated politicians... I'm not aiming this at the guys who chanted "F**k Trump" on live TV, despite how funny that was.
Anyway, some ingenious Trump-hater has devised a cunning plan... naming the street outside of Trump Tower after his predecessor, Barack Obama. Amazing.
And now, the idea has become so popular that it was turned into a petition, and has since gained hundreds of thousands of signatures online. Keep reading to hear the story of the fantastic idea, and, obviously, to find out where you can support the cause.
It's been 3 years... and people still love to troll Trump.
Because with his motormouth
antics
over Twitter, it's just too damn easy, isn't it?
And if there's one thing that triggers the president the most...
It's the mention of his predecessor, Barack Obama.
Trump and Obama don't have the best track record.
The pair, who have a long history of jibes and criticisms, have made it clear that they aren't the best of friends. And Trump has been known to reference a lot of Obama's policies while he was president to defend his own mishaps.
So, what better way to ruffle Trump's feathers...
Trump Fact: New Yorkers don't like Trump. They have started a petition to request that the stretch of Fifth Avenu… https://t.co/uAffmunTal

— Donaldo (@Donaldo)1565461924.0
... Then to name the street of Trump Tower after his arch-nemesis? A wonderful idea, I know. But just how likely is it for something like this to
actually
happen?
Pretty likely, by the looks of things.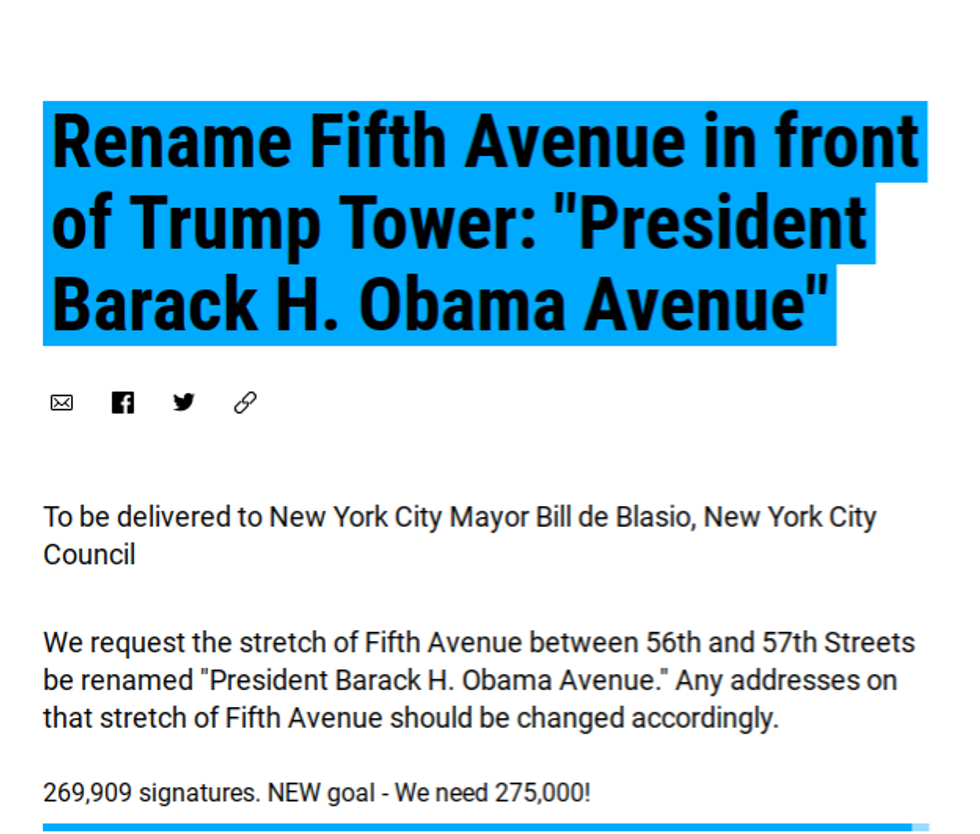 via: MoveOn
A petition, which was started around October last year, has recently gained traction with people from all over the country signing to rename the block where Trump Tower stands. The petition requests for the stretch of Fifth Avenue between 56th and 57th streets to be renamed "President Barack H. Obama Avenue."
And it would alter Trump Tower's address in the best way.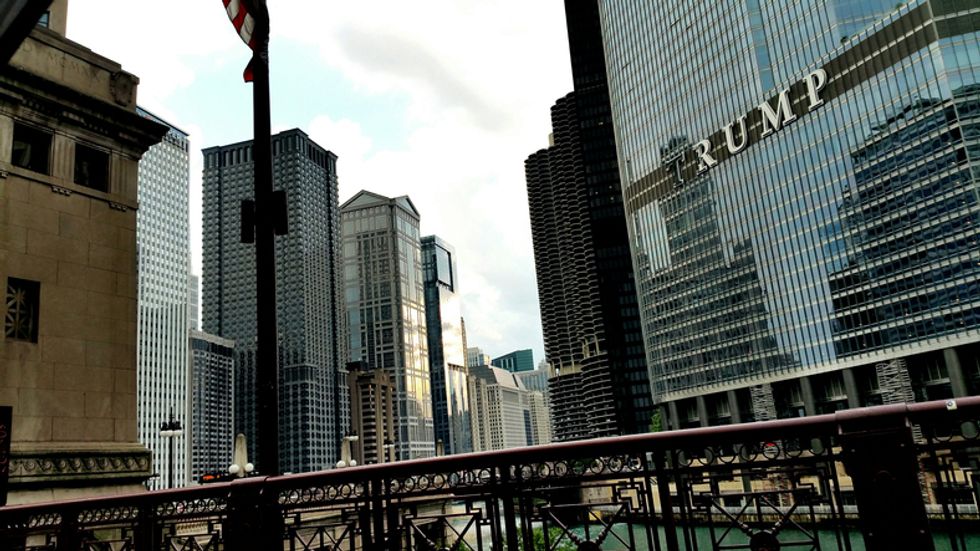 via: Getty
If the street's name was to change, Trump Tower's new address would read: "Trump Tower, 725 Barack H. Obama Avenue, New York, NY 10022."
As well as annoying the president, the petition also states that the name change would be to honor Barack Obama's work during his time as president.
The description reads: "We request the New York City Mayor and City Council do the same by renaming a block of Fifth Avenue after the former president whose many accomplishments include: saving our nation from the Great Recession; serving two completely scandal-free terms in office; and taking out Osama bin Laden, the mastermind behind September 11th, which killed over 3,000 New Yorkers." Can't argue with that.
It has now gained hundreds of thousands of signatures.
At the time of writing, the signatures stand at 269,909. "I honestly started it as a joke," Elizabeth Rowin, the woman behind the petition told 
Newsweek
. "I saw a comedian joke about how it would make Trump so mad if it was named after former President Obama and thought why not," she added. You can sign the petition
here.
However, the petition fails to meet one important condition...
Sorry to burst everyone's bubble... Rules state that the honoree in question should be deceased for at least two years prior to the petition. But Rowin wants an exception to be made: "I am sure the conditions can be changed, there are two streets in LA named after former President
Obama
. These laws are arbitrary and can be worked around."
Though we all know who the president will blame when he gets wind of this...
Because it's just what he does when things don't quite go his way, isn't it? If blaming Obama's mistakes for your own was a sport, Trump would be a gold medallist for sure. However, his most recent jibe fell on more cynical ears, as he used the recent mass shootings as an excuse to dig at his predecessor. Keep scrolling to see what he said, and to see the public's unimpressed response to his words.