Having a child is a miracle. But it can definitely come with its difficulties.
After living through an unthinkable tragedy, one new mom is changing the way premature babies are talked about and helping everyone become more sensitive to the issues that some new families face.
When parents-to-be Millie Smith and Lewis Cann learned they were having twins, they were thrilled.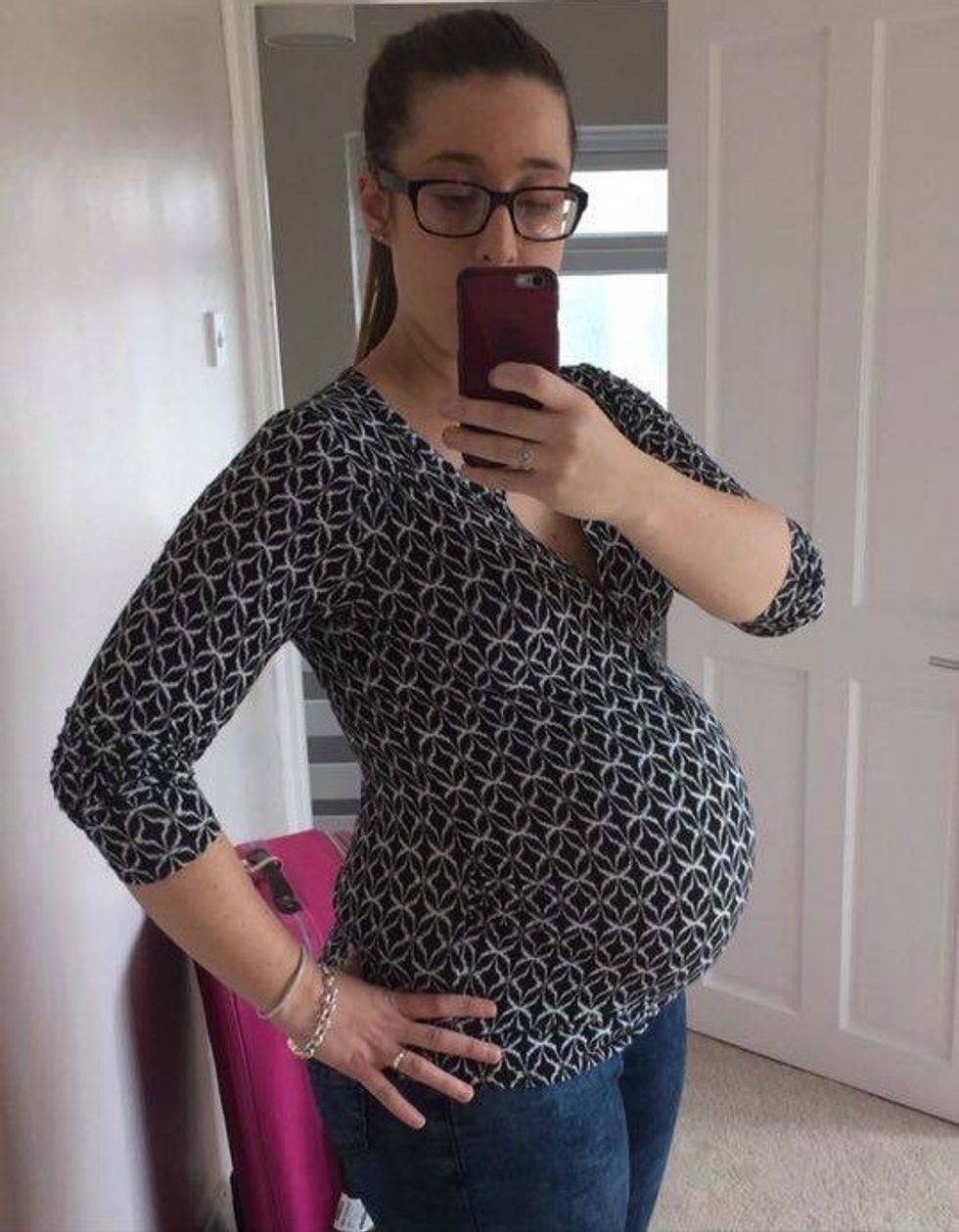 via: BBC
But shortly thereafter, they were heartbroken and devastated to learn that one of the twins suffered from a very serious ailment.

Only twelve weeks into her pregnancy, Millie learned that Skye, one of her twins, tragically would not survive. Millie had an impossible choice to make.
Millie said, "During the scan, the doctor didn't say anything. I was very excited and loved seeing the little babies, but she was silent. Both Lewis and I immediately knew there must be a problem."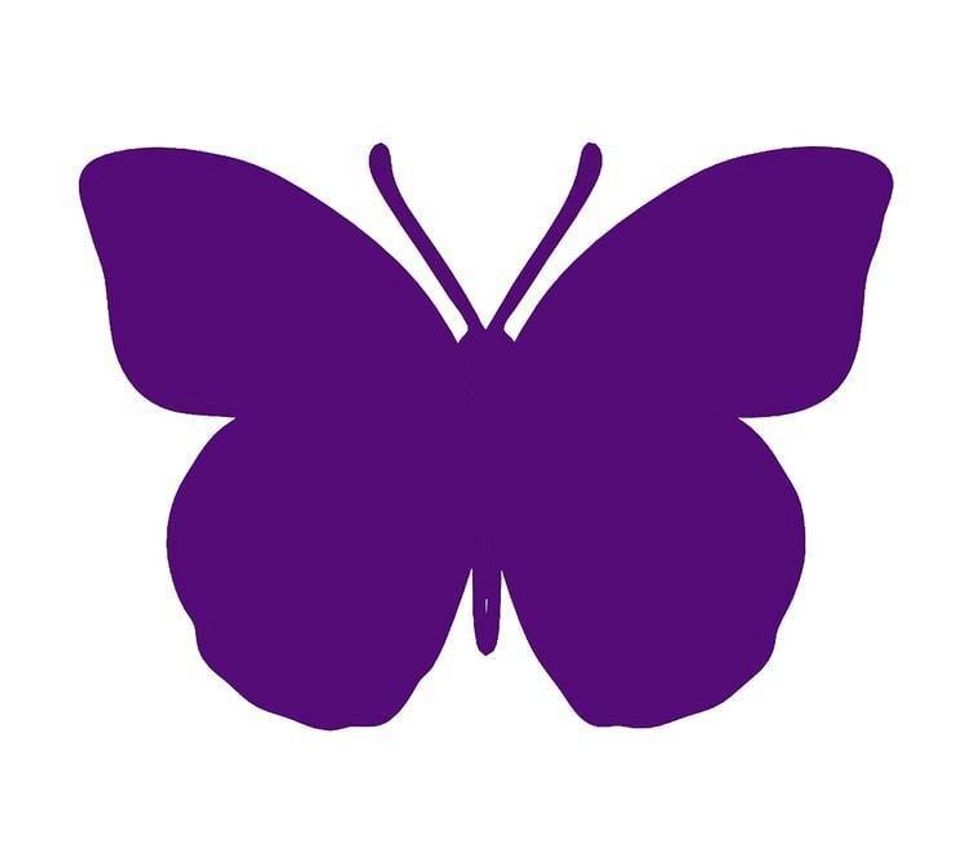 They learned that stricken child suffered from anencephaly and would likely survive only seconds or minutes after birth.

Millie was told that no baby had ever survived the birth defect, in which babies are born without essential parts of the brain and skull.

Despite the high risk, the Smiths decided to continue the pregnancy and give their other baby, who'd they'd named Callie, a chance to survive. At 30 weeks pregnant, Millie went into labor...
On April 30, 2016, 10 weeks early, Millie gave birth to two beautiful girls, Callie and Skye.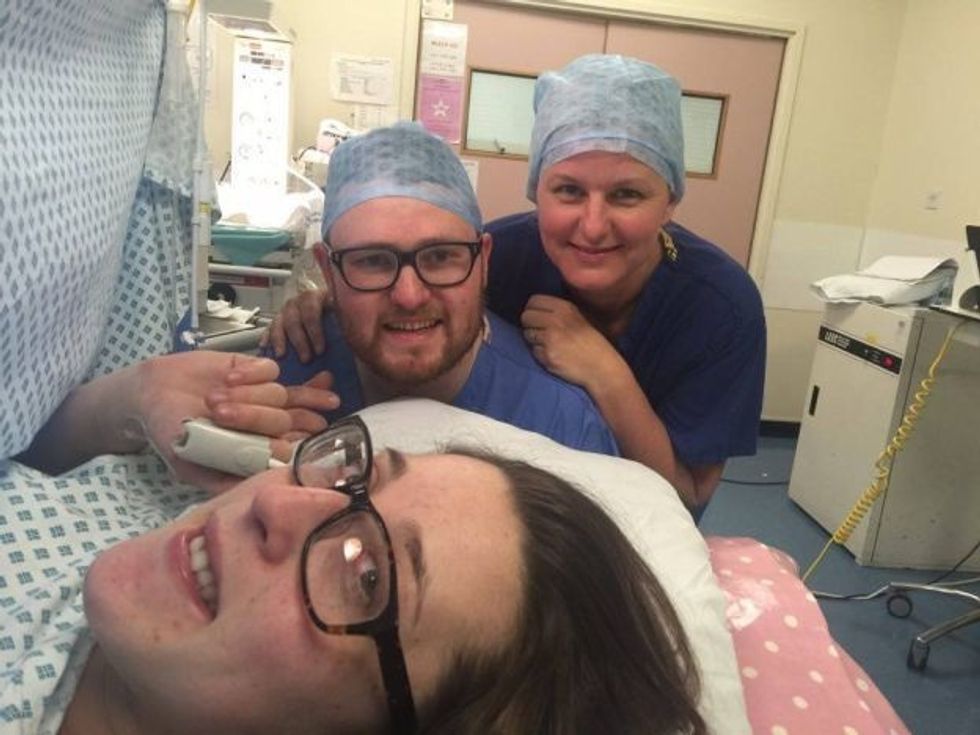 via: Life Buzz
She delivered both of her children and had a bereavement midwife in the room for the inevitable tragedy that would follow.
Defying the odds, the sick child, Skye, lived for three hours following birth.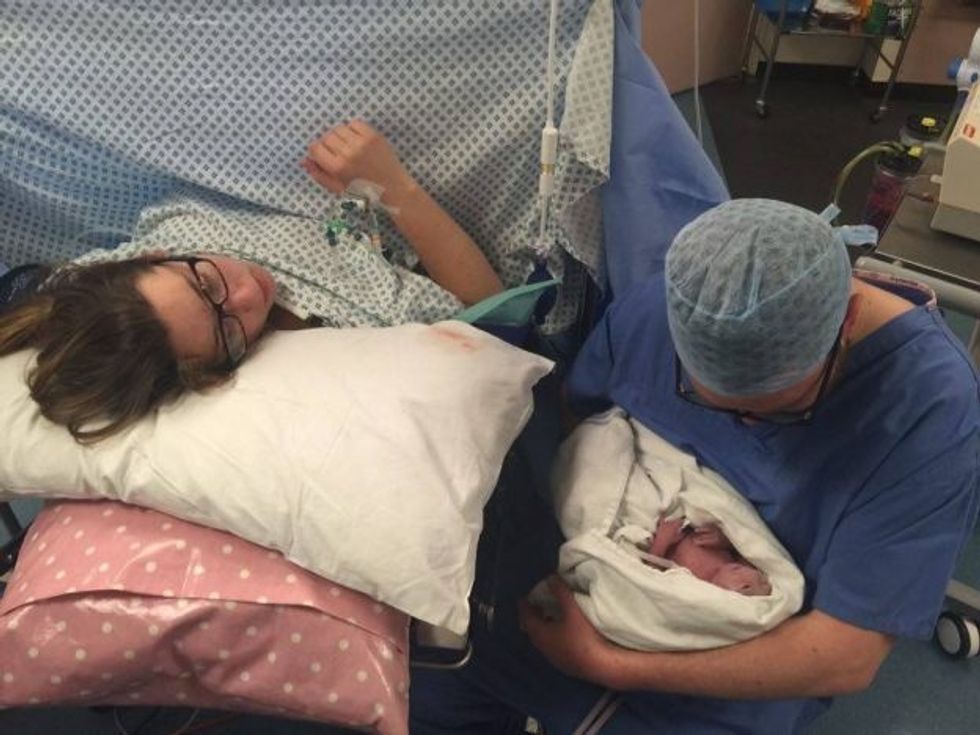 via: Life Buzz
The time they spent with the child was a gift, but the moments after the baby's passing were beyond description.

"We were cuddling Skye when she passed away. This was the worst moment in our lives," Smith said. "I have never ever felt heartbreak like that before. But I am proud that she fought for so long to spend time with us."
The living twin, Callie, remained in the hospital for a month due to the premature birth.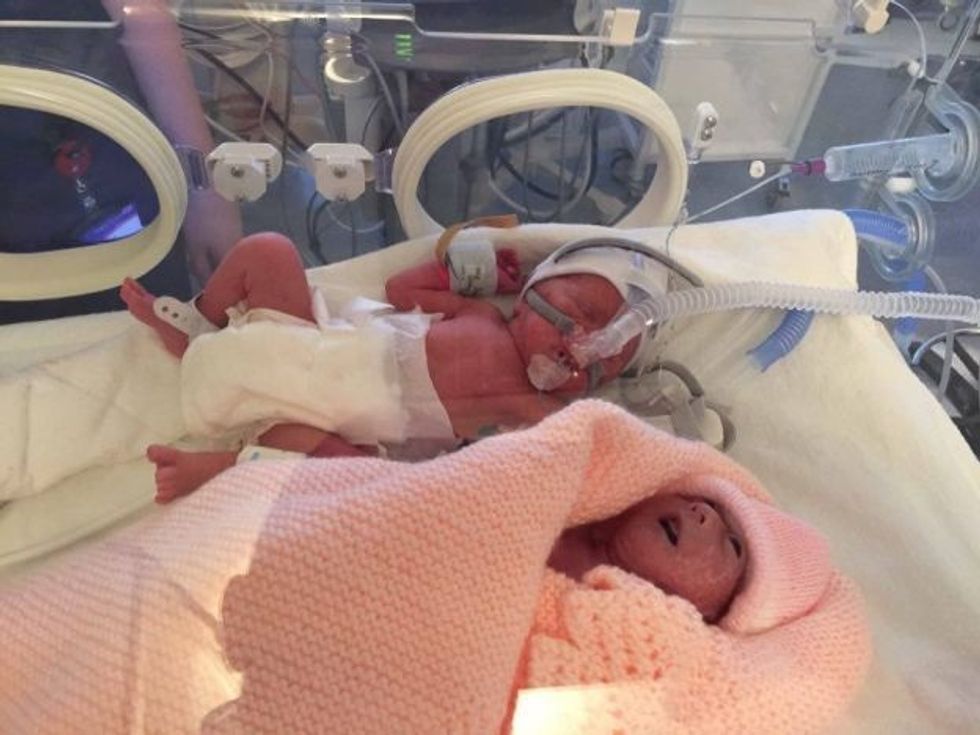 via: Life Buzz
During that time, the parents spent almost every minute at the hospital, waiting to see how their daughter would respond to treatment.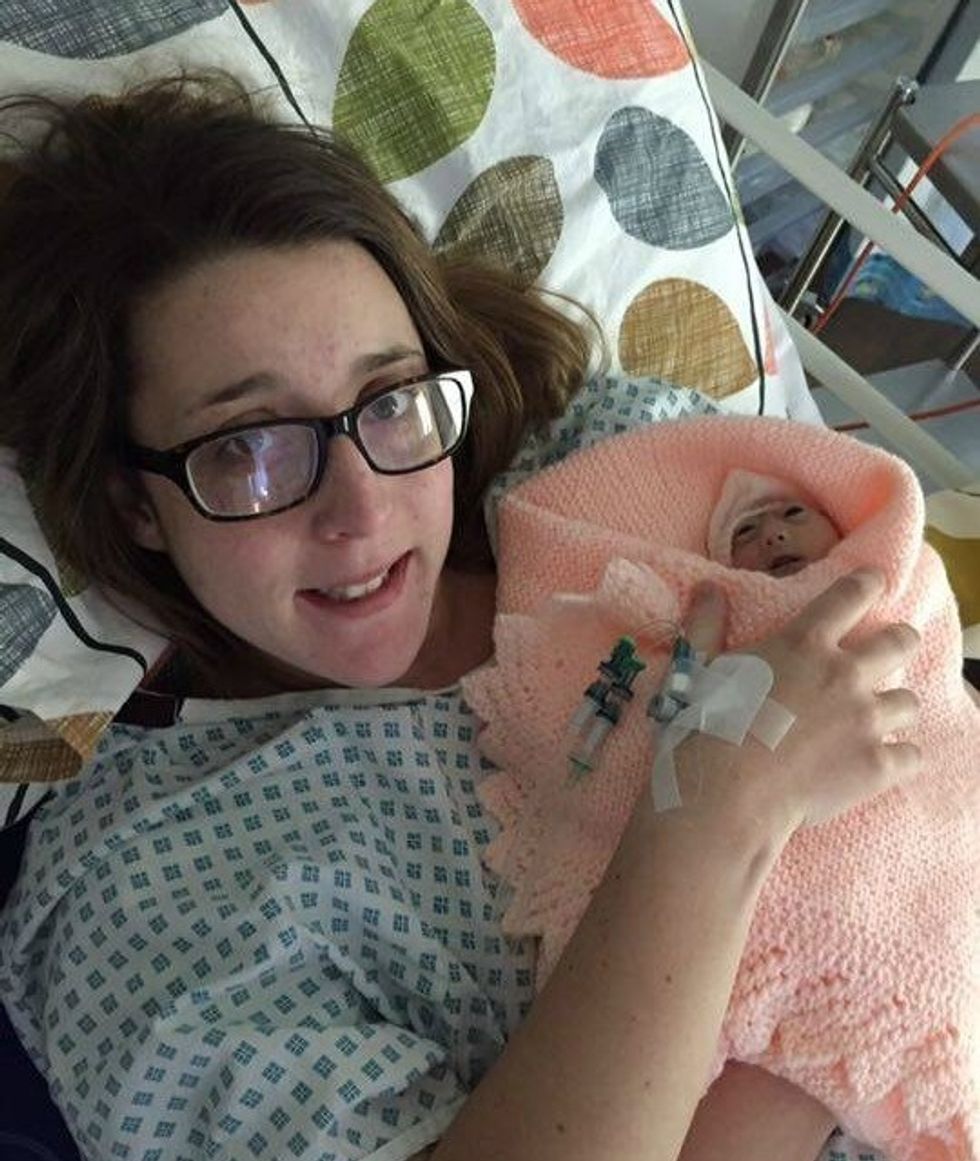 via: Life Buzz
Other parents weren't aware of the ordeal that Millie and Lewis had to endure, making for some painful, awkward conversations...
Below, Millie mentions an offhand comment that was completely innocent, but nonetheless devastating.

via: Life Buzz
To let other parents and staff know of the unique circumstances surrounding the bittersweet birth of their child, Millie designed a purple butterfly to be displayed on the incubator.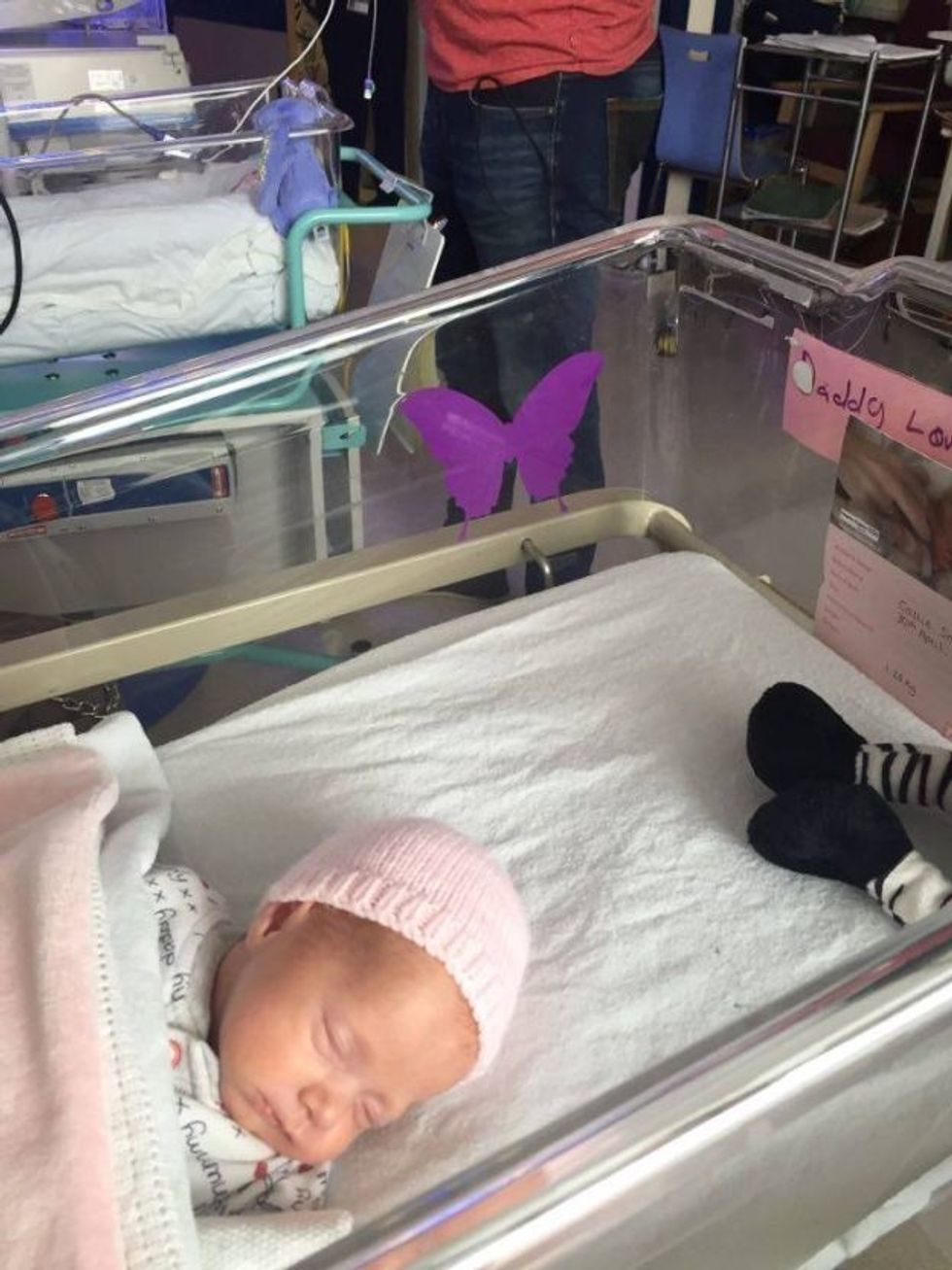 via: Life Buzz
It was a design meant to honor Skye, the twin that passed. Her intent was to let all involved know that Callie, the other child, was one of a multiple birth, at least one of which didn't survive.
"I chose butterflies, as I felt it was fitting to remember the babies that flew away, the color purple because it is suitable for both boys or girls," Smith said.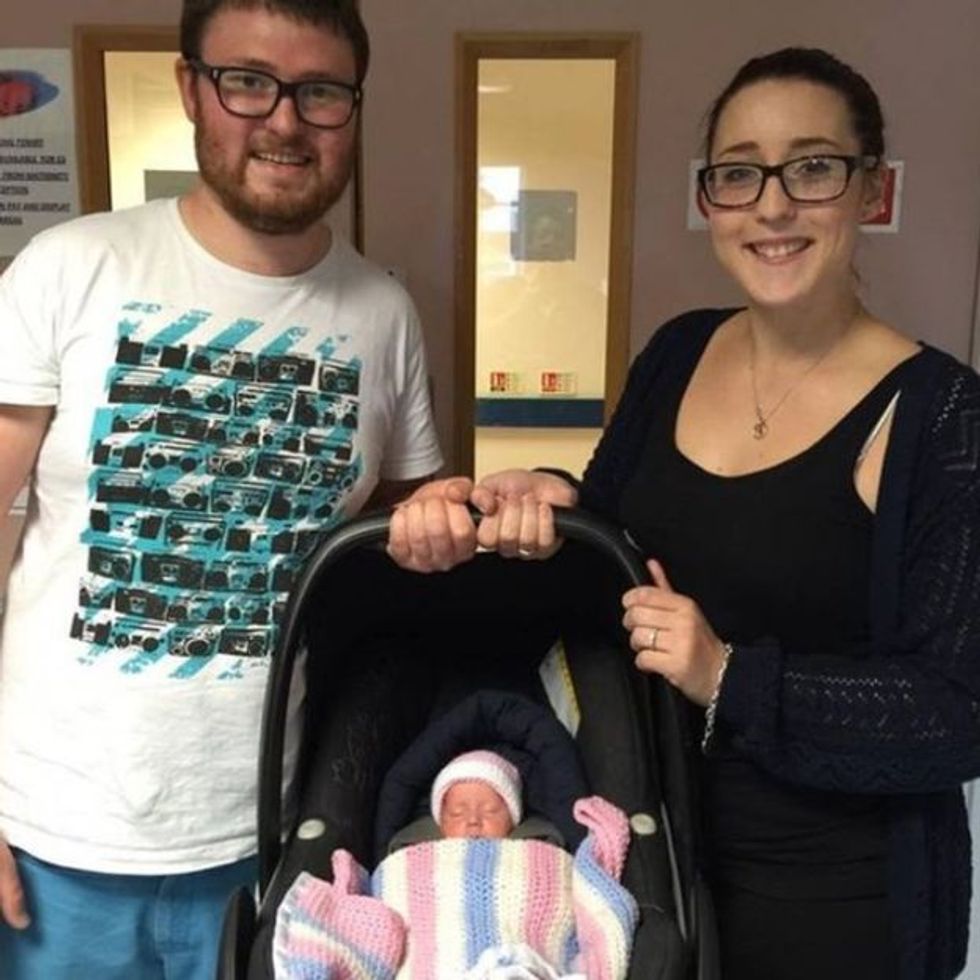 via: Life Buzz
The simple gesture protects the parents from emotional harm that might come about from innocent comments made by unwitting people.
While Skye may have passed away, Callie fought hard to survive, and eventually, her health stabilized enough to not need the incubator.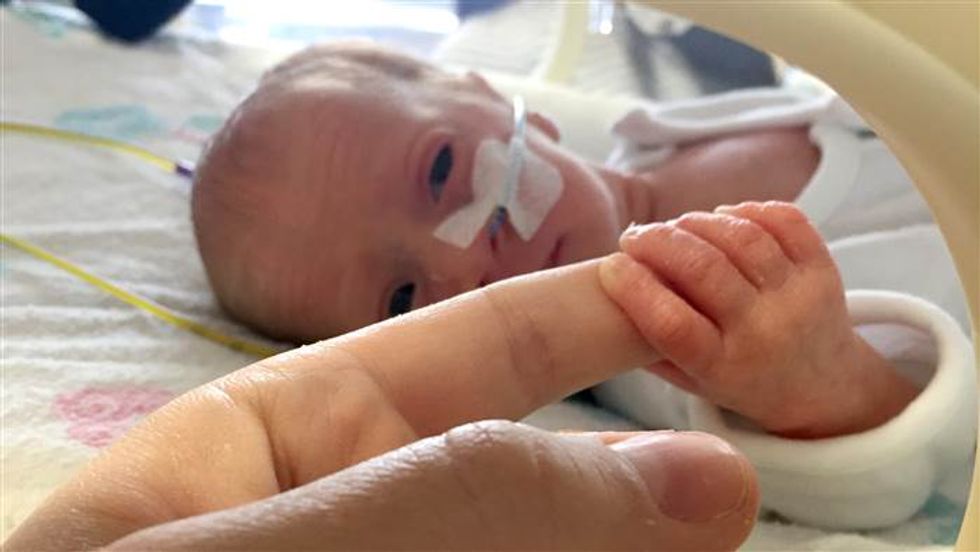 via: Today
She was even able to go home with her parents after what must have seemed like forever in the hospital, but her story didn't end there.
Here is Callie at eight weeks old, a happy and healthy child.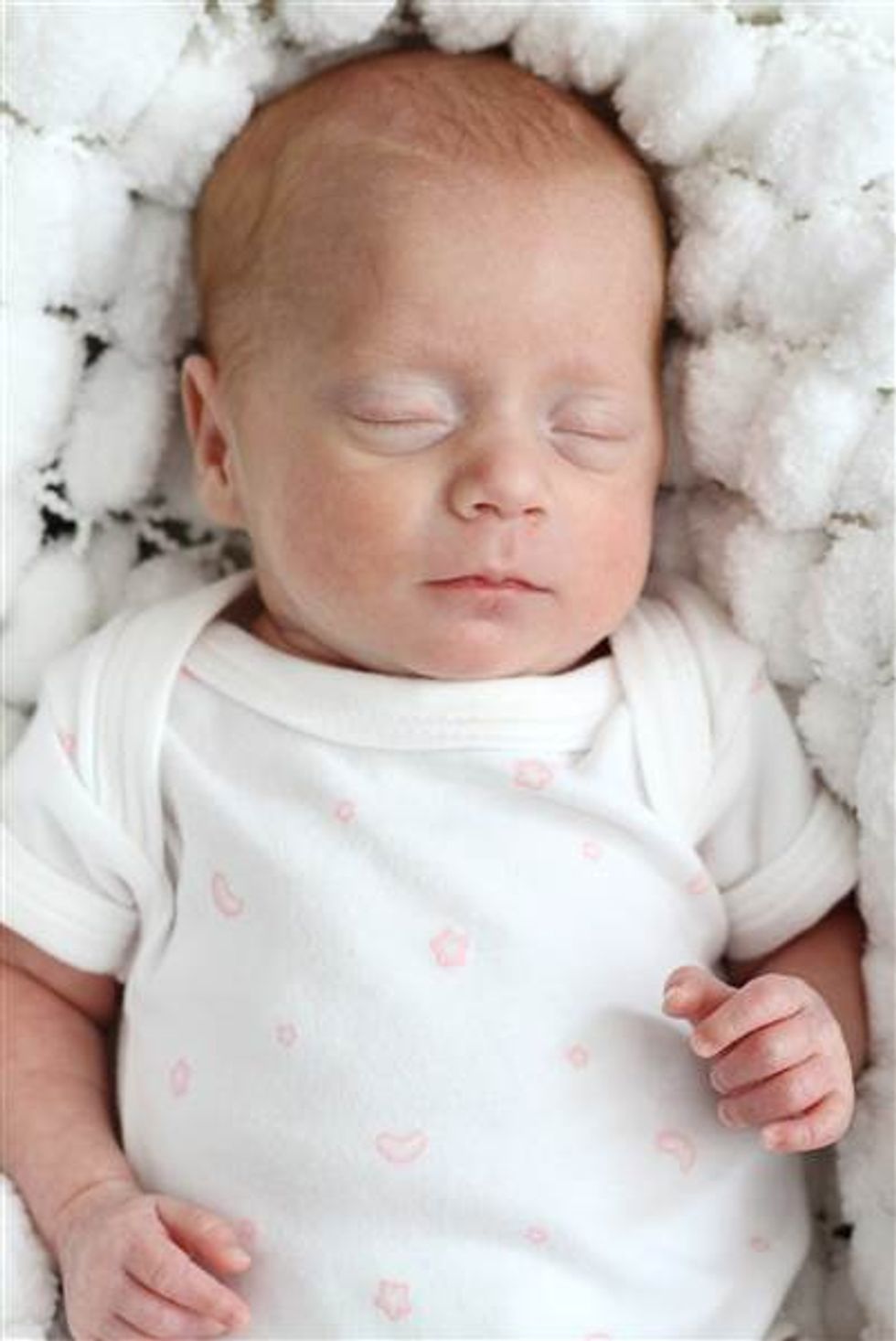 Her survival alone is a miracle, and she's already done more work than most adults have by helping spread awareness for the "purple butterfly project."
The hospital she was born at set up this sign and made the purple butterfly logo a standard practice in the maternity wing.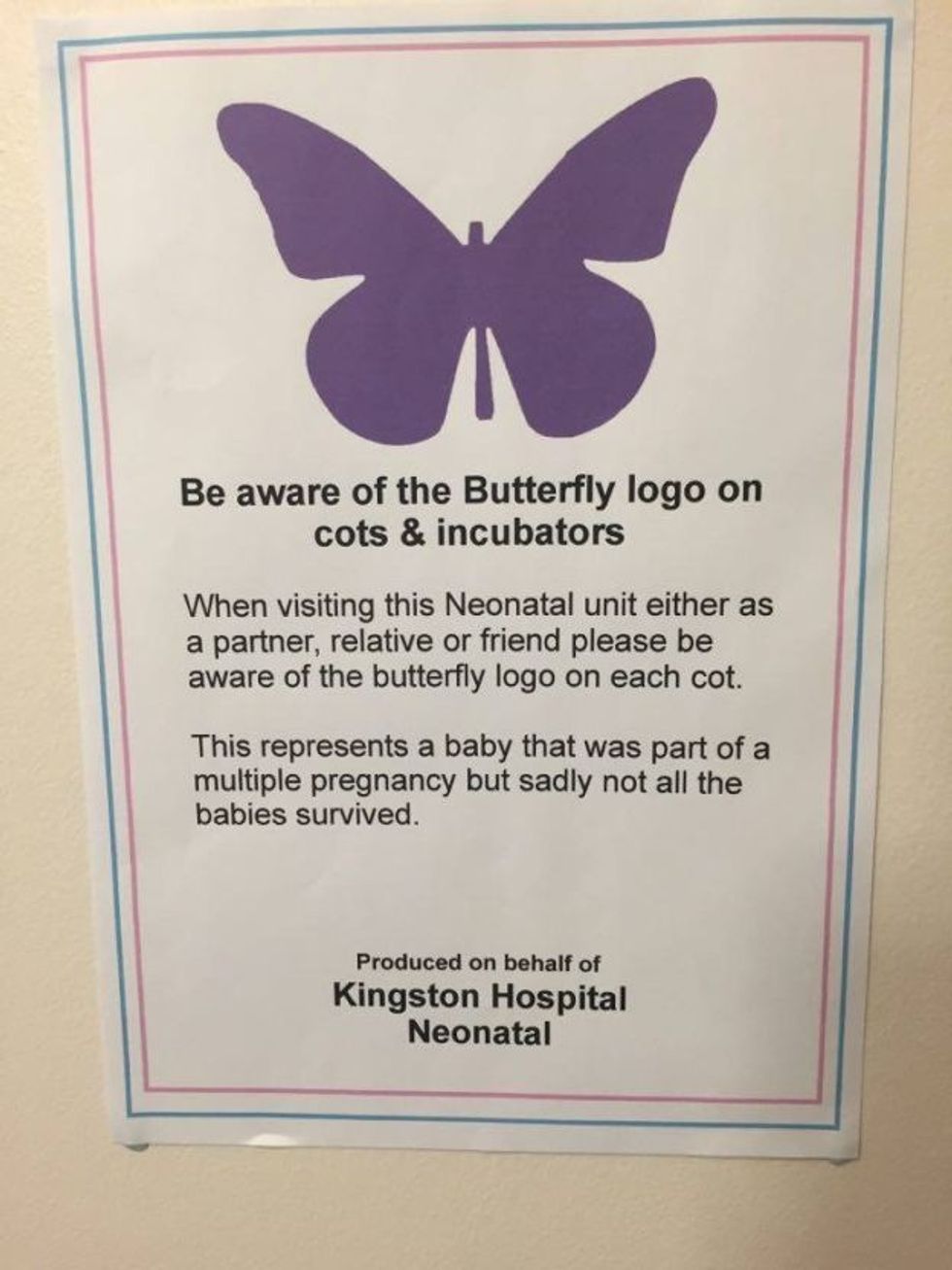 via: Life Buzz
Her parents also established the Skye High Foundation to provide bereavement counselors to parents who lost a child during pregnancy or shortly after birth.
Even with seven months to prepare for the reality of her situation, Smith said it was an unbelievable hardship.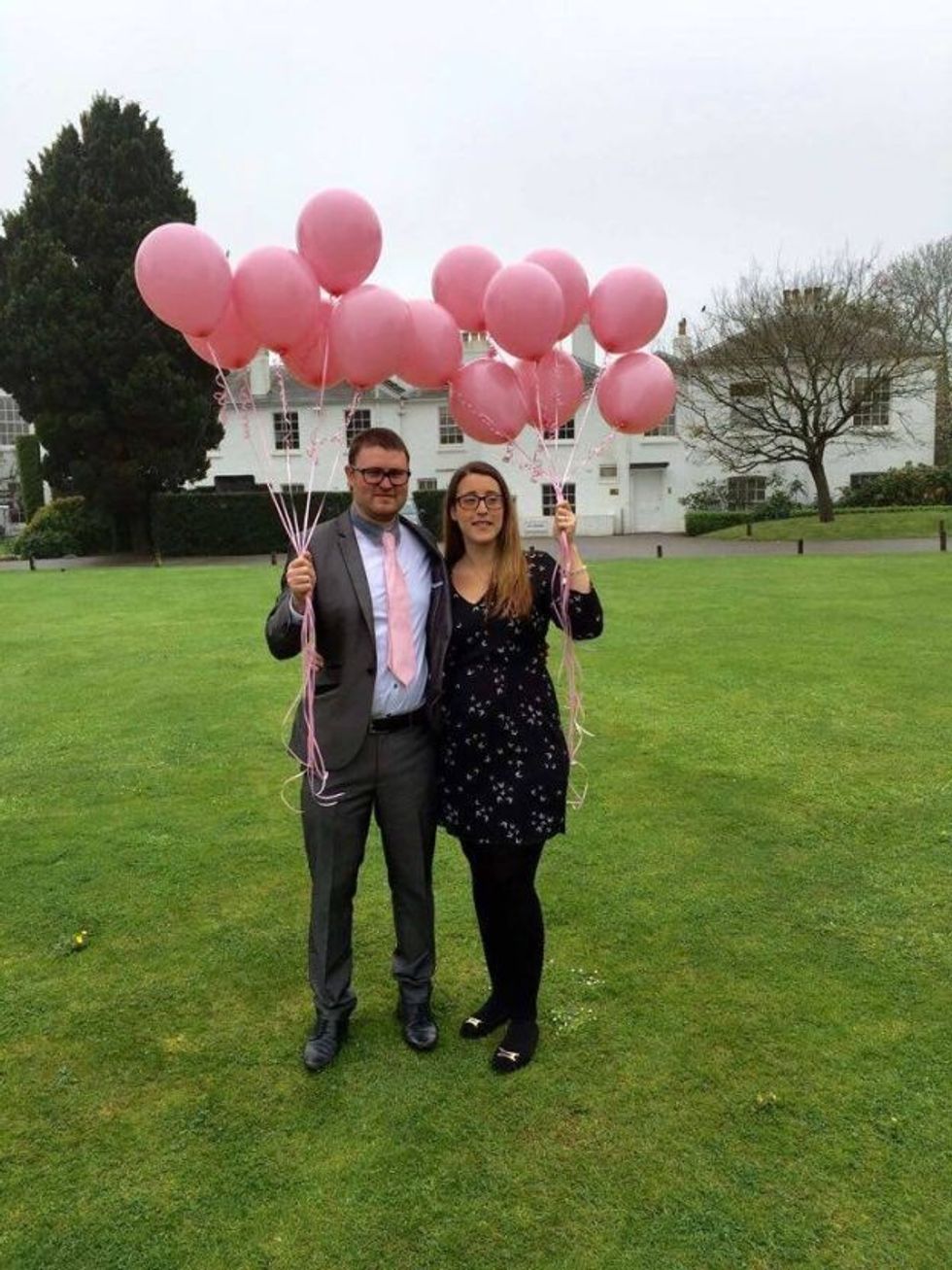 via: Life Buzz
"After going through this myself I feel there is a lot more that could be done to help parents cope with the loss. Support groups, counselling, even things like the planning of the funeral, additional daisy room (special room allowing you time with your baby away from the labour ward) and much much more. All these things cost money that no family should have to pay for," she explained.
Millie and Lewis have been hard at work with the Skye High Foundation.
They raised over 4,000 GBP in a Crowdfunding campaign to help support families through their difficult journey.

With that money, they were able to implement purple butterfly stickers at a hospital and they garnered interest from 150 hospitals all over the world who want to put them in place, too.
Through interviews and other press, they are hard at work spreading their message and making sure that families all over the world are supported by the Purple Butterfly Project.
Too many families have dealt with this sensitive issue.

Often, members of the hospital staff or other people are not trained properly on handling these extraordinarily sad, delicate situations.

One mother described how after she'd lost one of her twins, someone went over to the whiteboard over her surviving baby's incubator and erased the words, "Twin Two," saying, "Oh well you don't need that." Could you imagine?
The Skye High Foundation is doing more than promoting the Purple Butterfly Project.
Smith said
. "If we had been given a gift in neonatal on day one to honor Skye, we would have loved that."

The Hurlbut family, who received one of the blankets after one of their twin daughters Ella Grace passed away at 7 weeks, said their daughter Anna sleeps with it every night. Katie Hurlbut, Anna and Ella Grace's mom,
said
, "I feel like that blanket fives Anna something tangible to remember Ella by. I feel it is so important for the survivors to have something that they can hold onto that will also help them remember the sibling they lost."
To this day, they remain invested in the Skye High Foundation.
You can check out their
Facebook page
for more testimonials and just overall good feelings.