Fred Rogers is maybe the best person to ever live.
He educated countless children and brought joy to so many people's homes. And not only that, he was an activist and an advocate for children from all backgrounds. The new movie about his life, A Beautiful Day in the Neighborhood, starring Tom Hanks has us walking down memory lane.
Mister Rogers' Neighborhood was a staple of so many American homes.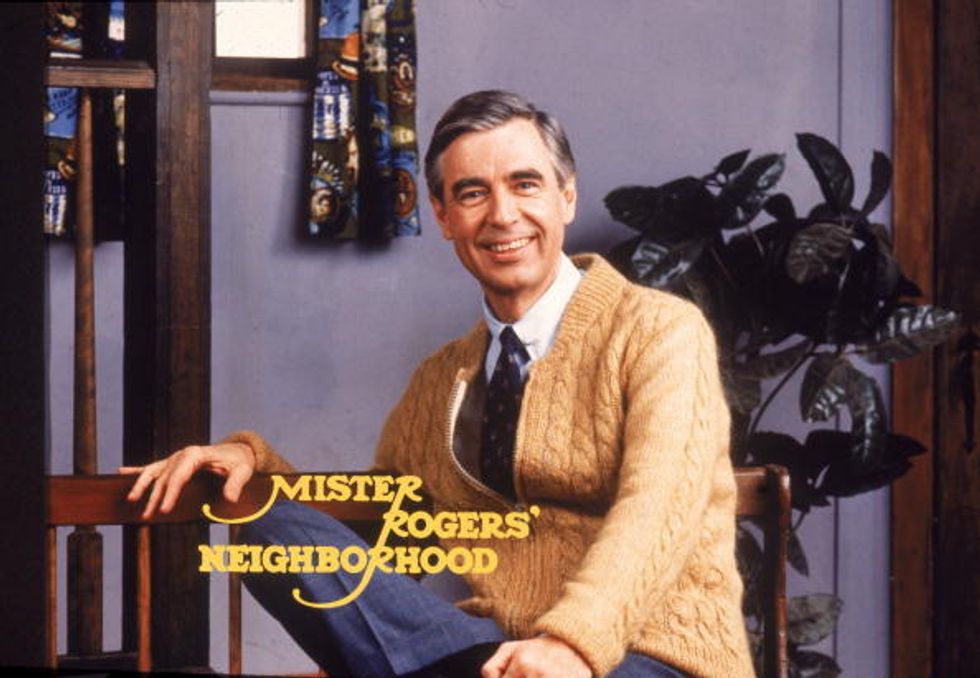 And Fred Rogers was the mastermind behind it. It just so happens that he was just as calm, collected, intelligent, and empathetic off-screen as he was on. Here are 19 of our most favorite quotes from the legend himself, Mr. Rogers.
Look for the helpers
When I was a boy and I would see scary things in the news, my mother would say to me, "Look for the helpers. You will always find people who are helping."
Love is active
Love isn't a state of perfect caring. It is an active noun like "struggle." To love someone is to strive to accept that person exactly the way he or she is, right here and now.
The importance of you
If you could only sense how important you are to the lives of those you meet; how important you can be to the people you may never even dream of.
There is something of yourself that you leave at every meeting with another person.
It's not what we have
It's not so much what we have in this life that matters. It's what we do with what we have.
The next one made me tear up, not gonna lie.
A sense of worth
The world needs a sense of worth, and it will achieve it only by its people feeling that they are worthwhile.
Shared responsibility
We live in a world in which we need to share responsibility. It's easy to say "It's not my child, not my community, not my world, not my problem."
Then there are those who see the need and respond. I consider those people my heroes.
Only you are you
Nobody else can live the life you live.
And even though no human being is perfect, we always have the chance to bring what's unique about us to live in a redeeming way.
The end is really the beginning
Often when you think you're at the end of something, you're at the beginning of something else.
Peace
Peace means far more than the opposite of war.
The next one is extra relevant today.
"Go ahead and cry"
People have said, "Don't cry" to other people for years and years, and all it has ever meant is, "I'm too uncomfortable when you show your feelings. Don't cry."
I'd rather have them say, "Go ahead and cry. I'm here to be with you."
How to succeed
There are three ways to ultimate success: The first way is to be kind. The second way is to be kind. The third way is to be kind.
A normal life
There is no normal life that is free of pain. It's the very wrestling with our problems that can be the impetus for our growth.
On solitude
Solitude is different from loneliness, and it doesn't have to be a lonely kind of thing.
Children's play
I think it's very important — no matter what you may do professionally — to keep alive some of the healthy interests of your youth.
Children's play is not just kids' stuff. Children's play is rather the stuff of most future inventions.
The next one is a really nice thought.
Generations
One of the greatest dignities of humankind is that each successive generation is invested in the welfare of each new generation.
Forgiveness
Forgiveness is a strange thing. It can sometimes be easier to forgive our enemies than our friends.
It can be hardest of all to forgive people we love.
Like all of life's important coping skills, the ability to forgive and the capacity to let go of resentments most likely take root very early in our lives.
One kind word
Imagine what our real neighborhoods would be like if each of us offered, as a matter of course, just one kind word to another person.
You've already won
In a way, you've already won in this world because you're the only one who can be you.
A worldwide connection
All of us, at some time or other, need help. Whether we're giving or receiving help, each one of us has something valuable to bring to this world. That's one of the things that connects us as neighbors--in our own way, each one of us is a giver and a receiver.
Be a hero
Anyone who does anything to help a child in his life is a hero.
Encourage each other
As human beings, our job in life is to help people realize how rare and valuable each one of us really is, that each of us has something that no one else has- or ever will have- something inside that is unique to all time. It's our job to encourage each other to discover that uniqueness and to provide ways of developing its expression.
Put in the work
Discovering the truth about ourselves is a lifetime's work, but it's worth the effort.
Savor the quiet moments
How many times have you noticed that it's the little quiet moments in the midst of life that seem to give the rest extra-special meaning?
Don't try to change people
I don't think anyone can grow unless he's loved exactly as he is now, appreciated for what he is rather than what he will be.
Give yourself credit
I hope you're proud of yourself for the times you've said "yes," when all it meant was extra work for you and was seemingly helpful only to someone else.
Be a good listener
In times of stress, the best thing we can do for each other is to listen with our ears and our hearts and to be assured that our questions are just as important as our answers.
Embrace your imperfections
Little by little we human beings are confronted with situations that give us more and more clues that we are not perfect.
Love without an agenda
Mutual caring relationships require kindness and patience, tolerance, optimism, joy in the other's achievements, confidence in oneself, and the ability to give without undue thought of gain.
Don't be so hard on yourself
Some days, doing 'the best we can' may still fall short of what we would like to be able to do, but life isn't perfect on any front-and doing what we can with what we have is the most we should expect of ourselves or anyone else.
Find out what you love to do and do it
The thing I remember best about successful people I've met all through the years is their obvious delight in what they're doing and it seems to have very little to do with worldly success. They just love what they're doing, and they love it in front of others.
Make good choices
You rarely have time for everything you want in this life, so you need to make choices. And hopefully, your choices can come from a deep sense of who you are.
Be present
We get so wrapped up in numbers in our society. The most important thing is that we are able to be one-to-one, you and I with each other at the moment. If we can be present to the moment with the person that we happen to be with, that's what's important.
The world is filled with good people
The media shows the tiniest percentage of what people do. There are millions and millions of people doing wonderful things all over the world, and they're generally not the ones being touted in the news.
What is heaven?
The connections we make in the course of a life--maybe that's what heaven is.
Think about "losing" differently
Often out of periods of losing come the greatest strivings toward a new winning streak.
Celebrate wonder
Our society is much more interested in information than wonder, in noise rather than silence...And I feel that we need a lot more wonder and a lot more silence in our lives.
Show others their worth
The world needs a sense of worth, and it will achieve it only by its people feeling that they are worthwhile. Try your best to make goodness attractive. That's one of the toughest assignments you'll ever be given.
Never stop playing make-believe
You can think about things and make-believe. All you have to do is think and they'll grow.
To be loved
I don't think anyone can grow unless he's loved exactly as he is now, appreciated for what he is rather than what he will be.
Share with someone who you'd like to be your neighbor!