The First Daughter took to the social media platform Monday night to respond to the news that multiple bomb threats were called in to at least ten different Jewish community centers on Monday.
In fact, there have been 69 reported similar incidents targeting 54 Jewish Community Centers in 27 states, according to the
JCC Association of North America
. So with this wave of bomb threats, it's only natural for President Trump's daughter to condemn them, right?
Her tweet was no doubt well-intentioned, but Twitter users were quick point out just how ironic her message of religious intolerance was.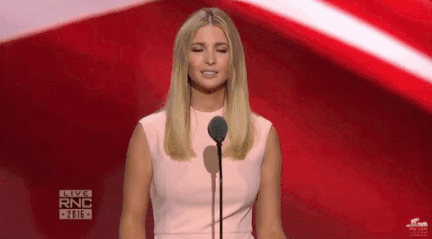 via: Giphy
For starters, Ivanka converted to Judiasm before marrying her husband, Jared Kushner, who is now a senior adviser for the Trump administration. But Ivanka's father's chief strategist is Steve Bannon, the
Breitbart
, editor who has been accused of anti-Semitism. On top of that, users noted that her father caused controversy shortly after his inauguration by implementing a "Muslim Travel Ban", a policy which most certainly does not uphold religious tolerance.
The irony wasn't lost on Twitter, whose basic message was, "Tell your dad."