Breaking news: there's tea to be spilled in the beauty industry, and believe it or not, it doesn't involve James Charles, Tati Westbrook, or Jeffree Star. For once!
It's undeniable that the beauty industry is perhaps the hottest place for gossip right now and there's always something, or someone, out there just on the verge of being absolutely roasted online. I surely can't be the only one who absolutely lives for the tea... am I?
Youtuber and business owner, Jaclyn Hill, is the most recent to fall victim to the trash talk of the online beauty world, and it really isn't looking good for the beauty star right now. Read on to find out what's going down with Jaclyn's makeup line...
First things first... who is Jaclyn Hill?
She worked hard to make a name for herself...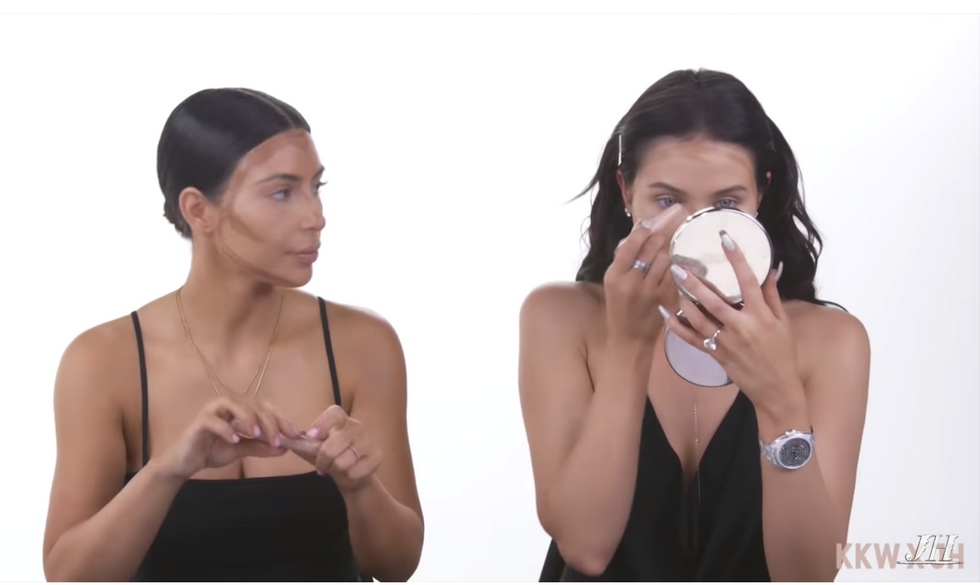 via: YouTube
Jaclyn's Youtube channel consists of makeup reviews and tutorials, and she even featured the legendary Kim Kardashian on her channel in 2017 to promote Kim's makeup line, KKW Beauty.
And she recently unveiled her very own Jaclyn Cosmetics.
 until she started her very own Jaclyn Cosmetics, which was announced last month.
The expectations were high...
super high for her new makeup line, which, so far, only stocks her signature lipsticks in twenty different shades.
More is yet to come...
But something is up with Jaclyn Cosmetics...
The last few days have seen a backlash against the beauty star's collection. The whole of the internet is complaining about the same thing concerning Jaclyn's new products.
Fans were initially super excited...
The anticipation of the release of Jaclyn Cosmetics was an immense one, and the line was, at first, very well received. But beauty fans who have purchased the collection have noticed the same, rather uncomfortable, characteristic in the products...
They were soon to be very disappointed.
Why is my @jaclyncosmetics Decaf lipstick lumpy?? @Jaclynhill This cant be ok right?? #jaclyncosmetics #jaclynhill https://t.co/xjffA4fUF1

— Veronica (@Veronica)1559778522.0
When customers excitedly unboxed their new lipsticks, they were shocked to find that the products were lumpy, covered in bumps.
There is a clear pattern.
@Jaclynhill @jaclyncosmetics I am a huge supporter! Seriously love you. I was soooo excited to buy your lipsticks.… https://t.co/zwD3dTPalF

— Krystal Duarte (@Krystal Duarte)1559926749.0
The exact same thing happened to another excited customer...
Some were completely damaged upon arrival.
Used my lipsticks or the first time today and it crumbled. 🥺 @Jaclynhill @jaclyncosmetics #SoUpset https://t.co/CD2UZBHkjA

— Kaitlynnnnnnnnnnn (@Kaitlynnnnnnnnnnn)1559865634.0
Not what you want when you've just paid $18 for a lipstick...
Jaclyn has been quick to respond.
My team and I are working very hard on finding out EXACTLY what is causing the "grittiness & bumpy texture" on some… https://t.co/pzaH5Gl9GX

— Jaclyn Hill (@Jaclyn Hill)1560021932.0
Jaclyn issued a statement via Twitter a few days ago, updating fans on how she is "working very hard on finding out exactly what's causing the bumpy texture and grittiness in the lipsticks," with her team. Her apology appeared sincere and Jaclyn seems eager to get the problem resolved. She wants the dissatisfied customers to be reimbursed with new products; which is all we can ask for, right?
But things got worse.
All I can say is WTF https://t.co/qZFGPYlOWc

— RawBeautyKristi (@RawBeautyKristi)1559947879.0
Youtuber and blogger, 
Raw Beauty Kristi,
uploaded a harsh review on the collection and pointed out the stray hairs that she found on one of the lipsticks.
Not appealing...
I'm sorry, but stray hairs are exactly what you don't want to find on your brand new lipstick.
So what exactly are these hairs, Jaclyn?
They had so much potential.
Excuse me while I shed a tear over this loss...
Jaclyn was, once again, quick to respond.
If any of you are receiving lipsticks like this.... please know that this is NOT hair! My factory used brand new wh… https://t.co/u8nKPeZapO

— Jaclyn Hill (@Jaclyn Hill)1560027833.0
Jaclyn responded to Kristi's tweet explaining what the hairs were... "Brand new white gloves that have shed all over the product." It seems legit to me.
There's always room for improvement.
It seems like Jaclyn has taken this problem seriously.
Who knows...
It hasn't been confirmed yet that these hairs were indeed "fibers" from gloves, but Jaclyn has done the most that she can by offering refunds and replacements to all customers affected by this mishap.
Stay strong, Jaclyn!
aren't any hairs on her lipsticks before she sends them out...