In September 2016, San Fransico 49'ers' Quarter Back, Colin Kaepernick, caught the media's attention after he was seen kneeling during the National Anthem. Kaepernick, who has now quit the NFL in favor of his political stance, refused to stand during the anthem because of his views on the country's treatment of racial minorities.
Though many ostracized the sportsman for "disrespecting" the country, many have shown their support for him and his cause, including a number of high-profile celebrities.
Though it seems his chances of playing in the NFL are still rather slim, there has been some good news for Kaepernick – namely a brand new Netflix show!
But it's set to start next week …

Which has come as a shock to many sports fans.

His stance on the BLM movement brought his name back into the headlines.

People were excited to see Kaepernick back doing what he does best!

Just what is going on with Kaepernick's career?

Kaepernick, born in Milwaukee in 1987, is a former quarterback-turned-activist who is known for his political activism regarding systematic racism against African-Americans.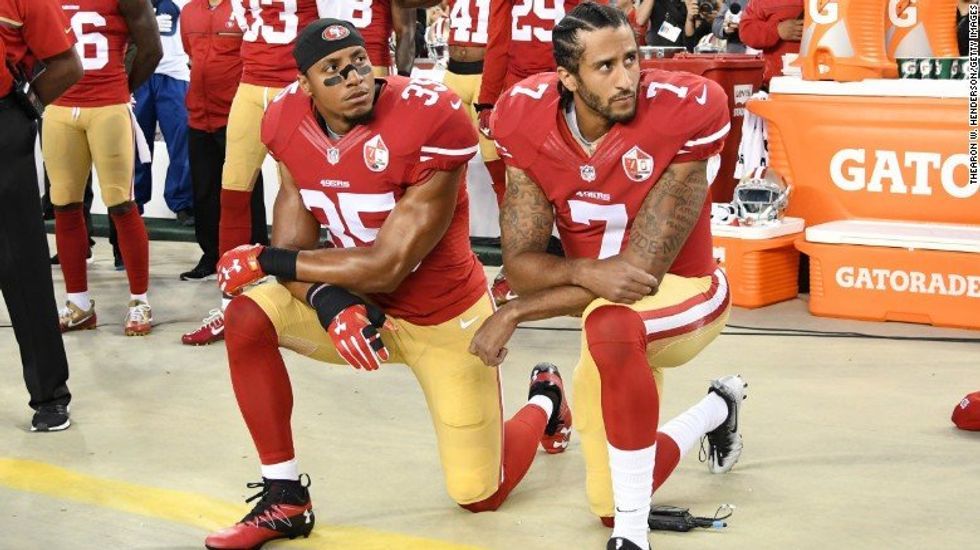 In 2016, during the 49ers third preseason game, Kaepernick began kneeling during the US national anthem prior to games, rather than standing as is customary.

Speaking in an interview in 2016, Kaepernick said: "To me, this is something that has to change, and when there's significant change and I feel like that flag represents what it's supposed to represent and this country is representing people the way that it's supposed to, I'll stand."

Kaepernick later said that he "couldn't show pride in a flag for a country that oppresses black people and people of color." He opted for kneeling over sitting, however, as a sign of respect for the men and women who fight for the United States.

His teammate, Eric Reid, soon began to kneel beside him, alongside other teammates such as Antoine Bethea, Eli Harold, Jaquiski Tartt, and Rashard Robinson.

Initially, the NFL released a statement claiming that players were only encouraged, and not required, to stand during the national anthem. But, in 2017, Kaepernick became a free agent. No team would offer him a contract, and, in October of that year, he filed a grievance against the league, accusing team owners of colluding to keep him signed.

After Kaepernick's attorney stated that "athletes who protest peacefully should not be punished", public backlash mounted until team owners declared that all team personnel on the field must "stand and show respect for the flag and the anthem."

If any team members where caught kneeling during the anthem, the team would be fined and the decision would be upon the team leader whether or not they punish that particular player. This did not sit well with the players, nor did it with the rest of America.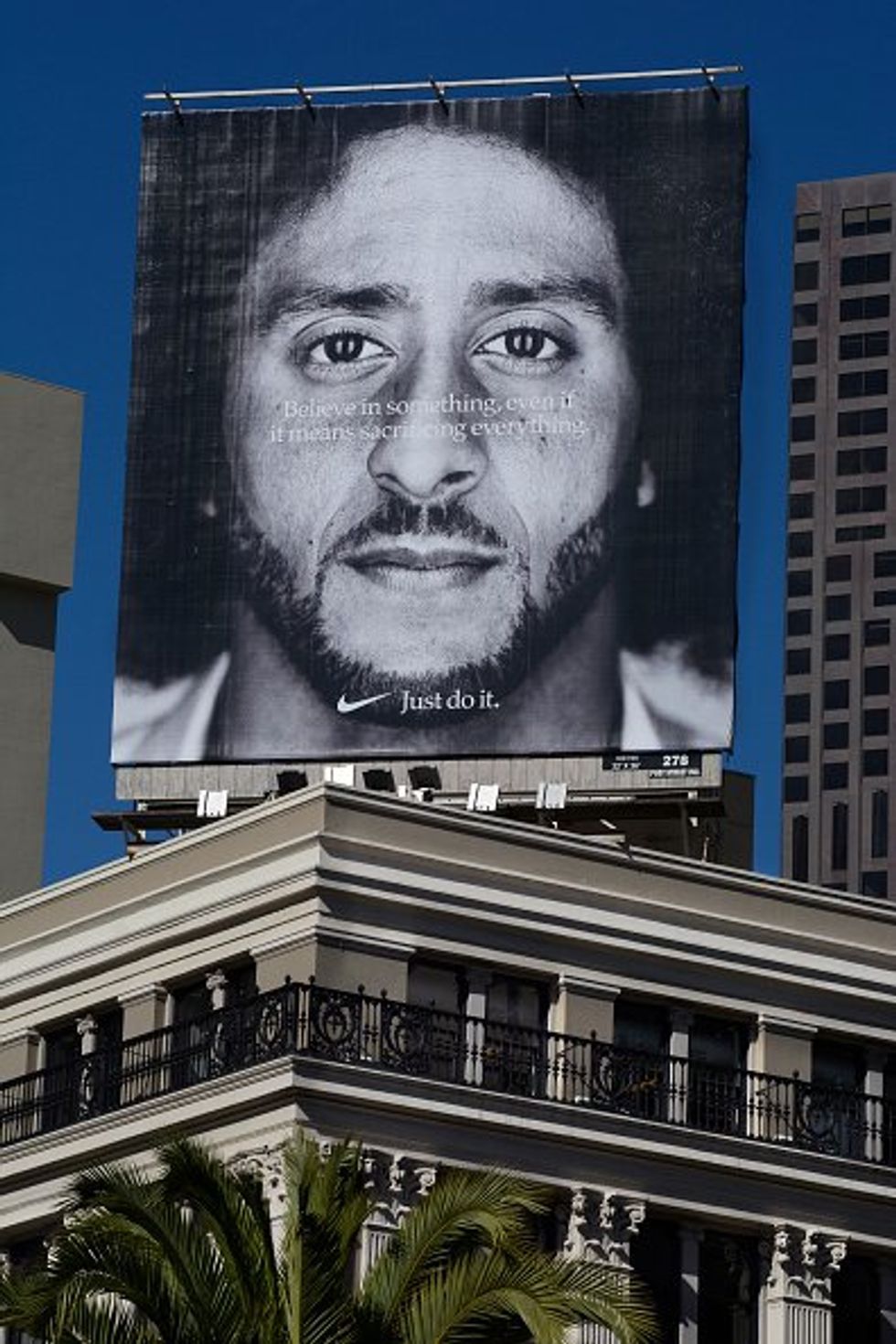 For the thirtieth anniversary of Nike's "Just Do It" campaign in September 2018, Colin Kaepernick was used as the frontman of the global phenomenon, along with the headline: "Believe in something. Even if it means sacrificing everything."

The "sacrifice" is clearly in reference to his kneeling protests that resulted in him not being able to participate in the sport anymore. The fact that Nike used his image and beliefs to promote their brand is a huge step forward for the rights of black Americans and the racial injustices that still go on to this very day.

After Donald Trump said that athletes who kneeled during the national anthem were disrespecting the U.S. and its patriotic symbols, the hashtags #TakeAKnee and #TaketheKnee began trending.

Musician John Legend penned his own op-ed for Slate, titled "The NFL Protests Are Patriotic." In his piece, Legend called out Trump for suppressing voter rights and talked about important protests in history.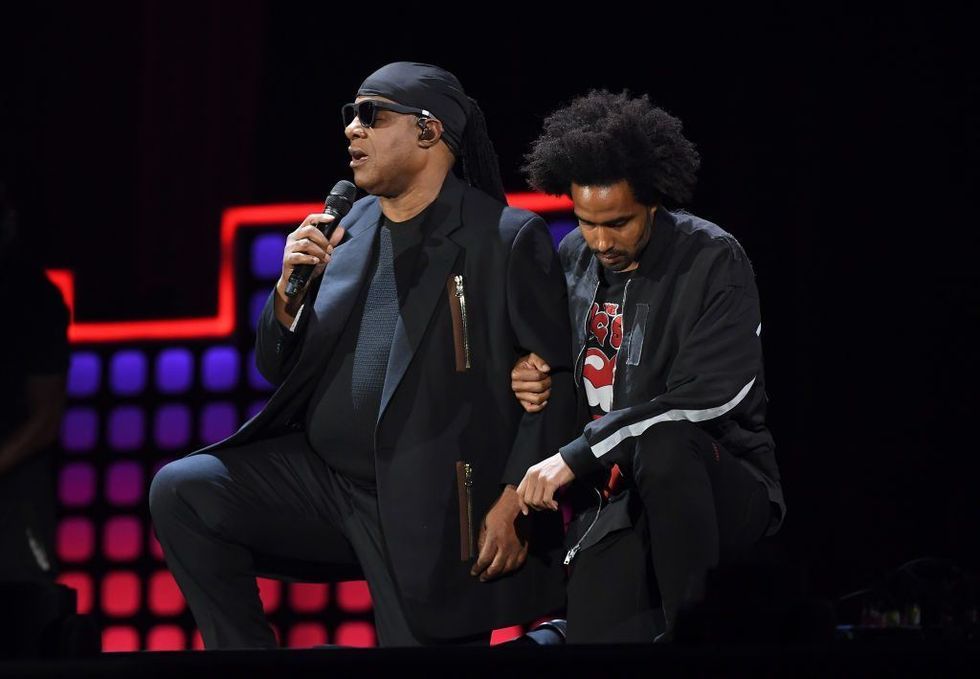 The music legend performed at the Global Citizens Festival in New York in September 2017. And he had the following to say in support of Kaepernick and the other NFL players… "Tonight, I'm taking a knee for America," Wonder said, kneeling down arm in arm with his son, Kwame Morris. "But not just one knee — I'm taking both knees."

Even the whole cast of Star Trek: Discovery rallied together to show their support.
And actress, Sonequa Martin-Green, shared a photo on her Instagram of the team all kneeling on their knees with the hashtag, #takeaknee.

She took her support beyond just voicing her opinion.

The Super Bowl half-time show is one of the biggest entertainment events in the world, and each year features iconic musicians.

But she turned down the invite, saying that she "couldn't dare do that" to Colin Kaepernick.


In her cover story with Vogue, the singer confirmed she was taking a stand against the league. "I couldn't dare do that. For what? Who gains from that? Not my people," Rihanna said, "…I just couldn't be a sellout. I couldn't be an enabler."


"There are things within that organization that I do not agree with at all," the singer explained, "…and I was not about to go and be of service to them in any way."

But that just doesn't seem to be the case.

"Per a source with knowledge of the situation, there was some "fake" interest expressed immediately after Floyd's death, seemingly out of guilt," a source claims. But there has been some good news for Kaepernick…

And it seems many are pretty happy with the news…

Want to learn more about Kaepernick's activism? Scroll on…