When former White House Press Secretary Sean Spicer took the stage at the 69th Primetime Emmy Awards on September 17, 2017, we bet James Corden had no idea he'd have to apologize for being photographed macking on the guy later that night.
But this is the world we live in.
Sean Spicer rolled a podium out on stage during the live broadcast to make fun of how he lied to the American people repeatedly for months.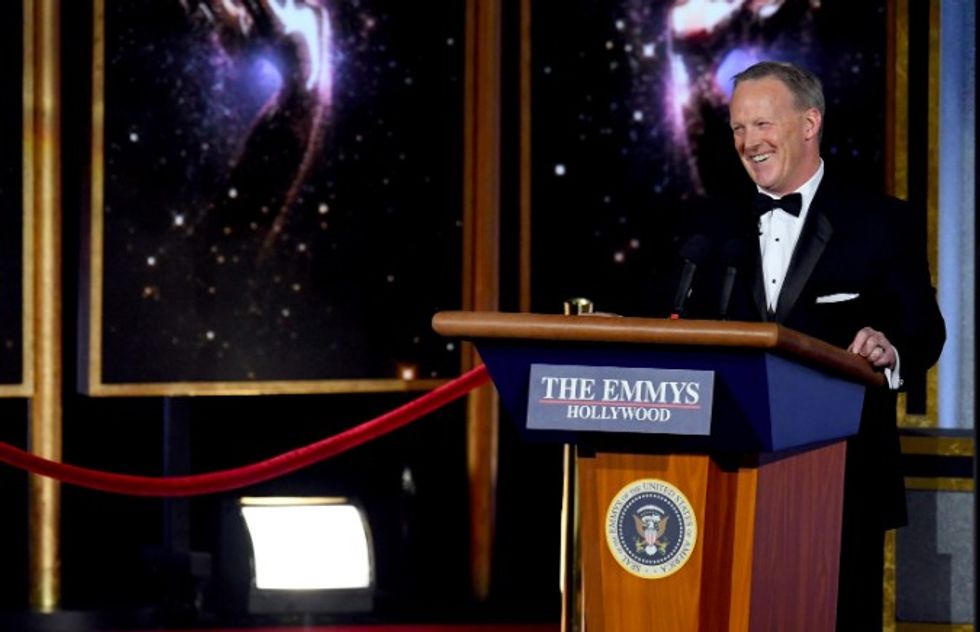 via: Getty Images
The appearance was instantly polarizing. Even people in the audience at the Emmys didn't quite know how to react — and most of them are professional actors.
You can watch the whole moment here:
Stephen Colbert, the host for the evening, calls Spicer on stage to yell about the size of the crowd watching the Emmys, a strange nod to his first major lie from the White House podium about how many people showed up to Donald Trump's inauguration.
Anna Chlumsky from Veep had to pick her jaw up off the floor.
Reactions from audience members were varied.
Melissa McCarthy, who plays Spicer on SNL, seemed embarrassed for the guy. Sarah Hyland and Julie Bowen of Modern Family fame had these looks of dangerous glee on their faces. Others, like Kevin Spacey and Tony Hale, laughed at it in the moment.
Twitter immediately exploded, mostly with criticism.
People (including Zach Braff) were not down with Spicey's Emmy appearance. They didn't like that Hollywood allowed this man — who unequivocally contributed to spreading the lies of the toxic Trump administration — a platform from which to cheekily try to redeem himself. But how did James Corden feel about Spicey? Welllllll, Corden kissed him. On the face. You have to see the pic...
What was he thinking?
The Late Late Show.
It's pretty safe to say that Corden regretted the late night smooch-fest.
And he sort of tried to side-step 
the kiss
in his monologue...at least for a few moments. "The big winners last night were Donald Glover, Hulu, and former White House press secretary Sean Spicer,"
Corden began
. "Spicer won best actor in a comedy for his role in Donald Trump's administration. I'm kidding, of course, but Sean Spicer actually did make a cameo at last night's ceremony, and according to some reports, at the after-party, Spicer was the most popular guy in the room."
Yeah...there was no making this kiss go away. So Corden addressed it...
Then, they showed the picture.
Corden continued by explaining how drunk he was.
And they were overwhelmingly critical.
These are difficult times, and while you always want to be able to joke about current events, this administration has done real harm to a lot of people. It's hard to condone the normalization of such nefarious people.
Corden's Spicey Smooch even got compared to Ripley posing with the alien from Alien.
The repeated normalization of Sean Spicer and Donald Trump and everyone else in this administration is insidious and harmful to all those marginalized by our government.
Trump has facilitated hate in many forms since taking office.
And for six months, Sean Spicer was the mouthpiece for the administration that banned Muslims, that banned transgender people from the military, that ended DACA, that sided with white supremacists. The fact that Hollywood allowed Spicer to laugh that off on national television only fuels the fire of that hate. And Corden kissed him! Gross.