This year's Golden Globes award show was probably the most woke one ever — but it still had more than its fair share of problems. While most of the women and men in attendance wore black in solidarity with victims of sexual assault and clipped "Times Up" pins to their lapels, there were still multiple issues with the show.
Like the fact that Kirk Douglas — who allegedly raped actress Natalie Wood when she was 16 years old — was honored on-stage.
And many men in attendance, while they did indeed wear the prescribed black clothing and "Times Up" pins, remained completely silent on the issues they purported to support with their sartorial statements.
Oh yeah, and then there's James Franco.
Black tux? Check. Time's Up pin? Check. No allegations of sexual assault? Yeah...about that.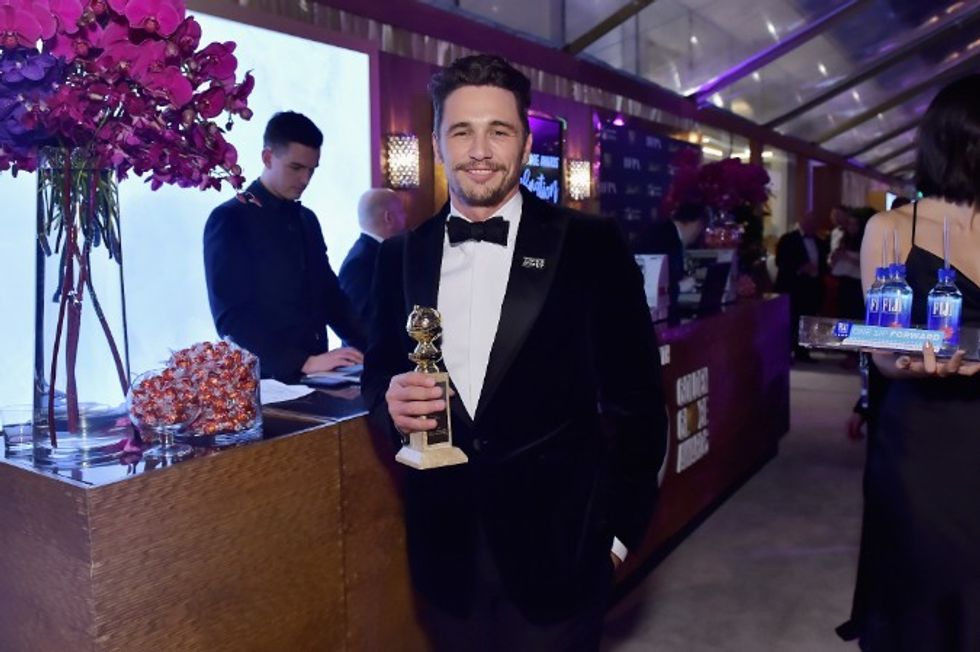 via: Getty
Franco managed to dress the part of someone who supports victims of sexual abuse, unequal pay, and a bevy of other inequalities women and people in marginalized groups suffer every day within multiple industries. But he's actually part of the problem.
There have been multiple allegations against Franco of sexual abuse. The hypocrisy of him wearing a Time's Up pin is really pretty stunning.
Cute #TIMESUP pin James Franco. Remember the time you pushed my head down in a car towards your exposed penis & tha… https://t.co/ZmeRYFua9P

— Violet (@Violet)1515392749.0
Actress Violet Paley shared her own personal encounter with Franco. She alleges that he pushed her head toward his exposed penis while they were in his car. Apparently, he also tried to get her friend — who was 17 years old at the time — to come to his hotel room.

There have been more instances of Franco sexually harassing teenage women. Back in 2014, he reached out to a 17-year-old girl on Instagram and tried to get her to meet him at his hotel. Apparently, sexually harassing teenagers is just kind of his thing.
After Franco won the Golden Globe, The Breakfast Club star Ally Sheedy made it clear that it's because of people like him that she left the entertainment industry.
Ally Sheedy needs to be asked about this! #GoldenGlobes https://t.co/q6pWkf8U5w

— Lisa Liebman (@Lisa Liebman)1515380291.0
Her tweets, which have since been deleted, first asked why Franco had been allowed into the award show in the first place. She then called out actor Christian Slater along with Franco, including the #MeToo hashtag. Right after Franco's win was announced, she tweeted, "James Franco just won. Please never ever ask me why I left the film/tv business."
But, Franco still has a movie to promote. After all, the Oscars are just a few weeks away.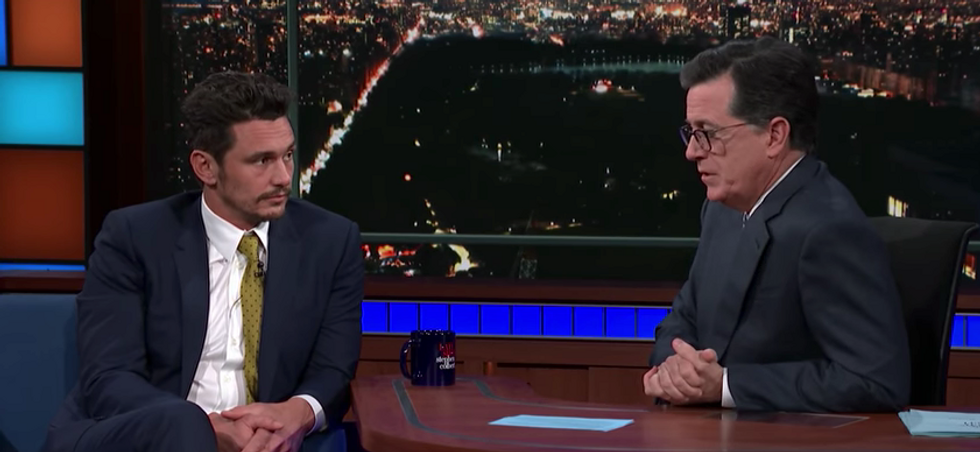 via: YouTube
He appeared on Stephen Colbert's talk show last night. After talking about 
The Disaster Artist
, Colbert said he wanted to address the allegations that had been made on Twitter against Franco. "You got criticized for wearing [a Time's Up pin]," Colbert said. "Do you know why, and do you have a response? Do you have anything you want to say about that criticism?" Franco's then launched into his awkward and completely inadequate response.
You can watch his response here:
Franco started off by explaining that he wore the pin because he supports what the Time's Up legal defense fund is working to accomplish. The audience applauded. And then Franco said he hadn't read the accusations on Twitter, but he's "heard about them." "The things that I heard that were on Twitter are not accurate but I completely support people coming out and being able to have a voice because they didn't have a voice for so long."

Hm. A man accused of sexual harassment saying that the claims against him are inaccurate. Where have we heard that before? Oh, that's right. That's what nearly every man who's been accused of sexual misconduct has said for the past few months. Franco also addressed the tweets from Ally Sheedy. "I have no idea what I did to Ally Sheedy," Franco said. "I directed her in a play Off-Broadway. I had nothing but a great time with her, total respect for her. I have no idea why she was upset." The rest of the conversation is stilted and awkward, but the gist of it is that James Franco must be a good guy, because why else would he be wearing a Time's Up pin?
This isn't the first time Franco's used the "aw, shucks" method of dealing with allegations of misconduct. Here he is in action back in 2014 on the LIVE with Kelly and Michael show:
This was right after his texts with the aforementioned 17-year-old girl had leaked to the public. Franco said he was embarrassed and then literally said, "social media is tricky," as if he had been trying to print out an email and accidentally found himself soliciting a 17-year-old.
Here's the exchange between Franco and the 17-year-old girl. Judge for yourself whether this is a case of social media being tricky:
James Franco admitted to attempting to get a 17 year old to go to his hotel room. Everyone who is saying someone "c… https://t.co/kSfI4u1lC0

— Hank Green (@Hank Green)1515477400.0
He asked how old she was. She said she was 17. He was 36 years old. Seems pretty cut and dry, right?
The New York Times had a public event with Franco scheduled to take place today. In light of this newest round of allegations, the event has been canceled.
BREAKING NEWS: The New York Times has canceled a public event with James Franco days after the Golden Globe winner… https://t.co/OaDehZ8lLP

— Dave Vescio (@Dave Vescio)1515578441.0
Maybe this will urge Franco to, you know, 
actually
address those allegations. In the meantime, maybe everyone will be able to get it together for the Oscars. Probably not, though.