If there's one thing that unites the whole divided internet, it's pizza. Whatever your political affiliation, religious beliefs, or favorite member of the Queer Eye cast, we can all unite in our love of dough, tomato, and cheese. Until you bring up the divisive issue of pineapple - but the less said about that, the better.
But one Japanese restaurant has gone viral after revealing what must be termed the most ambitious pizza we've ever seen. Termed the "Nikku [or 'meat'] Mountain," it essentially consists of two pizzas, stacked on top of each other - with a whopping eighteen different types of meat. Feeling hungry? Get scrolling.
Pizza is basically one of the unifying forces of the world.
When everything seems terrible, it's important to remember that pizza exists - and it's not going anywhere.
It's something we can all agree on.
And even when you keep pizza down to its basic essence, it's still pretty good stuff.
People feel pretty strongly about the stuff.
And whatever your pizza topping preference, we can all be happy that the stuff exists, period.
But what if pizza could be taken to the next level?
Do you know what's better than pizza? Plural pizzas. And one Japanese restaurant has managed to really do the most with the classic pizza structure.
The restaurant in question is a Japanese pizza chain called Aoki's.
And their newly created "Nikku Mountain" pizza is enough to leave even the most enthusiastic pizza eater feeling a little bit overwhelmed.
The "meat mountain" is pretty impressive.
For one thing, it weighs in at a whopping two kilograms - or almost four and a half pounds.
For one thing, there are two bases.
Essentially, one pizza is placed directly on top of another, meaning you're already doubling up on dough.
But if you were worried that this means you'll be skimping on toppings?
Think again. The pizza has an unbelievable eighteen different types of meat, alongside two base sauces and two types of melty, melty cheese.
The first layer has eleven different types.
It's a smorgasbord of beef steak, hamburger, roast ham, Iberico bacon, sliced ​​bacon, bacon bits, Grand Alto Bayern, pepperoni, mini wiener, pork sausage, and Italian sausage.
And the second layer?
Well, that's coated in black beef ribs, chicken, specially ground meat, spicy meat sauce, taco meat, ham, BBQ sauce, Ajillo sauce, mozzarella and Gouda cheese. Phew.
The pizza comes in a range of sizes.
You can purchase the pizza in a medium size (11 inches wide) for 2,918 yen ($27.02). But if you really want a challenge, you can get it in large size (18 inches) for 4,624 yen ($42.78).
Many have reacted very positively to the launch.
"You had me at meat mountain," wrote one Facebook user. "I've never needed something so bad and not known it," said another.
Some are feeling overwhelmed.
One Facebook user commented, "What kind of meat do you want on your pizza? Yes."
But some feel a bit more skeptical.
"Did humanity really need that?" wrote one. Another pointed out that, "the more you add, the less pizza it becomes."
Either way, if you want to try meat mountain, you're out of luck.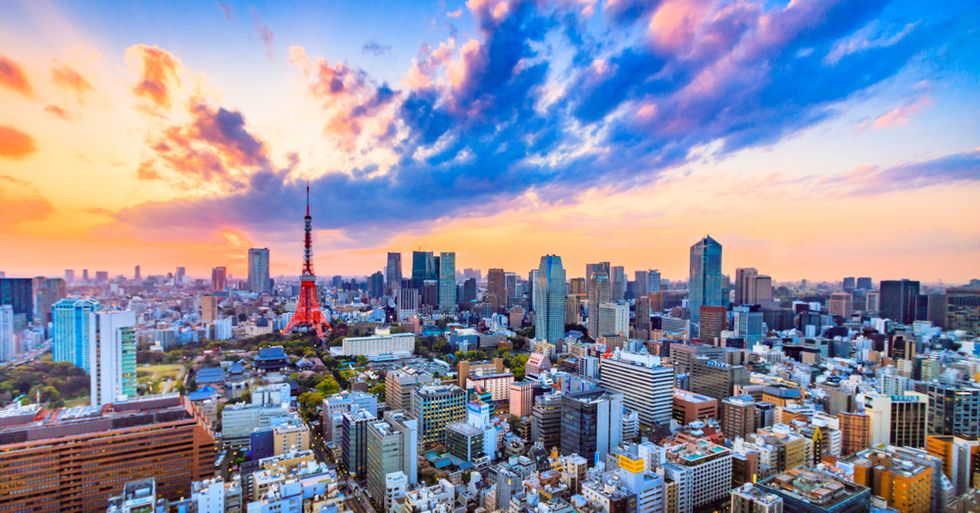 via: Shutterstock
The gigantic pizza is available only in Japan - and just for a limited time. So, if you're really dedicated, then you better make your move fast. Interested in another food hybrid available a little closer to home? Check out the latest Krispy Kreme invention below.