Jason Momoa has become one of the most loved Hollywood actors of our time.
The Hawaiian-born actor has risen to unprecedented levels of fame since his big break in season 1 of Game of Thrones, and it isn't just his acting skills that people love him for... He's just an overall great guy.
And, just when we thought we couldn't love him anymore, his GoT co-star, Emilia Clarke, has opened up about how Momoa helped and comforted her through some of their most difficult scenes together, and how he even broke down during one of them.
Keep scrolling for the full story...
Jason Momoa is one of the most recognizable faces of 2019.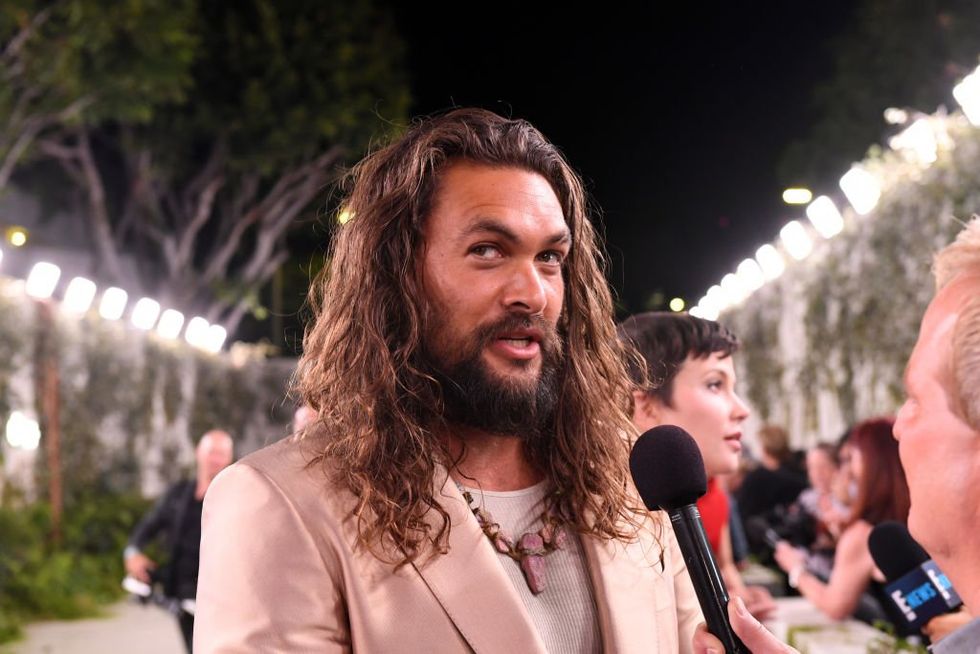 via: Getty
Oh, and the most desired, of course.
And, if it isn't his rugged good looks...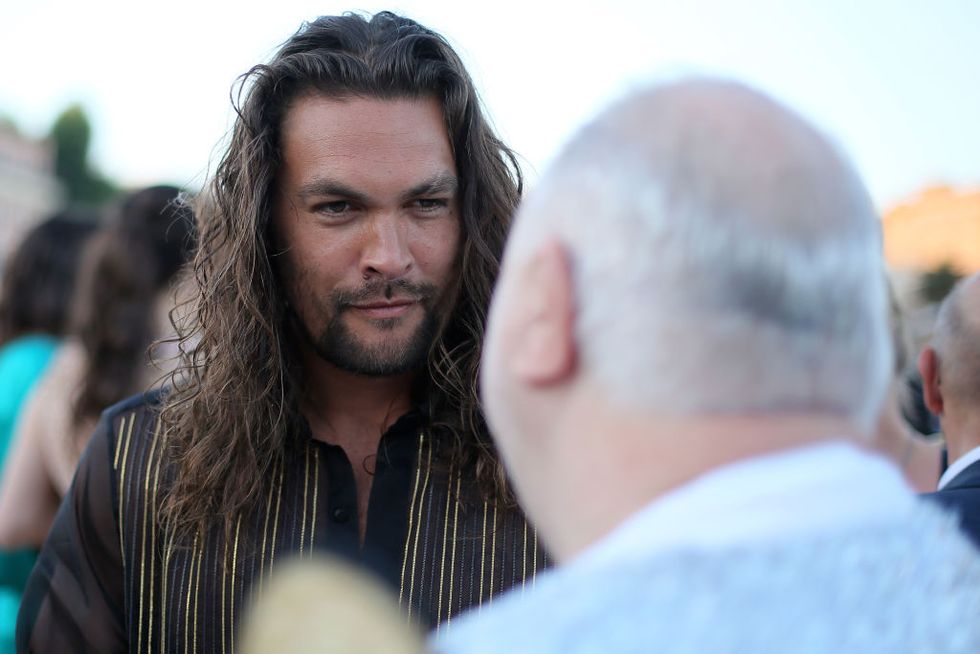 via: Getty
People are swooning over Momoa's kind and BFG-like nature.
Jason has become a reknown nice guy.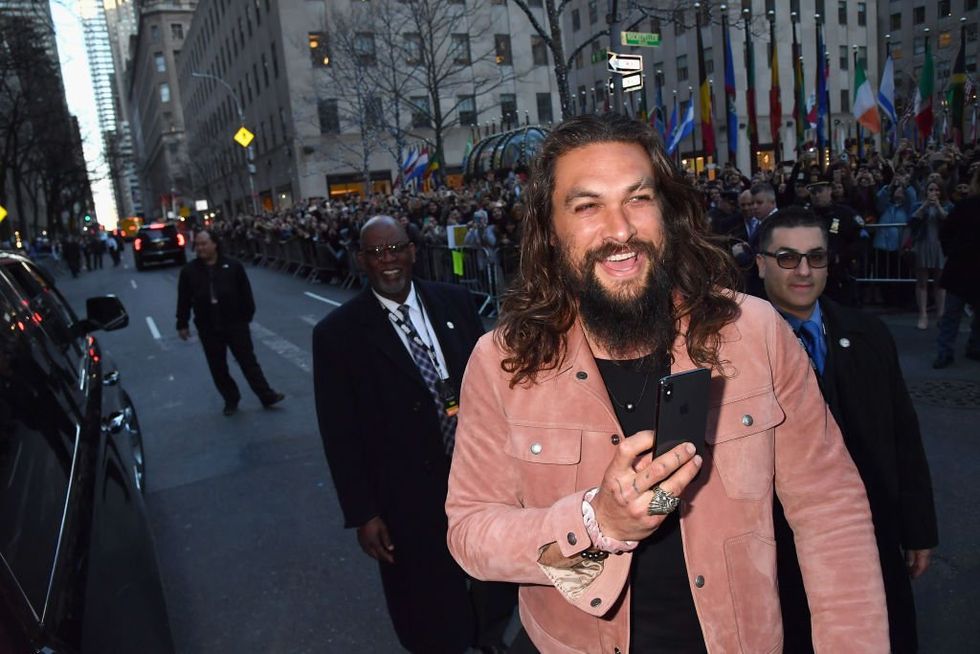 via: Getty
Whether he's
taking a stand against animal cruelty
or sat around
cuddling kittens
, Joson Momoa seems to be permanently doing some form of good in the world.
And he does an awful lot of good on the film sets, too.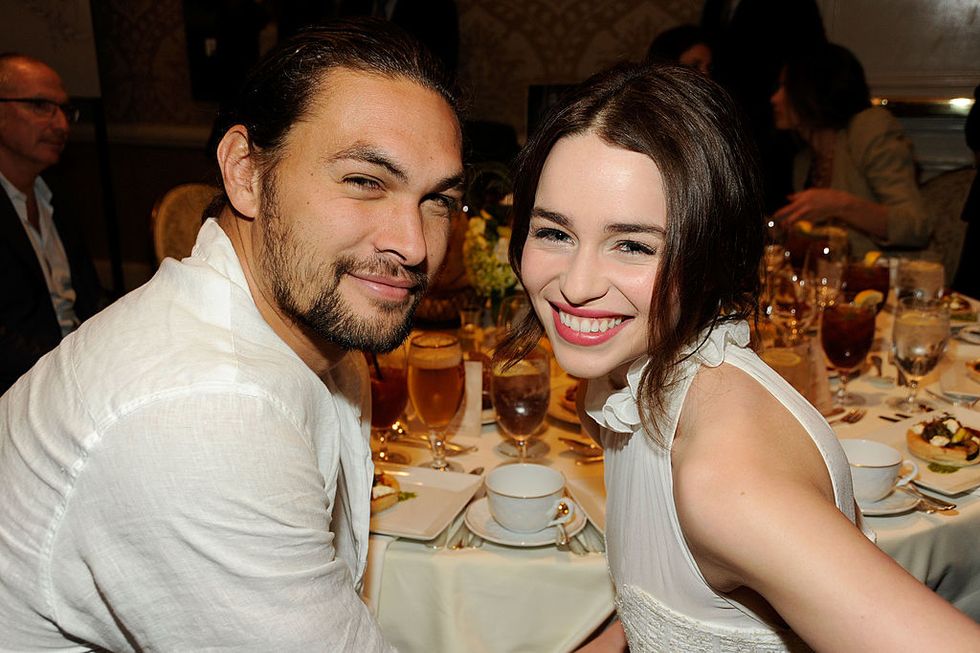 via: Getty
Momoa's
Game of Thrones
co-star, Emilia Clarke, who played the role of Daenerys Targaryen, worked closely with the Hawaiian-born actor during the first season and has often sung his praises.
Momoa and Clarke have become firm friends since their time on the show...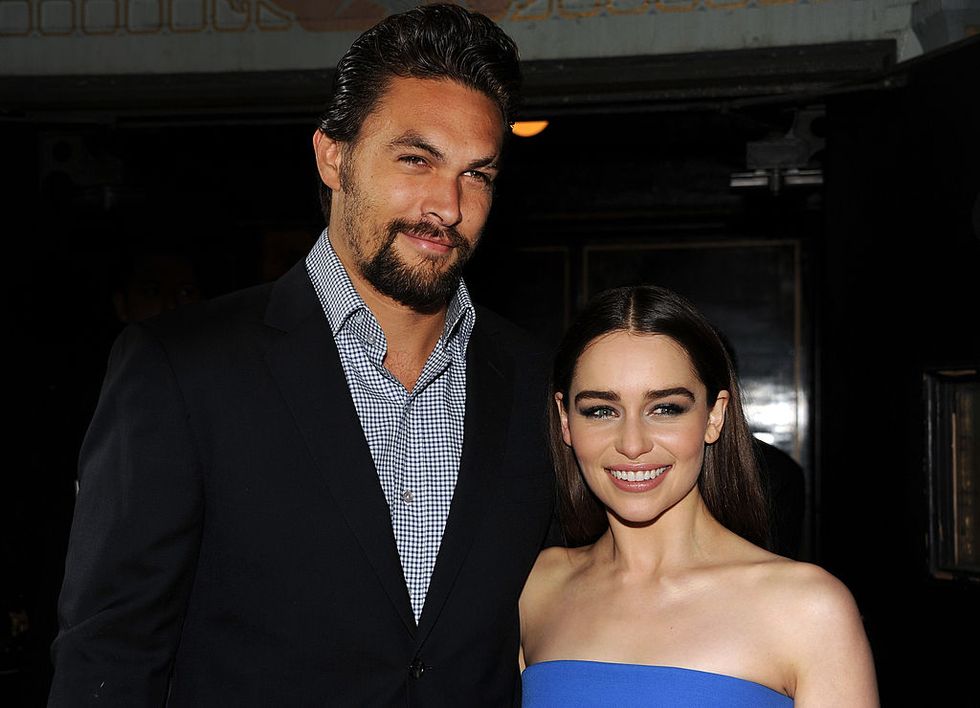 via: Getty
And Emilia has recently opened up about how much Jason helped her through one of her most difficult scenes of the full show.
Game of Thrones was Jason Momoa's big break.
Back in 2011, Momoa landed his first big role in the then-small fantasy show, Game of Thrones.
But it didn't stay small for very long.
As we all know, Game of Thrones completely blew up and has been far more successful than anyone could have ever imagined.
Unlike his regular self...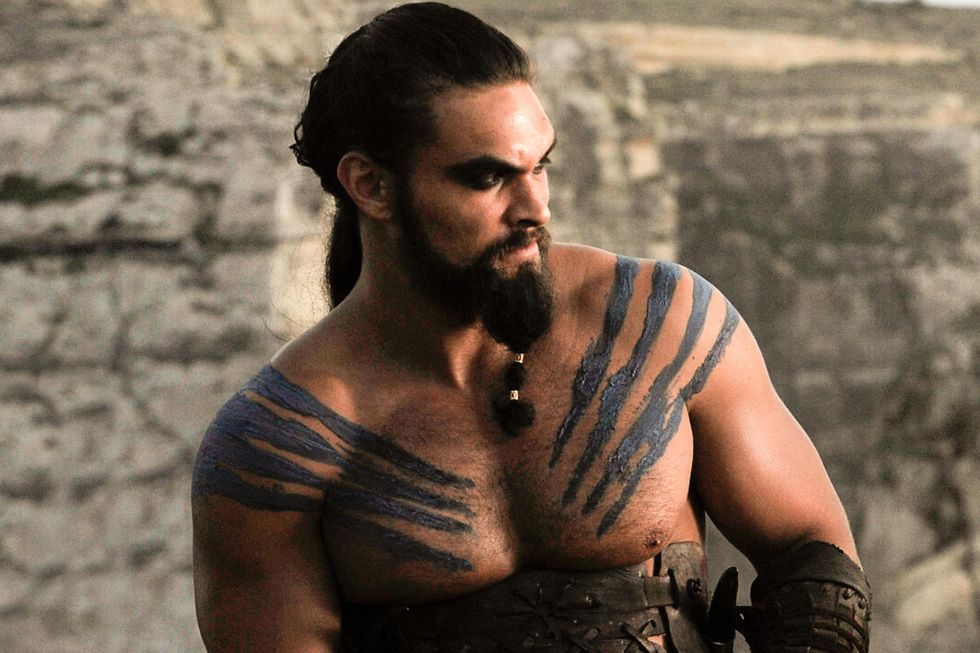 via: TVGuide
Momoa's character, Khal Drogo, was pretty damn formidable, and he had some memorable on-screen moments in the few episodes he featured throughout the first season.
We all remember that scene...
When Drogo brutally murdered Viserys Targaryen by pouring molten gold onto his head? Can't quite forget it...
And this savage character was to become Daenerys' husband.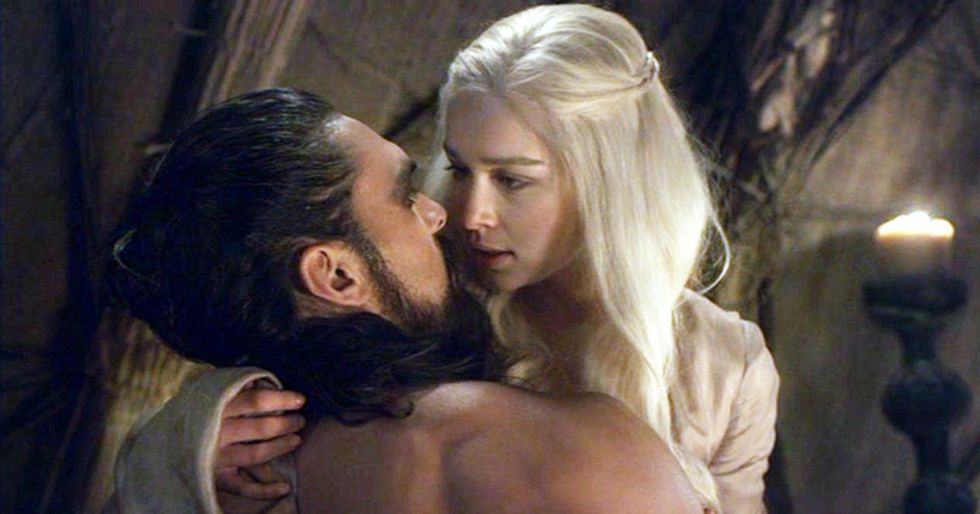 In season 1, Daenerys Targaryen's brother, Viserys, had arranged for his sister to marry Khal Drogo of the Dothraki in exchange for 40,000 people from his army.
Daenerys was an exceptionally innocent character at this time...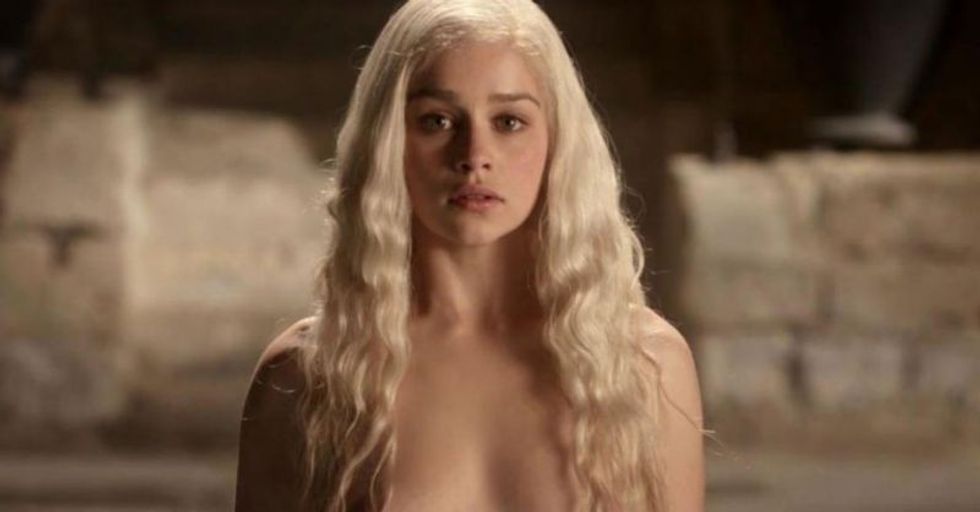 And was forced into the marriage against her will.
And, of course...
She was forced into nonconsensual sex with her new husband.
Nudity wasn't uncommon in the show...
But, considering that the then twenty-three-year-old Clarke was fresh out of drama school with very little on-set experience, the high amount of nudity and sex scenes was initially difficult for her to adapt to.
She remembers being shocked by the levels of sex and nudity in the script.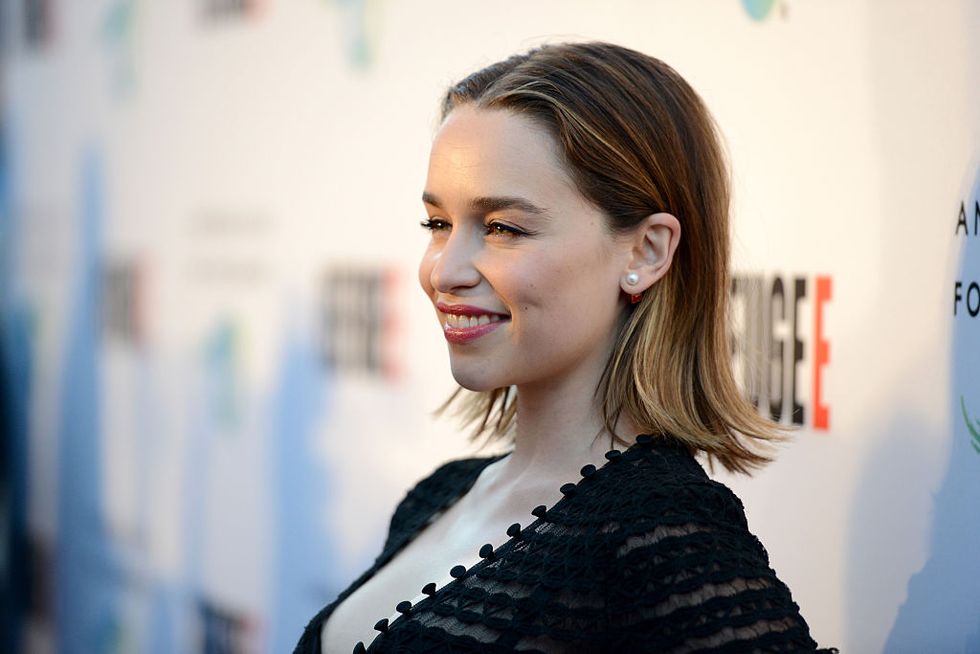 via: Getty
Speaking on the actor,
Dax Shepard's podcast Armchair Expert,
she said, "I took the job and then they sent me the scripts and I was reading them, and I was like, 'Oh, there's the catch!'"
She recalls being incredibly overwhelmed with her role.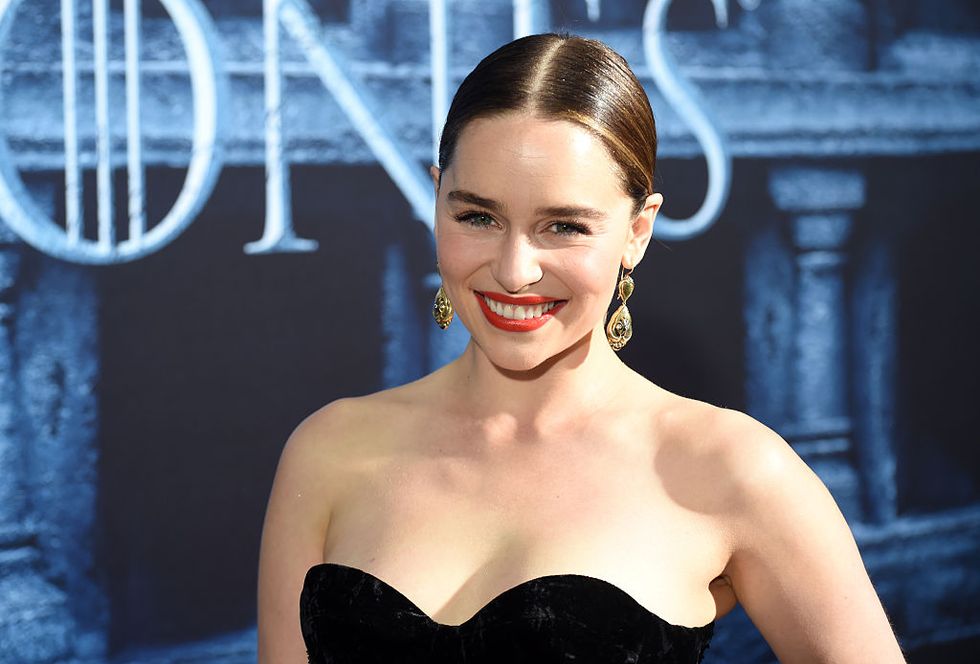 via: Getty
"I'd never been on a film set like this before," she explained, "I'd been on a film set twice before then, and I'm now on a film set completely naked with all of these people, and I don't know what I'm meant to do, and I don't know what's expected of me, and I don't know what you want, and I don't know what I want."
But, luckily for Emilia, she had Jason there to guide her through the difficult scenes.
Clarke, who is now thirty-three, admitted to suffering from quite severe imposter-syndrome but has credited Jason for helping her through it all.
Jason was more experienced than Emilia...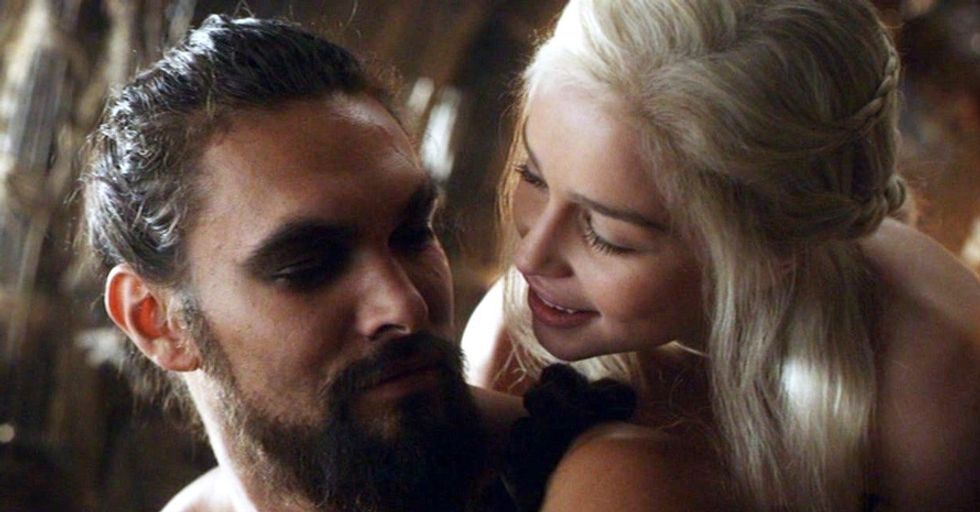 And he went out of his way to make sure she was as comfortable as possible. "Because Jason had experience - he was an experienced actor who had done a bunch of stuff before coming on to this - he was like, 'Sweetie, this is how it's meant to be, this is how it's not meant to be, and I'm going to make sure that that's the f*****g gaze,'" Clarke explained.
The actress remembered just how concerned Jason was for her well-being.
"He was always like, 'Can we get her a f*****g robe? She's shivering!' … He was so kind and considerate and cared about me as a human being."
But there was one particular scene that was more difficult than most...
Drogo "virtually rapes" Daenerys on their wedding night, and Emilia has admitted that it was a difficult scene for both of them. "He was crying more than I was," the actress confessed.
And she now realizes just how lucky she was to have Jason guide her through those difficult scenes.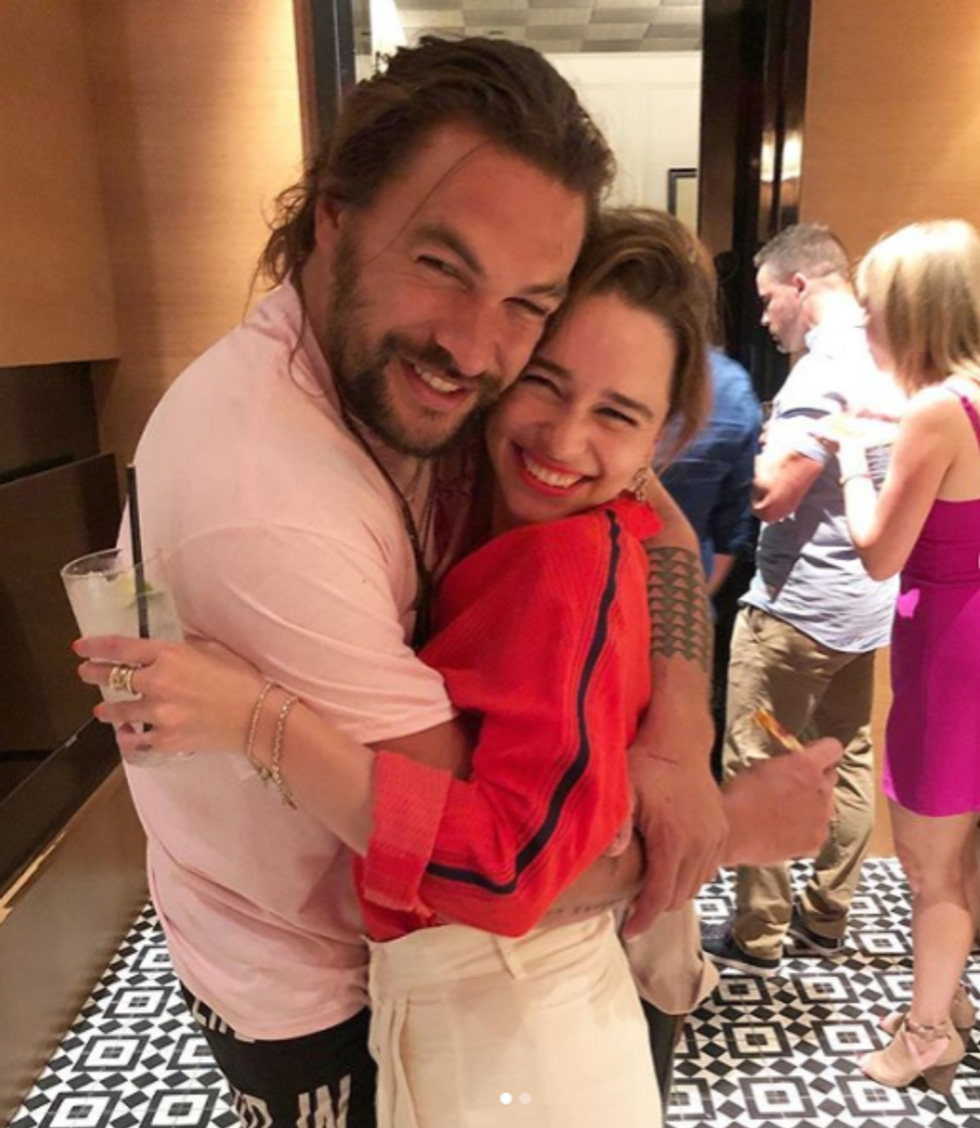 via: Instagram
"It's only now that I realize how fortunate I was with that because that could have gone many, many, many different ways." Never change, Jason! For more reasons as to why the actor is the best guy in Hollywood, keep scrolling...