When you think of Jason Momoa, you probably think of him as a semi-untouchable, rich and famous Hollywood actor. He's a verified superstar - with an icon for a wife and an enviable career.
But as it turns out, even Hollywood superstars get a little nervous around those they like...
Now, who hasn't heard of Jason Momoa?
Born in 1979, in Honolulu, Hawaii, the six-foot-four actor has only recently become a household name.
Momoa was primarily raised in Iowa...
And many don't know that, before he started out as an actor, he actually studied both marine biology and wildlife biology - proving that he's more than just a pretty face.
One of his first bigger roles was on Stargate: Atlantis.
The sci-fi military hybrid was actually fairly successful. Momoa starred as Ronon Dex, to much critical acclaim.
But there's really only one role that could be deemed Momoa's big break.
In 2011, Momoa was cast in the first series of a relatively small fantasy show called Game of Thrones. 
And, as we all know, it absolutely blew up.
Game of Thrones became far more successful than anyone could have ever imagined. And Momoa's character, Khal Drogo, quickly became a fan favorite.
He had some pretty badass moments.
As the leading warrior in the savage Dothraki tribe, Momoa was, unsurprisingly, pretty violent. In one particularly memorable scene, Drogo brutally murdered Viserys Targaryen by pouring molten gold onto his head.
But there was another storyline that fans didn't expect.
In the early episodes of the show's first season, Drogo was married to Daenerys Targaryen in an arranged ceremony.
Something shocked the viewers...
The two seemingly opposite characters developed real feelings for each other and their's became one of the cutest and most genuine love stories in the show.
Khal Drogo met a particularly tragic end.
He was injured during a battle and that injury became infected. In order to save his life, Daenerys was forced to sacrifice her unborn son to a witch. But the Drogo that came back was alive in name only. He was without any consciousness and Daenerys was forced to euthanize him.
In spite of his early departure, Momoa is still a fan-fave in the Game of Thrones canon...
Batman v Superman - and Aquaman was so beloved that he went on to star in his own solo movie in 2018.
Aquaman was also a part of 2017's Justice League.
The character was so well liked that in 2018, the DC Universe decided that it was time for a solo film. Aquaman was a massive success.
Early in 2019, it was revealed that the movie had earned a coveted spot in the billion-dollar superhero club.
Many were surprised that the film did this well, considering the fact that, in the comics, Aquaman is often considered to be a bit of a joke. People were also thrilled to see a superhero played by a
person of color
.
Since the success of Aquaman, Momoa has gone from strength to strength.
Braven, to commercial and critical success.
He has also starred in many television shows.
Frontier, which first aired in 2016. It tells the story of the North American fur trade in the eighteenth century and has recently come to Netflix.
But Momoa is a man of many talents.
Canvas Of My Life. The movie tells the story of Momoa's experience of fatherhood.
And Momoa has an equally exciting personal life.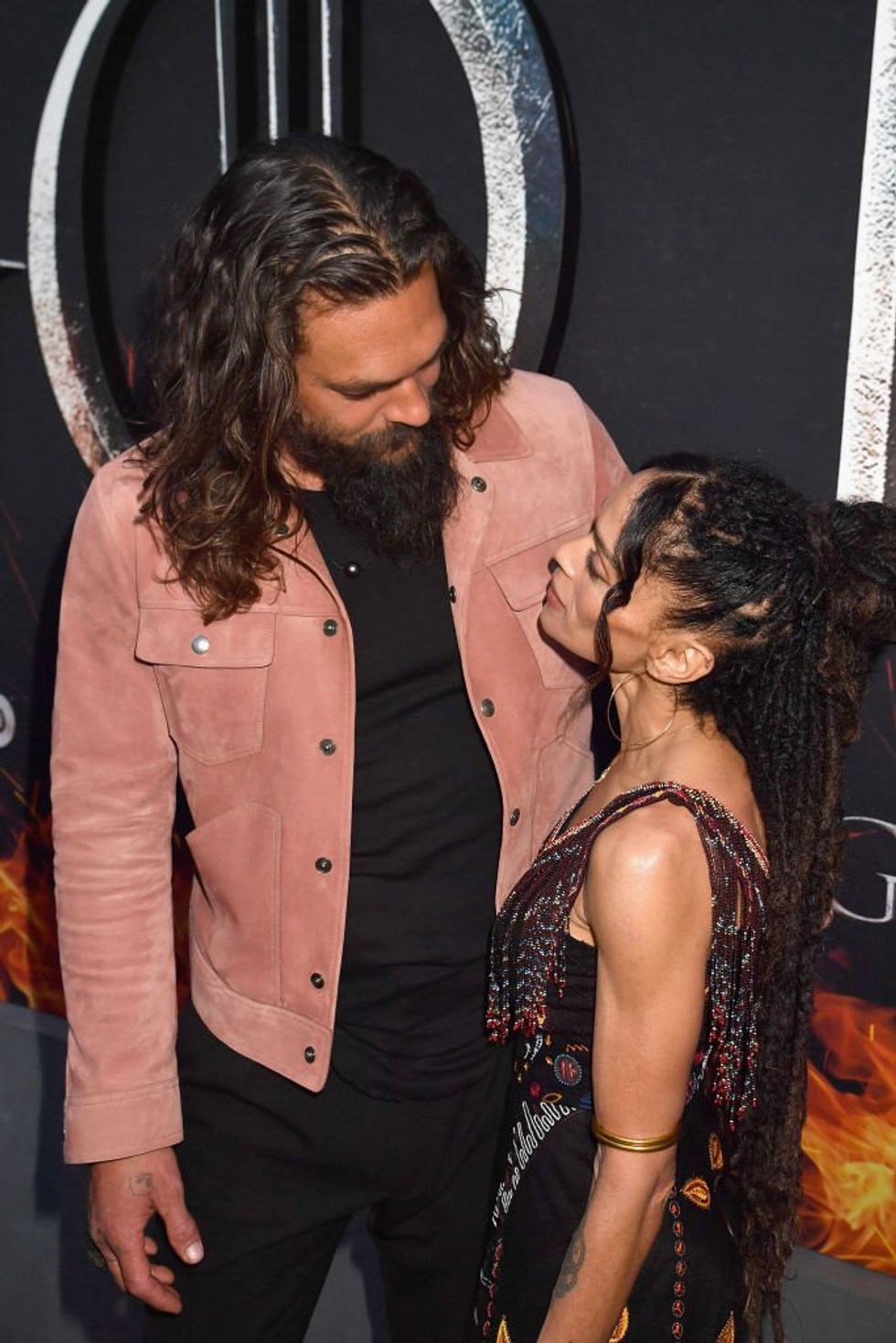 via: Getty
In 2005, Momoa met actress, Lisa Bonet, and the pair began a relationship. Although there were reports that the two had married in 2007, they actually didn't end up tying the knot until 2017.
The beautiful couple have 2 children together...
via: Getty
They share a daughter, Lola Iolani Momoa, born in 2007, and a son, Nakoa-Wolf Manakauapo Namakaeha Momoa, born in 2008. Momoa is also stepfather to singer and actress, Zoe Kravitz.
And it looks like the actor's future is bright...
Dune. The film will be directed by Denis Villeneuve, and will likely be released in 2020.
All in all, it seems like it's a good time to be Jason Momoa!
From his personal life to his ever-expanding career prospects, it seems that the world is the oyster of this talented star.
And now, he's given us a reason to love him even more...
This month we get to feast our eyes, as Momoa is covering the December issue of Men's Health.
interview
, Momoa opens up about all aspects of his life, from work to social justice, even his family and life with wife, Lisa Bonet.
After fifteen years with wife Lisa, Momoa is very clearly still besotted by her.
Speaking of family life in 2020, he gushed, "My wife is very sophisticated and smart and [our kids and I are] kind of like animals that need to be trained a little better."
"I'm constantly a work in progress, and I've just been trying to get better as a father and a husband."
Aren't we all a work in progress?
Later in the interview, Momoa went on to explain how comfortable isn't "his thing."
Which is a good thing, or he might have never worked up the courage to ask out his now wife Lisa, when he was twenty-six and she was thirty-eight.
Though Momoa does explain that he was "a mess" when he did that.
"Especially when you meet someone you're completely infatuated with and then find out she's amazing, intelligent, and funny and she's a goddess and you're a degenerate."
We certainly wouldn't call you that, Jason!
And when asked to give advice to the average person trying to figure out how to date someone out of their league, he joked, "Give up! Don't do it!"
Also adding, "I was a nervous wreck. I really don't have any tips. Be you. Try to be funny and make her laugh."
So there you, go make them laugh.