When you think of Jason Momoa, you probably think of him as a semi-untouchable, rich and famous Hollywood actor.
But there is so much more to Momoa than one would expect, and it turns out that he's a pretty decent guy.
He stopped by a small-town diner recently after a sign caught his attention, and the outcome was amazing.
Keep scrolling to find out more...
Jason Momoa is a Hawaiian-American actor.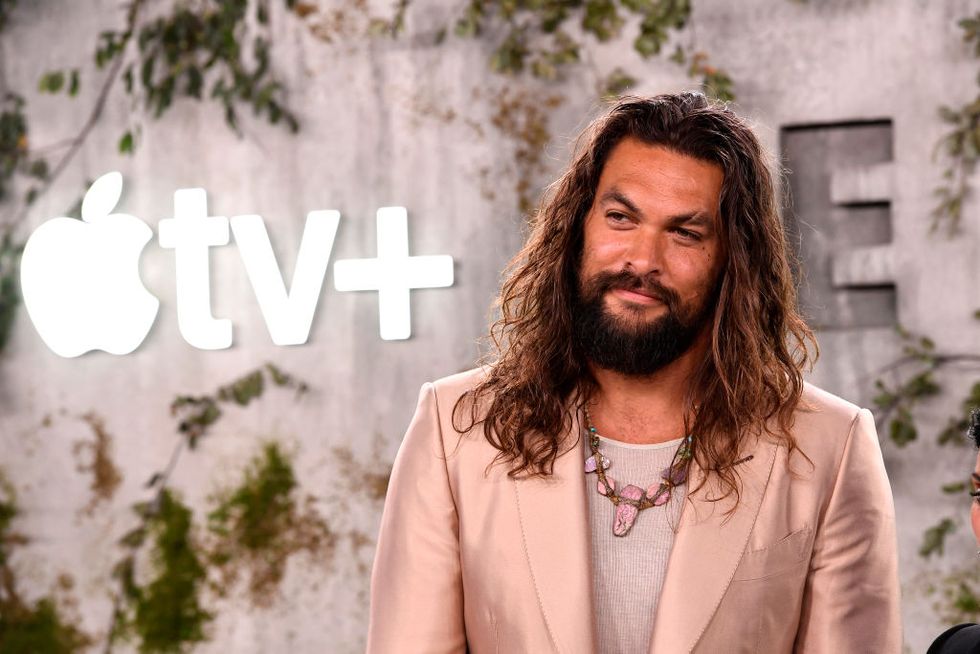 via: Getty Images
Born in 1979, in Honolulu, Hawaii, the six-foot-four actor has only recently become a household name.
Despite his Hawaiian heritage, Momoa was primarily raised in Iowa.
And many don't know that, before he started out as an actor, Momoa actually studied both marine biology and wildlife biology - proving that he's more than just a pretty face.
One of his first bigger roles was on Stargate: Atlantis.
via: IMDB
The sci-fi military hybrid was actually fairly successful. Momoa starred as Ronon Dex, to much critical acclaim.
But there's really only one role that could be deemed Momoa's big break.
via: IMDB
In 2011, Momoa was cast in the first series of a relatively small fantasy show called 
Game of Thrones. 
And, as we all know, it absolutely blew up.
Game of Thrones became far more successful than anyone could have ever imagined. And Momoa's character, Khal Drogo, quickly became a fan favorite.
He had some pretty badass moments.
As the leading warrior in the savage Dothraki tribe, Momoa was, unsurprisingly, pretty violent. In one particularly memorable scene, Drogo brutally murdered Viserys Targaryen by pouring molten gold onto his head.
But there was another storyline that fans didn't expect.
In the early episodes of the show's first season, Drogo was married to Daenerys Targaryen in an arranged ceremony.
But something shocked the viewers.
via: IMDB
The 2 seemingly opposite characters developed real feelings for each other and their relationship became one of the cutest and most genuine love stories in the show.
Khal Drogo met a particularly tragic end.
He was injured during a battle and that injury became infected. In order to save his life, Daenerys was forced to sacrifice her unborn son to a witch. But the Drogo that came back was alive in name only. He was without any consciousness and Daenerys was forced to euthanize him.
In spite of his early departure, Momoa is still a fan-fave in the Game of Thrones canon.
Batman v Superman - and Aquaman was so beloved that he went on to star in his own solo movie in 2018.
Momoa is also a man of many talents.
Canvas Of My Life. The movie tells the story of Momoa's experience of fatherhood.
He has an equally exciting personal life...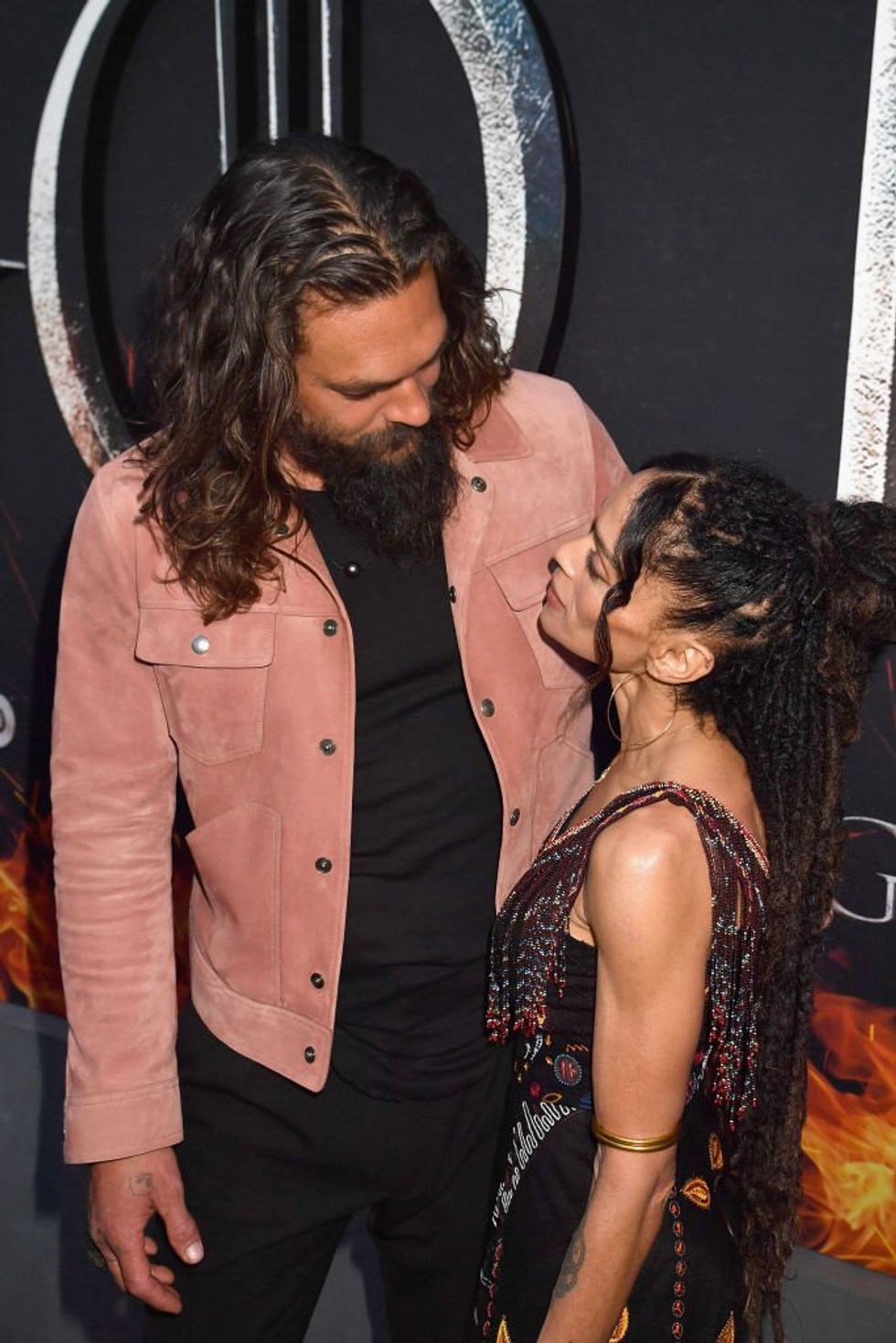 via: Getty Images
In 2005, Momoa met actress, Lisa Bonet, and the pair began a relationship. Although there were reports that the two had married in 2007, they actually didn't end up tying the knot until 2017.
The beautiful couple have two children together.
via: Getty Images
They share a daughter, Lola Iolani Momoa, born in 2007, and a son, Nakoa-Wolf Manakauapo Namakaeha Momoa, born in 2008. Momoa is also stepfather to singer and actress, Zoe Kravitz.
And just when we thought Momoa couldn't get any better...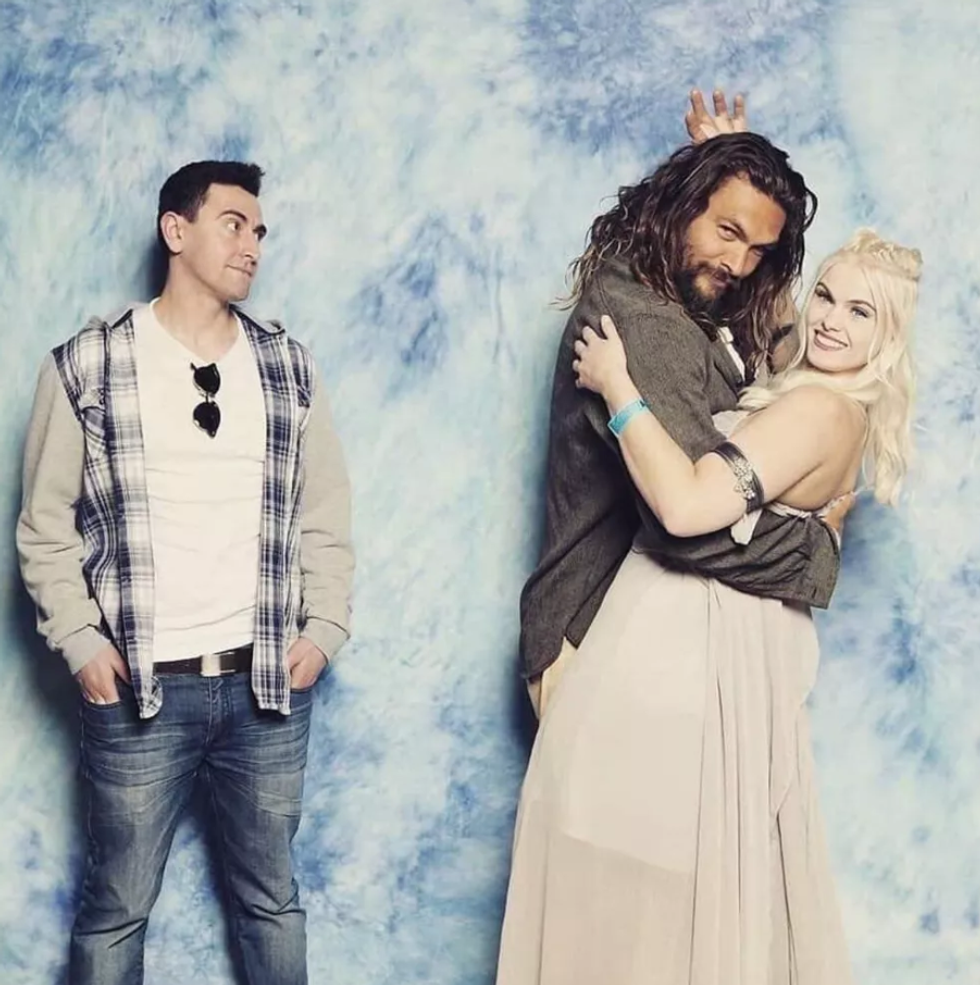 via: Twitter
He is
amazing
with his fans.
Unlike a lot of celebrities...
Still a better love story than Twilight #LFCC #londonfilmandcomiccon https://t.co/pNbAdOn3qJ

— LevelUpPixie 🍄☘️ (@LevelUpPixie 🍄☘️)1532891937.0
Momoa actually takes the time to interact with his fans and give them a memorable experience.
Momoa's most recent fan experience happened last month...
Sweet Girl for Netflix in Pittsburgh, and the shooting was moved out to Fayette County.
A local diner heard of the news that Momoa was going to be in town...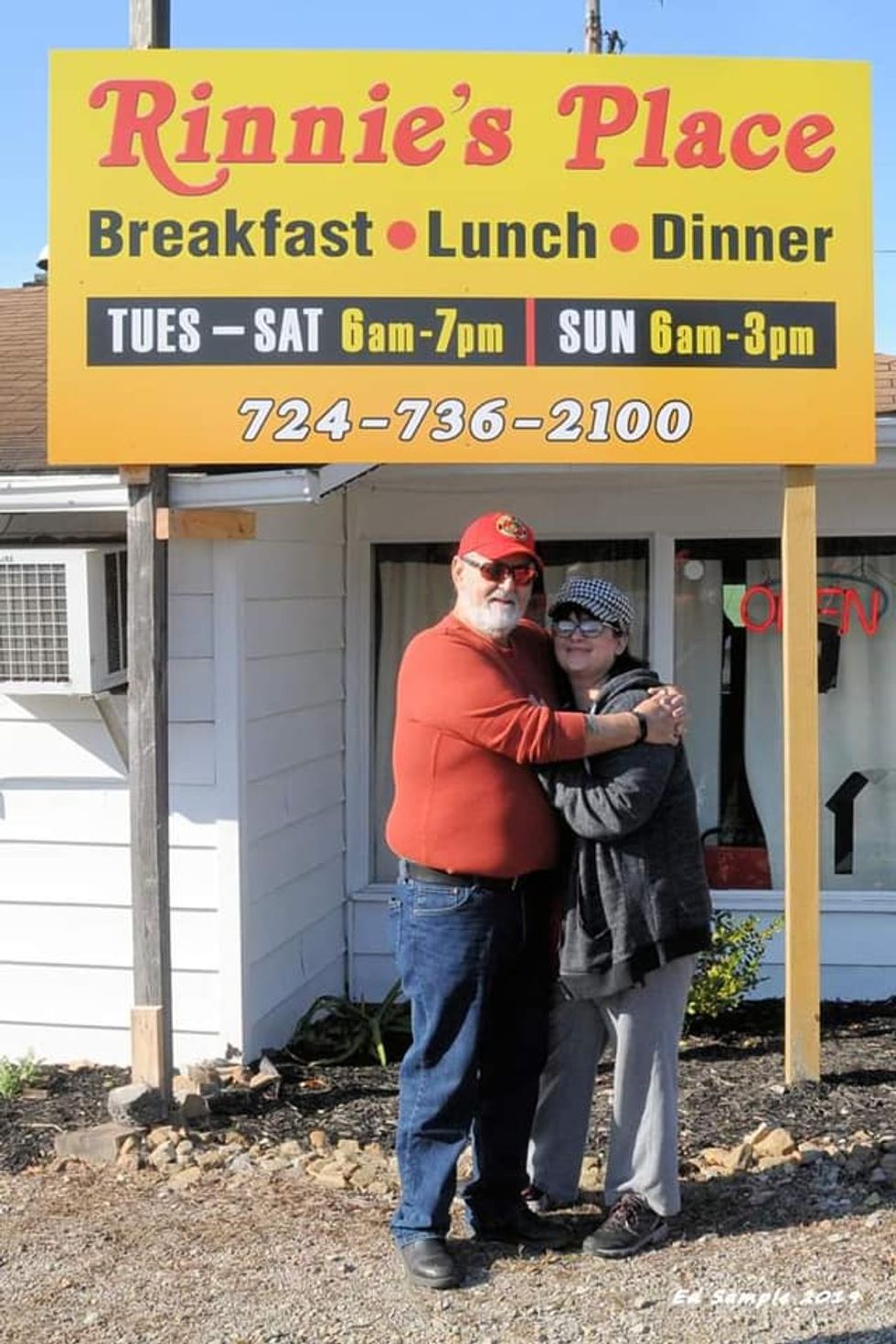 via: Facebook
The diner, Rinnie's Place, is located on Route 51 decided to take action. The owner left a very public message for the actor on the billboard outside.
The owner wanted to make sure that Momoa would notice it...
She wrote, "Welcome, Jason M". Surely he couldn't miss that, right?
He most certainly didn't!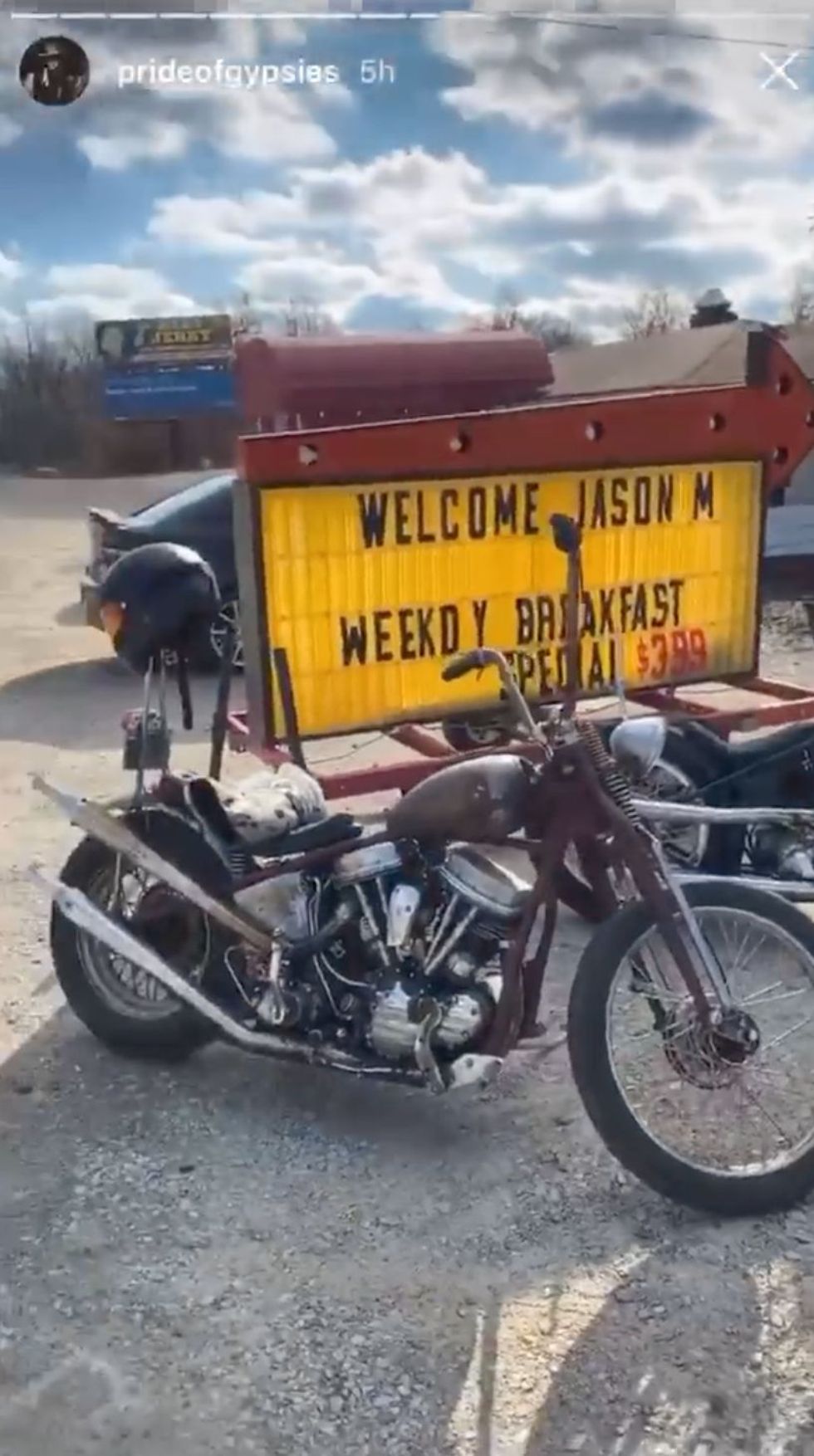 via: Instagram
He took to his Instagram story to take a snap of the billboard, and he even joked about the "expensive" breakfast - it said $399 instead of $3.99.
Momoa rocked up with his signature chopper, and the staff noticed him immediately.
He posted a video of himself walking up to the sign and shivering in the cold... He really risked it all for that breakfast! "Check this out. Ridin' with the boys. Hell yeah, I'm gonna eat here!"
He even posed for a photograph with the lucky owner...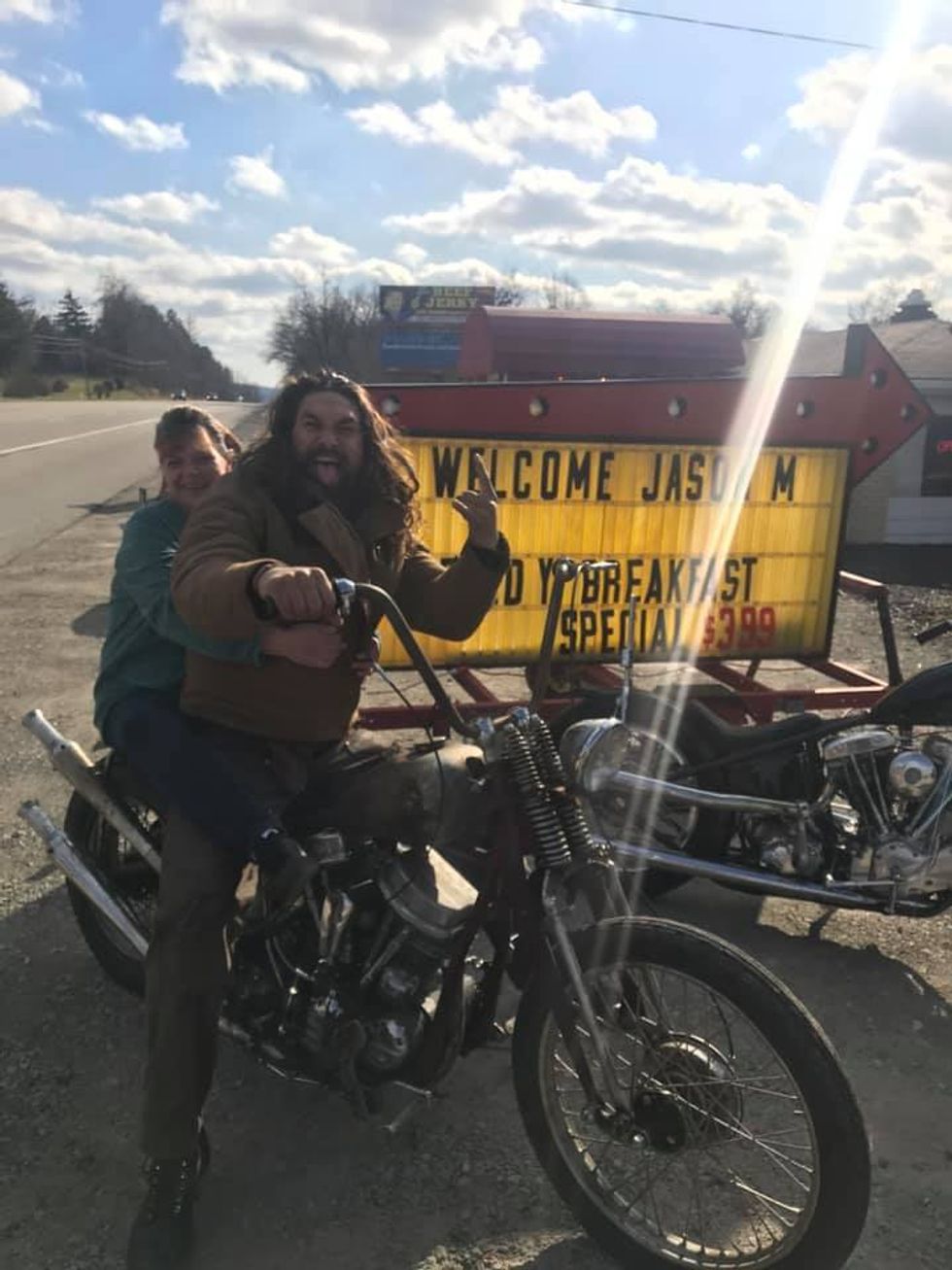 via: Facebook
Speaking to her
local news station
, she said, "My daughter and I are humbled and grateful for all the attention we have been getting because Jason Momoa saw our sign and stopped in for breakfast."
And as predicted...
Momoa was simply lovely. "He and his crew are wonderful people and we have enjoyed our time with them. They are more than welcome to stop back anytime they are in town," she went on to say.