When you think of Jason Momoa, you probably think of him as a semi-untouchable, rich and famous Hollywood actor. But, as he shared on the internet this week, this wasn't always the case. In fact, before his breakthrough role as Khal Drogo on HBO classic, Game of Thrones, the actor had worked for many years in relative obscurity.
Now he's a verified superstar - with an icon for a wife and an enviable career. It's no wonder why he can't help but make an impact wherever he goes. And last night was just another prime example of that on SNL when he decided to make a surprise appearance that almost brought the entire house down. I'm telling you, people adore him!
And after watching the video, you will too. Keep scrolling to get an eyeful of Jason Momoa in an extremely furry coat... Yes, you read that correctly. Jason Momoa in a fur coat... Can you think of anything better?
Jason Momoa is a Hawaiian-American actor.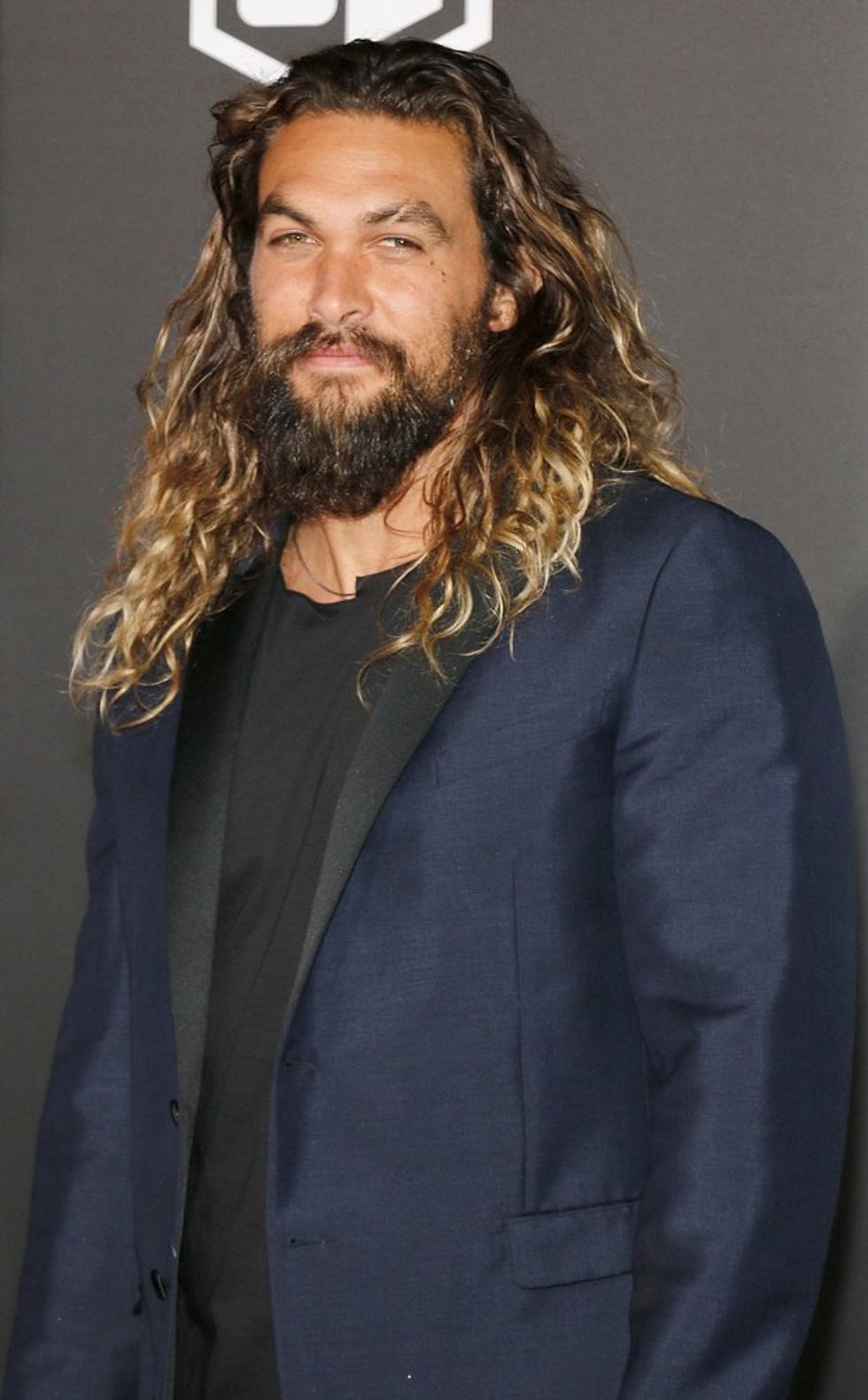 via: Shutterstock
Born in 1979, in Honolulu, Hawaii, the six-foot-four actor has only recently become a household name.
In spite of his Hawaiian heritage, Momoa was primarily raised in Iowa.
And many don't know that, before he started as an actor, Momoa actually studied both marine biology and wildlife biology - proving that he's more than just a pretty face.
One of his first bigger roles was on Stargate: Atlantis.
The sci-fi military hybrid was actually fairly successful. Momoa starred as Ronon Dex, to much critical acclaim.
But there's really only one role that could be deemed Momoa's big break.
In 2011, Momoa was cast in the first series of a relatively small fantasy show called Game of Thrones. 
And, as we all know, it absolutely blew up.
Game of Thrones became far more successful than anyone could have ever imagined. And Momoa's character, Khal Drogo, quickly became a fan favorite.
He had some pretty badass moments.
As the leading warrior in the savage Dothraki tribe, Momoa was, unsurprisingly, pretty violent. In one particularly memorable scene, Drogo brutally murdered Viserys Targaryen by pouring molten gold onto his head.
But there was another storyline that fans didn't expect.
In the early episodes of the show's first season, Drogo was married to Daenerys Targaryen in an arranged ceremony.
But something shocked the viewers.
The two, seemingly opposite characters, developed real feelings for each other and their relationship became one of the cutest and most genuine love stories in the show.
Khal Drogo met a particularly tragic end.
He was injured during a battle and that injury became infected. To save his life, Daenerys was forced to sacrifice her unborn son to a witch. But the Drogo that came back was alive in name only. He was without any consciousness and Daenerys was forced to euthanize him.
In spite of his early departure, Momoa is still a fan-fave in the Game of Thrones canon.
Batman v Superman - and Aquaman was so beloved that he went on to star in his own solo movie in 2018.
Aquaman was also a part of 2017's Justice League.
The character was so well-liked that in 2018, the DC Universe decided that it was time for a solo film. Aquaman was a massive success.
Early in 2019, it was revealed that the movie had earned a coveted spot in the billion-dollar superhero club.
person of color
.
Since the success of Aquaman, Momoa has gone from strength to strength.
Braven, to commercial and critical success.
He has also starred in many television shows.
Frontier, which first aired in 2016. It tells the story of the North American fur trade in the eighteenth century and has recently come to Netflix.
But Momoa is a man of many talents.
Canvas Of My Life. The movie tells the story of Momoa's experience of fatherhood.
It also seems likely we haven't seen the last of Aquaman.
And Momoa has an equally exciting personal life.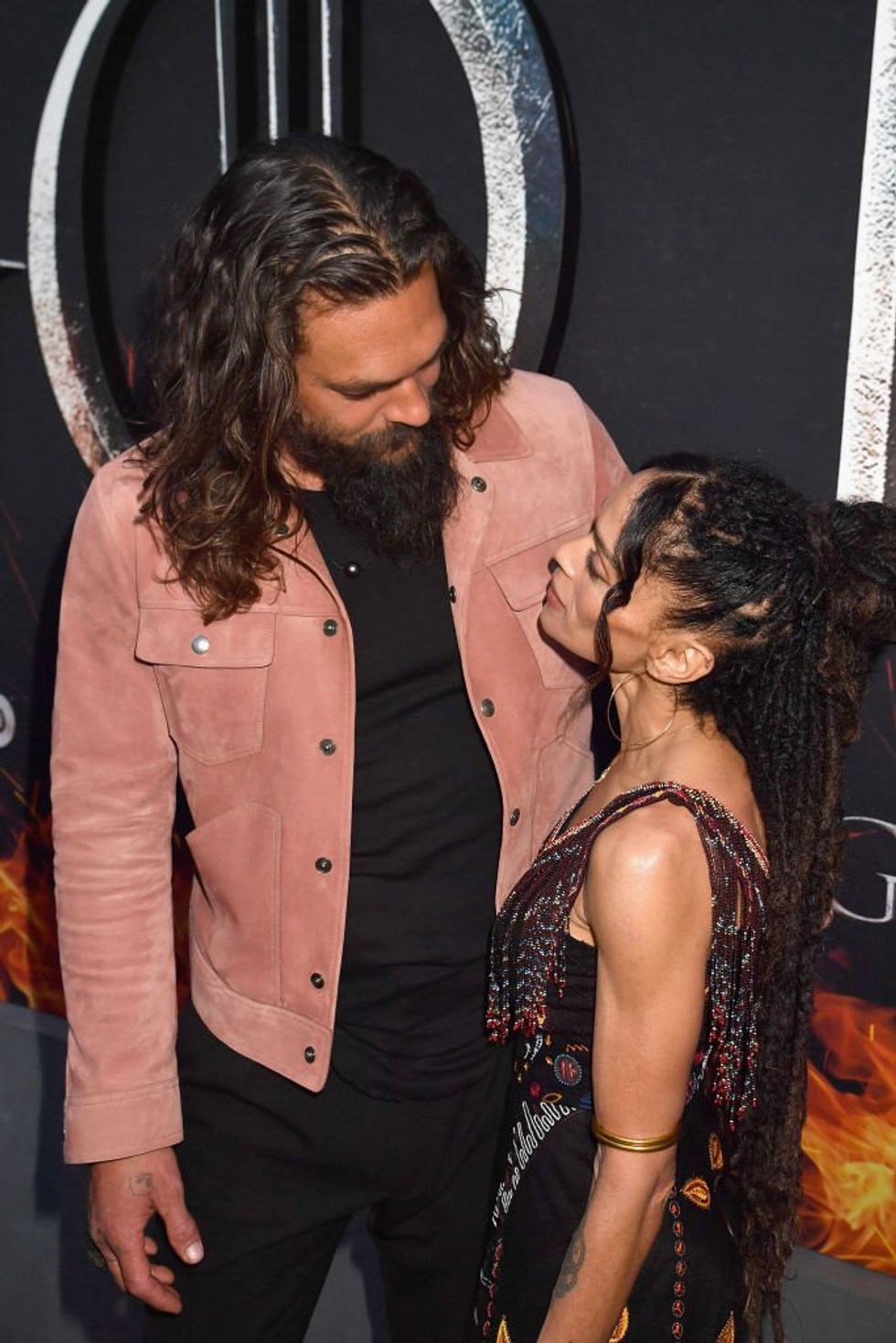 via: Getty Images
In 2005, Momoa met actress, Lisa Bonet, and the pair began a relationship. Although there were reports that the two had married in 2007, they actually didn't end up tying the knot until 2017.
The beautiful couple have two children together.
via: Getty Images
They share a daughter, Lola Iolani Momoa, born in 2007, and a son, Nakoa-Wolf Manakauapo Namakaeha Momoa, born in 2008. Momoa is also stepfather to singer and actress, Zoe Kravitz.
And it looks like the actor's future is bright.
Dune. The film will be directed by Denis Villeneuve, and will likely be released in 2020.
All in all, it seems like it's a good time to be Jason Momoa.
From his personal life to his ever-expanding career prospects, it seems that the world is the oyster for this talented star.
And his latest appearance on SNL has got the world talking.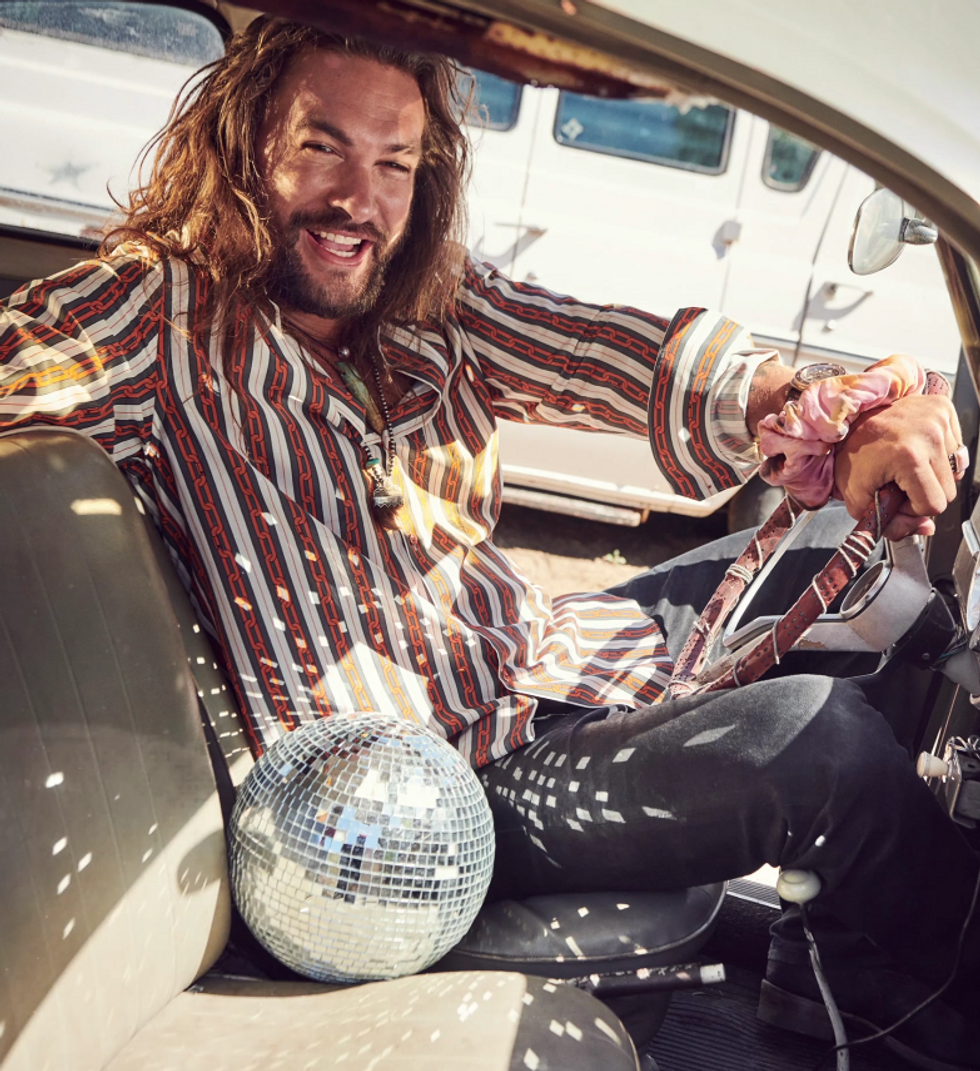 via: Esquire
Despite his "rough and manly" exterior, Momoa seems to be one of the softest and friendliest guys out there. And his appearance on
Saturday Night Live
just proved that.
The scene starts in a courtroom...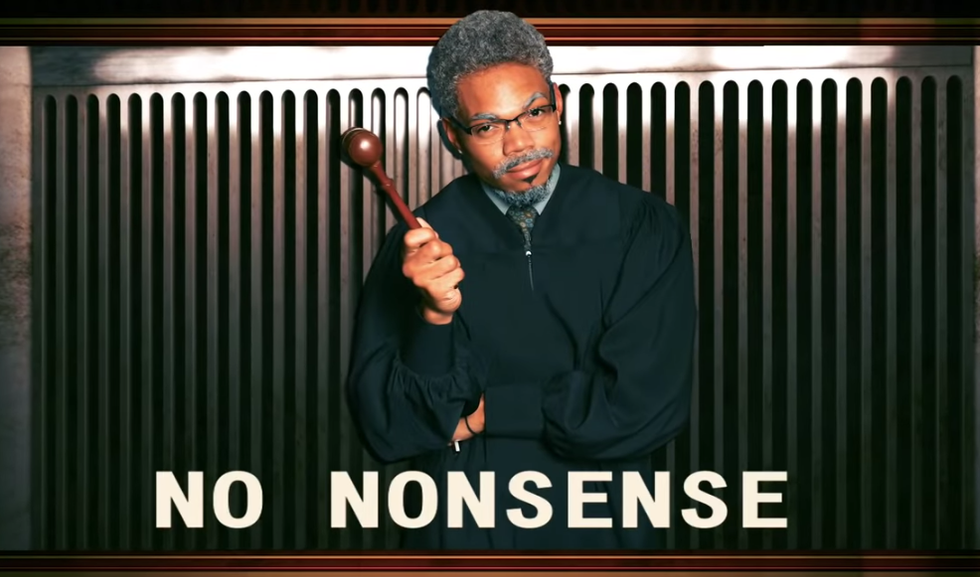 via: YouTube
Playing on the daytime TV courtroom storyline, the skit is based around "Judge Barry," who takes "no more than 10 seconds to reach a verdict." A classic play on our favorite TV judges.
After witnessing and judging some really weird cases...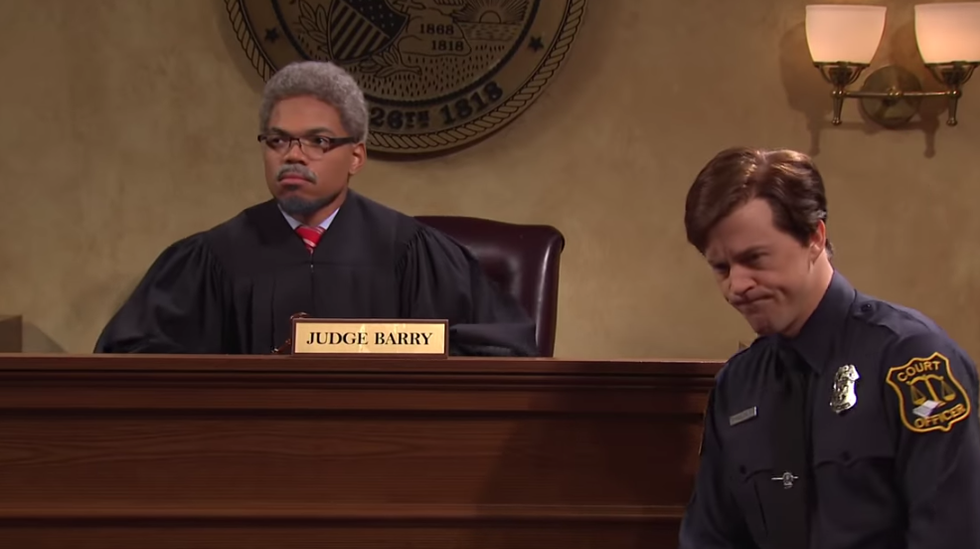 via: YouTube
And calling guilty to whoever he thought had committed a "crime", Judge Barry then moved onto his last case, which involved the one-and-only Jason Momoa.
Dressed in a cheetah print fur jacket, he takes on a seductive persona throughout the skit.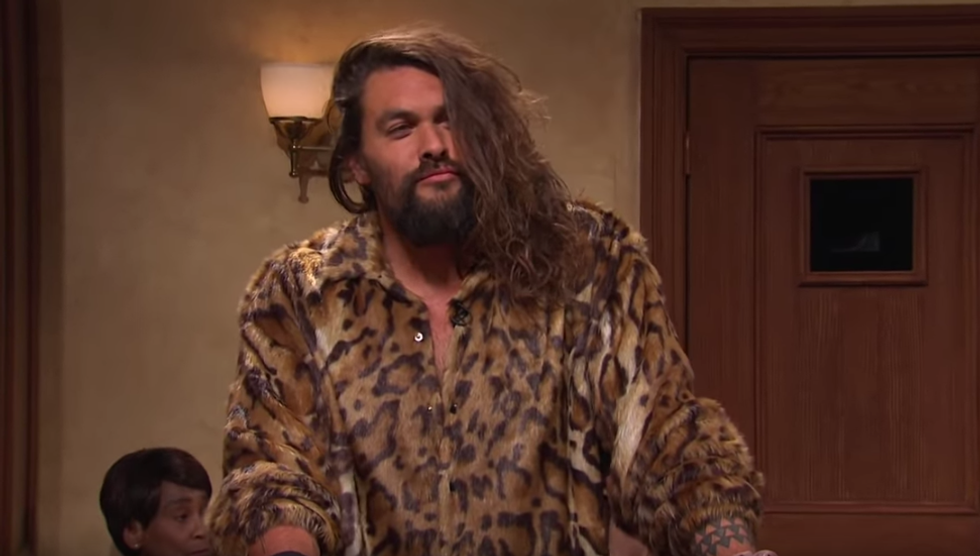 via: YouTube
Trust me, it doesn't take much for the man to be considered "seductive." He only has to smile and my knees suddenly become wobbly. And don't even get me started on when he says: "I see the way you're looking at me right now..." Stop it.
Honestly, this is what dreams are made of.
Have a watch of the video and you can decide if Jason Momoa is everyone's ideal type. Spoiler alert: He is!