Courteney Cox and David Beckham. One renowned for starring in one of the biggest sitcoms of all time. The other recognized globally as one of the true, all-time footballing greats.
There's no denying that these two a-listers are two of the biggest names in all things celebrity. But when a photograph of them in a hot tub together went viral, a lot of people were wondering what was going on... And, upon closer inspection, another question voiced by many was - what the hell is Courteney Cox's hand doing?
Fellow FRIENDS star and long-term best friend, Jennifer Aniston has responded to the snaps and has completely trolled the pair.
Keep scrolling to see what Jen had to say about her bestie's antics...
David Beckham is a footballing legend.
He's also a legend off the pitch.
Courteney Cox, on the other hand, made a huge name for herself on Friends.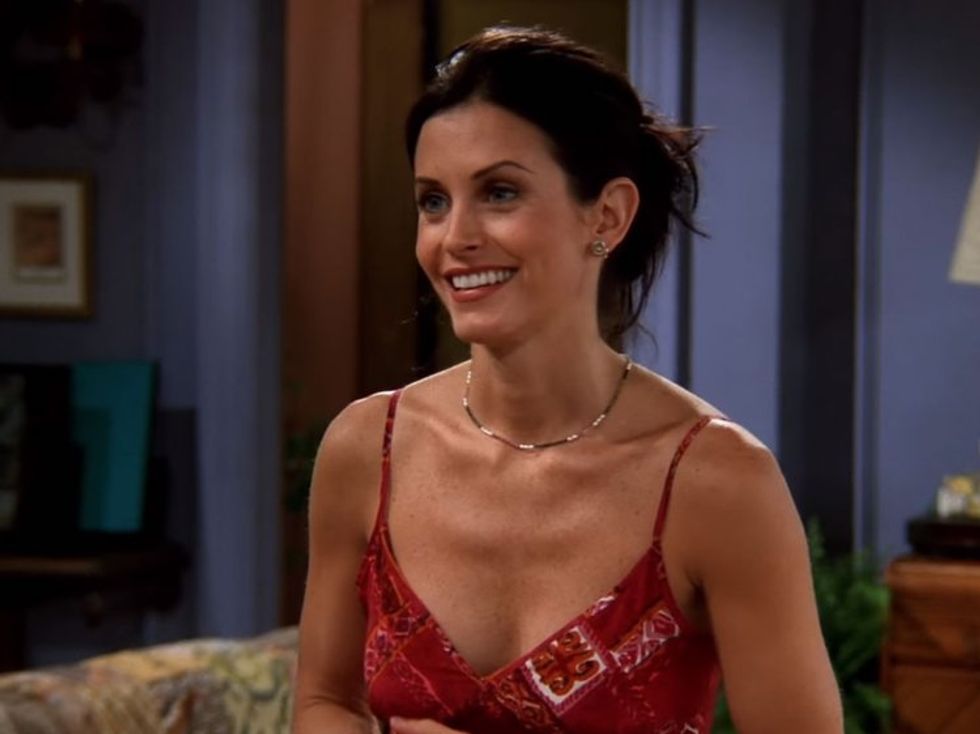 Cox joined Jennifer Aniston (Rachel Green), Lisa Kudrow (Phoebe Buffay), Matt LeBlanc (Joey Tribbiani), Matthew Perry (Chandler Bing) and David Schwimmer (Ross Geller) for what became her most famous role, as Monica Geller on
Friends
.
She's also an avid Instagram user.
She recently posted a tribute to Jennifer Aniston.
Friends coworkers - but Courteney was more than willing to give her the welcome she deserved.
She made the comment under her first post.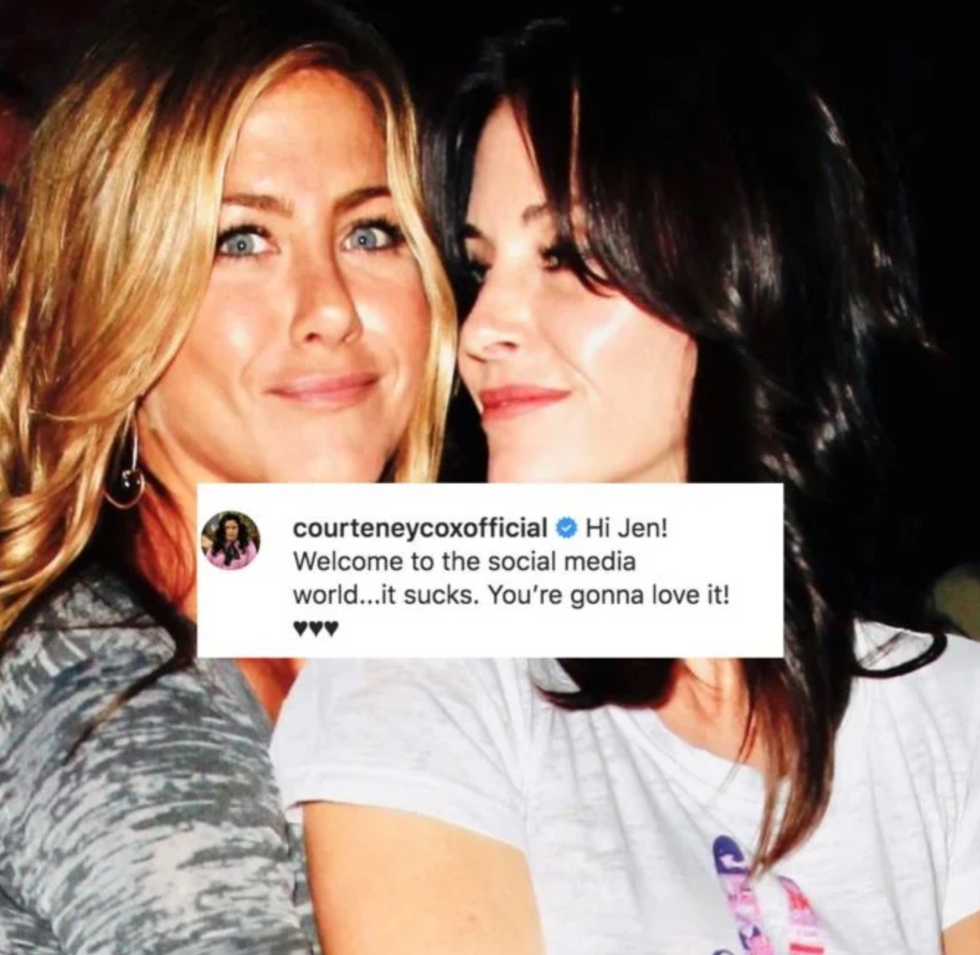 Posting under Aniston's first-ever Instagram post, Courteney wrote:
"Hi Jen, welcome to the social media world. It sucks. You're gonna love it!"
It's not just a "Friends" reference.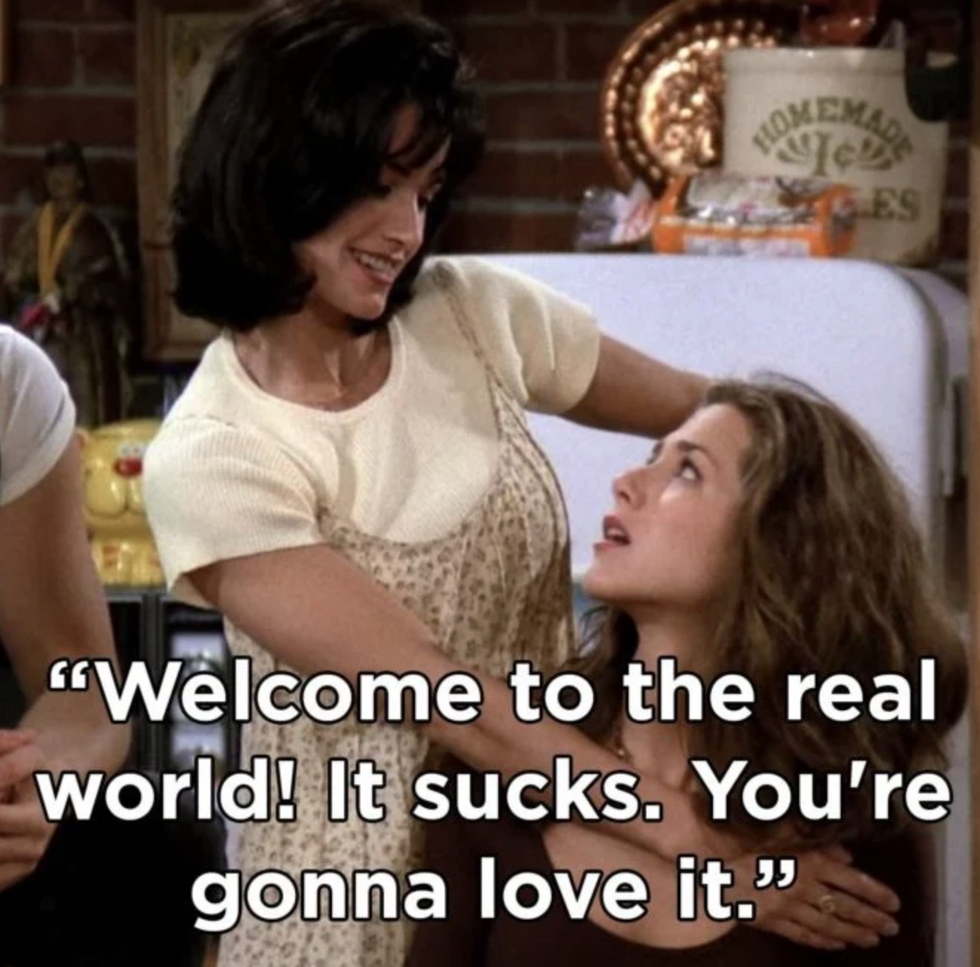 It actually dates back to the first EVER
Friends
episode when Courteney said almost the exact same thing to Jen.
So Courteney is a pretty big deal on Instagram.
But it wasn't just the picture that got people talking.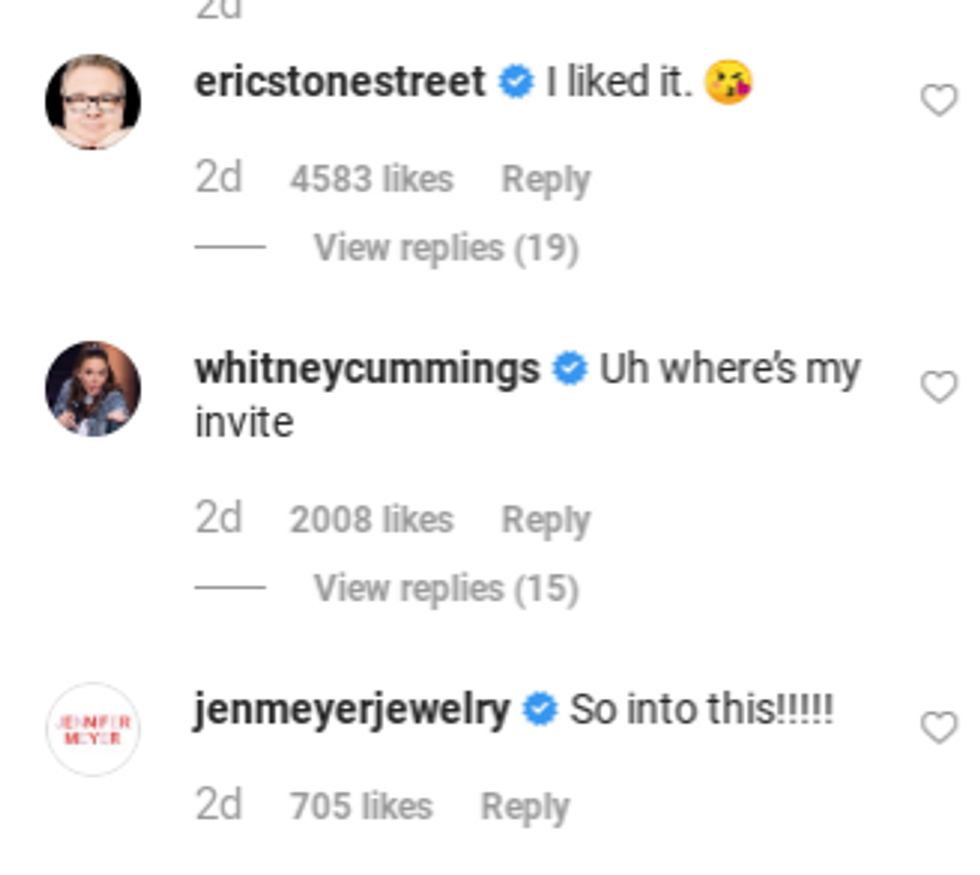 It was that hand. That god damned hand. Resting underwater on Beckham's lap. Just inches away from his... shaft? One person commented: "I see that hand Courteney. Victoria sees it too." Another added: "Omg I noticed it too. Imagine Victoria looking at this picture with an eyebrow raised."
Some people aren't finding it too funny...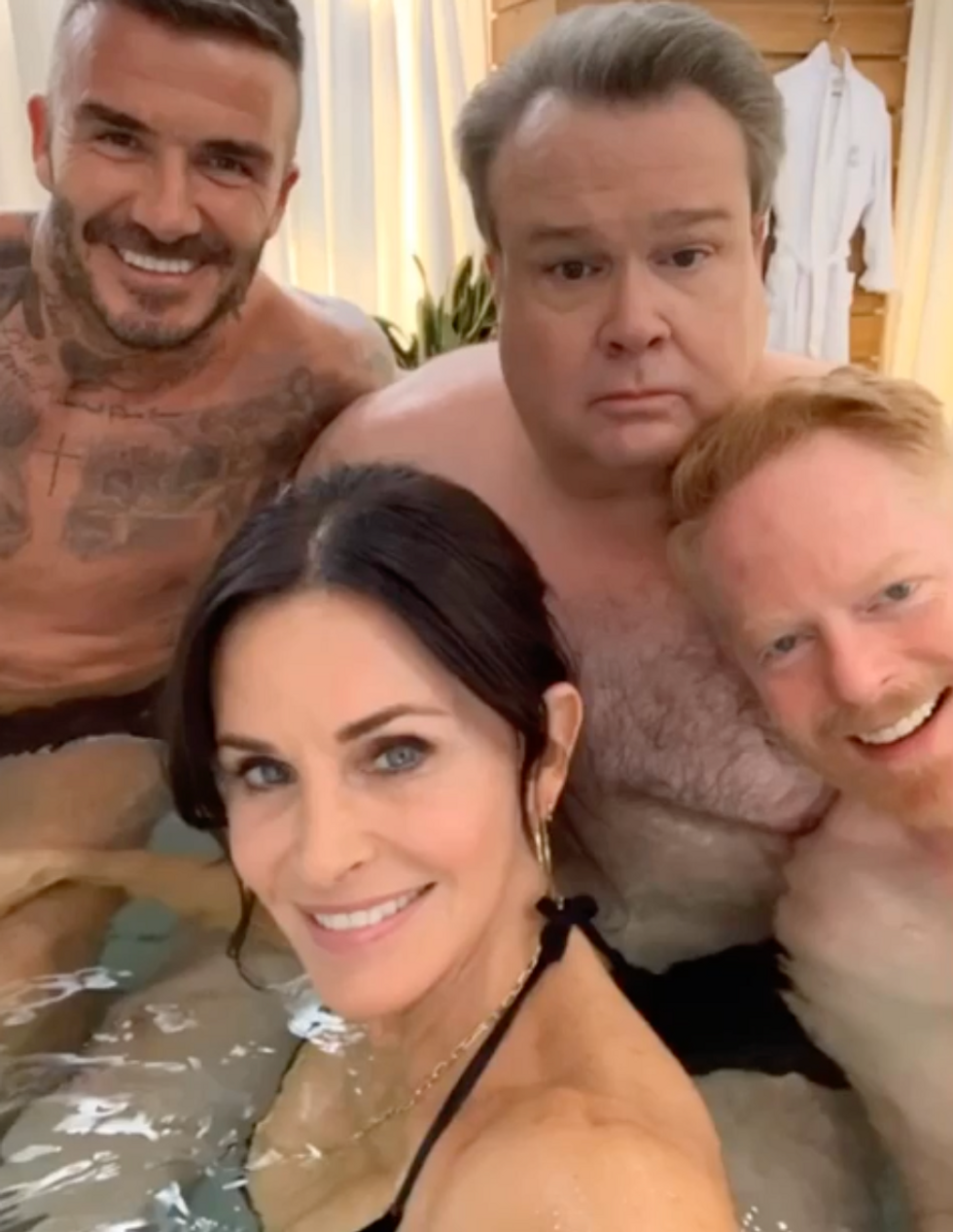 But what was actually happening...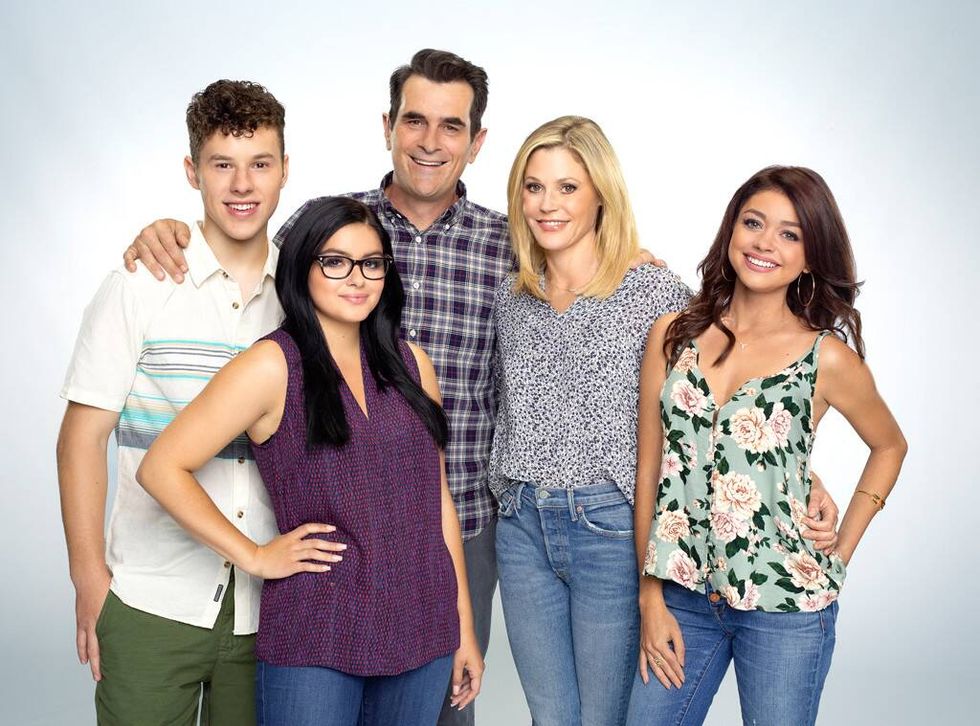 Well, it would appear the photo was taken on the set of
Modern Family
.
Other stars were in the tub.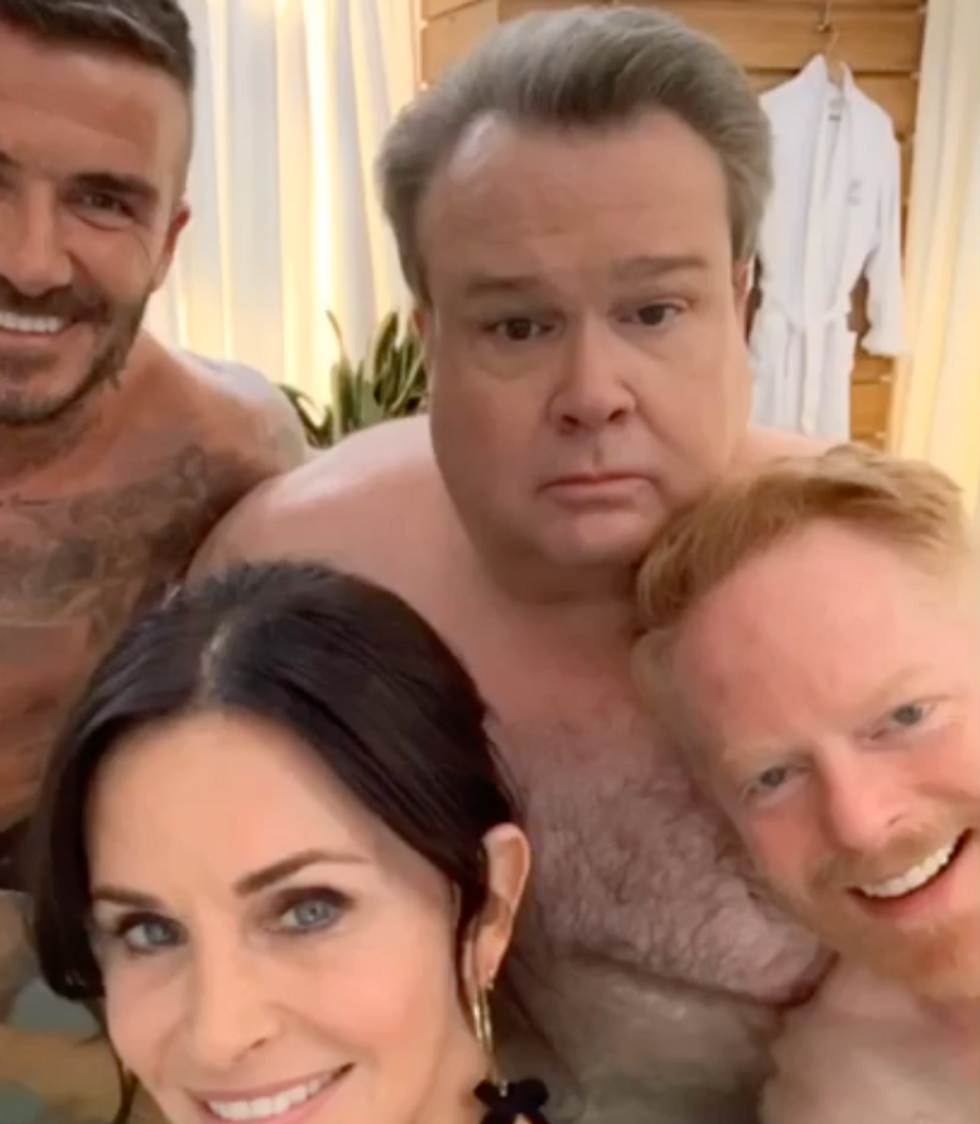 The main clue being fellow stars of the show, Jesse Tyler Ferguson and Eric Stonestreet, are also in the tub. And also a shot of Beckham and Cox reading their scripts for a new episode. It's certainly an all-star cast!
Beckham has since spoken out about the photo.
He made a "Friends" reference too.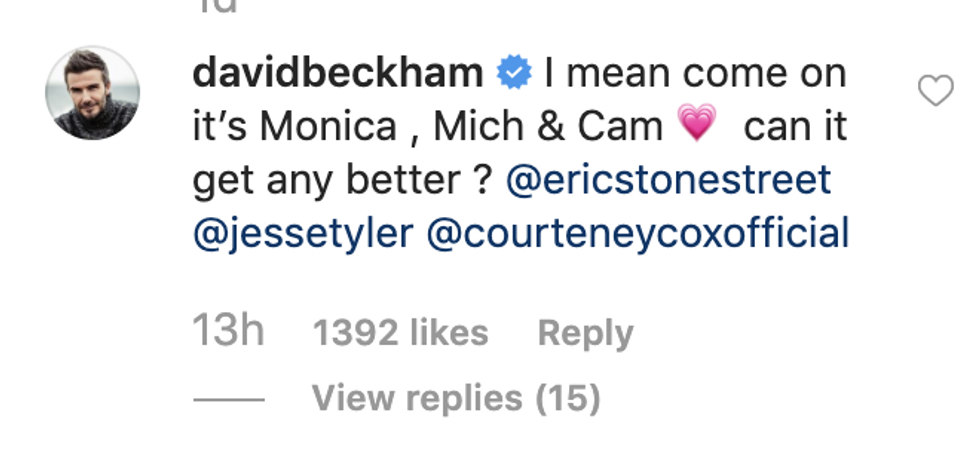 In his response, Beckham wrote: "I mean come on it's Monica, Mich & Cam 💗 can it get any better." Eric Stonestreet also commented saying he liked it! Whereas Jesse Tyler apologized for being gassy.
Many people were wondering what Victoria would say.
She commented on this photo.
Modern Family lines. Beckham shared the photo on Instagram with the caption: "I met a new FRIEND 🤩 today at work @courteneycoxofficial #modernfamily 😍"
But what did Victoria say?

She commented simply saying: "I can't wait!!!!!! 👏🏼👏🏼👏🏼👏🏼 Kisses x"
She doesn't seem to mind.
Although I have one final question.
And another person who didn't get an invite?
Jennifer Aniston, that's who.
And she didn't hold back in the comments...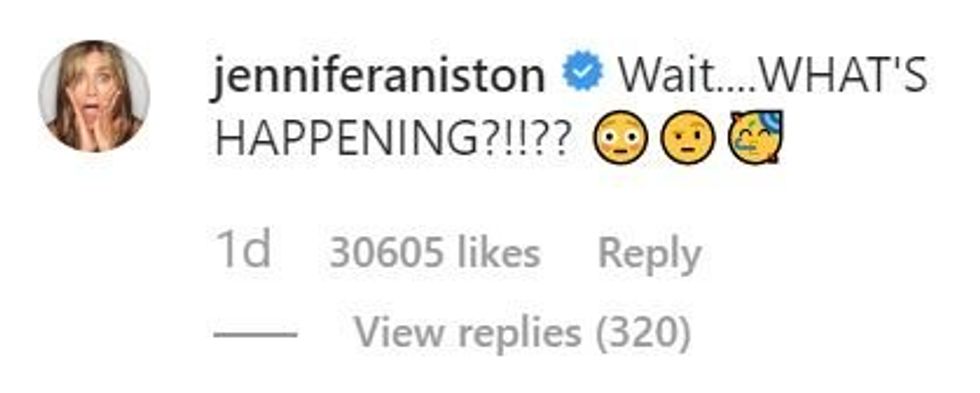 She commented on the post with, "Wait... WHAT'S HAPPENING!!!" with a series of shocked, confused, and party emoji faces.
Her comment gained a lot of attention...
And it even led one social media user to comment: "plz don't tell Chandler".
Jen seriously roasted Courteney...
But what else are best friends for?!