Talk show host, Jimmy Kimmel came out and said he thinks it's "unimaginable" that more than 68 million people voted for Donald Trump.
But that's not all...
Jimmy Kimmel has recently spoken out about his political stance.
And it's mainly because of an issue very close to his heart.
He recently paused his show to play a heartbreaking video about his son.
And it's safe to say it definitely had an impact on his viewers and those who might not have been aware of the Republican stance on pre-existing health issues.
But of course, it was also deemed a "controversial post" by others.
And it just added to the ongoing rollercoaster ride of election day.
However, he's not done there yet.
The talk show host as more to say on the issue in the aftermath of the count and it seems as though a lot of people agree with him.
So far, it has already been a wild 4 years...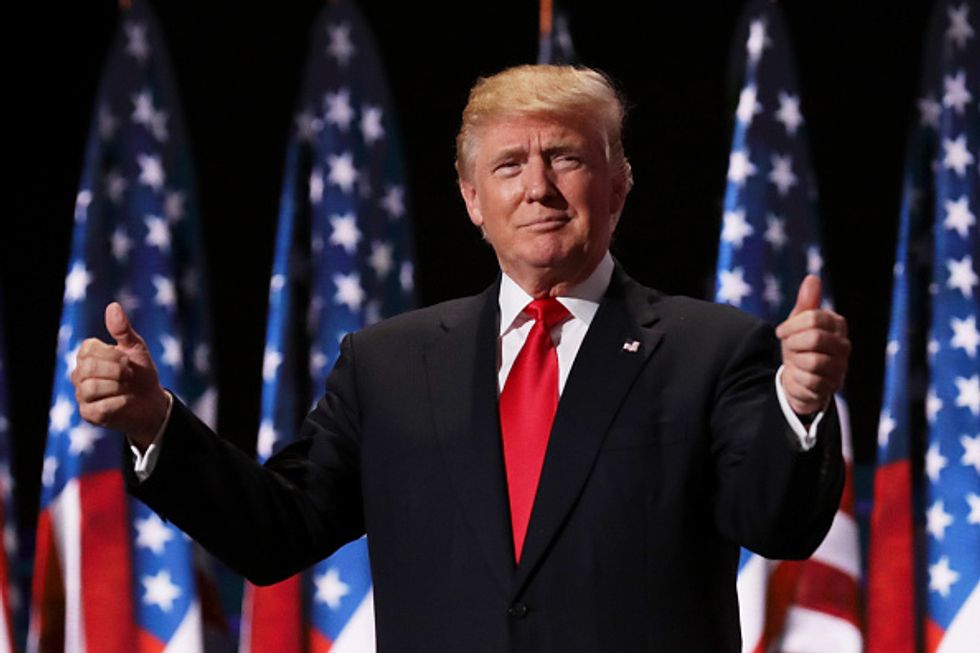 via: Getty
Since winning his place in the White House back in 2017, President Trump has consistently been embroiled in controversy and scandal.
It's been a strange couple of years...
via: Getty
No one could quite believe what they were hearing when the notorious business tycoon announced his plans to run for President during the 2016 presidential campaigns.
But, remarkable, it wasn't a publicity stunt.
via: Getty
Donald Trump was being deadly serious about his bid for his place in the White House, and kicked off his campaign with an array of promises, such as building a wall along the border of Mexico, allowing all American's to the right to bear arms, and generally to "make America great again."
And when it came round to election day...
The world awoke on November 9th to see that America officially had its new leader - President Donald Trump.
It's been an eventful few years, to say the least.
via: Getty
It's certainly been up and down - Trump has sparked his fair share of outrage, imposing a temporary travel ban on Muslims entering and leaving the U.S. and banning transgender people from the military, just for example. But he also passed a bill that makes animal cruelty a federal crime, and unemployment in the country was at an all-time low at just 3.6 percent.
The president is no stranger to criticism and controversy...
via: Getty
Much of his behavior while acting as president has been questioned over the past couple of years, with many calling for him to be impeached, and even removed from office entirely.
And, earlier this year...
Many prayers were answered when the president was actually impeached.
Trump was charged with 2 offenses.
via: Getty
The first was for abuse of power, and the second was an accusation of blocking his aides from testifying and failing to co-operate with the House impeachment investigation.
But despite his impeachment...
via: Getty
Trump continues to hold an awful lot of power and his fan base is still going strong... Which isn't necessarily a good thing considering the majority of Trump supporters hold far-right and very conservative ideologies.
But, despite his overwhelmingly loyal fan base...
via: Getty
Times are now harder than ever for the president. Since the coronavirus pandemic took over the world back in March, there's no denying that Trump has handled it
awfully.
Our country is now the worst affected in the world...
via: Getty
And Trump seems to remain completely oblivious to how catastrophic the coronavirus has been for millions of people, even after getting the disease himself.
Regardless of the risks the virus possesses, the president continues to hold rallies up and down the country.
It seems as though Trump is vamping up his campaign by holding multiple rallies nationwide where thousands of people gather together, most maskless, in order to listen to their hero talk about why he should win a second term in office.
Of course, he is extremely proud of his policies.
But not everyone feels the same way.
Recently, Jimmy Kimmel became extremely vocal about his stance on Republican ideals.
On an episode of his late-night talk show, Jimmy Kimmel Live!, he decided to pause his funny segments and trade one of them out to send a serious message.
And it involved a touching video dedicated to his son.
During the segment, he criticized the Republican Party's stance on healthcare.
He said this:
"The vast majority of this country agrees that health insurance should cover Americans with pre-existing conditions," says Kimmel in the clip above. "But the Republican party — and that includes the president and members of Congress — the only plan they have is to do away with protections for pre-existing conditions."
He continued:
"My wife Molly made a video that deals with our experience with pre-existing conditions, and we'd like you to watch this and pass it around to anyone who may have forgotten what this election is really about."
And then he added this: "Families go broke trying to keep their loved ones alive."
"People die because they cannot afford to live."
Currently, they are protected by the Affordable Care Act, but Donald Trump plans to take that clause out...
Leaving millions of people suffering from medical conditions vulnerable.
While a lot of people sympathized with the host...
@nowthisnews Thanks Jimmy for sharing a real moment in such a dark time. My prayers are with both you and your ador… https://t.co/K3E81UbO9r

— Gregg (@Gregg)1603530329.0
Others weren't so pleasant...
@nowthisnews Using your kid for politics. Great parenting. NOT! Disgusting.

— Jesus Is Coming Soon (@Jesus Is Coming Soon)1603539002.0
But as the counting of votes continues all around the country, it seems as though Kimmel wasn't done there.
On Wednesday night, he decided to share his thoughts on what was currently taking place with the president and his attitude towards the results, and it seems like many people agree with him.
He said this:
"I have to say, I am very happy and relieved that it looks like we're finally sending this monster back to Mar-A-Lago... But I'm also shocked that it was this close."
"It is unimaginable to me that close to half of American voters saw what this man has done to this country over the last four years..."
He then started listing the most controversial things that had happened so far: "He Kowtowed to Vladimir Putin. He cozied up to Kim Jong Un. He alienated us from our allies. He put children in cages. He villainized the press, hid his tax returns. He tear-gassed peaceful protestors. He pardoned his criminal buddies. He extorted Ukraine. He misled us about COVID. He dismantled the Pandemic Response Team. He dismantled healthcare. He called neo-Nazis 'very fine people.' He hired a never-ending parade of imbeciles. He lied, lied, lied, and lied, and then he lied some more."
He also added this, referring to the president's current lawsuits against blue states.
"He is a liar and a cheat who wants them to stop counting thousands of legitimate votes—and almost half us are apparently okay with that," Kimmel said. "Half of us want it to keep going for four more years."
And it seems as though a lot of people are also tired of President Trump's actions.
Lots of comments flooded in support of Kimmel's grievances.
Watch the full speech here:
For all the latest news on the election, keep scrolling...