Just hours after the U.S Electoral College's official verdict on the 2020 election result, Joe Biden delivered a scathing attack upon President Trump and his refusal to concede.
He didn't hold back with this one…
Now, President Trump has a lot of answering to do.
Since his election loss last month, Trump has been burying his head in the sand and, at it stands, has taken the longest to concede out of any other U.S president in our country's history.

And, as the counts went underway last month, the president tried to temporarily stop vote-counting in Michigan and Pennsylvania, states where Joe Biden was projected to win.

And then went on to threaten legal action against any state wherein Biden had won.

The Associated Press called the race for Biden when Pennsylvania's twenty electoral votes put him over the 270-vote threshold needed to win the Electoral College.

"America, I'm honored that you have chosen me to lead our great country. The work ahead of us will be hard, but I promise you this: I will be a president for all Americans – whether you voted for me or not. I will keep the faith that you have placed in me."

However, there was someone who wasn't in the mood for celebrating…
And that was President Trump, of course.

Though the president is a historically sore loser – he's very rarely had to admit defeat ever in his life – and has long made wild accusations against the Biden campaign team, people simply cannot believe his ongoing refusal to accept what has happened.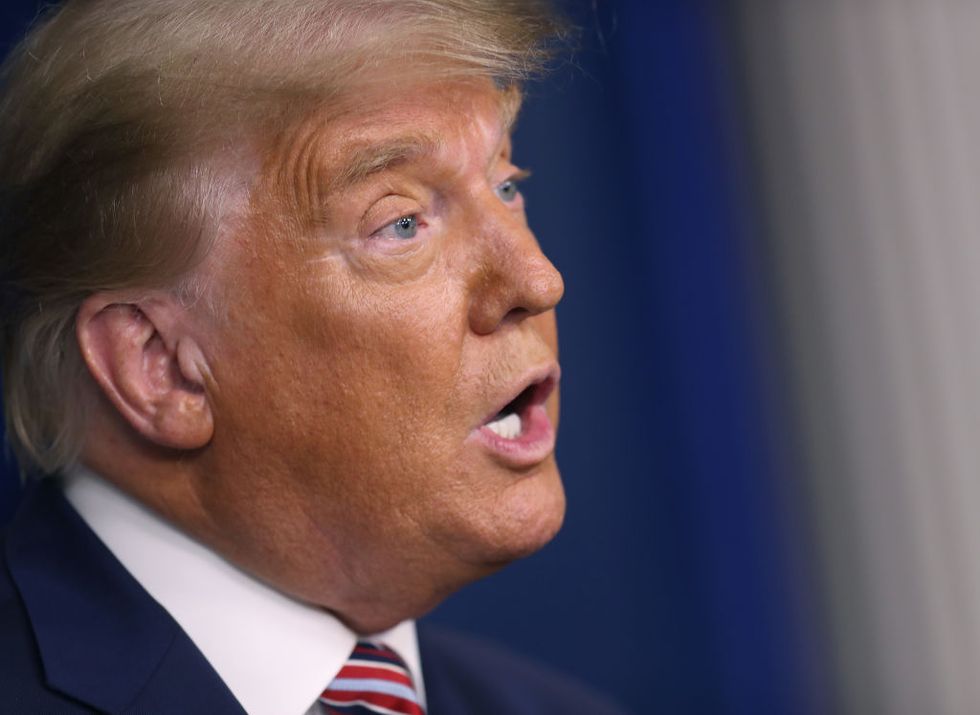 In which he accused Biden and his team of rigging the entire election. As per Sky News, the statement read: "We all know why Joe Biden is rushing to falsely pose as the winner, and why his media allies are trying so hard to help him: they don't want the truth to be exposed. "The simple fact is this election is far from over. Joe Biden has not been certified as the winner of any states, let alone any of the highly contested states headed for mandatory recounts, or states where our campaign has valid and legitimate legal challenges that could determine the ultimate victor. "In Pennsylvania, for example, our legal observers were not permitted meaningful access to watch the counting process. Legal votes decide who is president, not the news media."

In his rage, Trump took to the social media platform to dispute the result further, insisting that he was the one who won.

And proudly Tweeted that he received a record-breaking number of votes.

Trump seemed set on the idea that Biden and his team rigged the entire election to play out in their favor, and made strong hints that something happened in the counting rooms that had "never happened before."

Throughout the past month, Trump has remained confident in his election victory, despite not actually winning.

While Trump has consistently slammed the Biden campaign of "fraudulent votes," he has yet to provide any actual evidence.

The internet has been rife with people laughing at the childishness of Trump's behavior and, of course, many dubbed him as a "sore loser."

There has still been no whisper of conceding from Trump.

Just hours after the electoral college made their announcement, the president-elect delivered a scathing speech wherein he slammed Trump for not conceding.

He then called the attacks on the election and election officials "simply unconscionable" and Trump's attempts to overturn the election an "abuse of power."

"In America, politicians don't take power – the people grant it to them. The flame of democracy was lit in this nation a long time ago. And we now know that nothing – not even a pandemic or an abuse of power – can extinguish that flame."

"In this battle for the soul of America, democracy prevailed. We the People voted. Faith in our institutions held. The integrity of our elections remains intact. And so, now it is time to turn the page. To unite. To heal."

Telling America that his priorities were "delivering immediate economic help" and "getting the pandemic under control." "I will work just as hard for those of you who didn't vote for me as I will for those who did. There is urgent work in front of all of us."

For more on this year's explosive election, keep scrolling…