John Krasinski's horror directorial debut, A Quiet Place, took the world by storm last year, becoming an unexpectedly big hit.
The movie took a relatively simply premise and turned it into a tantalizingly scary spectacle... and horror fans across the world ate it up.
Just a year later, Krasinski is taking to the director's chair once again to bring fans a much-anticipated sequel. But those who watched the first film will be well aware that, this time, Krasinski will be absent from the film, and with good reason... his on-screen character died at the end of the movie.
We've got so many questions... will Emily Blunt be reprising her role? When will the movie be hitting screens? Well, keep scrolling to get all the answers about the upcoming horror sequel.
John Krasinski's A Quiet Place hit screens last year.
The actor, who many will know as Jim Halpert from
The Office
, took to the director's seat for a genre that's pretty much a full-blown u-turn from what he's renowned for.
The premise of the movie is simple but, projected in an utterly terrifying light.
Set in a post-apocalyptic world wherein most of civilization has been wiped out,
A Quiet Place
tells the story of the Abbott family – wife, Evelyn, husband, Lee, congenitally deaf daughter, Regan, and sons, Marcus and Beau, who must stay silent to survive in a world infested with monsters which hunt through ultra-sensitive hearing. It's a far cry from
The Office
, that's for sure...
It stars Krasinski himself along with his wife, Emily Blunt.
They play Evelyn and Lee who desperately try to protect their children while uncovering a way to fight back against the mysterious creatures roaming the land.
Throughout the movie, the characters communicate in sign language.
Due to the creatures' ultra-sensitive hearing, the slightest noise could alert them to hunt and kill. But with one member of the family already having a hearing impairment, it meant that they already had the vital skill, and we watch as they try to use it to their advantage.
The movie became a surprise hit.
Sadly, not many people thought that the movie would win big at the box office. After all, the horror genre is pretty hard to tackle and its dedicated fans are exceptionally tough to please.
But it proved everyone wrong.
Krasinski's horror spectacle earned an impressive
$85 million in revenue in the U.S, a figure much higher than the $60 million it was forecasted to rake in. 
In fact, it earnt the title of the most terrifying movie of 2018.
And considering that Krasinski has publically said that he
isn't
really a
horror
fan, we'd say that's pretty good going.
So it's no surprise that Paramount quickly snapped up the opportunity for a sequel.
Much to the delight of avid horror fanatics.
Information on the much-anticipated sequel has been scarce...
Until now, that is. Keep scrolling to find out everything you need to know, including the long-awaited release date.
Krasinski is taking to the director's chair once again for the second movie.
But, those who have watched the first film will be well aware that Krasinski's on-screen character died, which leaves us with several questions as to which direction he will take the sequel in.
Krasinski may be absent from the cast this time around...
But Emily Blunt will reprise her role as Evelyn, along with Noah Jupe and Millicent Simmonds, who will be returning to the screen to play her on-screen children.
But they'll also be some new additions to the cast.
Peaky Blinders)
as a character
described
as "a man with mysterious intentions who encounters the family,"
and Djimon Hounsou (
Gladiator
).
Here's what we know about the plot...
Details have so far been kept pretty, well,
silent
, but we
do
have some scattered pieces of information about what we can expect from the upcoming movie.
Presumably, following the death of her on-screen husband, Emily Blunt's character will now be leading her family.
And many of us are left wondering if there are any other families out there. Well,
co-writer Scott Beck
seems to think so. "Definitely.
"There are so many discarded set pieces, too, just hiding out on Word documents on our computer. So, yeah, there are certainly so many stories you could tell. It's just really, at the end of the day, who are the characters in this and what does this situation mean to that dynamic?"
Krasinski briefly opened up about the plot of his upcoming movie, but he's been pretty vague, to say the least.
"[With A Quiet Place: Part II], we have the world. 
So
 it's actually the world that's built, it's the idea that the rest of the world is going through this exact same experience.
"Are there other people that 
have to
survive like this? It's that idea of living through the set of circumstances, not again in the same way obviously, but exploring it more. You only got to do it intimately for a small amount of time, so what happens next," he added. 
But there's been a huge development in the progress of the eagerly-anticipated movie...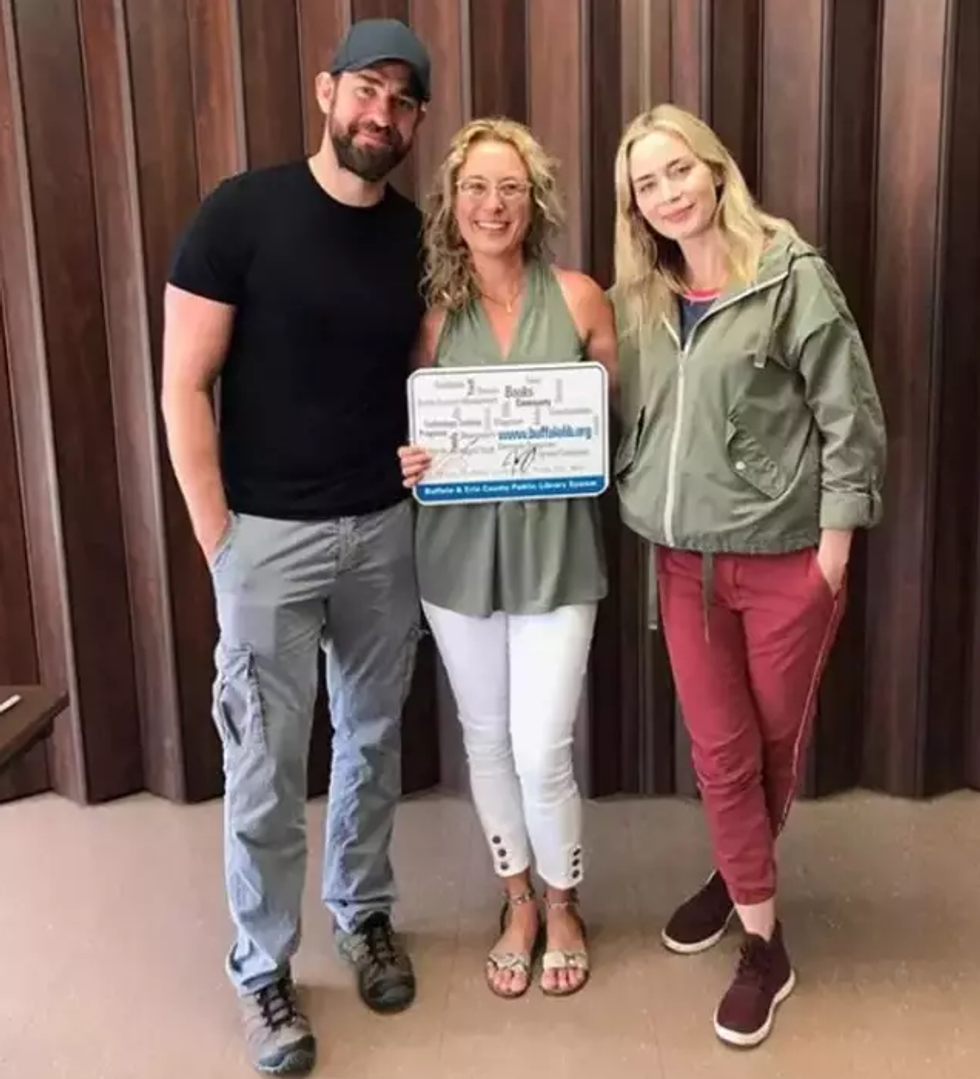 Krasinski has confirmed that filming has wrapped up, meaning we're one step closer to watching the horror sequel on the big screen.
He shared this to Twitter:
Well... that's a wrap on #PartII See you on March 20th! https://t.co/9u4xcFjm5n

— John Krasinski (@John Krasinski)1569428442.0
The picture of him, alongside wife, Emily Blunt, confirms the news that filming, which has been going on since July, has finally come to an end.
Following the tweet, fans were quick to express their excitement.
Looks like a lot of people will be (quietly) celebrating.
A Quiet Place 2 will hit theatres on March 20, 2020.
Keep scrolling to read about another horror smash hit that's got fans glued to their screens.
People are saying that it's the scariest show on Netflix...