From the very first appearance of Jackass, it has been known for playing pretty gnarly pranks which always fell just on the right side of funny. But, in the wake of the death of star, Ryan Dunn, in 2011, it seemed as though things within the franchise were coming to a close.
Nevertheless, earlier this year, we heard about a potential Jackass reunion. But in the midst of filming, both Steve-O and Johnny Knoxville have already been hospitalized, and after finding out why, fans had a lot to say...
Jackass has always been a controversial fan favorite.
The prank and stunt television phenomenon, which first aired in 2000 as a television show, went on to bring the world 3 hugely successful movies.
Bam was a fan favorite within the franchise.
He was one of the youngest cast members and was loved for his mischievous charm and boyish good looks. But there was another reason that people loved Bam so much - his adorable relationship with best pal, Ryan Dunn.
But then, tragedy struck.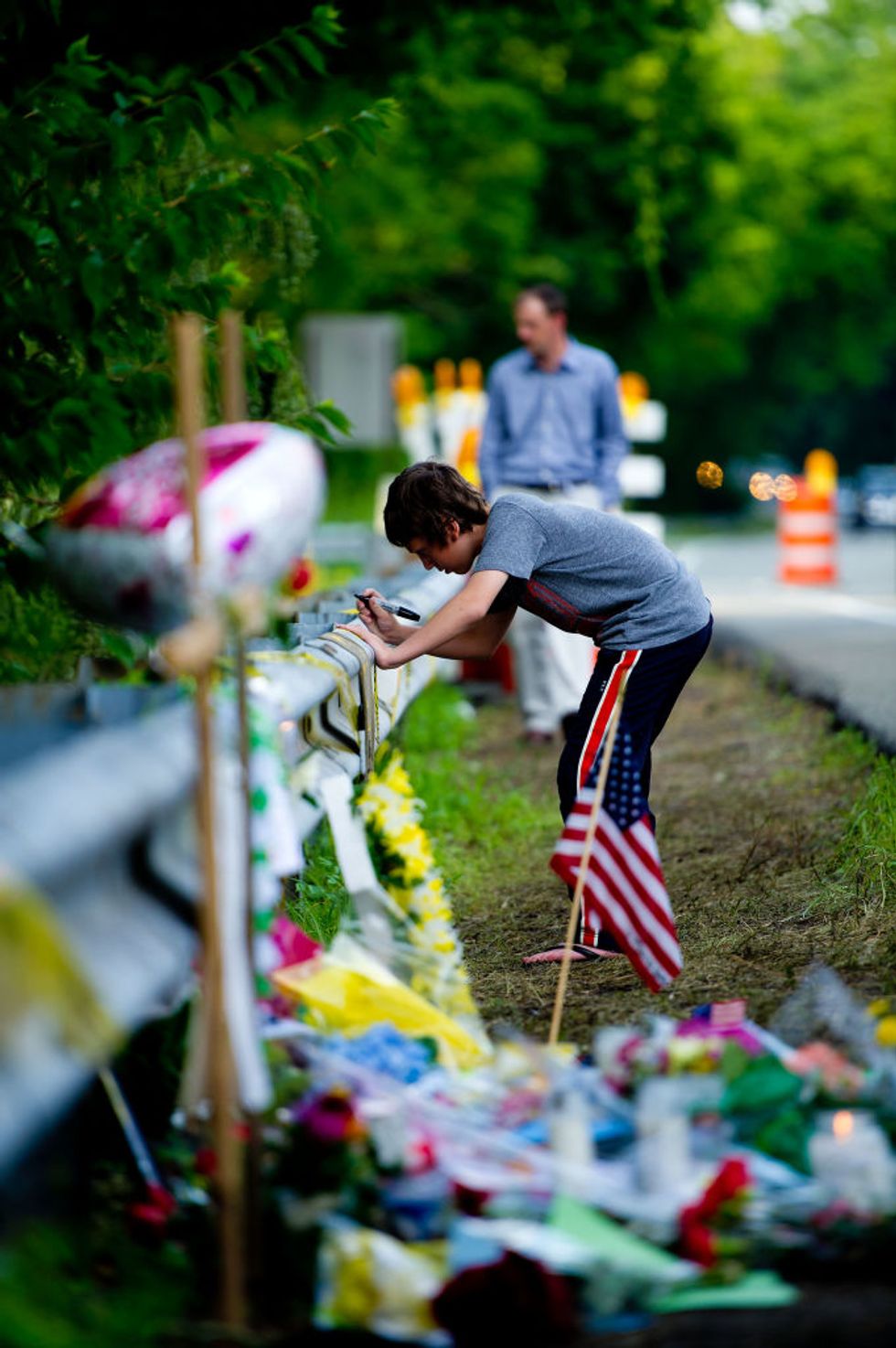 via: Getty Images
In 2011, Ryan Dunn was driving under the influence of alcohol and crashed his car in Pennsylvania. There were 2 fatalities - Dunn, and passenger, Zachary Hartwell.
Since losing his best friend, things haven't been going so well for Bam.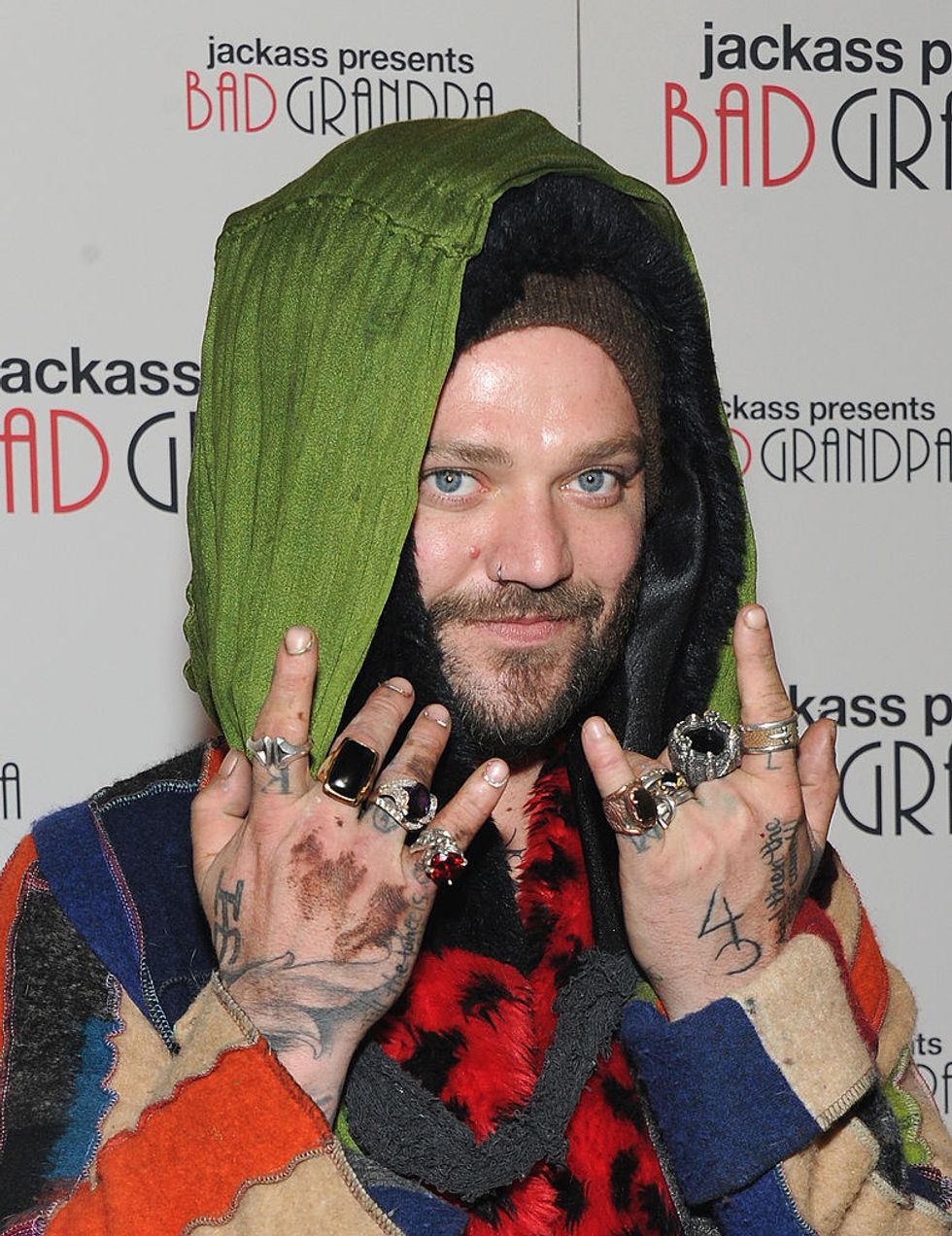 via: Getty Images
He displayed persistently more and more erratic behavior, including increased reliance on drugs and alcohol, as well as pretty bizarre and frightening mood swings.
In recent months, he hit headlines for all the wrong reasons.
Bam Margera wylin out on his tour manager 😂 https://t.co/XGvXVi9x9M

— rossi blue (@rossi blue)1552011256.0
This March, Bam showed up early for an event and discovered that no audience members had yet arrived. But, instead of waiting it out, he absolutely lost it, screaming at his visibly terrified manager in a way that suggested a loss of touch with reality.
After this March outburst, the star was committed to a facility.
He was checked in for addiction issues and a suspected personality disorder. Reports state that this was against his will and at the insistence of worried family members.
But, since this incident, it appears that things haven't got any better.
And there was one very public meltdown that Margera suffered that got the public - and his old Jackass co-stars - deeply worried.
And things have only gotten worse from there.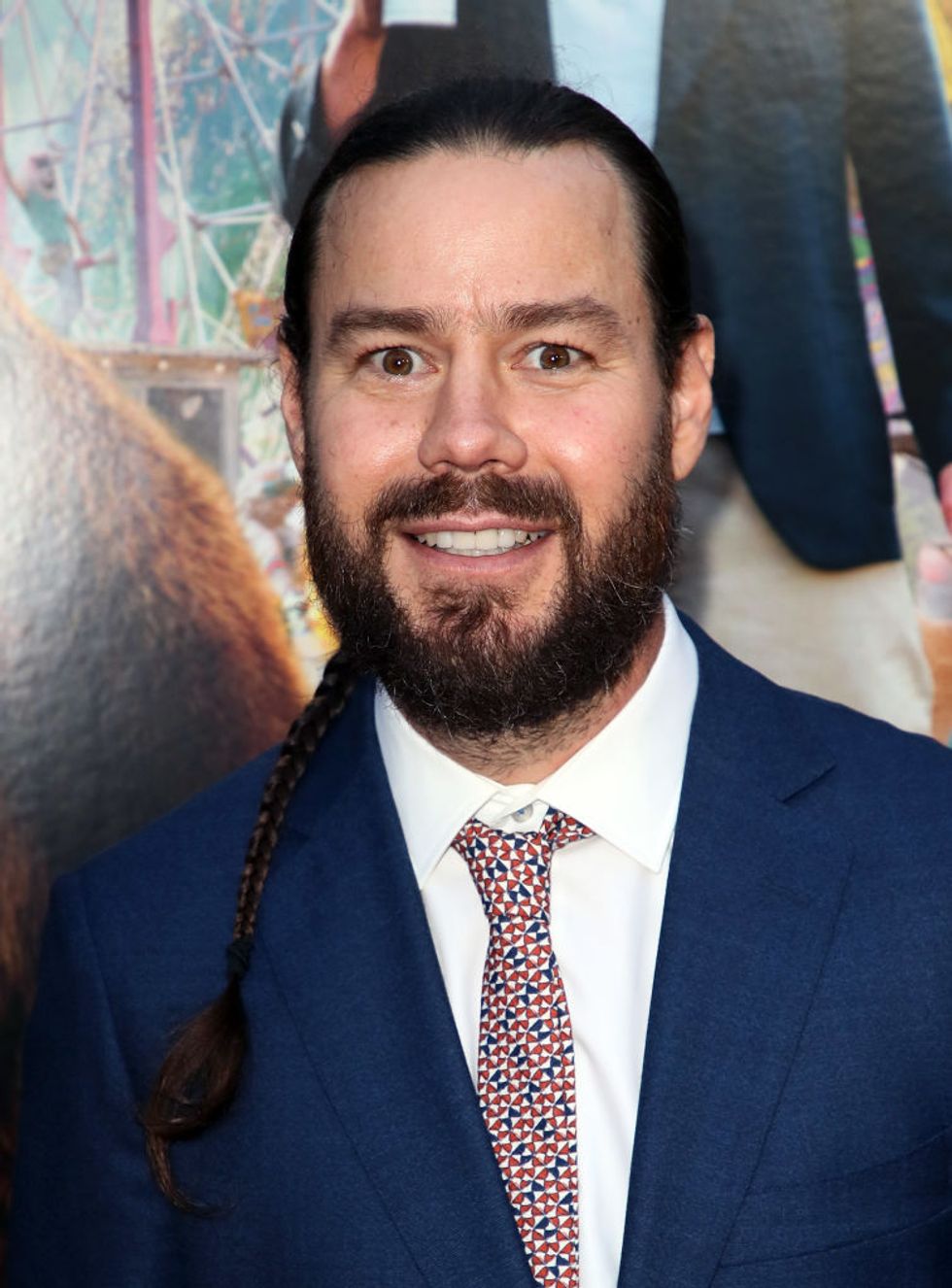 via: Getty Images
Margera then posted some scrawled handwriting denigrating, not only Boyd (with whom he shares a 2-year-old-child), but also his own mother, April. Fellow 
Jackass 
star, Chris Pontius, left a heartfelt public comment on the post, saying: "To Everybody asking the Jackass Guys to help Bam, We are trying and have been, but no matter how loudly help screams his name, it's up him to want to be better and not somebody who publicly degrades their Wife and Mother and takes accountability for it. I wouldn't write this publicly, but we all get told to go help Bam so much, I might as well answer."
Another Jackass co-star, Brandon Novak, then reached out.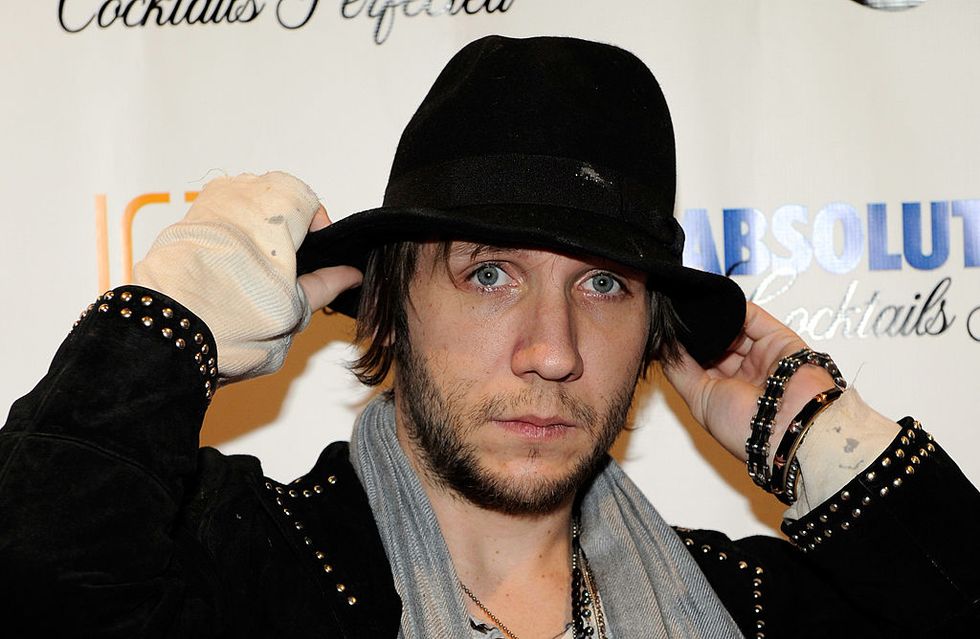 via: Getty Images
But Bam was having none of it, screenshotting the message and captioning it, "Novak writes me after how long?"
Many ex-Jackass cast members reached out to offer help to Bam.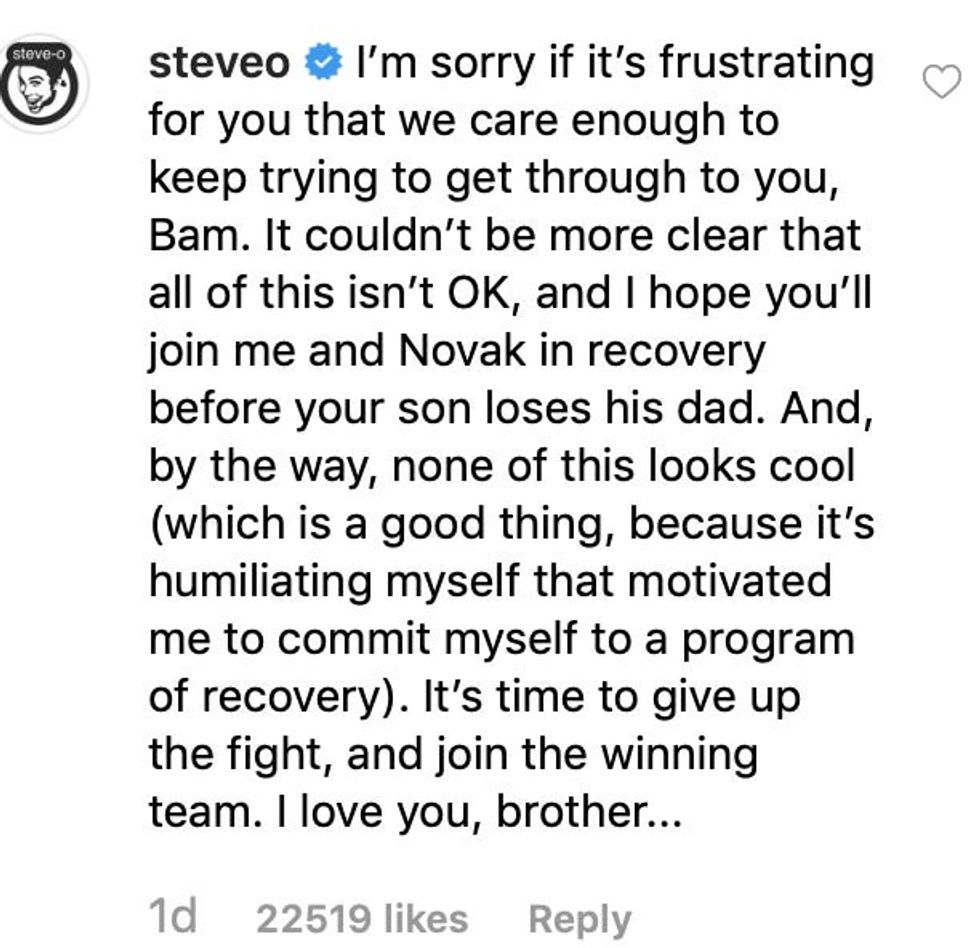 via: Instagram
Including this heartfelt message from Steve-O, who, himself, has struggled with addiction and mental health issues over the years - but is now clean, sober, and living his best life.
But aside from concerns for Bam's personal wellbeing ...
The loss of his friend plus Margera's increasingly severe issues led many to believe Jackass was over forever.
Leaving many fans feeling pretty upset.
Where else would we see such genius comedy as bashing people with a huge prosthetic hand?
Jackass is truly one of a kind.
What other million-dollar franchise has a segment dedicated to throwing glasses of water into someone's face and then punching them?
Never has a group been so unafraid of pain.
On what other show would you see grown men allowing their butts to be bitten by a slapping turtle?
We've been deprived of such silliness for too long.
But there has now been some long-awaited (and very exciting) news from the Jackass camp.
And Jackass fans can rejoice.
via: IMDB
As it's been confirmed a long-awaited part 4 to the iconic trilogy has been greenlit.
Main star Johnny Knoxville has spoken out on the topic in the past.
"It's possible, for sure. It's not like we're saying no," he revealed to
Entertainment Weekly
in 2010.
"If we did do a new one, we'd have to bring in some new younger guys ..."
"...  just to bring some fresh blood into it. But it's possible."
And if you were concerned about a lack of new ideas?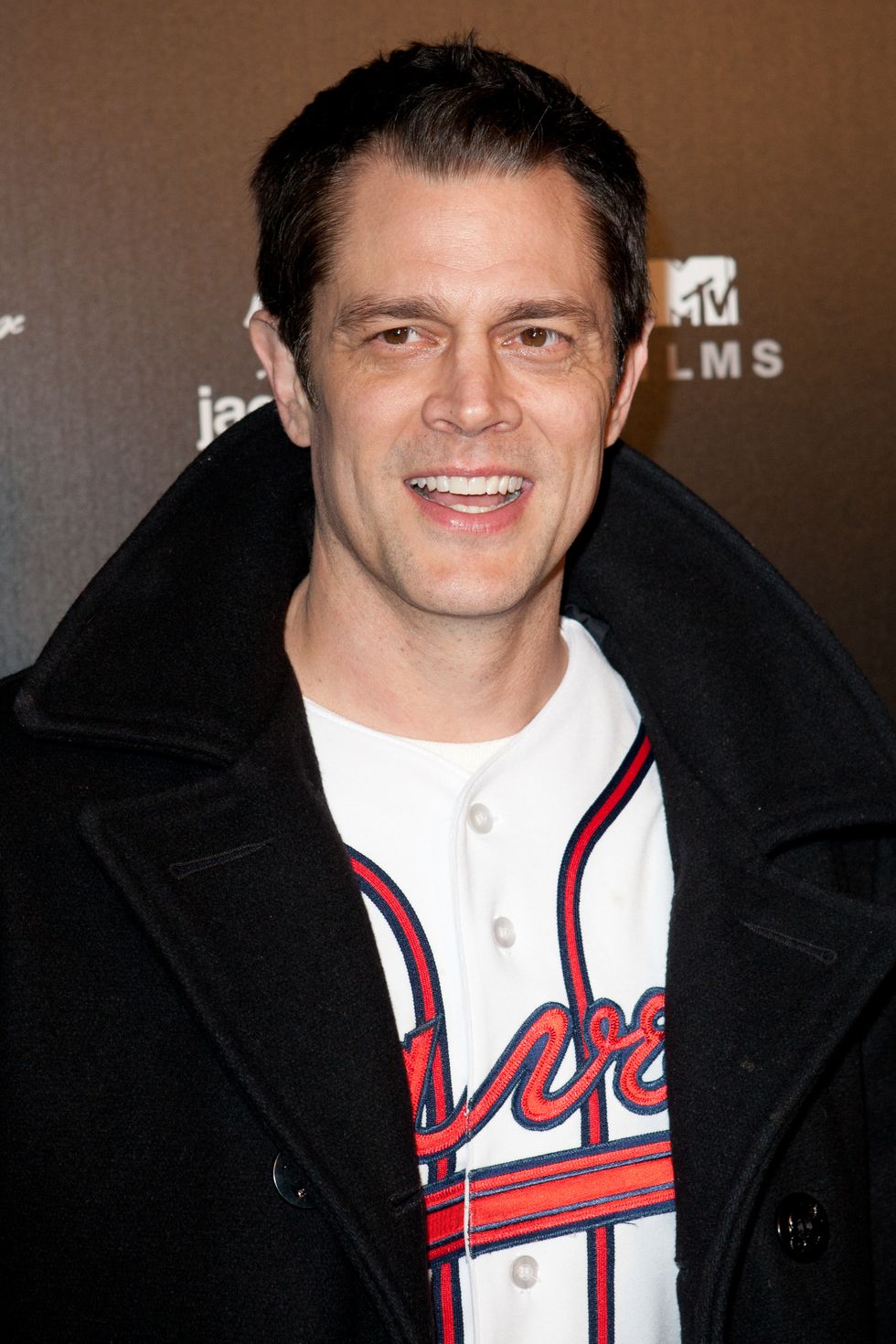 via: Shutterstock
Fear not. "I still write ideas down, just in case I get that twitch again. We're sitting on a ton of new ideas. There were so many that we didn't get to shoot for
Jackass 3."
"We have more ideas than we could shoot for Jackass 4, I'll tell you that."
Anyone else feeling excited?
"It's a comedy, but a few of my friends and family members are over that part of it."
"I totally understand where they're coming from. I've been doing this for so long, it's kind of tough to stop."
But Knoxville is very up for it.
"I gotta take care of myself, but God, I don't want to stop. Am I sick? If we did Jackass 4, I would commit. But I may need to give my family a break for a second."
Many were excited about the news.

via: Facebook
It's been nearly a decade since we saw anything from the 
Jackass 
gang, after all.
Although others had concerns.
Can the Jackass crew even survive this? I think they're too old at this point. https://t.co/vc1CkeGFbz

— SJWJamesBond Wants Nazis Banned ︽✵︽ Agent of GIRL (@SJWJamesBond Wants Nazis Banned ︽✵︽ Agent of GIRL)1576731315.0
The gang are all ten years older than the last time we saw them - will their bodies handle it?
Others were feeling the loss of Ryan Dunn.
Although many hope the movie will be dedicated to the late Jackass star.
But, just days into the filming process ...
We've been hit with some bad news - and fans have had a lot to say about it.
Bam Margera shared a filming update on his website.
...From a hospital waiting room. Yikes.
He claimed Steve-O and Knoxville had hurt themselves by "jumping on a full-speed treadmill with band equipment."
Okay, well, we're very excited to see this movie. We hope they make a speedy recovery! Want more from the Jackass gang? Scroll on for the most shocking then and now pics of the cast ...