We have watched in awe as Jonah Hill has transformed from the geeky and awkward sidekick, mainly in Judd Apatow's comedies, to a fully blown acclaimed actor who can have his pick of film roles.
He's one of the most recognizable faces in Hollywood but it hasn't been an easy ride and now Jonah has spoken out about his 'years of public mockery' after shirtless photos of him emerged.
Read on to see what piqued Jonah's interest enough to press the never been pressed before Like button.

When he first hit our screens as a fresh faced youngster.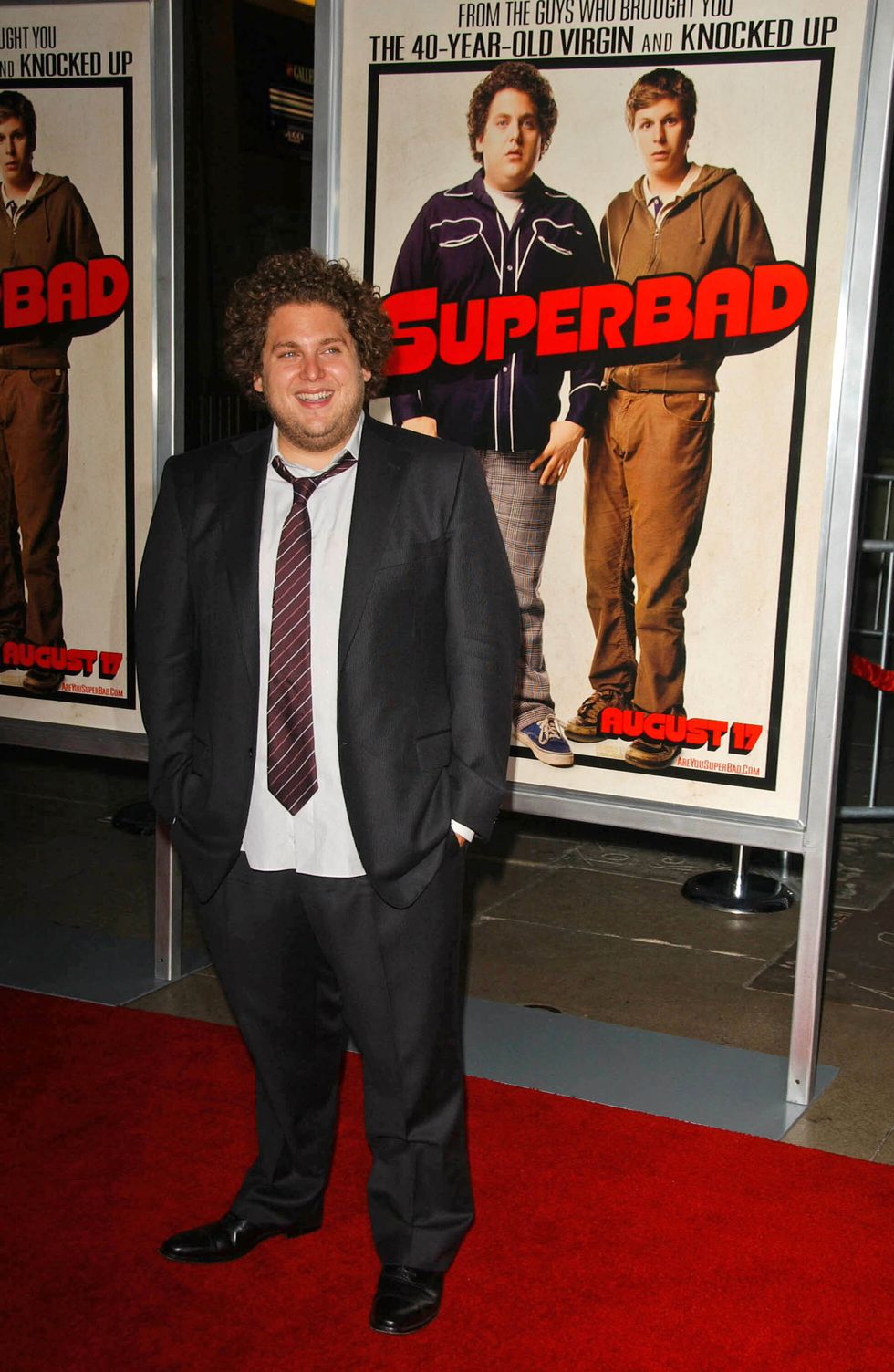 via: Getty
His chubby cheeks, nerdy awkwardness, hilarious laugh and crazy hair had us hooked from day one.
The original dudes.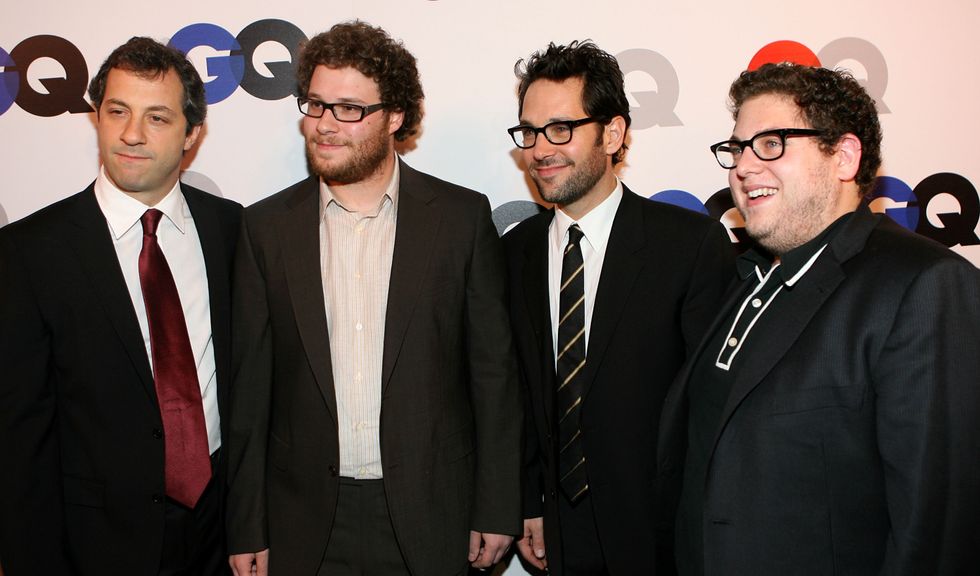 via: Getty
As his career took off he became famous for starring alongside other comedy geniuses such as Seth Rogen, Paul Rudd and Jason Segel.
And of course, he owes his early success partly down to Judd Apatow.
Drawing dicks in Superbad.
In 2007 Jonah starred in Superbad alongside Michael Cera. This hilarious coming of age film was said to be the launch pad for both these young actors' careers. And damn were they right.
In The 40 Year Old Virgin confused by Ebay.
Although, Jonah did in fact star in another Judd Apatow film before Superbad, if only briefly, and that was in The 40 Year Old Virgin. Even for this brief moment, Jonah still stole the scene.
Then came his large supporting role in Knocked Up with the hilarious Seth Rogen.
This romantic comedy grossed $219 million worldwide and was loved by critics and film enthusiasts alike. "Just do it already."
He was then seen worshipping Russell Brand in Forgetting Sarah Marshall.
Cast as the slightly stalkerish waiter in this feel good comedy, Jonah managed to capture the essence of an obsessed fan perfectly and added lots of extra laughs in his scenes with Russell.
"Shouldn't have had the Jeffrey".
In Get Him To The Greek, a spin-off film from Forgetting Sarah Marshall, Jonah played Aaron Green, an ambitious executive who's tasked with escorting rock legend Aldous Snow to the Greek Theatre for his comeback tour. If you haven't seen it, let's just say the trip doesn't go smoothly.
Branching out into children's films.
Jonah was cast in three animated films; How to Train Your Dragon, Horton Hears A Who! and Megamind. With his hilarious voice and energy, he suited these roles perfectly.
Moving into a more dramatic role in Cyrus.
Jonah actually turned down a role in The Hangover so he could work on this independent film in 2010. And he was right to do so as this is the film that set the wheels in motion for a huge rebrand and a conversion into the highly versatile actor he has become today.
He received his first Oscar nomination for Moneyball in 2011.
Starring alongside Brad Pitt, Jonah was praised for his portrayal of Peter Brand, maths genius in this sports drama. At the time he spoke of how much he learnt for starring alongside Brad.
His first producing credits with 21 Jump Street.
Starring alongside Channing Tatum, Jonah both acted in and produced this action/comedy. Did it give him a taste for being involved in making films as well as starring in them? We think so.
Of course, we also had to mention 22 Jump Street.
The sequel to 21 Jump Street, this film was received in much the same way as its predecessor. Basically the fans couldn't get enough of it. And could we blame them with the hysterical Jonah and the gorgeous Channing. It was a match made in heaven.
You show me a cheque for $72,000, I quit my job, I come work for you.
After Moneyball, Jonah's next major film role was in The Wolf of Wall Street alongside Leonardo DiCaprio. Jonah wanted to be in this film so badly that he tracked down Leo, pleaded his case and even offered to take a pay cut. Boy are we glad he said yes.
Joining the Netflix revolution.
Back alongside Emma Stone again, the Netflix original Maniac, received mixed reviews but personally we loved it. A dark psychological comedy, this role gave Jonah the chance to use his comedic talents but also to portray a more complex character who was suffering from schizophrenia.
His directing debut.
And so Mid 90s was made.
This sort of autobiographical coming of age drama is set in the 1990s in L.A and follows 13 year old Stevie who loves to skateboard and hip-hop. As we expected, this debut drama is brilliant and has been widely acclaimed by critics. Go Jonah!
He has recently tweeted his gratitude to his fans who have seen Mid 90s.
#Mid90s out today on digital. For everyone who's already seen it, thank you. For anyone who wanted to but couldn't,… https://t.co/wBO5RhVMAQ

— Jonah Hill (@Jonah Hill)1545412639.0
Always gracious and thankful to fans and those who have supported him, Jonah did not disappoint with this heartfelt tweet.
Talking of Twitter, Jonah has finally liked a tweet!
Although Jonah has been on Twitter since February 2011 and has 4.79 million followers, he has never liked another tweet. Until now.
And this is what it said.
Emma Stone is such a robust, emotionally generous actor and the men she's so often cast opposite... aren't

— Kyle Buchanan (@Kyle Buchanan)1537540340.0
Kyle Buchanan, pop culture reporter for The New York Times, recently tweeted about the talent of actress Emma Stone but how the actors cast beside her are... well, not so great.
But why did Jonah like this tweet?
@kylebuchanan What does it mean that @JonahHill (a man that she has been cast opposite to) likes this. JONAH, WHAT… https://t.co/al9Bi2KTH6

— Sporty Spice Latte (@Sporty Spice Latte)1537667616.0
Slightly strange for his first ever like on Twitter, seeing as Jonah himself has starred beside Emma in the past and fairly recently.
Some are quick to come to his defence.
@kylebuchanan Jonah Hill gave her a run for her money in Superbad

— Johnny Galt (@Johnny Galt)1537702337.0
We agree, both Jonah and Emma were fabulous in
Superbad
. Comedy gold. Boo to you Kyle Buchanan.
And more quickly followed.
We think that Jonah more than kept up with Emma in this series as their respective characters Owen Milgrim and Annie Landsberg. Not to mention the gorgeous Justin Theroux.
Maybe we are reading too much into it?
@meghamuffin519 @kylebuchanan @JonahHill It probably means that @JonahHill agrees with what @kylebuchanan has said… https://t.co/PTAnQfObkB

— Freeglerock (@Freeglerock)1537695013.0
Could Jonah have honestly just missed the part about Emma's bum male counterparts? Or maybe he got it, and found it funny? He is a comedic actor after all.
No way are we believing that Jonah was having a dig.
Well definitely not at Emma Stone. Maybe at Kyle. Well, he did deserve it.
Jonah does sounds sincere with his praise for Emma.
In an interview on the red carpet Jonah spoke of his love for Emma as a friend and also as a fellow actor. It's clear these two love working together.
And the feeling seems to be mutual.
At the London premiere of Maniac, Emma spoke of her reunion with Jonah saying how long overdue it was. We agree Emma. How could you have left us hanging since Superbad.
Talking of Superbad.
This is one of our favourite scene from the film. We feel you Seth, unrequited love is a b*tch.
That kiss.
Sometimes the underdog gets the girl. And other times he drunkenly lunges at the sober girl.
So what's next for Jonah Hill?
But the latest news?
Is that Hill has spoken out about his years of public mockery.
It's in response to topless photos that have emerged.
He shared a screenshot of an article about him topless in a swimming pool...
In the caption he wrote about his insecurities...
He wrote:
I don't think I ever took my shirt off in a pool until I was in my mid 30s even in front of family and friends. Probably would have happened sooner if my childhood insecurities weren't exacerbated by years of public mockery about my body by press and interviewers. So the idea that the media tries to play me by stalking me while surfing and printing photos like this and it can't phase me anymore is dope.
He concluded:
I'm 37 and finally love and accept myself. This isn't a "good for me" post . And it's definitely not a "feel bad for me post". It's for the the kids who don't take their shirt off at the pool. Have fun. You're wonderful and awesome and perfect. All my love.

Oh and Daily Mail, not even you can take that smile from my face ;)

Keep your head up Jonah!
We're all supporting you!