Queer Eye's resident hairstylist, Jonathan Van Ness, is arguably the most desirable haircutter since Edward Scissorhands - and this guy is real.
Seriously, though, I don't think that there's anyone on the planet that wouldn't want one of the fab five to let loose on their life to make it that little bit more fabulous. 
Anyone that wouldn't want to welcome the Queer Eye team into their home would likely be persuaded once the open arms of Netflix's gay supergroup taught them what love really is.
I swear, there's no one that the Queer-Eye guys couldn't get to re-think their homophobic agenda, or at least get to drop their guard a little bit.
Heck, if they were let loose on President Trump's precarious comb-over, they could probably get him to stop threatening Iran and improve Trans rights.
A possible finale for Season 5?
But, before that, let's talk about Jonathan Van Ness. More specifically, let's talk about Jonathan Van Ness' powerful style and how he destroyed the Emmy Awards Red Carpet this weekend.
I mean, did you expect anything less?
I told you!
Imagine Jonathan Van Ness cutting your hair. Imagine them telling you how beautiful you are. A dream really

— jëšśę (@jëšśę)1568330441.0
It's a simple fact that
everyone
would let Jonathan Van Ness loose on their locks. But that's not all that this fashionista is good for...
Jonathan puts people at ease.
Which is probably half the reason that he's such a good stylist. I know that every time I go to the hairdressers, I have a mini-panic and crumble in the adjustable chair. "
I don't know what I want!"
I whisper as they look at me quizzically in the mirror.
"I don't know how I want my hair, where my parting goes, or what I want to do with my life."
Going the hairdressers is stressful, right?
Nothing's stressful when Jonathan Van Ness is around.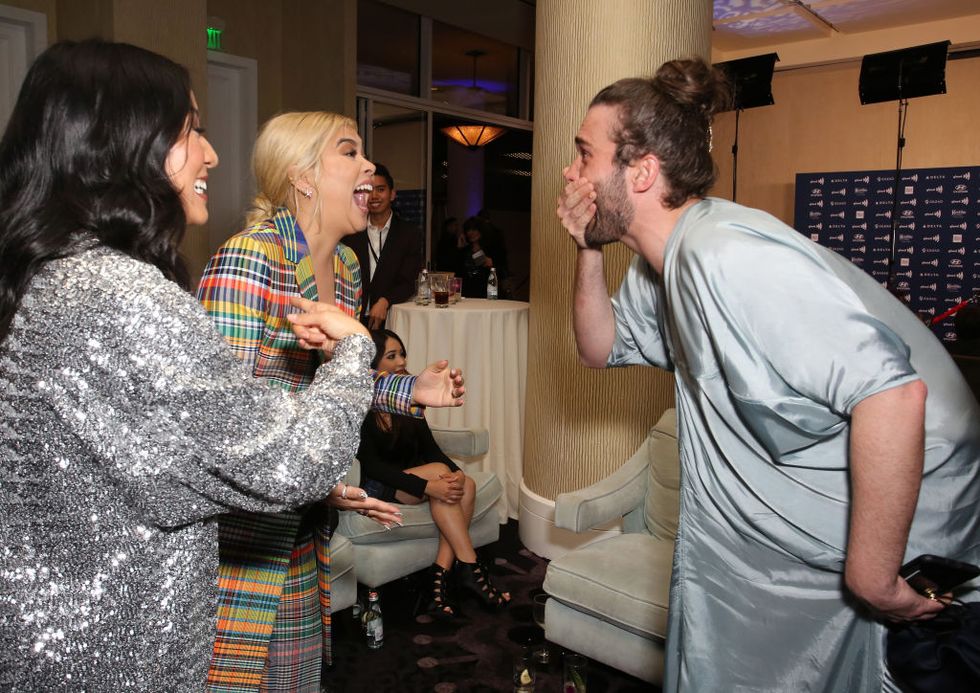 Van Ness has this ability to become anyone's best friend within minutes of meeting them.
Van Ness can get you to take your guard down.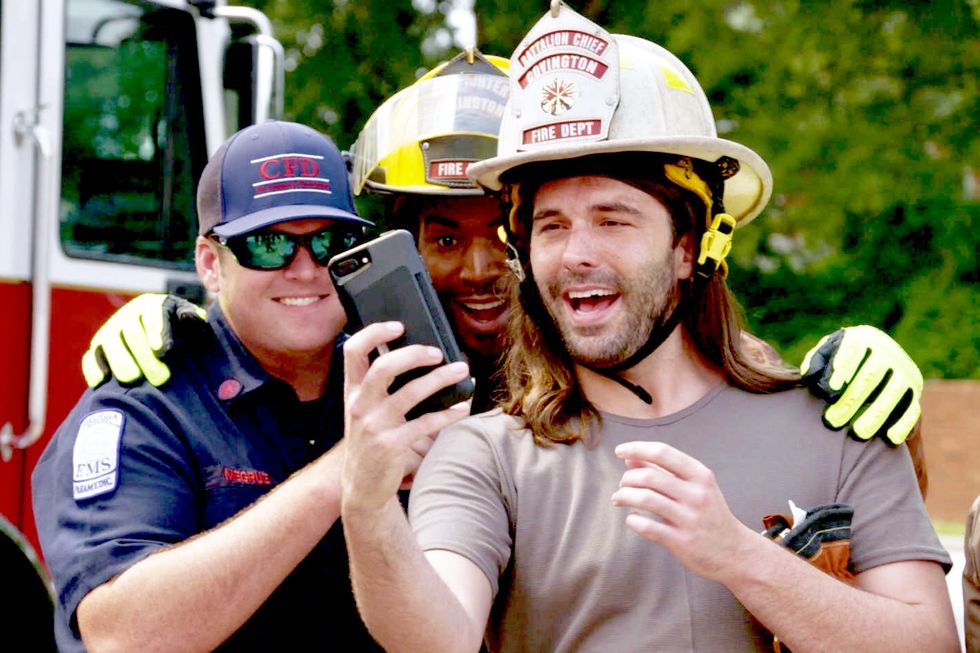 Which is why they make the perfect council for
Queer Eye
contestants.
Queer Eye is all about people letting their guard down.
Queer Eye guys. You can't watch an episode of Queer Eye and not learn something. Each contestant is different and each narrative goes in a different direction, and yet there is something that we can all relate to, we can all understand.
My favorite Queer Eye has to be S3, EP 3: "Jones Bar-B-Q"."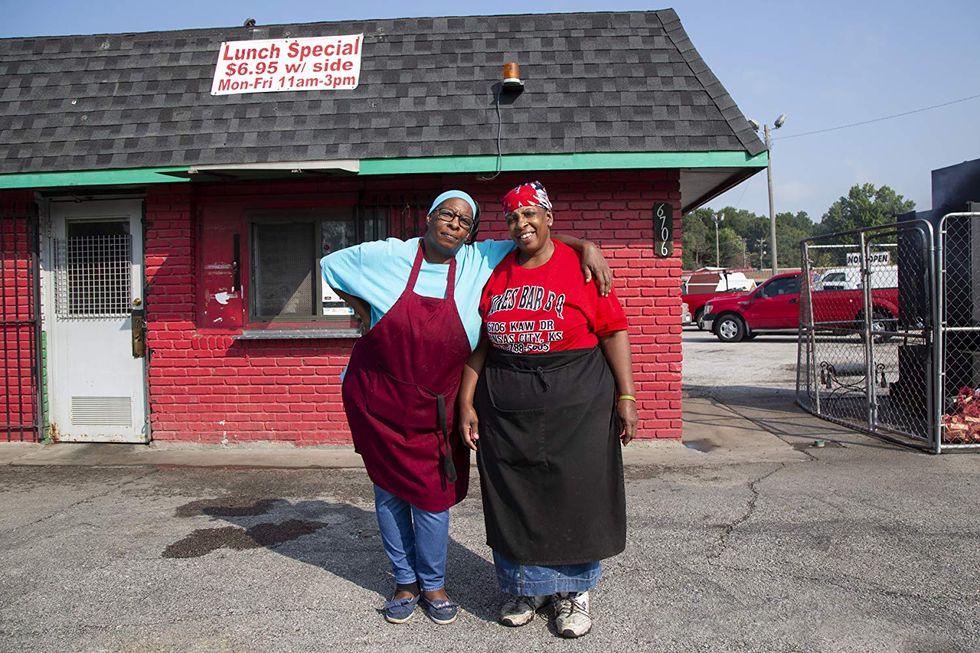 In season 3, we were introduced to the Jones sisters, Mary and Deborah. The pair worked tirelessly for their BBQ business, "Jones Bar-B-Q" and were putting Deborah's daughter, Izora, through college. It was Izora who nominated the sisters to get some lessons in self-care courtesy of the
Queer Eye
team. Throughout the episode, we watched as the Jones' sisters struggled to treat themselves to anything nice and to appreciate their own worth. At the end of the episode, as a final part of their "makeover," Mary got her teeth done. I swear it's impossible to watch this scene and not cry. After spending time with the sisters, resident clothes stylist, Tan, noticed that Mary covered her mouth a lot. It was only after getting her teeth fixed that Mary opened up. She explained that her teeth were smashed in a bicycle accident when she was a kid and, since then, she has always covered her mouth when she spoke. Mary's reaction to being able to smile with confidence was the highlight of the series.
The Queer Eye team helps people become who they've always wanted to be.
It's no easy task. To help people be who've they've always wanted to be, the team must really see them. No contestant ever knows who they want to be or how they need to change their lives for the better. It's during the week that they spend with the Fab Five that they are able to realize their own potential.
The Queer Eye guys have faced their own challenges.
Queer Eye boys don't pretend to have been overnight successes. None of the guys pretend that it's been easy for them to feel comfortable with who they are. One of the reasons that they can relate to the contestants so well is because, at times, they have been just as low.
The importance of having friends you can be open with.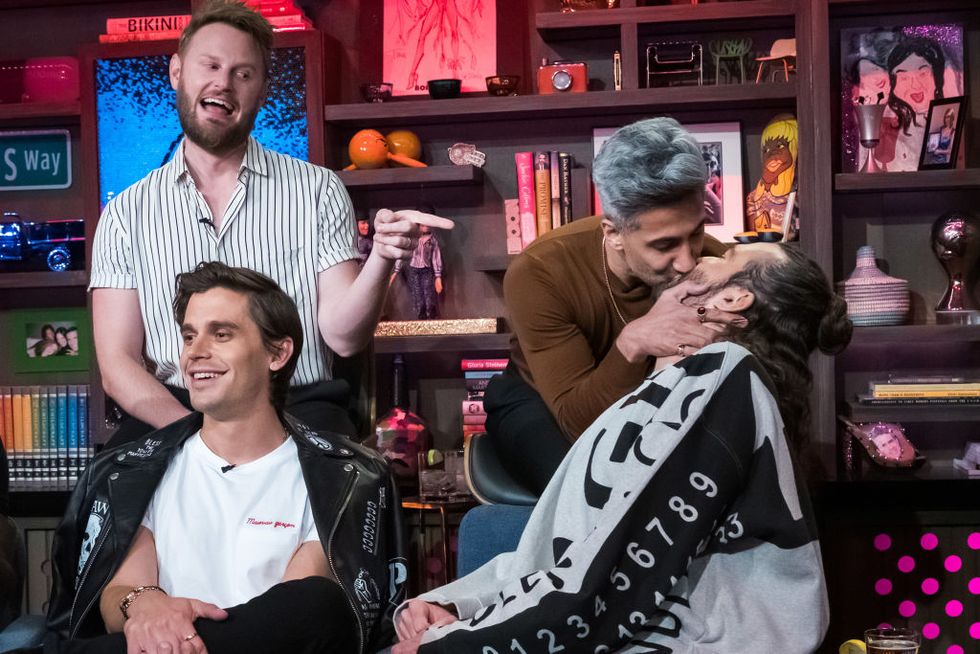 Queer Eye
 also teaches the value of being good to one another. Watching how supportive the guys are with each other and how comfortable they are around each other, makes us understand think how we should treat those in our lives better. Although none of the guys are actually related or in a romantic relationship, they consider each other family.
Jonathan has stated how important the Queer Eye family has been for them.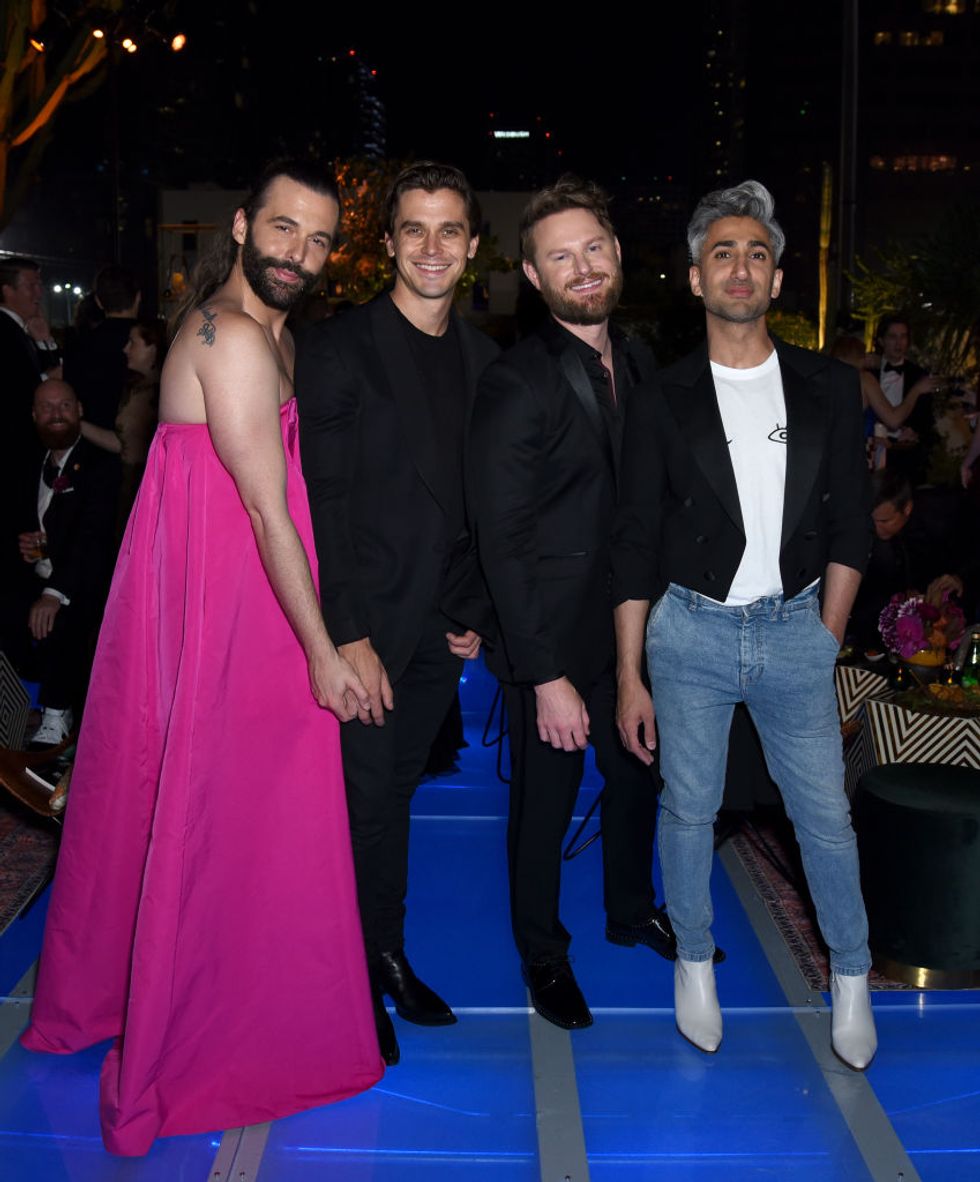 Coming out as
nonbinary and gender nonconforming
only this year, Jonathan has expressed how much the love and support of his fellow
Queer Eye
presenters has helped him to figure out who he is.
Jonathan has been breaking down boundaries his whole life.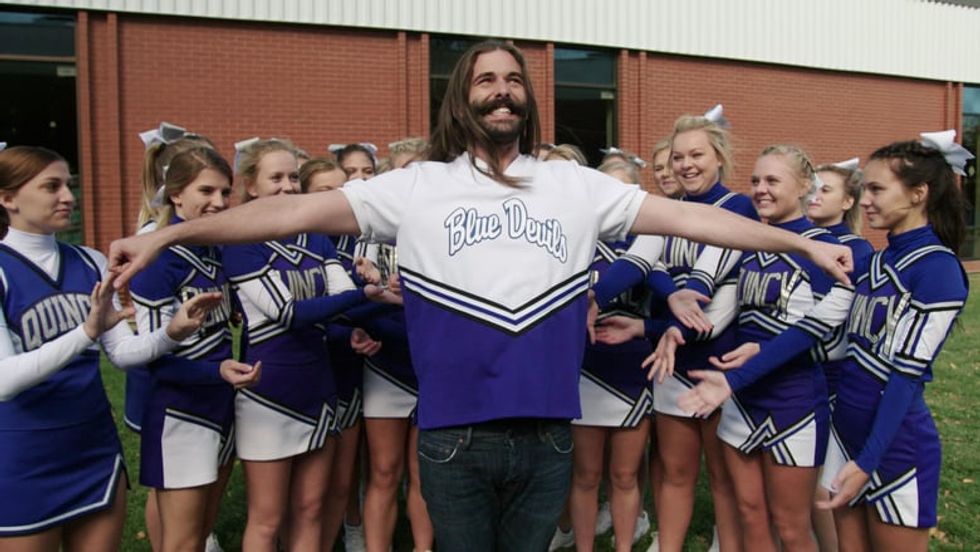 Whilst at High School, Van Ness was the first-ever biologically male classmate to ever make the cheerleading team. In the first episode of Season 5, we watch Jonathan and the team return to his old High School to give his former teacher, Kathi Dooley, a makeover. At the start of the episode, Van Ness recreates one of his old routines. After which, the
Queer Eye
boys cheer, praising Jonathan, saying: "You've still got it," leading to some group tears.
We were also crying!
How does Queer Eye do it? I'm in tears at Jonathan cheerleading in a poncho and heels???

— Katie Veitch🐕 (@Katie Veitch🐕)1563538720.0
I mean, it's impossible to watch half an hour of
Queer Eye
without welling up. It's like going to therapy, every. single. time.
It's no surprise that Queer Eye has won so many awards.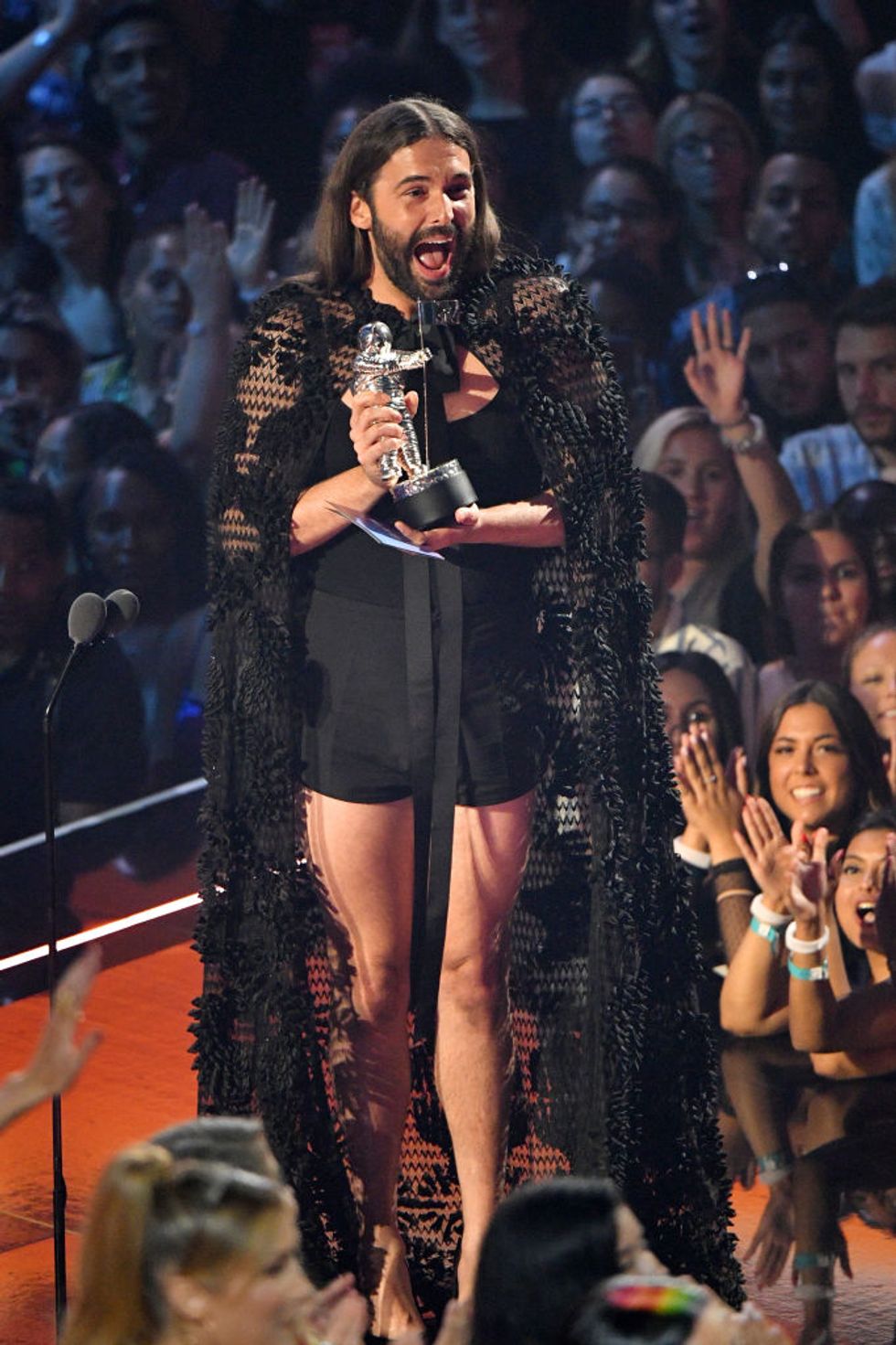 With every award comes another opportunity for us to see Jonathan Van Ness turn up to the award show in yet another killer number.
Queen of the LBD.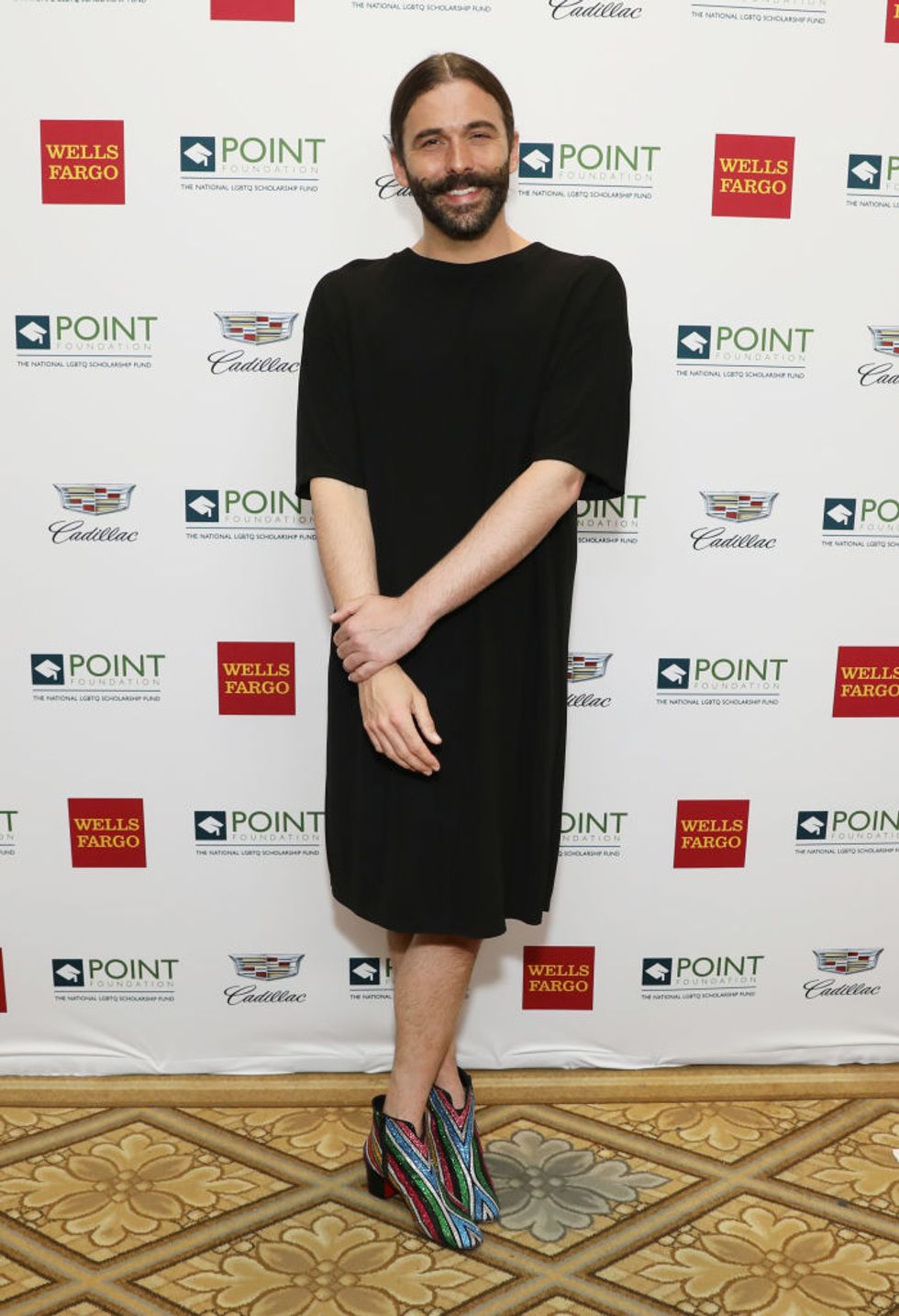 Jonathan has proved a fair few times in that past that he can pull off a little black dress.
Van Ness is a gender non-conforming fashion icon.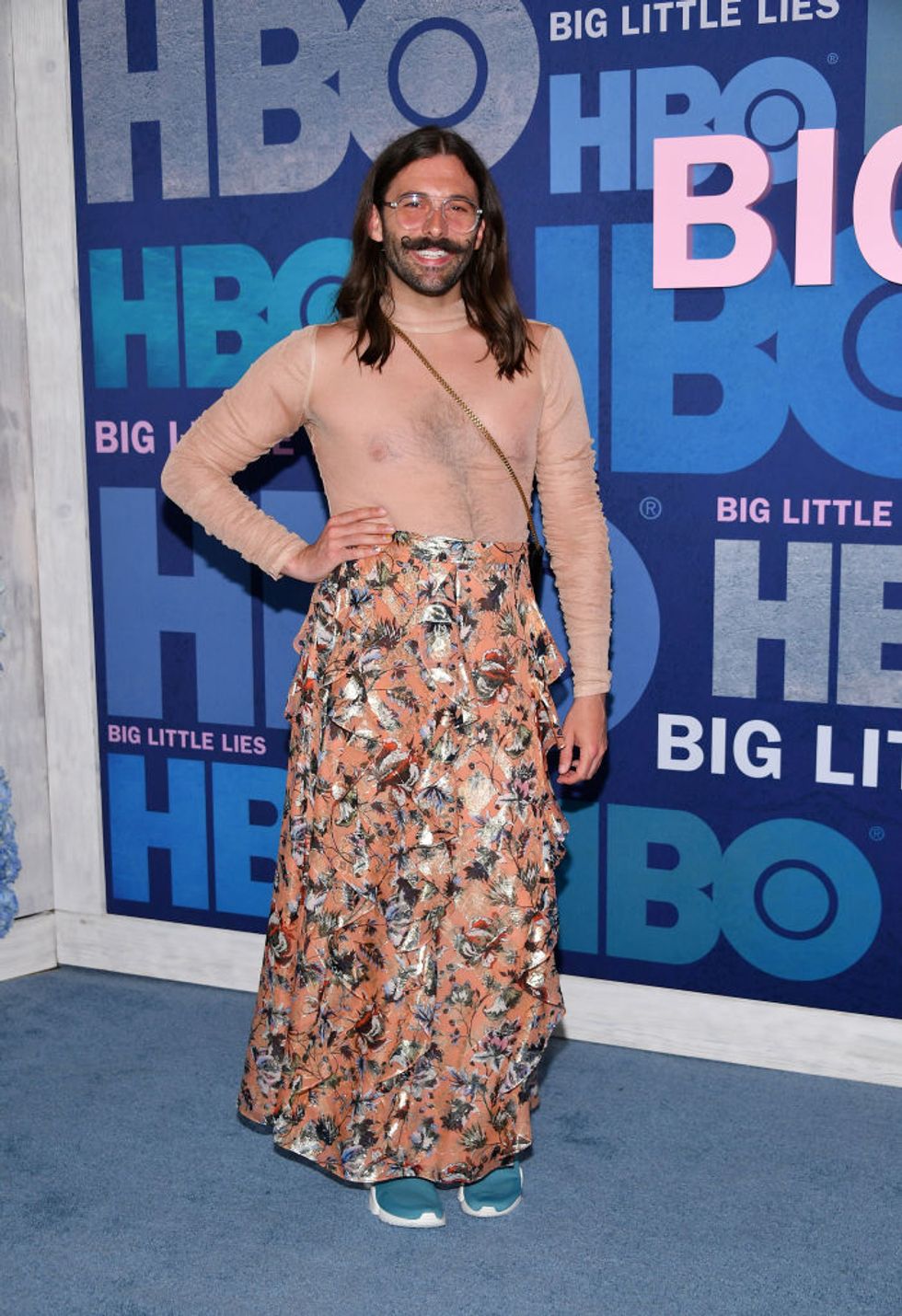 Gender non-conforming is still relatively new in the accepted fields - the fashion of the non-binary is still to be explored, but Van Ness is quite clearly a pioneer.
Sam Smith made a nod to JVN when they came out as non-binary.
These are activists and leaders of the non binary/trans community that have helped me and given me so much clarity… https://t.co/RgPv5NSFfq

— samsmith (@samsmith)1568385854.0
In a tweet, Smith named Jonathan Van Ness in the list of "activists and leaders of the nonbinary/trans community" that helped to give the "Stay With Me" hitmaker "clarity."
Van Ness has become an icon for the LGBTQ+ community.
Van Ness has a way with words.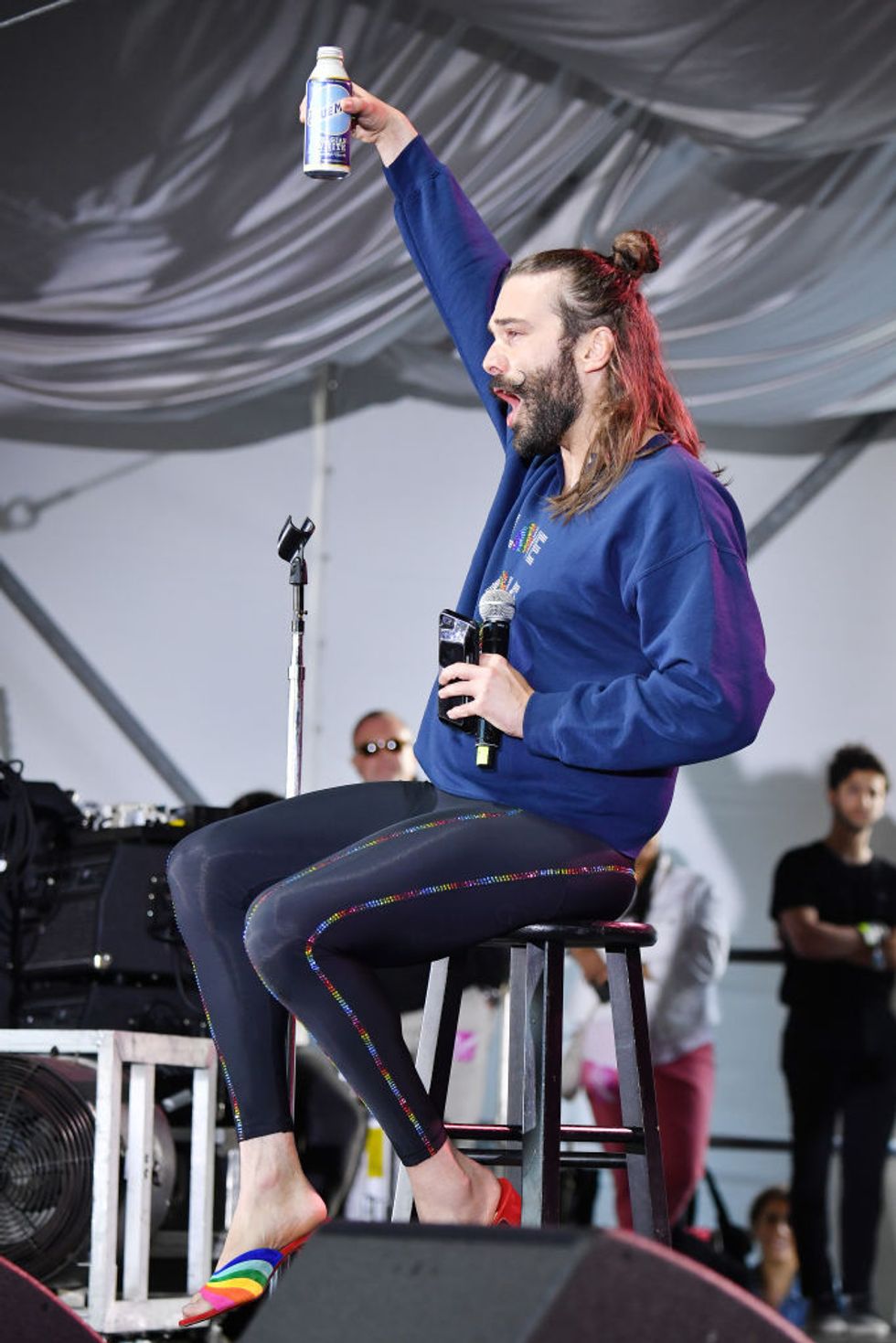 Some of the internet's top Jonathan Van Ness quotes" In Season One of
Queer Eye
, JVN explained the goal of the show in one breath, saying: "I wanna show straight and gay men alike that self-care and grooming aren't mutually exclusive with femininity or masculinity." In Season Two
, 
JVN dished out the best supportive comments ever, just like: "You're strong, you're a Kelly Clarkson song, you got this." And, when answering
live questions from fans
, Van Ness doled out advice that we could all relate to like: "You need to not write checks that you cannot cash." Deep, right?
It's no surprise that Van Ness has a chart-topping podcast.
This was never about topping charts, it was about having a creative outlet that was mine, but it was too slow, peop… https://t.co/NFoEcPwb91

— Jonathan Van Ness (@Jonathan Van Ness)1530885509.0
I, for one, could listen to Jonathan Van Ness all day, and it seems like quite a lot of other people could, too! I think that we're all very fortunate that
Queer Eye
happened - it gave Van Ness a platform for us all to discover him on.
Van Ness is not one to be private about his highs and lows.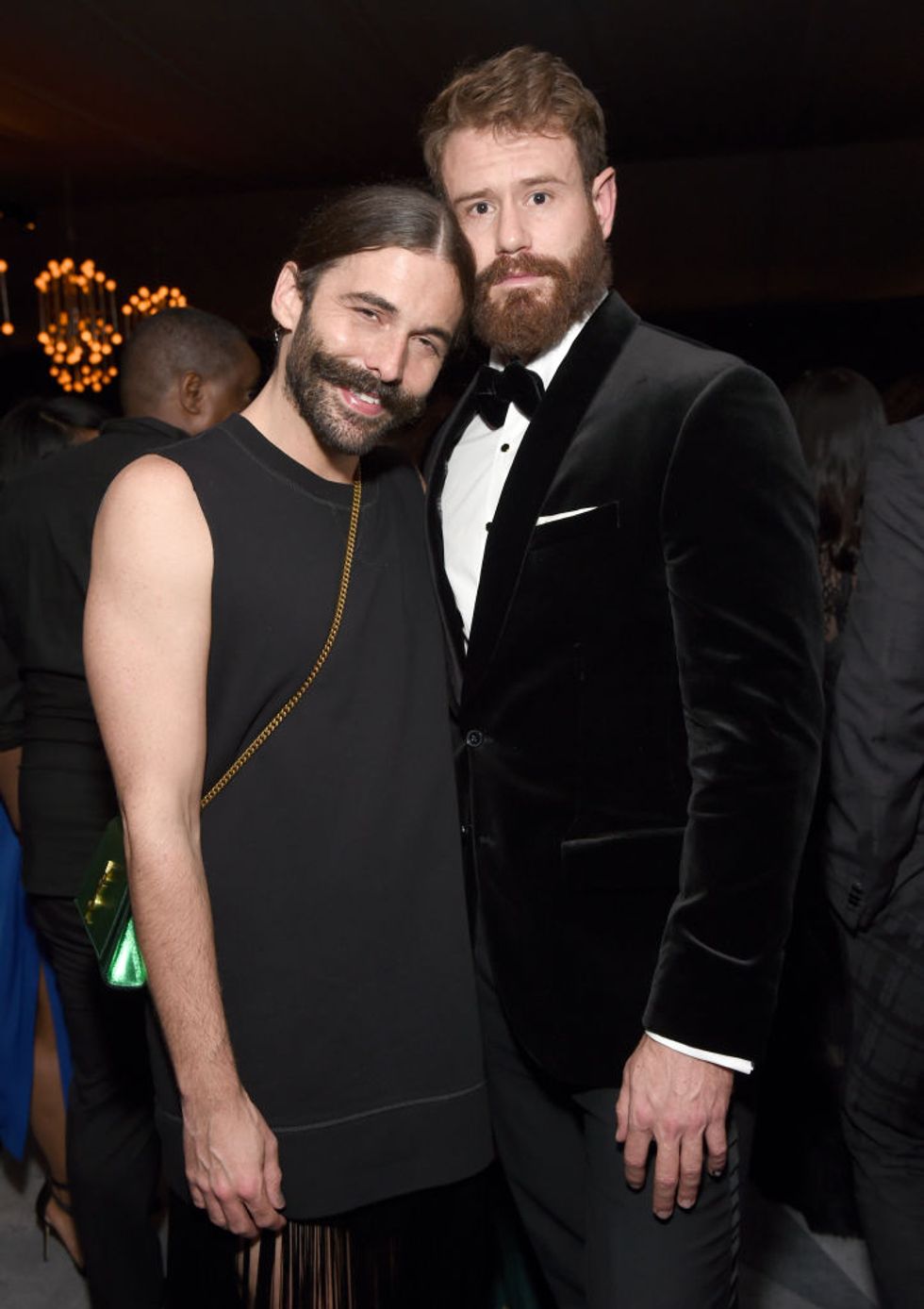 Jonathan Van Ness has been open about his struggles, whether that be his financial success, his issues with mental health, or his break-ups. Jonathan entered 2019 single after breaking up with his partner, Wilco Froneman (pictured). It seems that JVN took solace in Ariana Grande's breakup anthem after the split. Posting on Instagram about it, he wrote: "I've loved and I've lost but that's not what I see because look what I found ain't no need for searching, rounding out my 2018 with a very gorg THANK U NEXT. #selflove ️‍"
Who could possibly hurt Jonathan Van Ness?
In a bid to prevent fans from harassing his ex, Jonathan posted on Instagram, saying: "Please don't go in on Wilco, he doesn't need the anger & I don't want to see him suffer so just know I'm all good & sometimes people break up — Love you all so much."
Van Ness hasn't let the breakup ruin his thunder.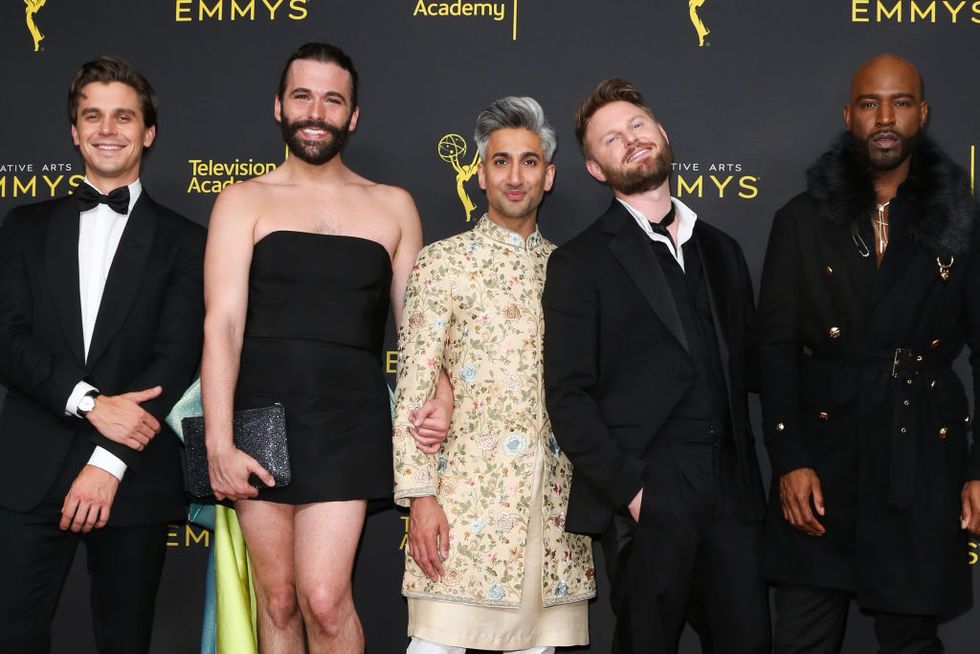 Showing up at the Emmy's looking like an absolute Queen, Jonathan stole the show. Wearing an LBD with a twist, designed by Christian Siriano, Van Ness looked absolutely breathtaking.
Jonathan Van Ness' dress was striking.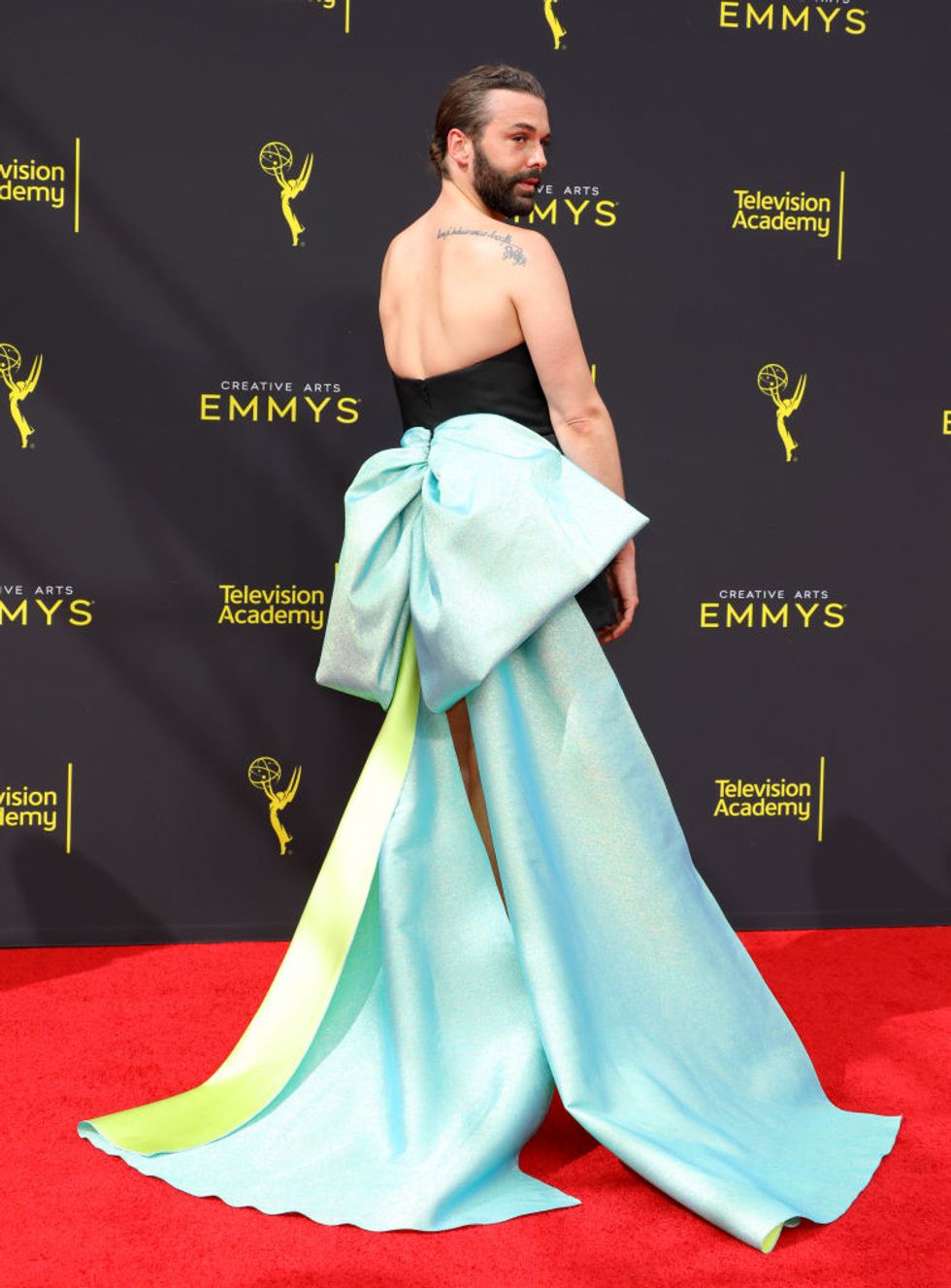 Not that looking so good made the
Queer Eye
star any less humble... Taking to Instagram after the Emmy's, JVN thanked his co-stars for giving him the strength to be who he is. In the post, he wrote: "Their friendship & support teaches me so much."
What are friends for, right?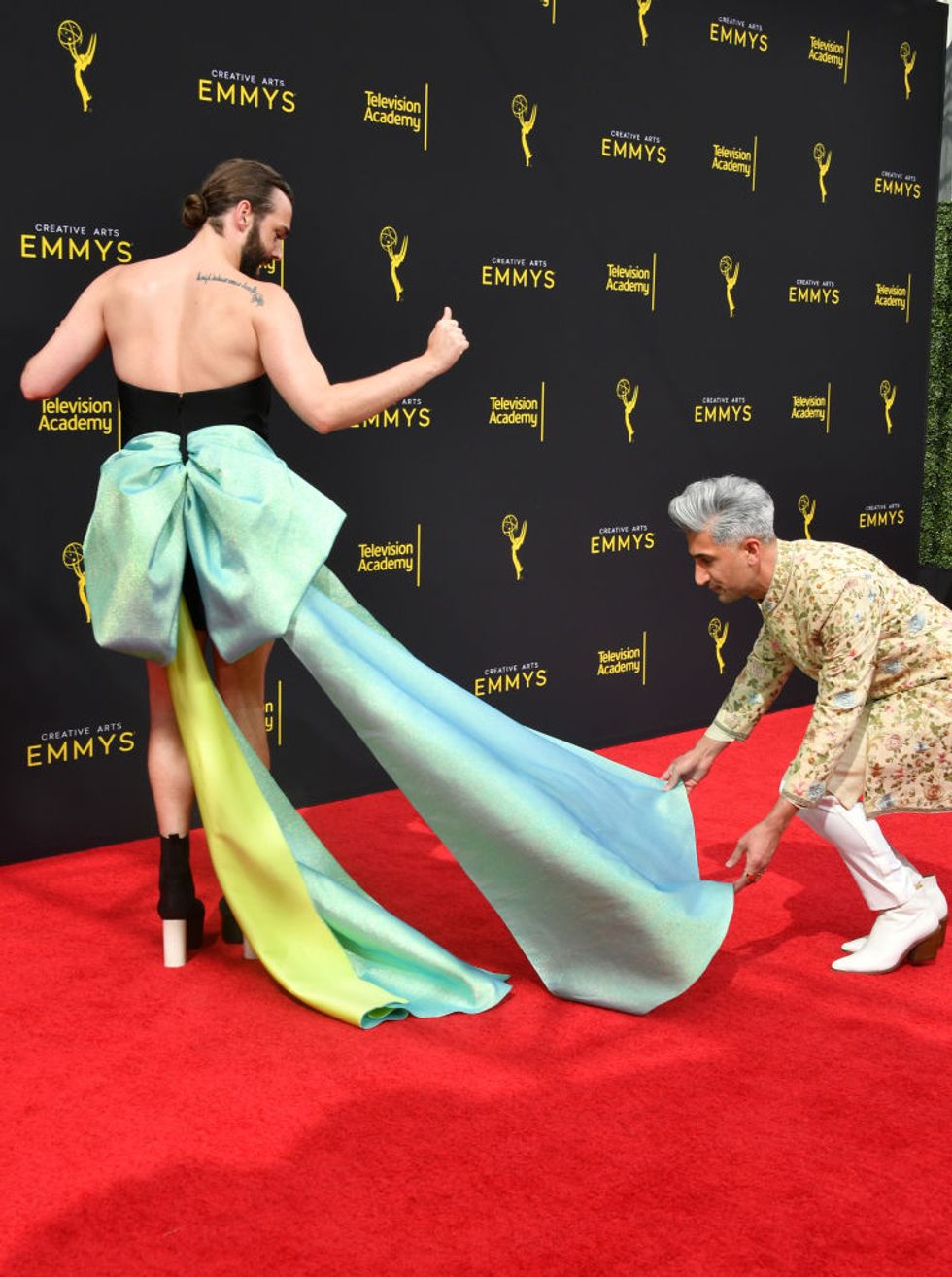 Tan France, one of the other
Queer Eye
presenters, ensured that Jonathan's bow was perfectly straightened out on the red carpet. Everyone needs friends like the
Queer Eye
guys!
Fans have made some interesting comparisons...
@jvn @jvn rocking the blue bow like Toulouse 😻 https://t.co/7gL0I1bfTY

— Ingrid Garcia (@Ingrid Garcia)1568568749.0
One fan took to Twitter to say that the bow reminded them of the one worn by Toulouse in the classic Disney movie,
The Aristocats
.
Celebrating diversity.
@jvn @jvn, my 10 year old daughter just saw this picture of you and said, "Yasss Jonathan! Work it girl!" 💙 Thank y… https://t.co/YG1UQEJpWg

— Dusty💙🐕🐈🌻 (@Dusty💙🐕🐈🌻)1568584490.0
Many fans took to Twitter to tell Jonathan how wonderful he looked and to thank him for the diversity that he brought to the Emmy's.
Jonathan has a power that is unrelenting.
@jvn Your outfit breathes life back into me thank you

— bee (@bee)1568588629.0
We need more icons like Jonathan Van Ness to give people the strength and courage to be who they truly are.
Queer Eye is back in November.
We back Nov. 1st w special episodes of Queer Eye: We're in Japan! https://t.co/ujlABejbCO

— Antoni Porowski (@Antoni Porowski)1567729190.0
If, like me, you're
so
ready for your next dose of
Queer Eye
good vibes, then don't worry - we've not got long to wait. The
Queer Eye
gang will be back on our Netflix screens in November. And they're starting the run of "special episodes" in Japan! If you wanted to read more about Jonathan Van Ness and learn all about his journey to becoming non-binary, then continue scrolling.