Fans have been blown away after Kim Kardashian released a video of the incredible gift Kanye got her for her birthday… a hologram of her late father.
And she well and truly partied in style.

And during this getaway, she got a surprise she was never expecting.

Kim shared a video of the jaw-dropping surprise, and fans have been left speechless.

It's certainly been a whirlwind few months for the pair.

This year, the rapper suffered an alarming and highly publicized breakdown at his debut campaign rally as well as a series of eyebrow-raising Twitter rants.

Last year, Kanye opened up about his battles with mental illness. He revealed that, in 2014, he was diagnosed with Bipolar Disorder, 2 years before he suffered his highly-publicized nervous breakdown in 2016, which was likely triggered by the anniversary of his mother's death.

And he has been using his platform to help break down the stigma surrounding mental health issues.

Taking to Twitter, Kanye wrote: "We must now realize the promise of America by trusting God, unifying our vision, and building our future. I am running for president of the United States! #2020Vision."

Nobody ever thought that he'd actually do it. Also, what happened to having an education and experience in politics before you could even think about being president?

He even hosted his first-ever campaign rally, though it wasn't exactly smooth sailing.

And he completely humiliated Kim.

And, even though it is more than likely that Kim did not give her permission to Kanye to disclose this private information, he didn't seem to care.

"Then she said, 'I'm pregnant.' I said, 'Yes!' Then I said, 'No.' I gotta tell you what was in my mind. She was crying. She said she was pregnant, and for one month, and two months, and three months, we talked about her not having this child. She had the pills in her hand. When you take the pills, and if you take it, the baby's gone."

Kanye went on a horrendous Twitter rant in which he insulted his wife and in turn, his kids.

And honestly, "shocking" isn't even the word to describe what he said.

Firstly, he referred to his own wife as "North's mom," which was shocking enough already and then talked about her sex tape, calling it a "sex rape."

He urged her "not to play with him" which is another way of saying of "don't test me." He also wrote that she's not allowed around his kids anymore because she tried to "lock him up."

But, even after all of that, Kanye carried on.
The dust had barely settled on that catastrophic tweets he posted when he took to Twitter again.


He branded both Kim and Kris as white supremacists, after claiming that the pair put out a statement without his approval first.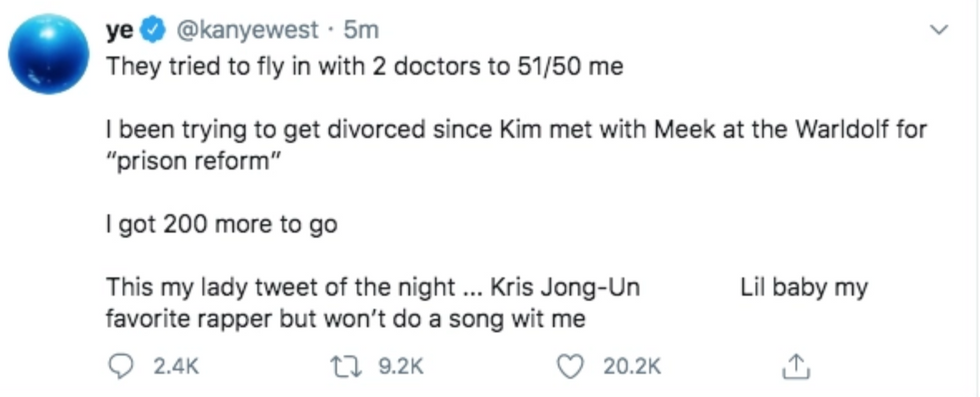 "I been trying to get divorced since Kim met with Meek at the Waldorf for 'prison reform.' "I got 200 more to go. This my lady tweet of the night … Kris Jong-Un. Lil Baby my favorite rapper but won't do a song wit me," he added.


"Meek is my man and was respectful. That's my dog. Kim was out of line. I'm worth 5 billion dollars and more than that through Christ. But ya'll ain't listen to MJ and now ya'll believe them???"

Understandably, these allegations were huge…
And, at the time, after a 3-day social media silence, Kim released a lengthy statement regarding her husband's erratic behavior.

"As most of you will know, Kanye has bipolar disorder. As anyone who has this or a loved one in their life does, knows how incredibly complicated it is to understand." She then discussed how, in the past, she has respected Kanye's privacy regarding his disorder, and has remained silent in an attempt to protect her children.

"Living with bipolar disorder does not diminish or invalidate his dreams and his creative ideas, no matter how big or unobtainable they may seem. This is a part of his genius, and as we have all witnessed, many of his big dreams come true."

And thanked everyone so far for being so supportive and concerning for Kanye's health and wellbeing.

But the one thing about Kim's statement that really stood out for fans was when she described her family as being "powerless" against Kanye.
"Those that understand mental illness or even compulsive behavior know that the family is powerless unless the member is a minor," she said.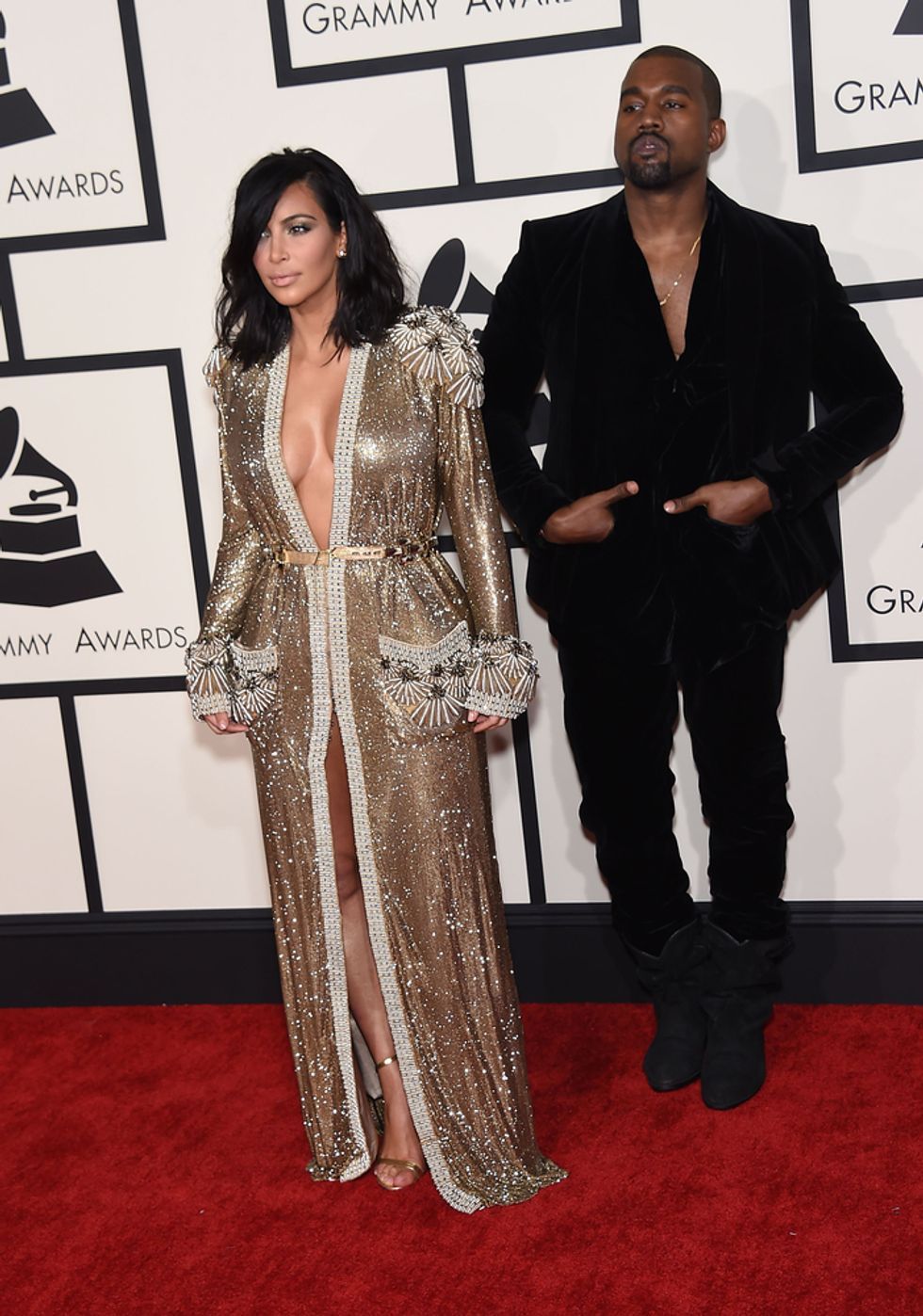 And, Kanye appears to be once again featuring on Kim's social media.

Kim turned the big forty, and Kanye wanted to do something really special to make the occasion.

He well and truly delivered.

And let's just say… when you see it, it'll blow you away.

And it left fans shocked, to say the least.

For more on Kim, scroll on to find out why she froze all her social media recently…