Kanye West just achieved a landslide win that's bound to inflate his already oversized ego...
When he isn't winning presidential elections, Kanye West is out winning music polls.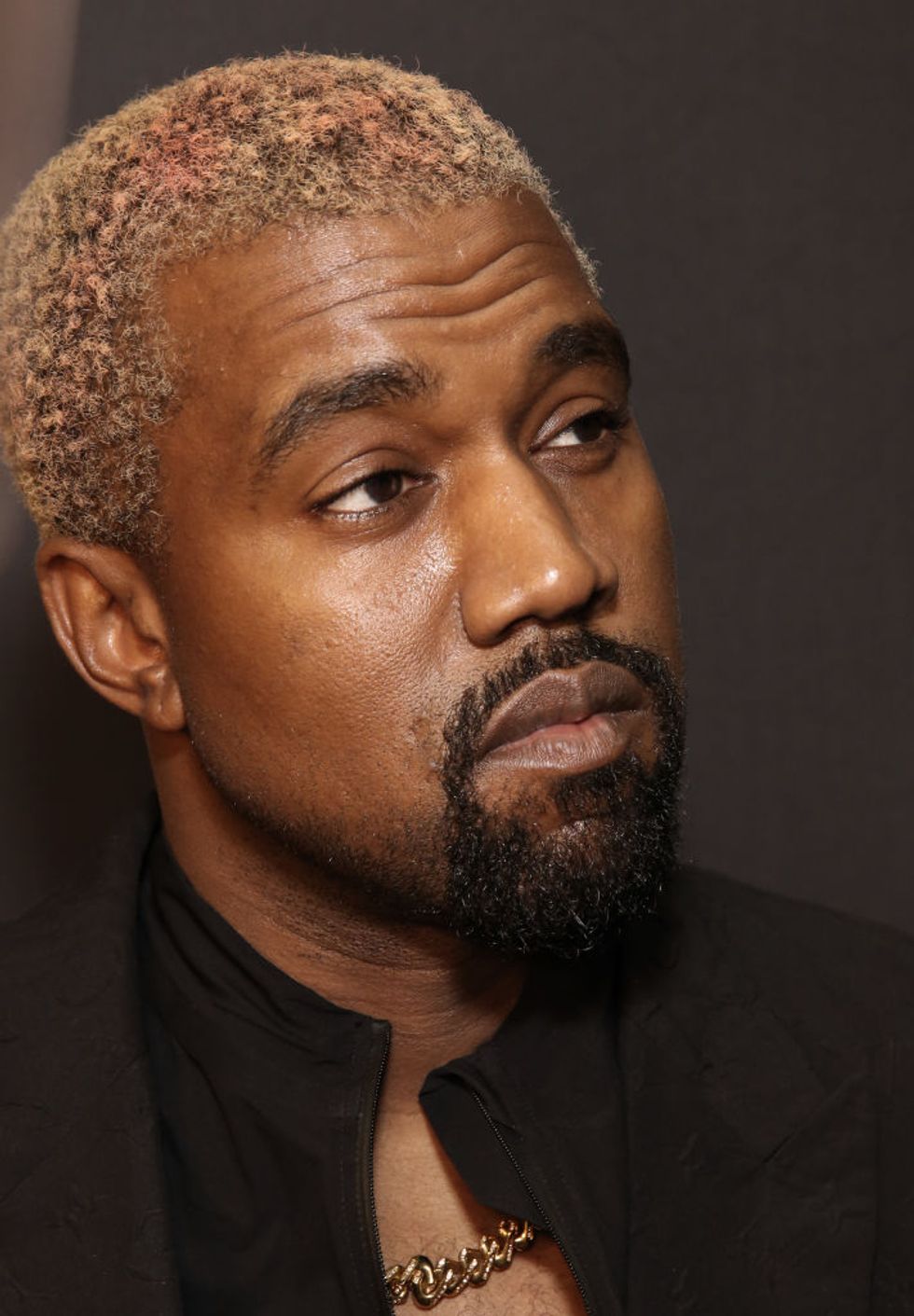 via: Getty Images
A long-running Twitter poll comparing the music between Kanye and rapping rival, Eminem, has revealed that the vast majority of people prefer Kanye's music.
The numbers don't lie.
Kanye achieved a landslide win - can anyone else sense an Eminem diss track on the horizon?
But, despite Kanye's victory...
Opinions are seriously divided over the legitimacy of the result.
Now, since the early 2000s...
via: Getty Images
Kanye has been one of the biggest names in the music industry.
The rapper has gone on to release numerous albums...
via: Getty Images
These include
My Beautiful Dark Twisted Fantasy
in 2010, 
Yeezus
in 2013,
The Life of Pablo
in 2016,
Ye
in 2018, and
Jesus is King
in 2019.
But another thing Kanye is known for is his fierce competitiveness.
If there's one thing Kanye loves to be, it is to be the best of the best.
In the past, he has openly discussed his confidence in himself...
And has previously called himself a "creative genius" and said that his "music is perfect."
But he's also known for spitting the dummy out.
When Kanye doesn't get his own way, he makes sure we all know about it.
Who remembers this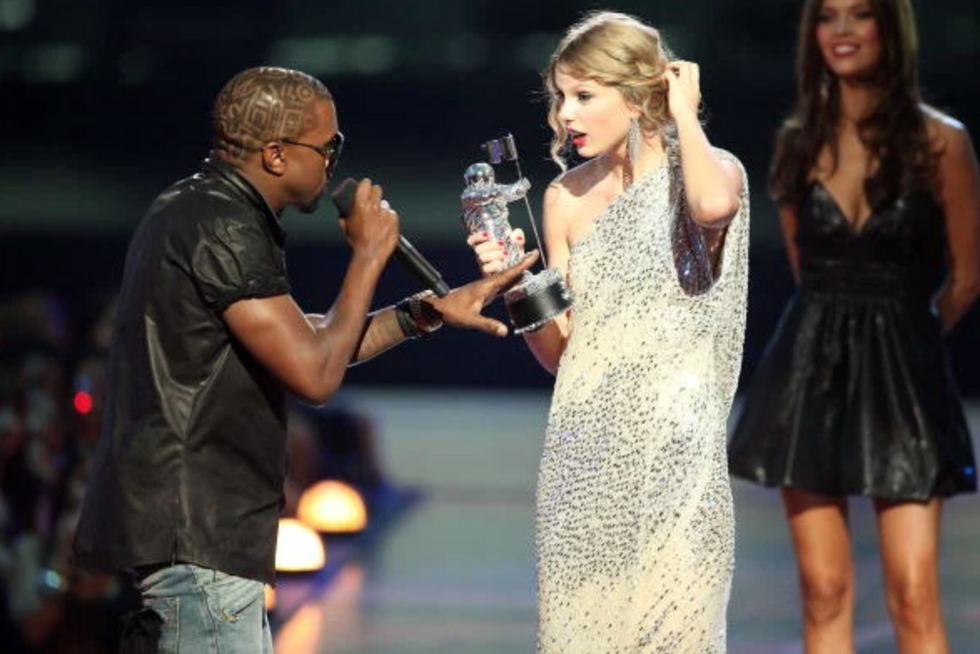 via: Getty Images
In what turned into one of the most memorable moments of pop culture, Kanye decided to storm the stage after Taylor Swift - who was only nineteen at the time - won the award for "Best Female Music Video" at the VMAs.
Rather than congratulating her in a civilized manner, he did this:
He snatched the microphone out of her hand and proceeded to tell the entire audience that "Beyonce had one of the best videos of all time," insinuating that she deserved the award over Swift.
It was a truly shocking moment...
But you'll be pleased to know that there won't be any Kanye tantrums today.
Because, as stated earlier, the rapper has recently come out as victorious in a Twitter poll against his rapping rival, Eminem.
The All Love Hip Hop Twitter page started a long-running poll that would put a Kanye song against an Eminem song, and ask people to simply choose which track was better.
And, after over 500,000 votes...
It wasn't even a close call - Kanye won with a landslide.
However, opinions are seriously divided.
@AllLoveHipHop Even as a massive Kanye hater he probably deserves this. Em has like 2 good albums.

— Karnage (@Karnage)1606432238.0
On one hand, many believe that Kanye's win is deserved, especially considering his popularity on social platforms such as Twitter and Instagram.
@AllLoveHipHop Em can't win lool Let's go kanye

— N6 (@N6)1606432447.0
@GTraceo_ @AllLoveHipHop Kanye is more liked on fb and ig as well and if he's liked more on three dominant social m… https://t.co/TZ9G0s0dCt

— rat (@rat)1606453864.0
But, on the other hand, loyal Eminem fans have slammed the poll results as "ridiculous"...
@AllLoveHipHop Em should've won 6 rounds at least, this was ridiculous 😂

— Hip Hop Recipe (@Hip Hop Recipe)1606432306.0
And have blamed the result on his overwhelming popularity on Twitter.
@AllLoveHipHop Of course kanyes going to win these battles lol he's active AF on twitter. Drake or Em don't fuck with twitter like that

— George (@George)1606439625.0
Ready to see the results?
Well, Kanye won a whopping eighteen of the twenty categories. The biggest margin was Kanye's "Flashing Lights ft. Dwele" beating 50 Cent and Eminem's "Patiently Waiting" sixty-nine percent to thirty percent.
All Love Hip Hop wrote this:
JUST IN: In our Kanye West vs Eminem hit battle, with over 500 thousand votes in 48 hours, Kanye West claims victor… https://t.co/ISGsUT6ZjV

— All Love Hip Hop (@All Love Hip Hop)1606431909.0
"JUST IN: In our Kanye West vs Eminem hit battle, with over 500 thousand votes in 48 hours, Kanye West claims victory. Kanye won 18 out of 20 rounds."
Eminem won in only 2 categories...
With "The Real Slim Shady" beating "Gold Digger" fifty-three to forty-seven percent.
You can see the rounds and their results here.
HIT BATTLE: Kanye West vs Eminem Vote for YOUR winner of each round and the winner will be revealed when the polls… https://t.co/eo6b4KIVgs

— All Love Hip Hop (@All Love Hip Hop)1606258831.0
Not quite the presidential victory he was aiming for, but a victory all the same. Congratulations, Kanye!