The Kardashian-Jenner sisters posted a family photo last night, but instead of their outfits or hair, all anyone can talk about is Kim Kardashian's son, Saint West...
Just like their famous parents, the Kardashian-Jenner kids never fail to steal the show.
The comments were instantly flooded with one thing...
Nobody could get over Kim Kardashian's eldest son, Saint.
Saint is part of one of the most famous families in the world.
The Kardashian-Jenners all starred in one of the most successful realities shows of all time.
Each of the sisters has a massive influence on social media...
But they're more than just influencers...
They're truly impressive entrepreneurs and businesswomen. Whatever you think about them, you can't deny that they've done well for themselves.
They've come a long way since Keeping Up With The Kardashians first aired in 2007...
And more and more, the family are being respected as major players, particularly in the realms of fashion and beauty.
Although it's certainly no secret that the siblings have stirred up their fair share of controversy over the years.
never far from the headlines.
Take the repeated accusations of cultural appropriation, for instance.
Yep, fans are continually calling out the sisters for donning culturally appropriating hairstyles such as cornrows.
Or what about the photoshopping errors fans always spot?
But there's one sister who seems to land themselves more headlines than others...
The second eldest of the clan, Kim Kardashian.
In recent years, Kim appears to have ventured off from her reality TV beginnings.
She's a huge player in the fashion scene.
In a move that left the internet stunned, she's also training to be a lawyer...
The star announced she was entering the legal realm early last year. She revealed the news in Vogue's May 2019 issue, announcing that she is training to become a criminal justice lawyer, and is now being mentored by 2 lawyers, Jessica Jackson, and Erin Haney.
Kim reportedly began a 4-year apprenticeship with a law firm in San Francisco last year...
technically not law school, but California is one of the only states in which you can still take the bar exam and train to become a lawyer without a college or law school degree.
Despite the good that she has been trying to do, however, Kim frequently seems to get on the wrong side of fans.
The accusations came after this magazine cover was released:
Kim has also been frequently mom-shamed.
But this week, it's her eldest son, Saint, who has hit the headlines.
But, coming from one of the most prevalent family's on social media...
aren't surprised that Saint knows how to work the camera.
The sisters shared the snap, in which Kim showed off her new pink hair, on their Instagrams.
The comments were instantly flooded.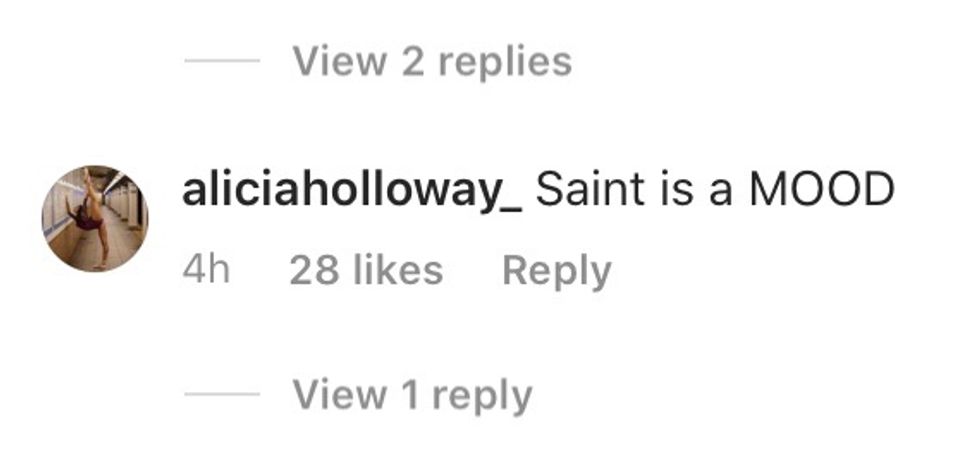 And many just couldn't stop talking about Saint.
Many found the 4-year-old to be quite relatable.

His photobomb has been described as a whole mood.
The whole thing is pretty hilarious.

And people can't get enough of the sass.
Saint has really taken the shine off his mom on this one.

Move over, Kim.
Some described the move as priceless...

Reactions came in strong, to say the least.
People couldn't get enough of the photobomb.

"I'm Saint," quipped one user.
Take a look at the photo below:
is a mood. For more on Kim K, scroll on to see how she's feeling about Kanye West running for president...