When you think of Jason Momoa, you probably think of him as a semi-untouchable, rich and famous Hollywood actor. But, as he shared on the internet this week, this wasn't always the case. In fact, before his breakthrough role as Khal Drogo on HBO classic, Game of Thrones, the actor had worked for many years in relative obscurity.
Now he's a verified superstar - with an icon for a wife and an enviable career. It's no wonder why he can't help but make an impact wherever he goes. And Tuesday night was just another prime example of that.
The star appeared on The Kelly Clarkson Show and got quizzed by his biggest fans...Clarkson's starstruck kids, River, and Remy. They grilled him about all things Aquaman, including a very awkward and hilarious question about where Aquaman goes to the bathroom.
The youngsters made for some pretty adorable viewing. Keep scrolling to watch the clip...
Jason Momoa is a Hawaiian-American actor.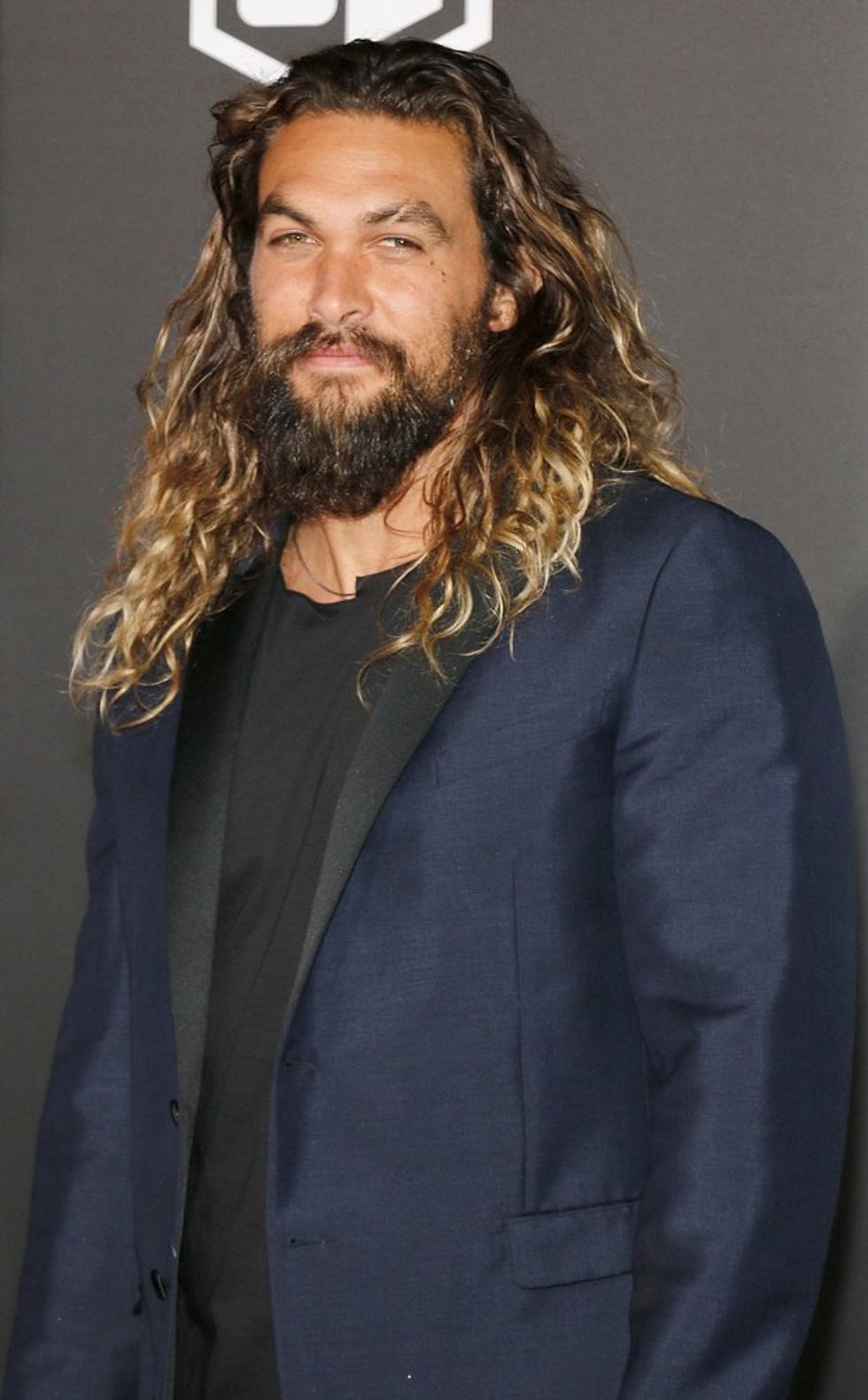 via: Shutterstock
Born in 1979, in Honolulu, Hawaii, the six-foot-four actor has only recently become a household name.
In spite of his Hawaiian heritage, Momoa was primarily raised in Iowa.
And many don't know that, before he started as an actor, Momoa actually studied both marine biology and wildlife biology - proving that he's more than just a pretty face.
One of his first bigger roles was on Stargate: Atlantis.
The sci-fi military hybrid was actually fairly successful. Momoa starred as Ronon Dex, to much critical acclaim.
But there's really only one role that could be deemed Momoa's big break.
In 2011, Momoa was cast in the first series of a relatively small fantasy show called Game of Thrones. 
And, as we all know, it absolutely blew up.
Game of Thrones became far more successful than anyone could have ever imagined. And Momoa's character, Khal Drogo, quickly became a fan favorite.
He had some pretty badass moments.
As the leading warrior in the savage Dothraki tribe, Momoa was, unsurprisingly, pretty violent. In one particularly memorable scene, Drogo brutally murdered Viserys Targaryen by pouring molten gold onto his head.
But there was another storyline that fans didn't expect.
In the early episodes of the show's first season, Drogo was married to Daenerys Targaryen in an arranged ceremony.
But something shocked the viewers.
The two, seemingly opposite characters, developed real feelings for each other and their relationship became one of the cutest and most genuine love stories in the show.
Khal Drogo met a particularly tragic end.
He was injured during a battle and that injury became infected. To save his life, Daenerys was forced to sacrifice her unborn son to a witch. But the Drogo that came back was alive in name only. He was without any consciousness and Daenerys was forced to euthanize him.
In spite of his early departure, Momoa is still a fan-fave in the Game of Thrones canon.
Batman v Superman - and Aquaman was so beloved that he went on to star in his own solo movie in 2018.
Aquaman was also a part of 2017's Justice League.
The character was so well-liked that in 2018, the DC Universe decided that it was time for a solo film. Aquaman was a massive success.
Early in 2019, it was revealed that the movie had earned a coveted spot in the billion-dollar superhero club.
person of color
.
His superhero persona has garnered a fanbase of all ages.
via: imdb
Including singer, Kelly Clarkson's, kids, it seems...
On Tuesday night, Momoa appeared on the Kelly Clarkson show.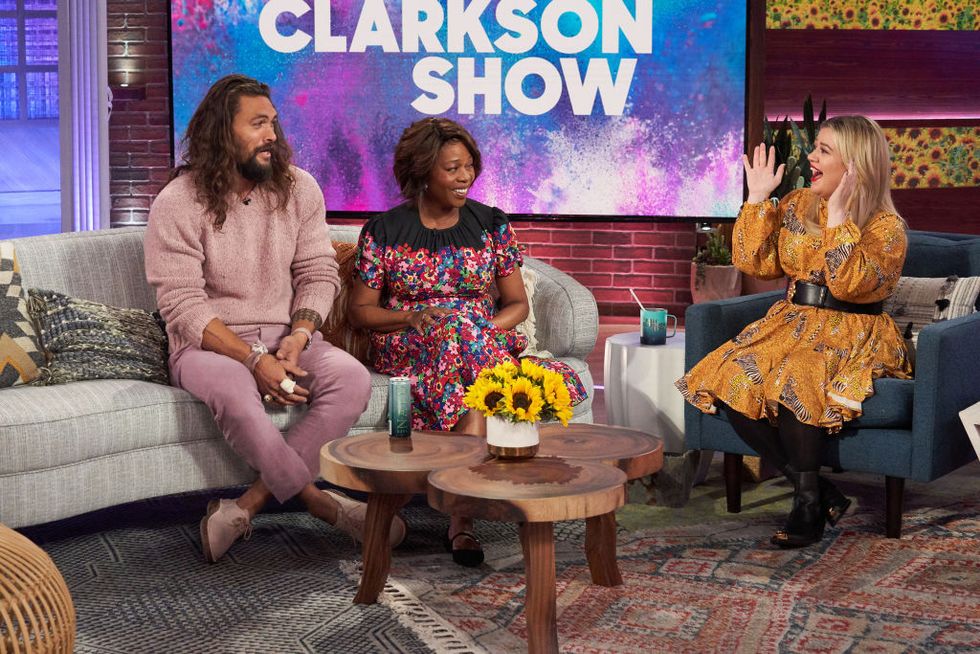 via: Getty Images
Having only launched just this year, Clarkson has interviewed a range of guests, including the likes of Ellen Degeneres, Chance the Rapper, Chloë Grace Moretz, and Bindi and Robert Irwin.
But Tuesday night was different from the rest...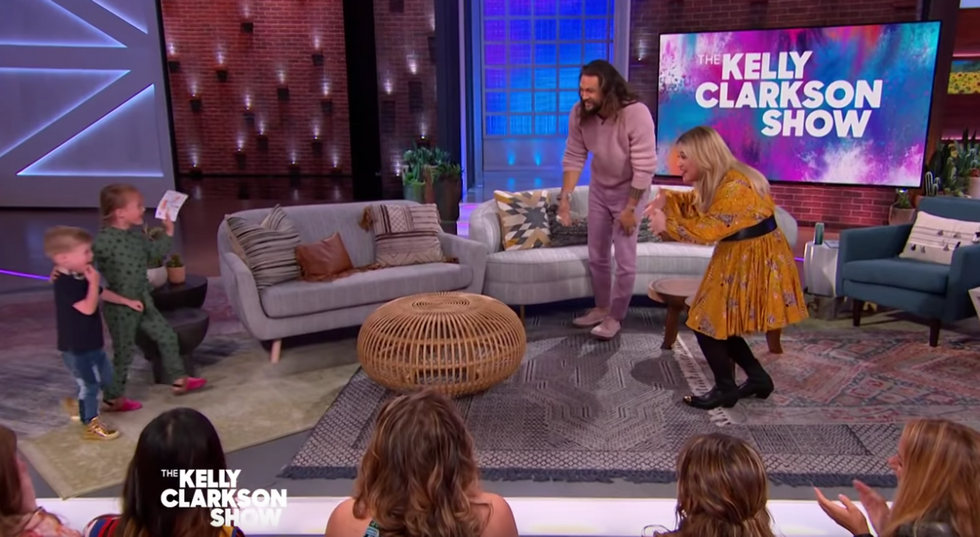 via: YouTube
Jason Momoa was quizzed by his biggest fans... Clarkson's kids - 3-year-old Remy and 5-year-old River. So, as he sat down to be interviewed, Clarkson asked if it would be okay to bring her kids out to ask him a couple of questions.
Things kicked off with a big old hug...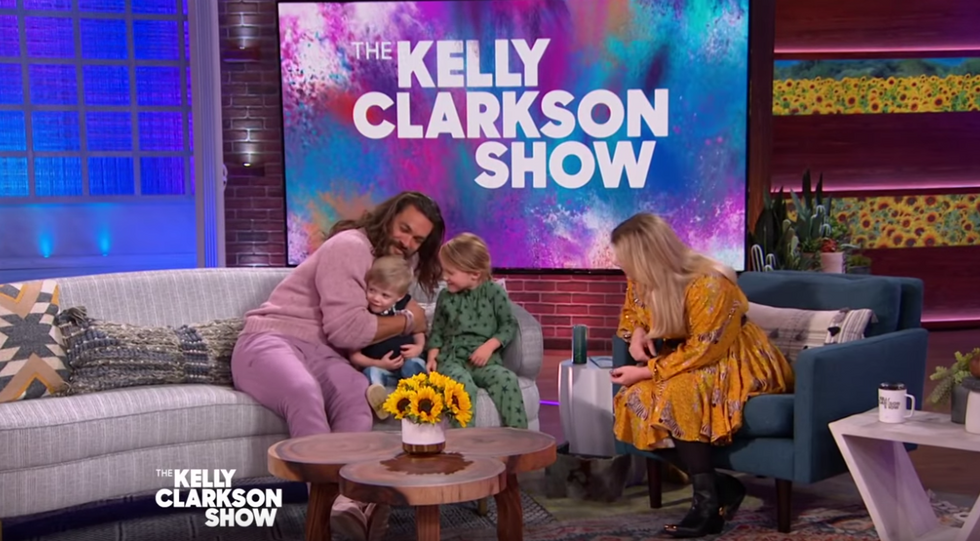 via: YouTube
And as they sat down next to Aquaman himself - 3-year-old Remy was fully starstruck, unable to take his hands from his mouth and remaining pretty much silent for the duration.
But his sister, River, well and truly took the reigns.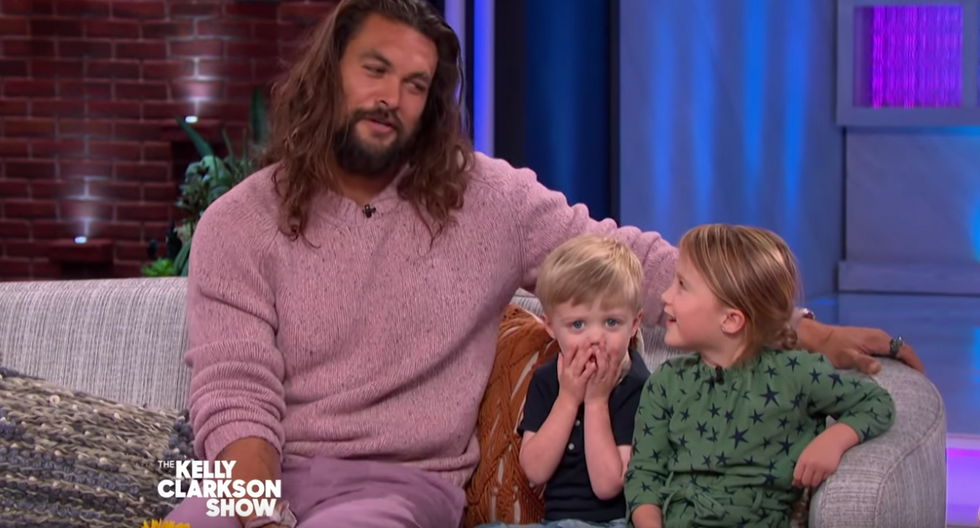 via: YouTube
Her first question "Do you know Little Memeriad" was met with many "awww's" from the audience. We have to admit, it was so cute... our hearts are already melting! In true Momoa style, he went along with it. "Ariels's very sweet, she's very nice. She's also a redhead." He then turns to a (still) gobsmacked Remy: "I'm gonna teach you about redheads someday," he joked.
But the real gem of the night came from this question...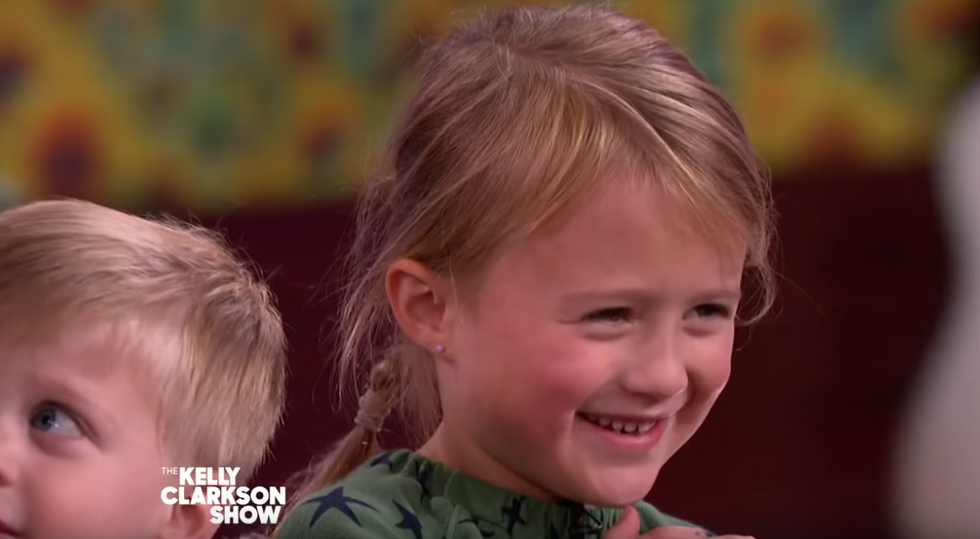 via: YouTube
River eagerly asks "Where does Aquaman go to the bathroom?"
Well, where does he go?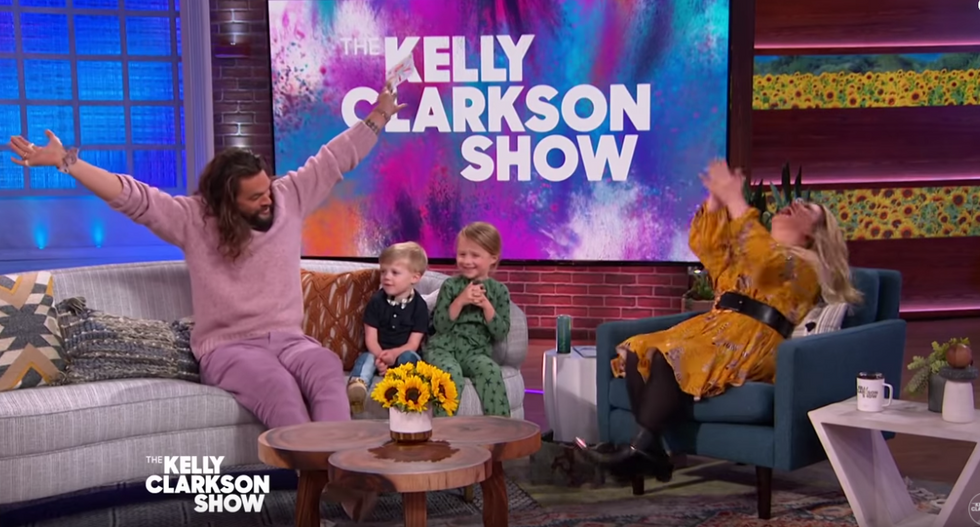 via: YouTube
The actor threw his hands in the air and responded, "Everywhere!" Good answer.
Check out the full clip below:
It's without a doubt one of the cutest things you'll see. This is far from the only time Momoa has won over the hearts of the internet. Keep scrolling to get a glimpse of a photoshoot that saw the star cuddling a kitten. Yes, a kitten...