Love her or hate her - you can always count on Kelly Ripa to tell it like it is. And when fans criticized her lockdown appearance, she had the best response.
Kelly Ripa is one of America's best-loved faces.
Born in New Jersey in 1970, she got her big break as Hayley Vaughan on classic ABC soap opera All My Children.
She's now best known as a daytime talk show host.
Since 2001, she's been the anchorwoman of ABC's Live! With Kelly & Ryan, alongside Ryan Seacrest.
Ripa is also known for having a great sense of humor.
In 2015, she made a cameo appearance in the Broad City episode "Coat Check" - playing a wild 'n' crazy version of herself.
Ripa is equally successful in her personal life.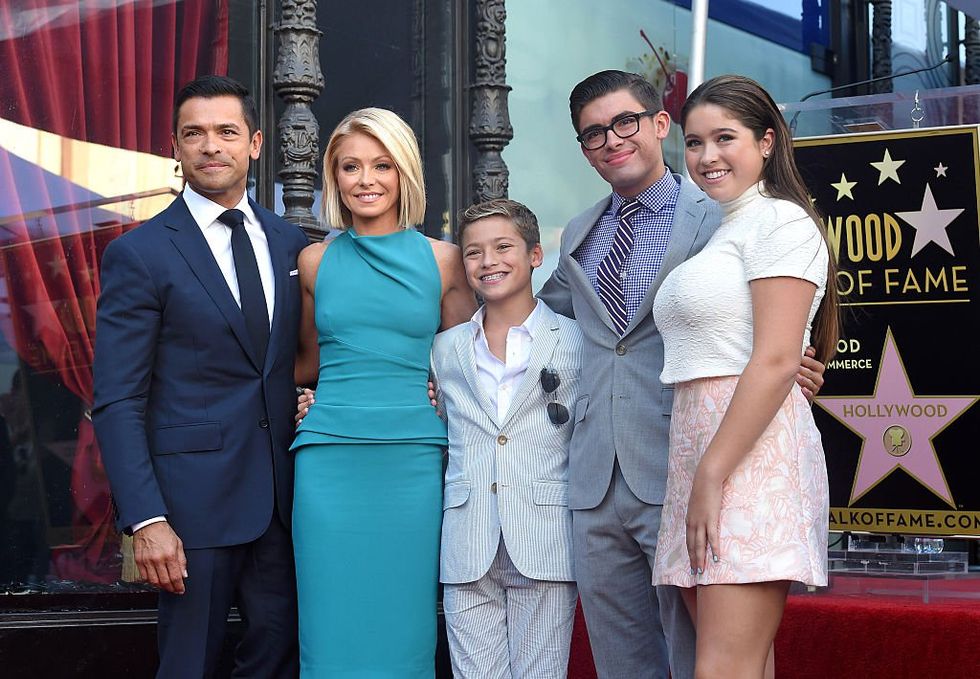 via: Getty Images
Ripa married her hubby Mark Consuelos back in 1996. The pair have 3 kids together: Michael, aged twenty-two, Lola, aged eighteen, and Joaquin, aged sixteen.
The pair have a long and loving relationship.
via: Twitter
And are no strangers to PDA. But Kelly's latest went a little far for some people's tastes.
Flipping through People, she stopped at Consuela's page.
"Page 101. Daddy," she said proudly. "There's daddy."
Mark clearly felt a little uncomfortable.
But Ryan Seacrest joined in, joking, "Look at daddy."
But some thought this was a little gross.
Calling your partner "Daddy" can make some people feel uncomfortable.
And some fans were vocal on the issue.
via: Instagram
Fans commented on the post that they found Ripa's choice of nickname creepy.
But, as you could probably expect...
Ripa had an excellent response.
Here's what she hit back with.
via: Instagram
Simply ingenious!
But now Ripa has stumbled into another controversy.
Since lockdown began. Ripa and Seacrest have been hosting their talk show online.
And without hair and makeup ..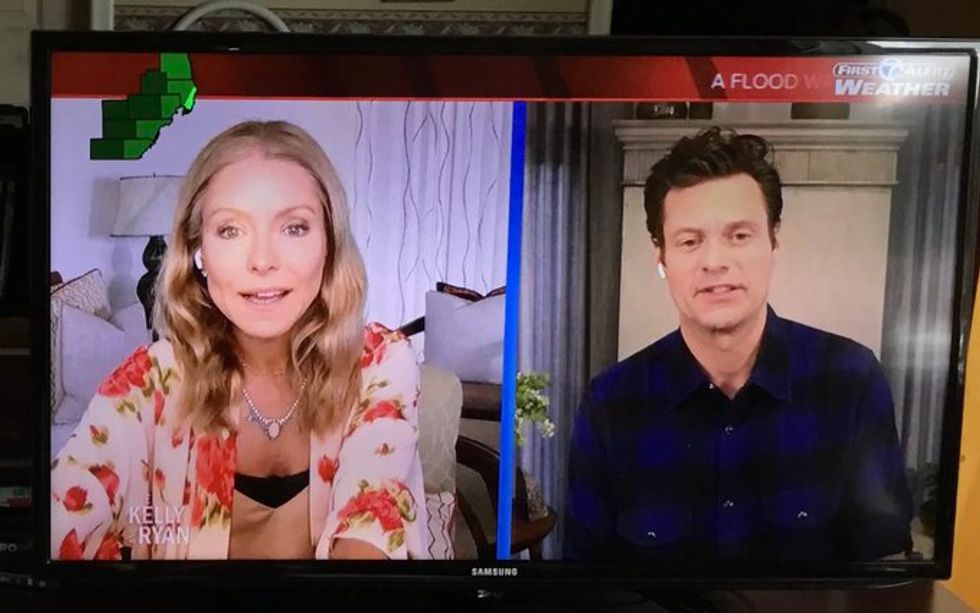 via: Twitter
Fans were eager to point out they look a little different from usual.
Seacrest claimed "once in a while" he heard complaints about their looks.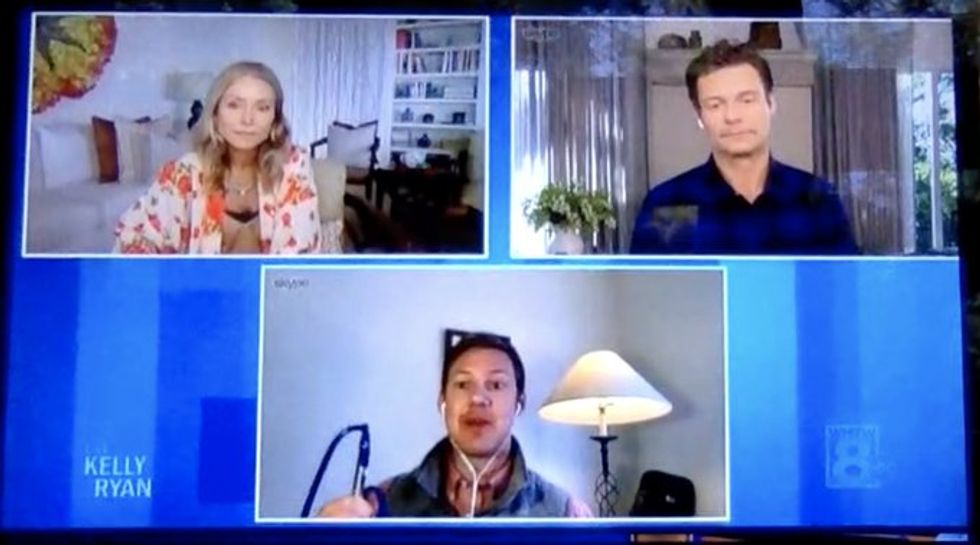 via: Twitter
Including that the two looked "shiny."
But Ripa was not one to take this lying down.
"I don't care," she proclaimed.
"I have a new outlook on life."
"Certain things don't matter any more and my appearance is one of those things that just don't matter."
She also had this to say.
"First of all, let me just say, to people commenting about our appearance, 'How dare you and you're lucky that we actually put clothes on. It's harder than you think to roll out of bed and come to a TV show.'"
"I'm this close to just pulling the laptop into the bed!"
via: Twitter
"I'm not going to do that because I keep telling myself, 'You're a professional and this is still a TV show and the days matter.'"
"All of my clothes, all of my hair products, and all of my makeup is locked in the studio, which is closed because of everything that is going on."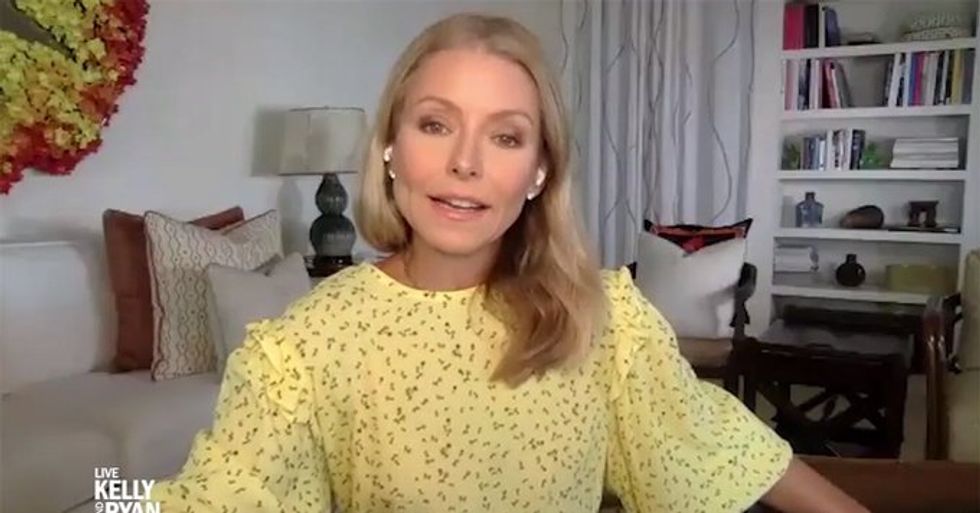 via: Twitter
"So now I'm just in an 18-year-old self-tanner and workout clothes," she quipped.
Thanks for being so down to earth, Kelly!
We need more celebrities like you right now! And for more stars keeping our spirits up during lockdown, scroll on...