Crocs are the fashion statement that just doesn't seem to be going away. They have come under a lot of scrutiny and the general consensus is that they are ugly. But, despite that, they don't seem to be going anywhere.
In fact, if anything, they seem to be getting more popular. But the latest Crocs launch might be the strangest yet ...
Did you know that Crocs are waterproof?
Crocs are also super durable.
does mean that they last a long time. However, they really should look into making them more environmentally friendly.
They're actually perfect for trekking.
Maybe they're the perfect shoe?
They come in a huge variety of colors.
Crocs encourage individuality.
They're great for kids.
You can get really creative.
They have gotten loads of celebrities to endorse their plastic shoes.
New Girl and 500 Days of Summer alongside Joseph Gordon-Levitt, models for Crocs. She promotes the fact that they are comfortable and can be personalized.
Charlie's Angels endorse them.
ET, to one of Charlie's Angels, to the star of Santa Clara Diet, is another keen fan of Crocs. She's actually partnered with them and has designed some of her own limited edition Crocs.
There's a lot of celebrities promoting Crocs.
The Tudors and as Cressida in The Hunger Games, but she is perhaps best known for her role as Margaery Tyrell in Game of Thrones. Beyond this, she is a writer, a marathon runner, and a Crocs-wearer, apparently. She wouldn't have made it far in King's Landing with footwear like that...
Are Crocs going to become high-fashion?
And the latest Croc drop has everyone scratching their heads.
Because the shoe brand has teamed up with an unlikely collaborator - fried chicken giant, KFC.
They were unveiled at New York Fashion Week.
Introducing the official Kentucky Fried Chicken licensed proprietary footwear made in collaboration with @crocs. Do… https://t.co/P1pSLPlyAp

— KFC (@KFC)1581512401.0
"Combining the unmistakable look of our world-famous fried chicken and signature KFC bucket with the unparalleled comfort and style of Crocs, these shoes are what fried chicken footwear dreams are made of," reads the press release.
And here they are!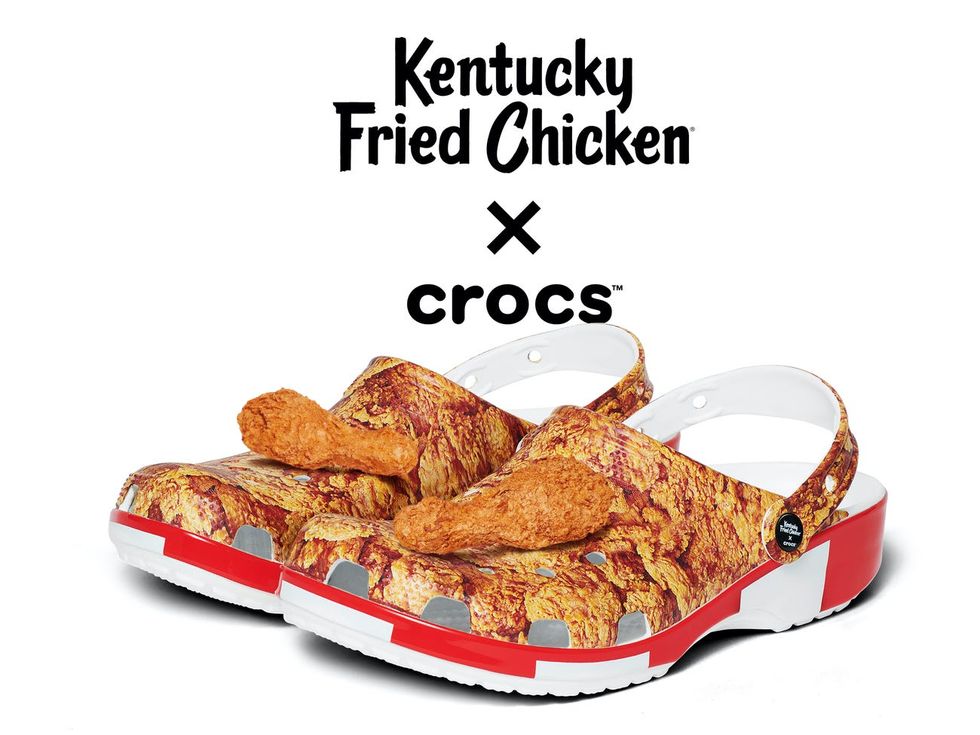 via: KFC
Featuring a chicken-scented faux-drumstick charm, they're everything we've never wanted in a shoe. And for the low, low, price of $60, they should be hitting stores in the coming months! Fancy seeing some more distinctly dodgy shoes? Scroll on!