You can always count on a Kardashian to bring the controversy - but the latest moves of younger sis, Khloe, has got social media users scratching their heads. She's undergone a pretty intense transformation over the past months, and her latest change has been so obvious that fans just can't ignore it.
In her latest Insta-pots, Khloe's lips look visibly plumped and fuller, and people are pretty convinced that it's the result of some cosmetic intervention. But instead of owning up to - or at least addressing - the claims, Khloe went for a pretty bizarre strategy. Check out the pictures (and responses) for yourself!
Love them or hate them, you'll know about the Kardashians.
The infamous sisters have built viable careers out of... well, not much really. Which, in a way, is a talent in itself.
But of the sisters, there was always something of an odd one out.
Youngest Kardashian (and the middle sister of the whole Kardashian-Jenner clan) is Khloe. And since the sisters landed on our screens, many have pointed out that she doesn't look quite like her siblings.
Some have even speculated about Khloe's parentage (but that's another story).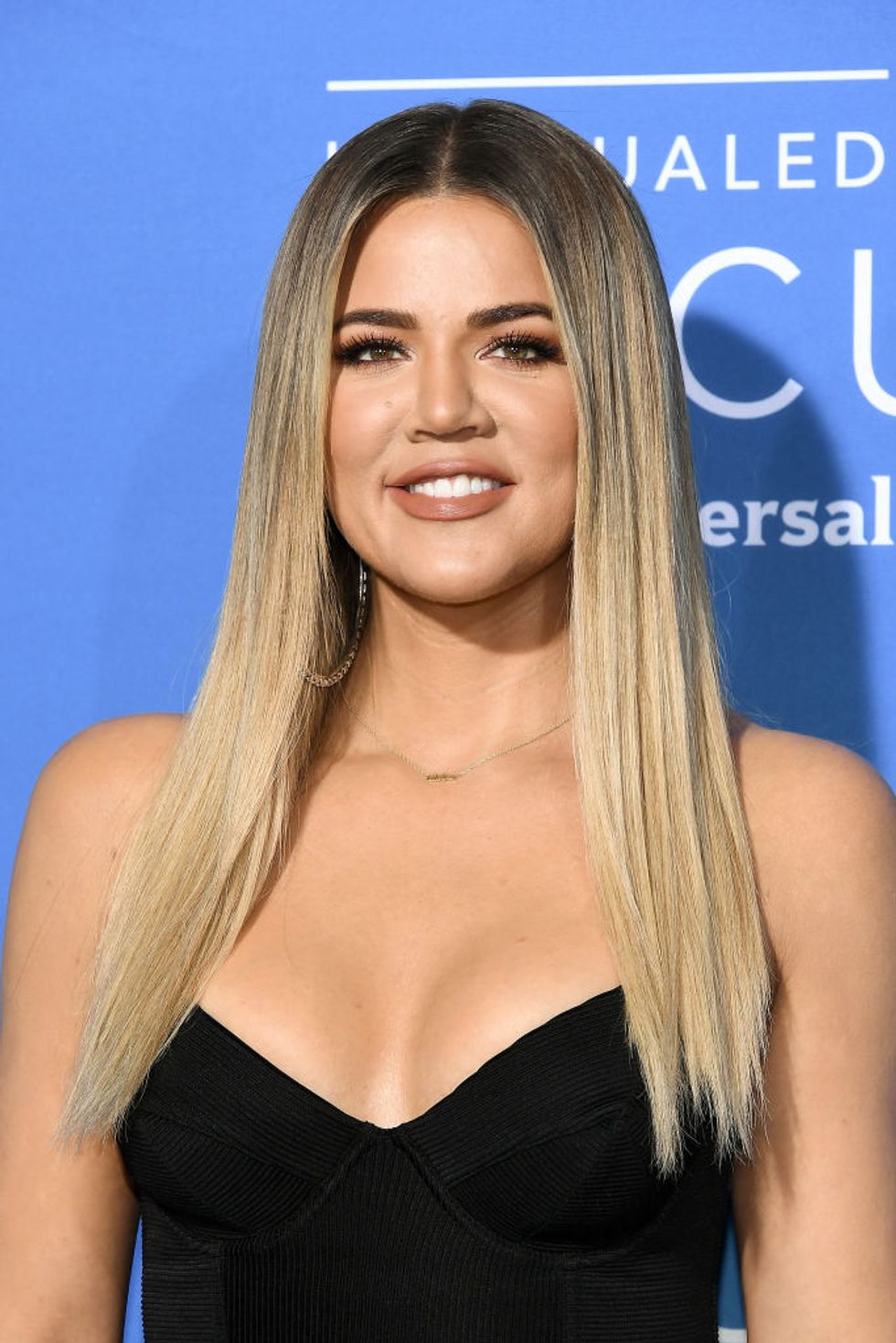 Either way, over the years, Khloe has moved away from her more unique look, and has started looking more and more... well, Kardashian-esque.
Because, honestly?
Coming from a family with a bunch of sisters who look like
this 
seems like the perfect recipe to breed insecurity. Put media speculation and social media pressures on top of that, and we can't imagine that things have been too easy for Khloe.
But, over the years, people have noticed something.
It's not a phenomenon unique to Khloe.
This side-by-side of Kim Kardashian and Kylie Jenner went viral last year when people noticed that Kylie looked more like Kim that she did old photographs of herself.
And that's not the only controversy Khloe has faced.
KUWTK, but her online shilling of potentially harmful weight loss products didn't go unnoticed by her critics.
She's also been accused of cultural appropriation.
cornrows
- something that many online thought was totally inappropriate and potentially offensive.
She's also had other accusations tossed her way.
That's not the only way she's changed, either.
And, now, there's another part of Khloe's body that has come under scrutiny.
Because, recently, Khloe's Insta has been getting a lot of attention.
Just like her sisters, she's well-known for favoring a selfie. But some of the images she's posting have garnered some less-than-favorable comments.
It's true ...
Khloe is looking a little bit unrecognizable these days. When comparing her natural appearance to now, a little bit of work seems hard to deny.
Some had strong objections.
It does seem odd that Khloe seems to promote feeling beautiful in one's own skin when she's clearly uncomfortable in hers.
Here's the first selfie which got eyebrows raised.
But it was this second image set that seemed to confirm things.
Some made this point.
When your lips are so plumped with filler you can't even close them anymore. 💉 #KhloeKardashian https://t.co/VV7LnClhbf

— Mike Sington (@Mike Sington)1567218050.0
The fact Khloe now seems unable to touch her lips together suggests more than a little cosmetic enhancement. When shown next to her "old" lips, the difference is dramatic.
There was a range of jokes online.
One joker commented that Khloe's pout looks swollen, as if she's been fighting. It's true, her lips do look a little painful.
It seems as though the trolling may have gotten too much for Khloe.
less dramatically plump lips.
Although others made this observation.
@lovesamcooke Exactly, she keeps doing all this stuff on the outside but it's the inside that needs the work. Her m… https://t.co/v6JCPMwfc9

— Kimberly (K.K.W.) (@Kimberly (K.K.W.))1558594875.0
Perhaps Khloe's seeming obsession with cosmetic enhancements isn't something to laugh at - and is actually symptomatic of something pretty sad. Maybe we should all try to be a little bit kinder. In the mood for more Kardashian kontent? Scroll on for their very worst photoshop fails.