The Kardashians have never been afraid to be experimental in their styles. In fact, more often than not, it seems that they choose their looks to attract attention, rather than to actually look good. But one thing that they've been repeatedly criticized for is their lax attitude to one aspect of fashion. The superstar sisters are keen to try out experimental styles, regardless of their history and this often leads to claims of cultural appropriation - where being trendy is placed at a higher importance than any social impact.
The latest problematic move that a Kardashian has made? Well, it was youngest sister, Khloe, who made the blunder. While holidaying in Turks and Caicos for big sis, Kourtney's, fortieth birthday, Khloe posed on the beach with a pretty controversial hairstyle. And the internet absolutely had something to say about it.
The Kardashians are a media force.
They've all starred in one of the most successful realities shows of all time and each of the sisters has a massive influence on social media.
The Kardashian-Jenners are more than just influencers, though.
They're truly impressive entrepreneurs and businesswomen. Whatever you think about them, you can't deny that they've done well for themselves.
Especially coming from pretty humble beginnings.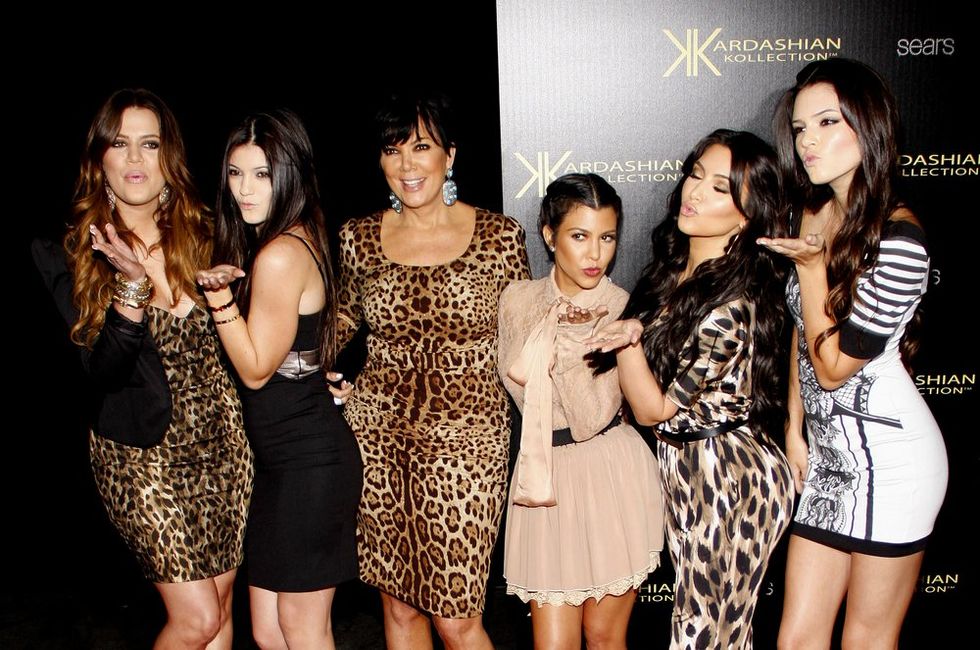 Sure, they've always had an element of wealth and fame - but back when 
Keeping Up With The Kardashians 
started, the sisters certainly weren't the biggest Hollywood success story.
They've come a long way.
And more and more, the family are being respected as major players, particularly in the realms of fashion and beauty.
But there's one thing that they just can't seem to get right.
There's one aspect of the Kardashian family that even true stans have a hard time accepting.
The sisters have been called out time and time again.
The reason? The family seems to have a pretty relaxed stance on the rather serious issue of cultural appropriation.
One of the sisters is the prime culprit.
@VogueRunway she did what???? https://t.co/ltps6ieJAE

— 𝒎𝒊𝒄𝒂𝒉 ⭒ lebron james supremacist (@𝒎𝒊𝒄𝒂𝒉 ⭒ lebron james supremacist)1552677976.0
Kim Kardashian has landed in hot water on multiple occasions for her culturally insensitive hairstyles, in particular.
For example, this crimped ponytail debacle.
@VogueRunway you sure? https://t.co/jUPGehmWHe

— #JusticeForBreonnaTaylor ˣ (@#JusticeForBreonnaTaylor ˣ)1552662160.0
Although many claim that it was actually Vogue who were at fault for crediting Kim with a style that women of color had long been rocking.
But that hasn't been Kim's only issue.
And to make matters worse.
People weren't happy.
This level of cultural insensitivity is hugely problematic, especially for a family with such a huge profile in the media.
And Kim is a repeat offender.
But Kim isn't the only culprit.
Khloe Kardashian channels Diana Ross and people have mixed feelings about it. https://t.co/Vu6LKALGQa https://t.co/nSPgFCed90

— Good Morning America (@Good Morning America)1553706901.0
Khloe has also come under fire with claims of cultural appropriation. People especially weren't happy with the wig that she wore to Diana Ross' birthday party.
And it seems she hasn't learned her lesson.
Because Khloe is back in the news this week - and for all the wrong reasons!
The story started after she posted some snaps on her Instagram.
But fans noticed something about the images.
Khloe wasn't sporting her signature sleek do - instead, she had opted to style her hair in cornrows.
And she didn't stop there.
And commenters didn't hold back.
It's clear that many felt very strongly about Khloe's choice of hairstyle - and thought that she needed to know their opinions.
Khloe wasn't posing alone, either.
But, obviously, this isn't an excuse.
One commenter wrote, "Having a black kid doesn't give you permission to appropriate black hair, you know. Just saying ..."
Other comments cut straight to the point.
One commenter wrote, "You not black stop with these hairstyles. It's a mockery and it's not cute." Others added, "Those cornrows AIN'T IT," and, "You ain't black sis!"
Although not everyone was quite so harsh.
Khloe is yet to speak out on the backlash.
Although judging by her Instagram, we don't think that the criticisms have gone unnoticed.
She posted some different images following the uproar.
Her braids took on a slightly different look, too.
Nonetheless, there's no getting away from the issue.
see why we talk about cultural appropriation so much.... when a POC wears braids they are labeled as a thug but whe… https://t.co/gapmSgWYhE

— 𝔄 (@𝔄)1557949172.0
Whether this particular example stands up or not, cultural appropriation is a huge issue - and one which the Kardashians are perpetuating.
But some have chosen to stand up for Khloe.
Many view the idea of cultural hairstyles as intrinsically problematic and claim that policing how people style their hair isn't the answer.
In fact, many have come out in support.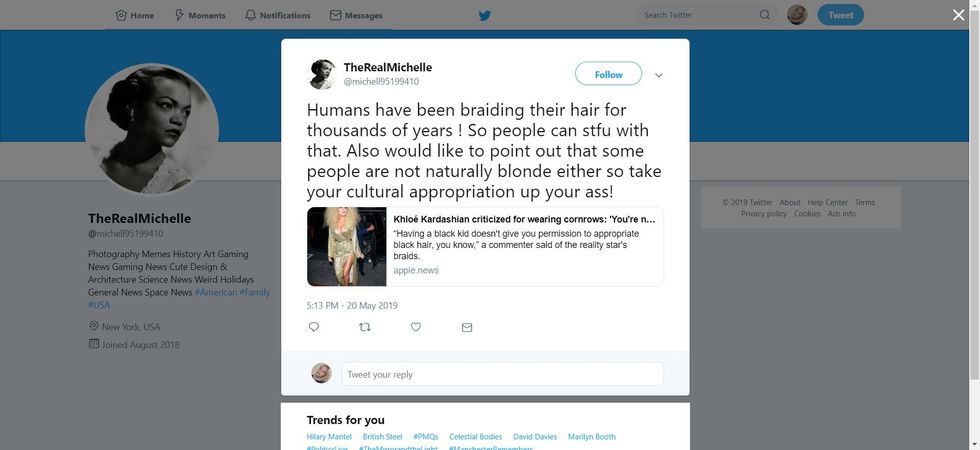 People aren't convinced that Khloe's style was actually appropriated - while others still think that cultural appropriation isn't really an issue.
And it seems that Khloe is largely unbothered.
She hasn't addressed the controversy at all and it seems like she's still wearing the cornrows.
While we're sure that Khloe didn't mean her style to offend, it's still worth being cognizant of.