Halloween is just around the corner! By now, most people have worked out what costume they'll be wearing. Out of the costume ideas I've heard so far, the prize for the best idea goes to the girl going as a packet of pickled onion potato chips.
Now this story revolves around another food-related costume. But, in this case, young Jake was not dressing up for the spooky season. No, this young boy dressed up as a hotdog because his mom and dad dared him to.
Continue scrolling for some costume inspiration and to find out everything about the boy who went to school dressed as a hot dog.
Why not dress up as Elton John?
After the success of this year's Rocketman, Brit pop star, Elton John, has had a massive resurgence. Cop his look by wearing your old baseball kit embellished with a few rhinestones.
The Joker will be popular this year.
Another Halloween classic gets a 2019 twist thanks to Joaquin Phoenix's take on the role. This one is face paint heavy, so focus on the makeup, and pair with a burgundy suit.
Ashley O
This Black Mirror superstar is a perfect Halloween costume, as it is both easy and instantly recognizable. All you need is a lilac wig, a white tank top, and plenty of attitude.
Forky
This one may take a little more prep - but can be totally homemade, so is ideal for those on a budget. Pair a papier-mache head with oversized googly eye, a red and white outfit, and a sense of existential despair.
Aliens
Aliens always make for a fun Halloween costume option - but in the year of the Area 51 raid, they take on a whole new meme meaning.
Eleven
An oldie but a goldie - pair a vintage pink dress with a cheap blonde wig and a (faux) nosebleed for one of the easiest Halloween looks imaginable.
The US Women's Soccer Team
Going out in a big group for Halloween? Matching soccer kits make for an easy (and incredibly comfortable) costume.
Jennifer Lopez in Hustlers
All you need is an oversized fur coat and plenty of dollar bills.
Lil Nas X
The Old Town Road video is the perfect costume inspiration. DIY your own bejeweled black cowboy outfit, and don't forget to throw up the finger guns.
Takeshi 6ix9ine
A multicolored wig, an obnoxious set of grills, and you, too, could be the world's most famous snitch.
Baby Archie
Simply pair a babygrow and a ginger wig to take on the world's most famous baby.
A classic hotdog costume will always go down a storm.
If you've got a little kid, you seriously won't regret purchasing a hot dog costume for them.
Pet dog?
What a wicked idea! I mean, a dog dressed as a hot dog is potentially the cutest thing I've ever seen.
This isn't a look just for the kids and dogs...
Adults can look pretty sharp kitted out in a hot dog costume too.
When young Jake came home and told his parents about picture day...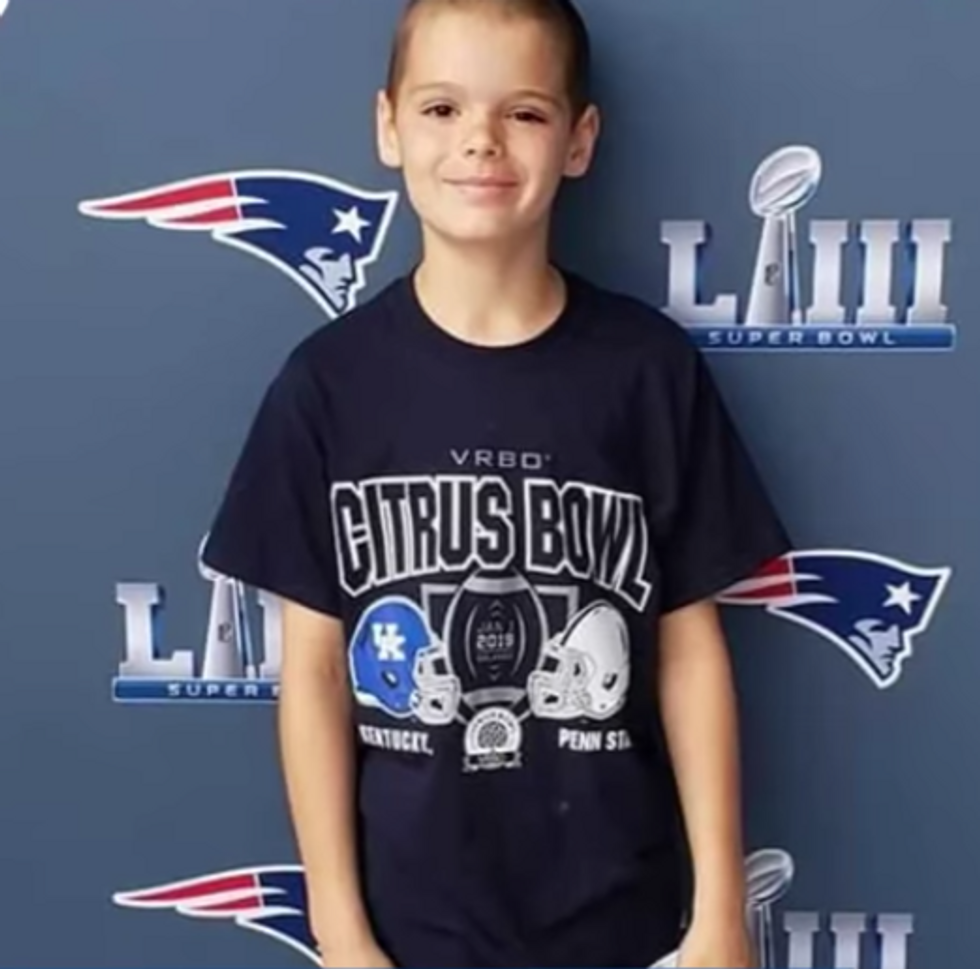 via: Facebook
They had a great idea about how their little boy could make his school photo extra special.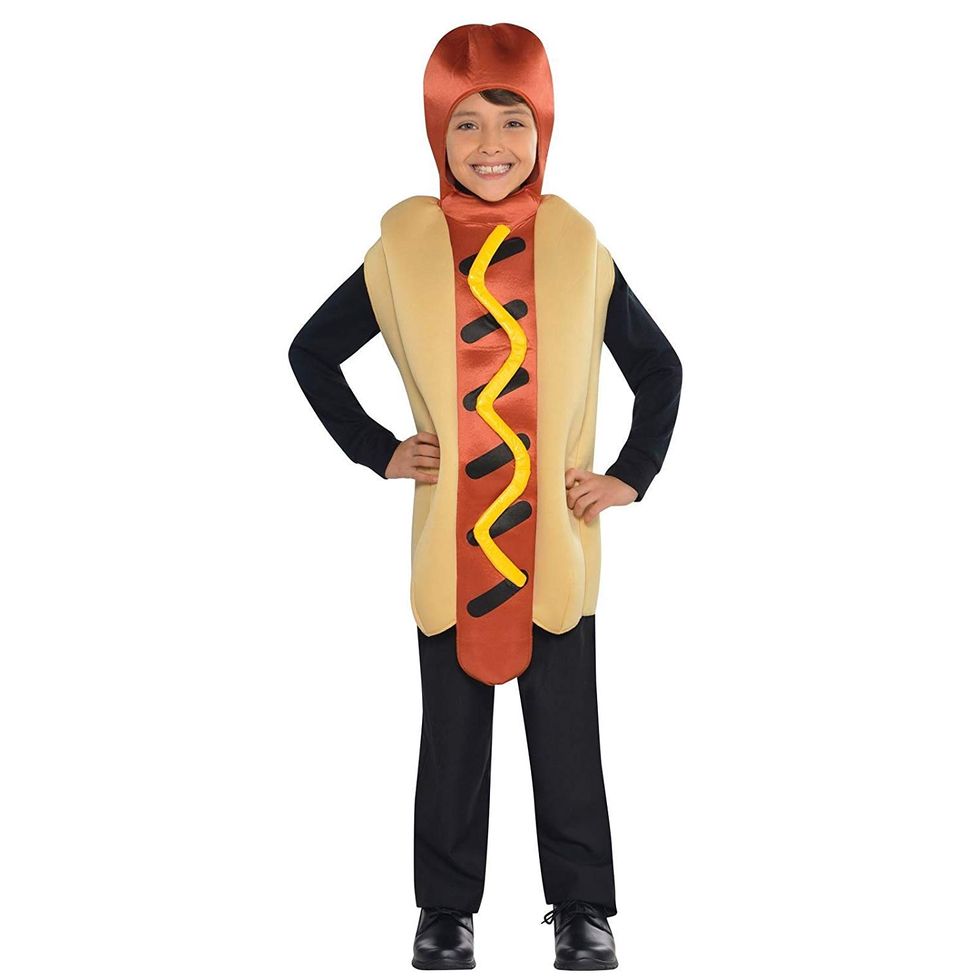 via: Amazon
If want to purchase an adorable hotdog costume for your kid you can either fight all the other parents for one in Target or you could pick one up with one-click on
Amazon.
Isn't it great when they're that ages?
You can get them to do anything. Just you wait, Craig, as soon as he turns thirteen it'll be a different story. In fact, teen Jake will probably be well mad you let this story go viral.
This one will literally go down in yearbook history.
Jake's cheeky move, wearing his hotdog costume for the school photo certainly gives him legend status on the playground.
You wouldn't get away with that at every school...
@ABC That my friends is a liberal school

— @GhostOfDr.King (@@GhostOfDr.King)1571674535.0
I'm sure some schools would be up in arms if a kid strolled in wearing a hot dog costume.
"Does your son identify as a hot dog?"
@ABC He identifies as hotdog! I think it's wonderful. Seriously, these are the pics you remember for life & enjoy f… https://t.co/bLNMG7PURI

— busybee🌻🐝💙🌊 (@busybee🌻🐝💙🌊)1571675603.0
"Because if he does then we're totally fine with it. But if he just wants to wear it for the fun of it then that is totally unacceptable."
Hopefully, Jake wasn't picked on for his costume!
If I remember rightly, kids in school don't like anyone that's different... Unless Jake is one of those kids that can get away with standing out from the crowd, the fact he rolled up in a weiner costume could have led to some teasing.
There's nothing cooler than a hotdog costume...
So I'm sure Jake was fine. Continue scrolling to read all about the funniest last-minute DIY costumes of all time... Some are these are so inventive!