North Korean leader, Kim Jong Un, has been spotted with a band-aid and mysterious spots on the back of his head, sparking speculation about a possible health scare.
Kim Jong Un has once again been seen with a dark spot on the back of his head, prompting increased speculation about his health. It was first spotted at the end of July, when he attended events including a military parade and meeting with veterans.
Since the thirty-seven-year-old lost weight earlier this year, there has been a vast amount of speculation about his health. But this isn't the first time he's appeared to have a mark on his body as in May last year, he was seen with a dark spot on his wrist from what medical experts claimed was the result of a needle used in heart surgery.
Both Kim's father, Jong II, and grandfather, Kim II-Sung, were obese and heavy smokers, prompting death via heart attacks, so this is seen by many as being particularly worrying.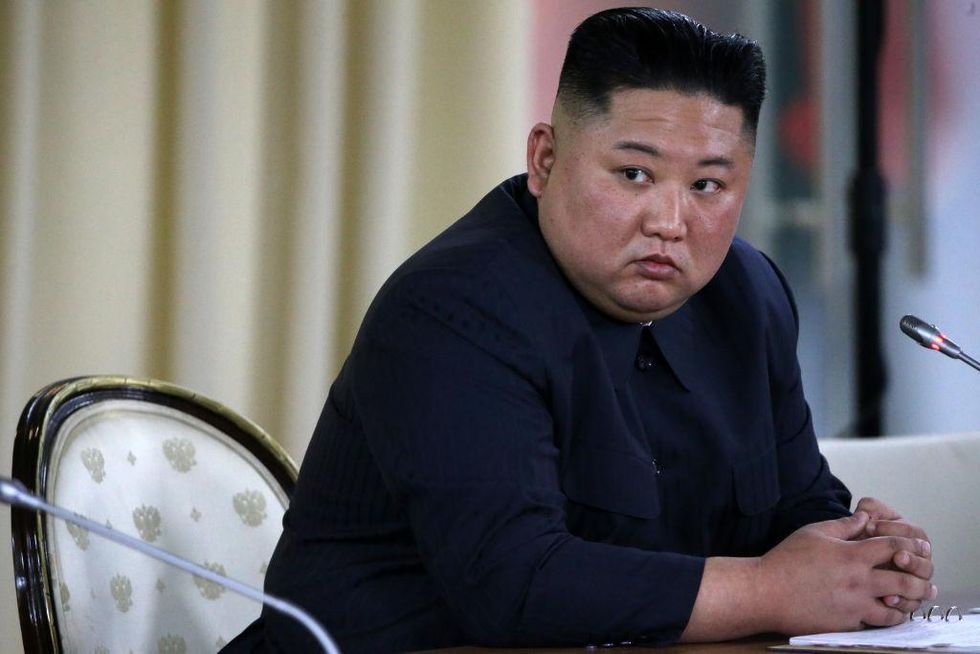 Recently, people have observed that it looks as though Kim has lost between twenty-two and forty-four pounds in weight.

KCTV aired a clip of an unnamed resident last month who claimed that everyone in the country was "heartbroken" by his "emaciated" condition.
"Seeing our respected general secretary looking emaciated breaks our people's hearts the most," he said.
"Everyone is talking about how their tears welled up immediately."
Some analysts are going as far as using Kim's appearance as a way to glorify him as a hardworking leader.
Christopher Green, a Korea specialist at Leiden University in the Netherlands said: "If outside observers picked up on the charge in Kim's appearance, you can bet your bottom dollar that the North Korean people noticed it, too, and more quickly."
"The message Pyongyang is sending is that Kim is a leader who works very hard for his people even to a degree he skips meals and loses weight," defector-turned-researcher Ahn Chan-Il told AFP.
But Yang Moo-Jin, a professor at the University of North Korean studies said: "No-one can really know why he lost weight. What's clear from the KCTV footage is the regime wants the world to think that its people love and care for their leader, to a point where they'd cry over his thinner appearance."
Another person, Chad O'Carroll, CEO of the Seoul-based Korea Risk Group, said that the most likely reason they would mention the declining weight of the leader "would, in my opinion, be related to ongoing COVID-19 related border measures, as Kim himself has acknowledged a 'tense' food situation after this year's crop fails, amid the strict self-imposed border restrictions."
So, while a lot of analysts believe that the conversation about Kim's health is pure propaganda, they do acknowledge that people are only watching so closely because his sudden decline in health could throw nuclear-armed Kim's system into disarray.
No one really knows, though, why he's suddenly sporting a plaster on the back of his head, nor why he looks a lot thinner.
What do you think?