As of right now, Kim Kardashian is the only member of the Kardashian family that we know is for sure, 100 percent expecting a baby (still waiting on confirmation of those Kylie and Khloé rumors!). In true Kardashian fashion (KarFashian?), Kim threw a lavish baby shower to celebrate baby No. 3. All of her besties were invited, but there was one name that was specifically left off the invite list: Kim's surrogate.
Kim recently explained the reason for this decision, and people have some thoughts.
(Of course they do. It's the Kardashians. They literally can't sneeze without people weighing in with their opinions.)
Last weekend, Kim threw an extravagant baby shower for baby No. 3. Seriously, check out this decor:
Inside the house! Obviously, you know Kim's baby showers are going to be fancy as all get-out, but we were not anticipating actual, real-live trees to be involved.
However, there was one person who was noticeably absent from invite list.
The Real to explain why. Apparently, it all comes down to Kim's older two kids, and the transition they're making into having a new baby in the house.
You can watch Kim talk about her decision in the clip below:
"I just thought — I don't know, it was a weird decision to have to make," Kim said when the hosts asked why the surrogate didn't get an invitation. "Of course I would have wanted her to be there and be a part of it, but I hadn't really gone that far in explaining it to my kids yet. So I have to figure that out first." After she explained her reasoning, the audience applauded in support. Moms know best, after all! However, the people of Twitter have had varied reactions to the fact that Kim's surrogate wasn't at the baby shower.
Some are pointing out that it might be a good idea to explain the situation to the older kids sooner rather than later.
@enews Instead of saving them the confusion, educate them.

— goddess sucrose 🧁 (@goddess sucrose 🧁)1510872100.0
After all, that baby is arriving regardless of whether North and Saint understand the whole process. Better to be educated about it, right?
A lot of people think that Kim's move was selfish and that she wanted to keep all the attention for herself.
A lovely Marie Antoinette moment for Kim Kardashian: she threw a baby shower for herself and didn't invite the woman carrying her baby.

— John Moore (@John Moore)1510932260.0
And, sure, the Kardashians are known to hog the spotlight every now and again. But is that really what's happening in this instance?
Although, there may be one valid argument against the whole baby shower thing.
The internet is slamming Kim Kardashian for not inviting her surrogate to her baby shower. Meanwhile she's having a… https://t.co/yhcZ2lU2aj

— Julia (@Julia)1510789267.0
Namely the fact that this is Kim's third baby. Traditionally, people have a baby shower for their first child, but not for any additional children they have. Most people also don't make $10 million after one day of selling perfume. But we've always known the Kardashians to be a touch on the extravagant side, so we think Kim gets a pass here, too.
Kim did clarify that she has a great relationship with her surrogate.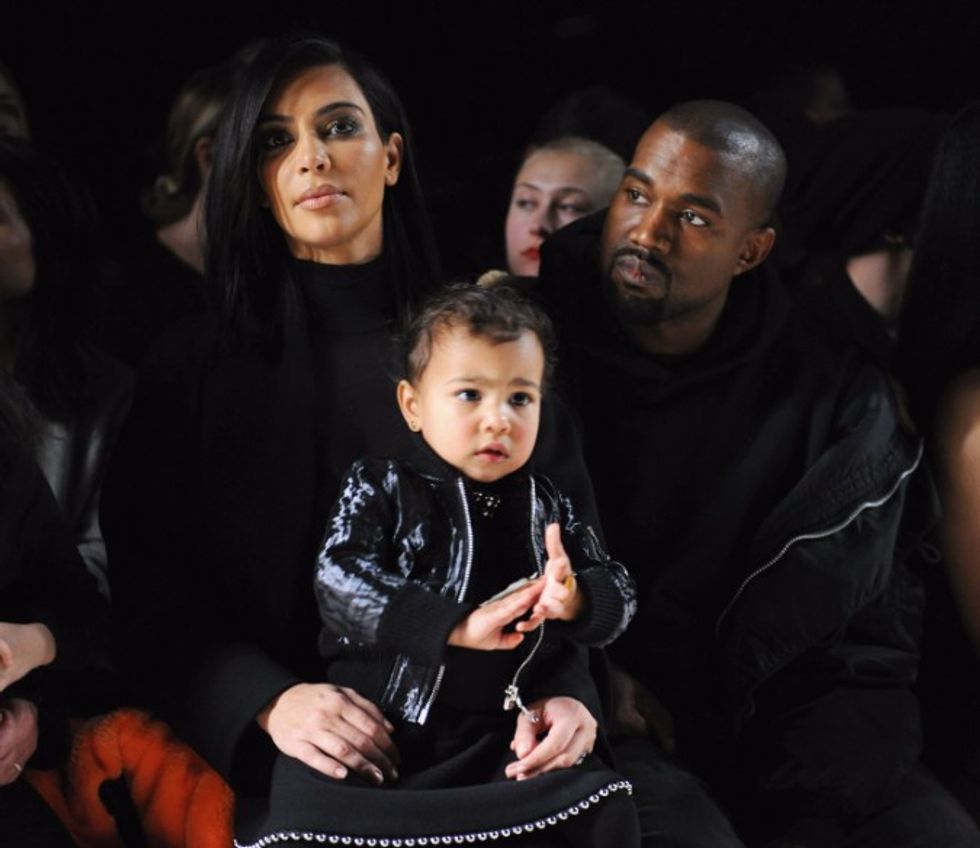 via: Getty
"I love her...She's so nice. She's the perfect person to do this for my family." As long as they're both happy, the rest of us should probably keep out of it and let them live their own lives.
We imagine Kim is sitting at home reading all these angry tweets like:
Honestly? Let's all just stop it with the mom shaming. Kim absolutely has the right to make the call on this one. We all recognize that it's a non-standard situation that can be handled multiple ways, each with their own pros and cons, right? Can she just live her life?