Australia is currently experiencing the worst bushfire crisis in its history, and the wildlife and native animals are the ones suffering the most.
A staggering 1 billion animals have been reported to have died since the fires started in September, and things don't seem to be getting any better.
However, the animals who have survived are doing their best to adapt to these horrific conditions.
Keep scrolling to see the cutest koala bear cooling off in a NSW river...
Australia is being ravaged by one of the worst bush fire crises the world has seen in decades.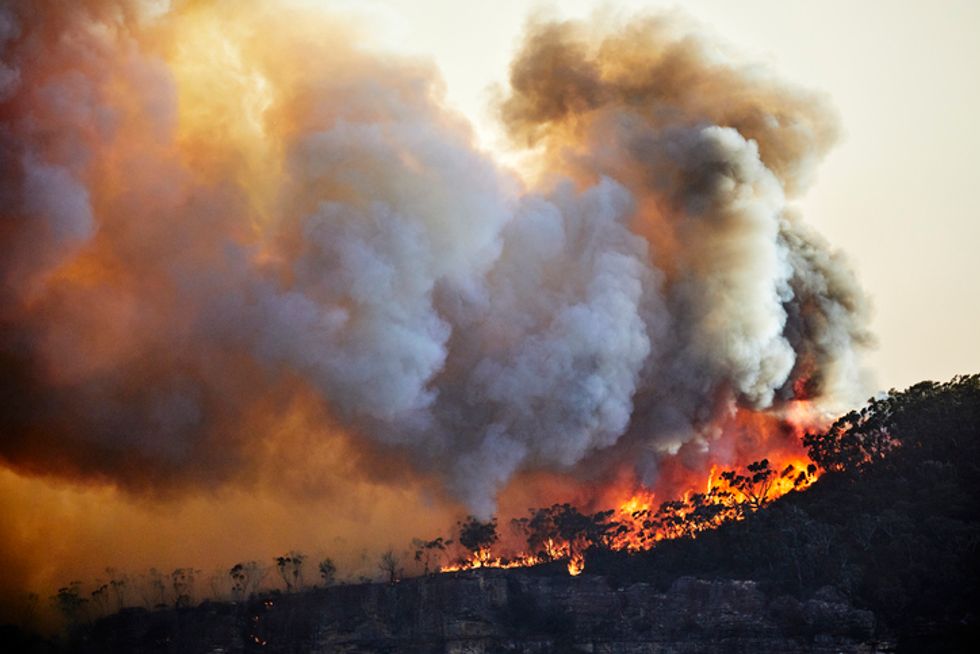 Due to soaring temperatures and one of the worst droughts in years, the relentless fires have been burning since
September
. We're currently in January. Just let that sink in.
New South Wales is suffering immensely at the moment.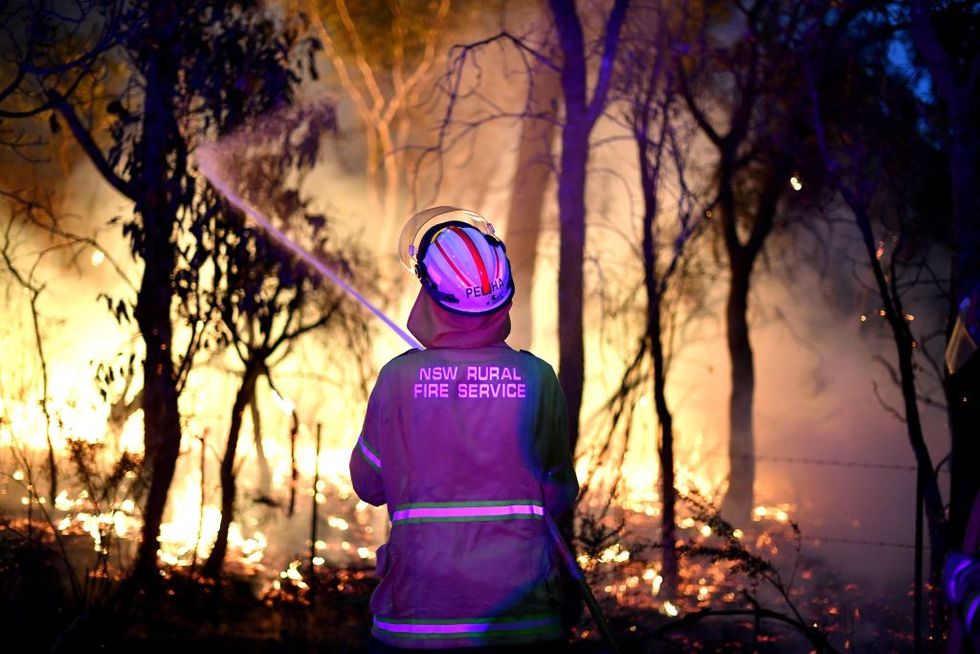 There have been fires reported in every state, but New South Wales is truly taking a beating by bush fires and is undoubtedly the hardest hit. More than 2,200 houses have been destroyed.
The raging fires have had a devastating impact...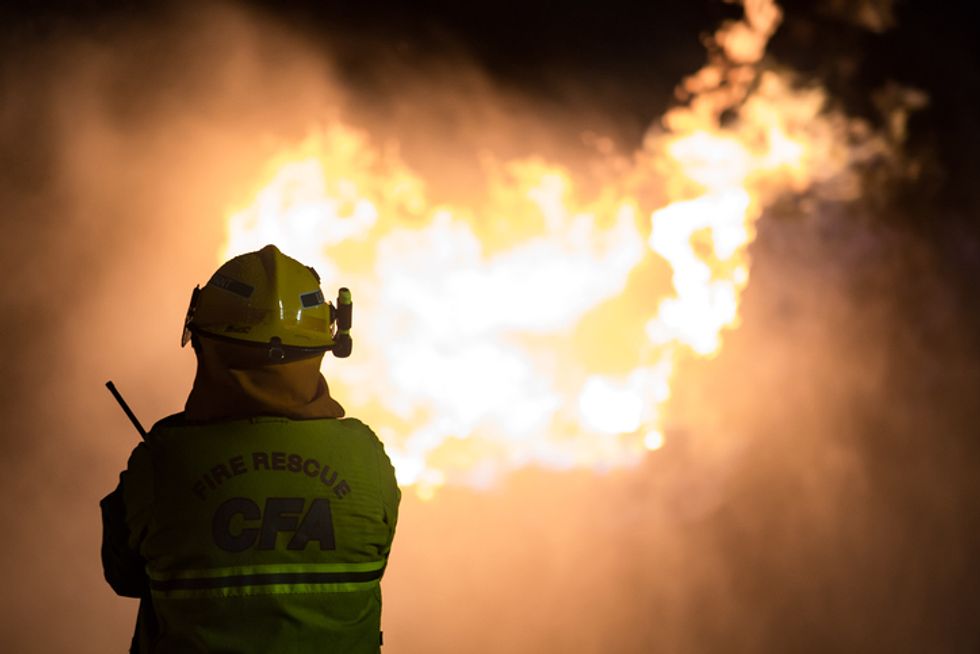 It has been reported that close to
130
bush fires continue to burn in populated coastal and inland regions across the country.
Twenty-eight people have been confirmed to have died in the fires since they started...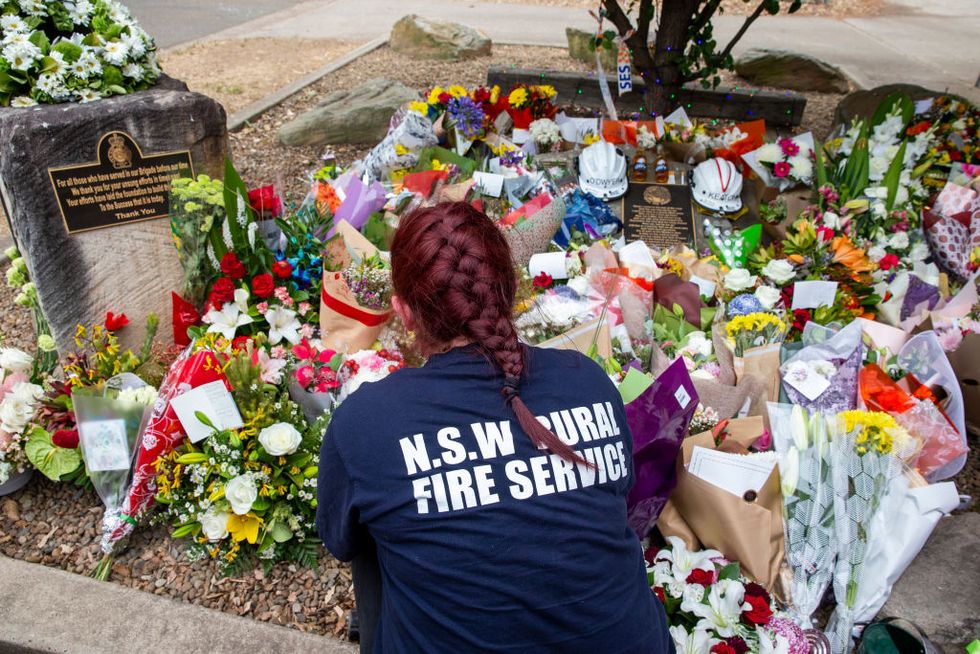 Including several volunteer firefighters.
The country was forced to make a global call for help...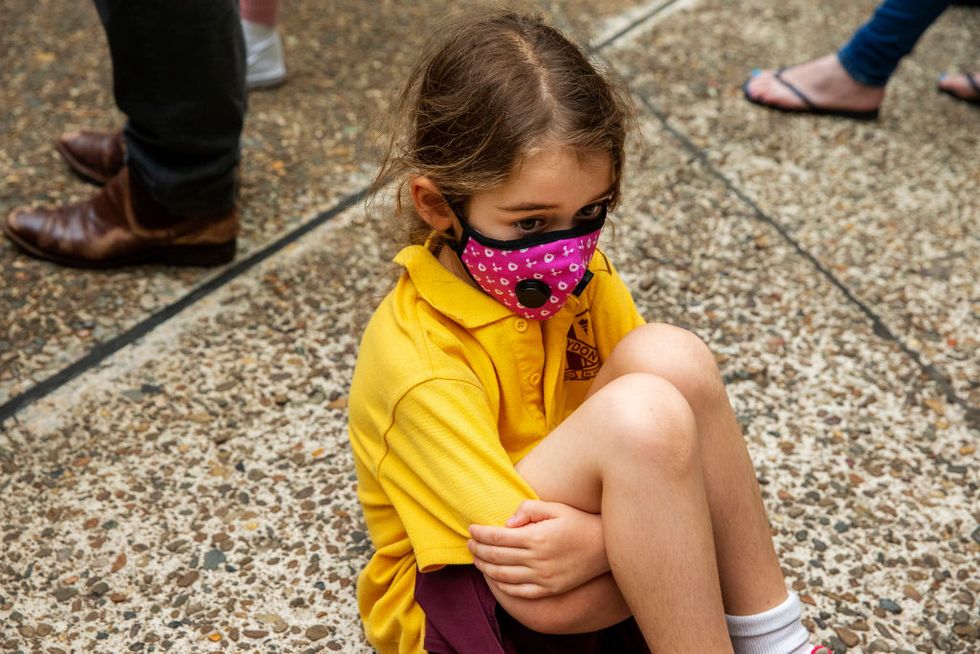 And it was Canada that was the first to respond and take action. The Canadian Interagency Forest Fire Centre, based in Winnipeg, answered the call for help after realizing the bush fire situation is expected to continue for many more weeks and gave up their Christmas to help fight the raging fires.
Other countries offered their assistance...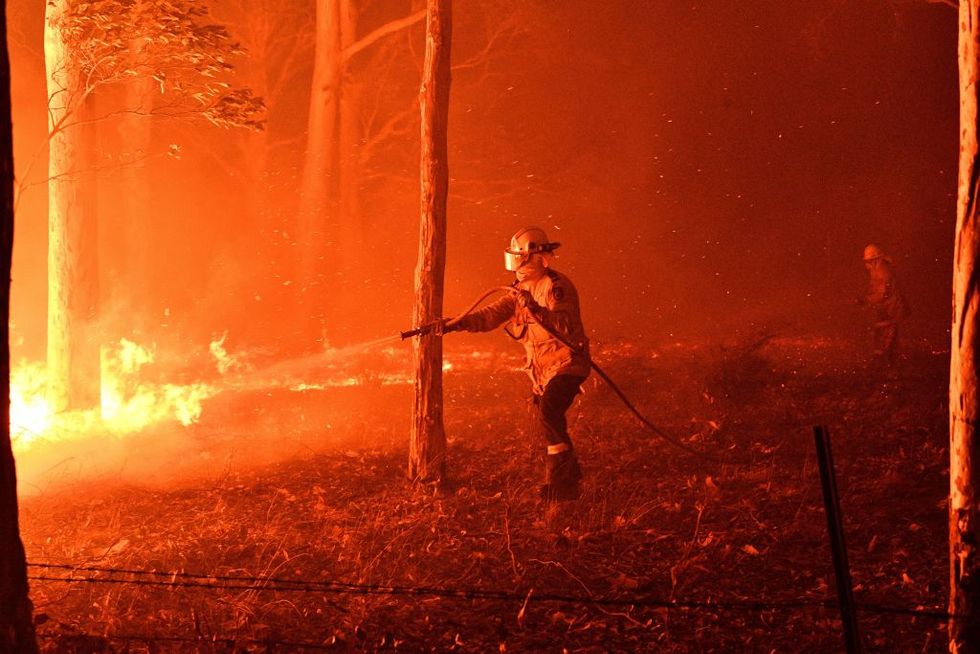 Including the U.S. and New Zealand, who have sent in more firefighters to try and help tackles the blazes.
But even with assistance from overseas...
welcome to 2020. Australia is literally burning. 4,000 people have fled to Mallacoota beach as a bushfire bears dow… https://t.co/2H0VUuWWAp

— Tom Warren (@Tom Warren)1577768890.0
There seems to be no end to the blazes. In total, more than 10.7 million hectares (26 million acres) have been burned, CNN reports. And those who escaped the flames have lost their homes, with all their possessions perishing to the flames.
The fires have also had a devasting impact on wildlife.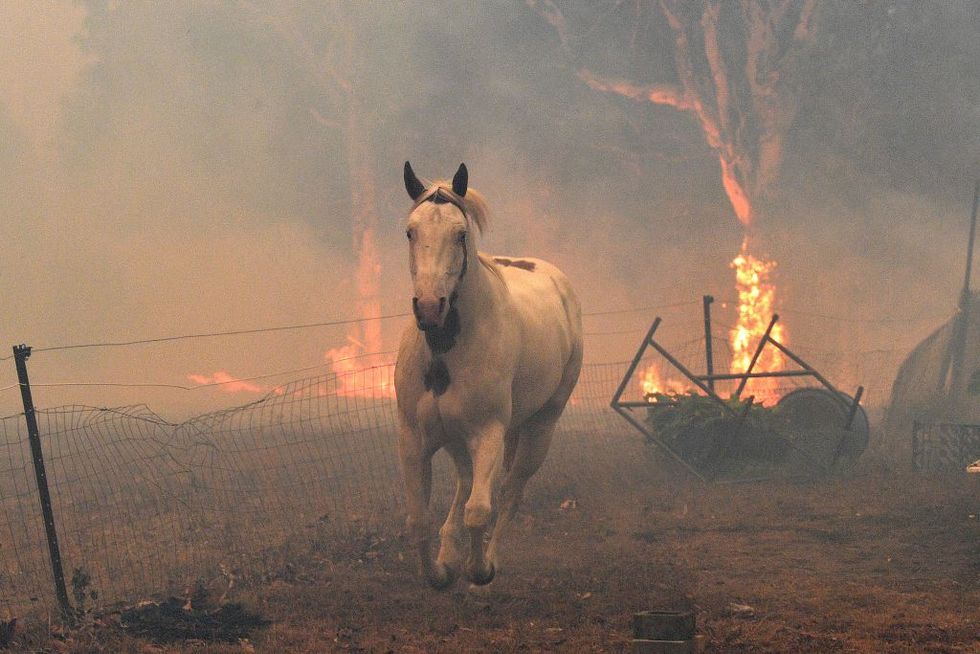 Several of Australia's native species have been affected including kangaroos, koalas, wallabies, possums, wombats, and echidnas.
The country is totally unprepared for the devastation caused to its wildlife.
Science for Wildlife executive director, Dr. Kellie Leigh, told the New South Wales upper house inquiry: "We're getting a lot of lessons out of this and it's just showing how unprepared we are.
"There's no procedures or protocols in place - even wildlife carers don't have protocols for when they can go in after fire."
But what's even more concerning...
Tracy Burgess, a volunteer at Wildlife Information, Rescue and Education Services (WIRES), explained how concerning it was that rescuers were not receiving as many animal patients as they expected.
"We're not getting that many animals coming into care.
So, our concern is that they don't come into care because they're not there anymore, basically," she told Reuters.
A billion animals have died.
The Times
reported that it has been confirmed that a billion animals have been lost as a result of the fires.
Koalas have been amongst the hardest hit...
It's a heartbreaking fact...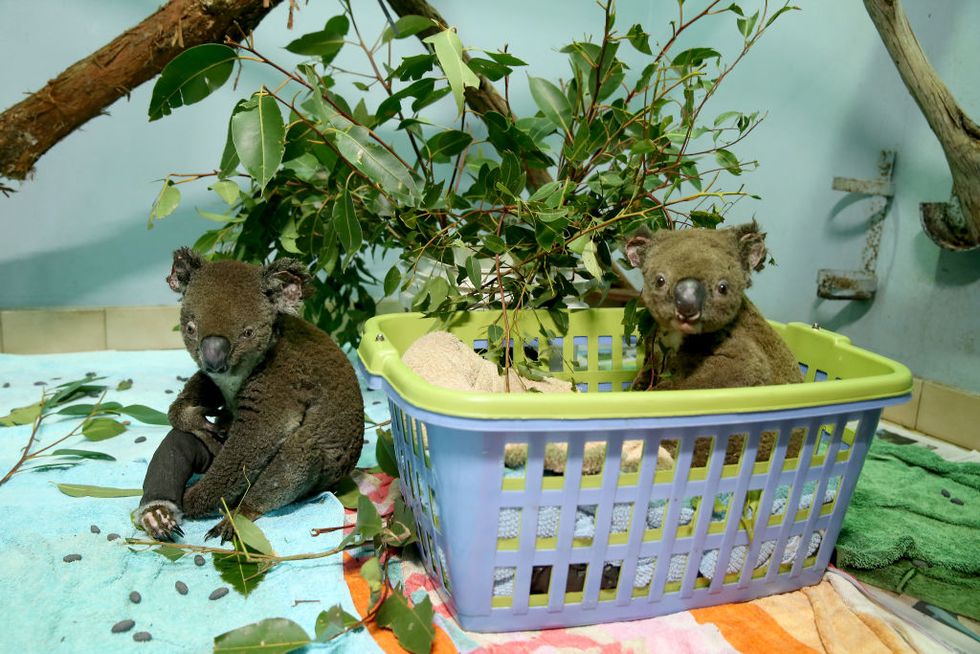 But koalas simply don't stand as good of a chance as the other native animals.
A koalas instinct is to climb out of danger...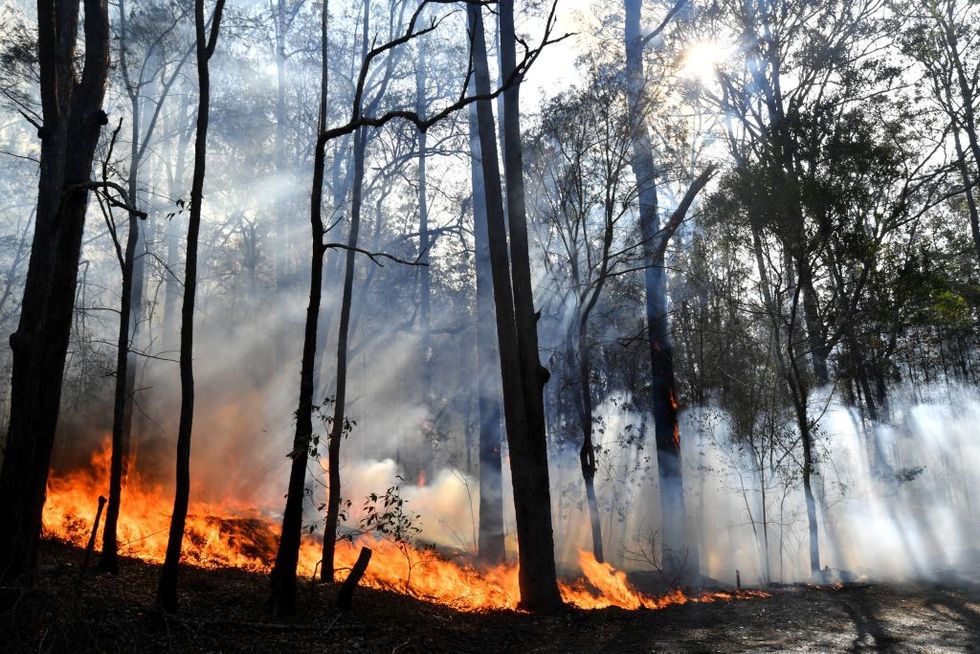 So, rather than running away like the other animals, they are climbing higher into the burning trees.
And the eucalyptus trees in which they reside are incredibly flammable...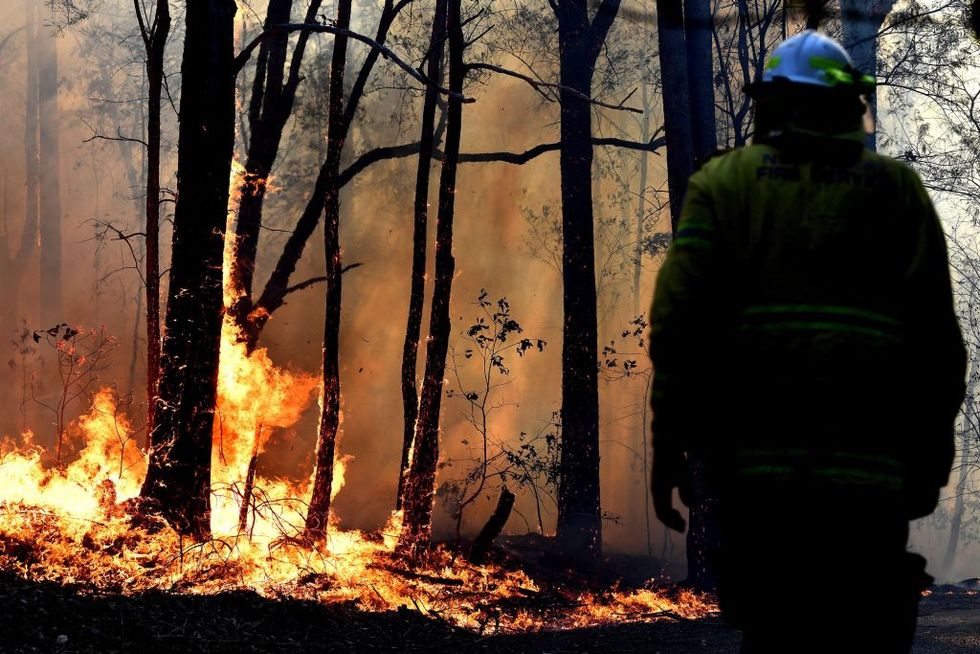 Eucalyptus leaves contain a much higher concentration of oil than regular leaves, so therefore they burn at a much higher temperature and often end up exploding.
So it is of vital importance that we help the struggling marsupials as much as we can.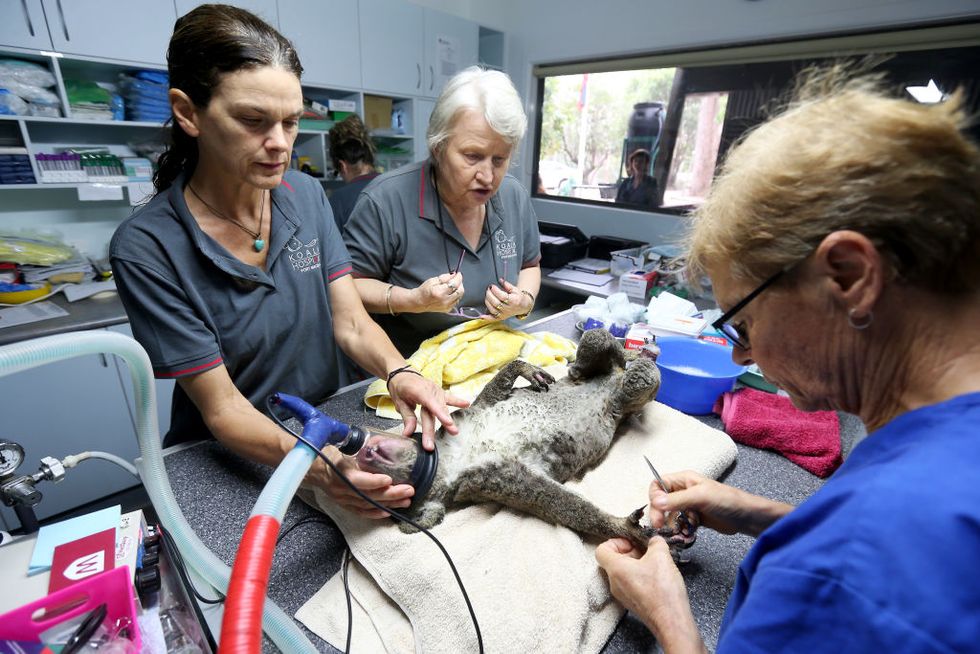 Animal hospitals across the country have been overflowing with injured koalas, and thousands of people have been donating and volunteering in a desperate attempt to get their population numbers back up.
Damian Campbell-Davys has, himself, been heavily affected by the bushfires.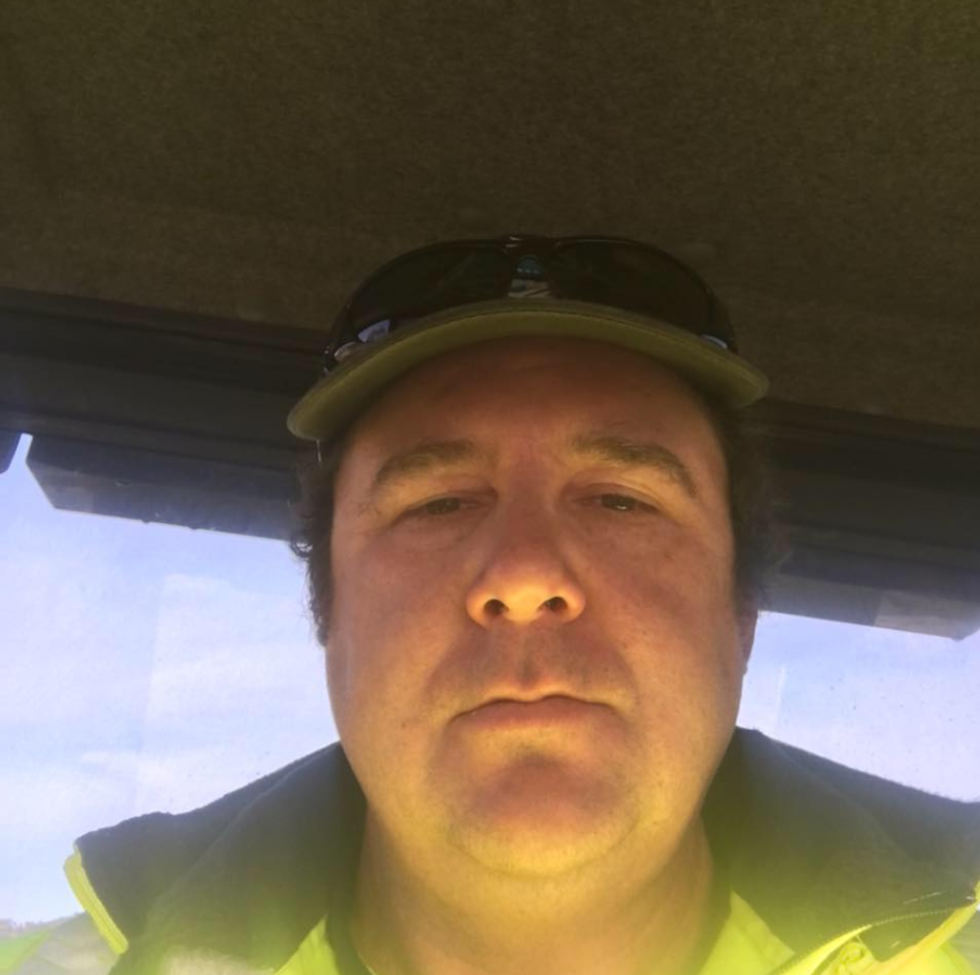 The water tank driver found himself trapped by the flames in his own home on Sunday. Yet, despite his close call with death, he has plowed on with his work, which led him to his rather miraculous encounter yesterday.
While on duty filling up water tanks near the southern NSW town of Nerriga...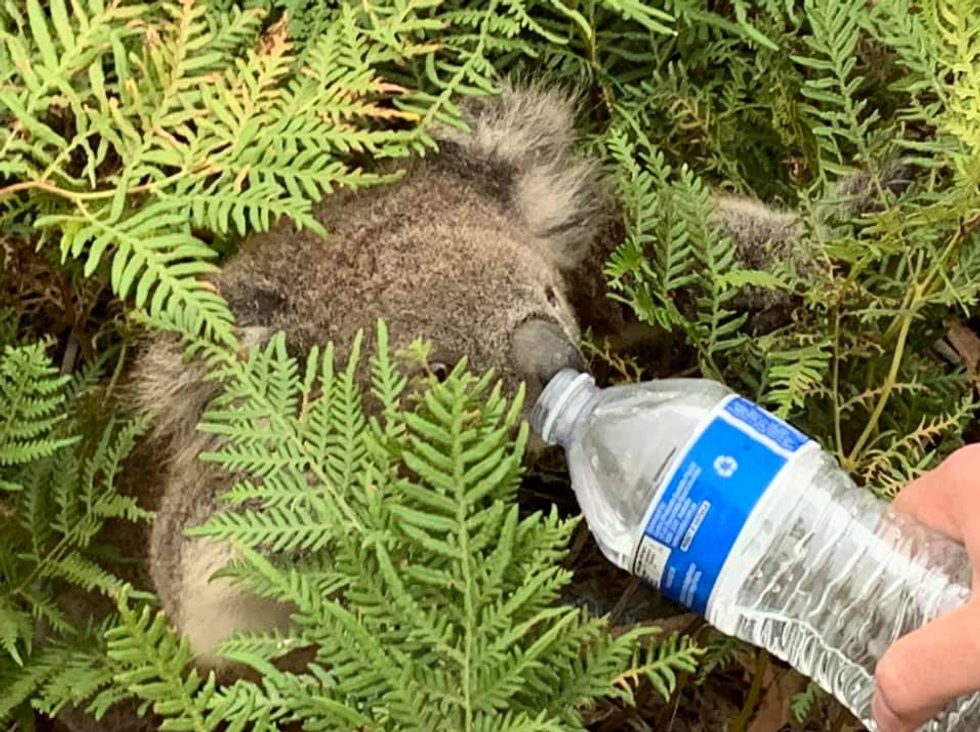 Damian picked up a rather unusual hitchhiker.
He spotted a little koala joey staggering out of the smoking bushland...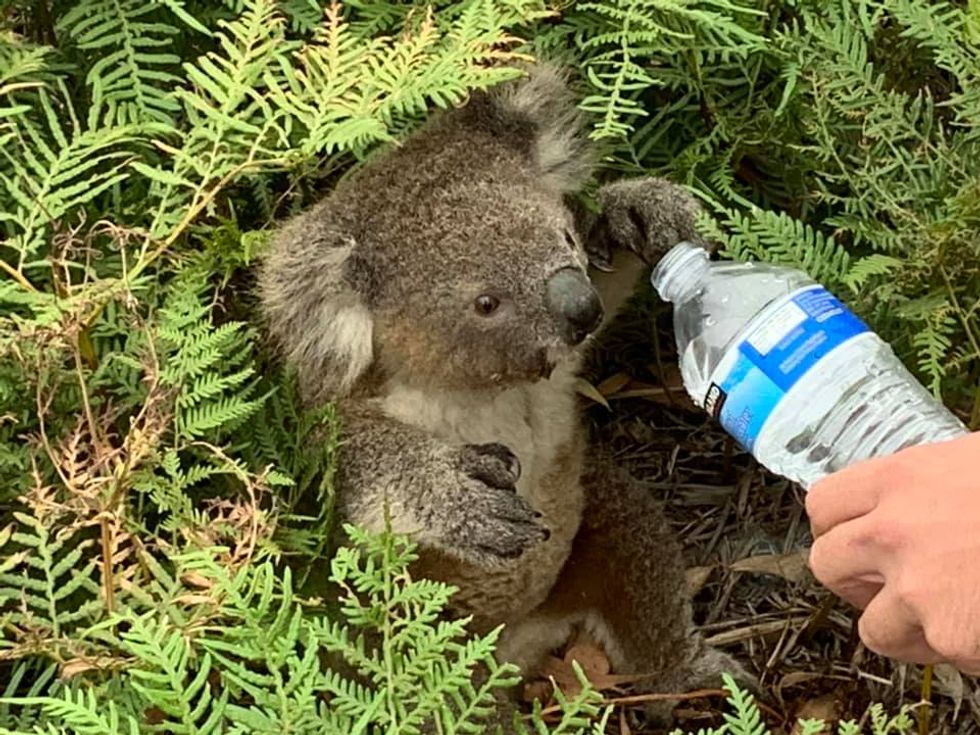 Damian quickly went over to give the disoriented marsupial a much-needed drink of water.
And he couldn't just leave the baby in the smoking bush, could he?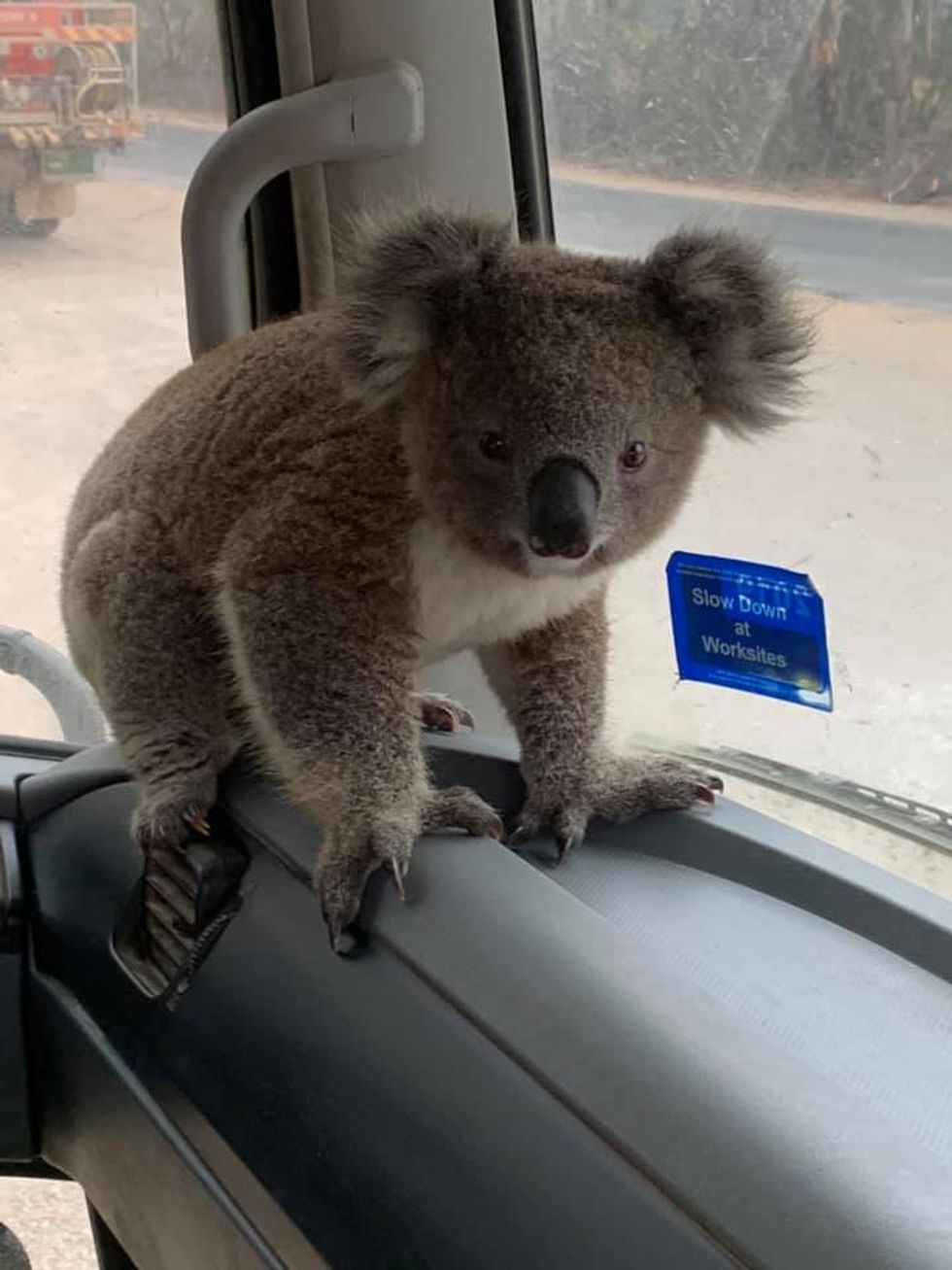 So, Damian did what any other decent human being would, and took the little joey back into the safe shelter of his truck.
The joey was severely dehydrated...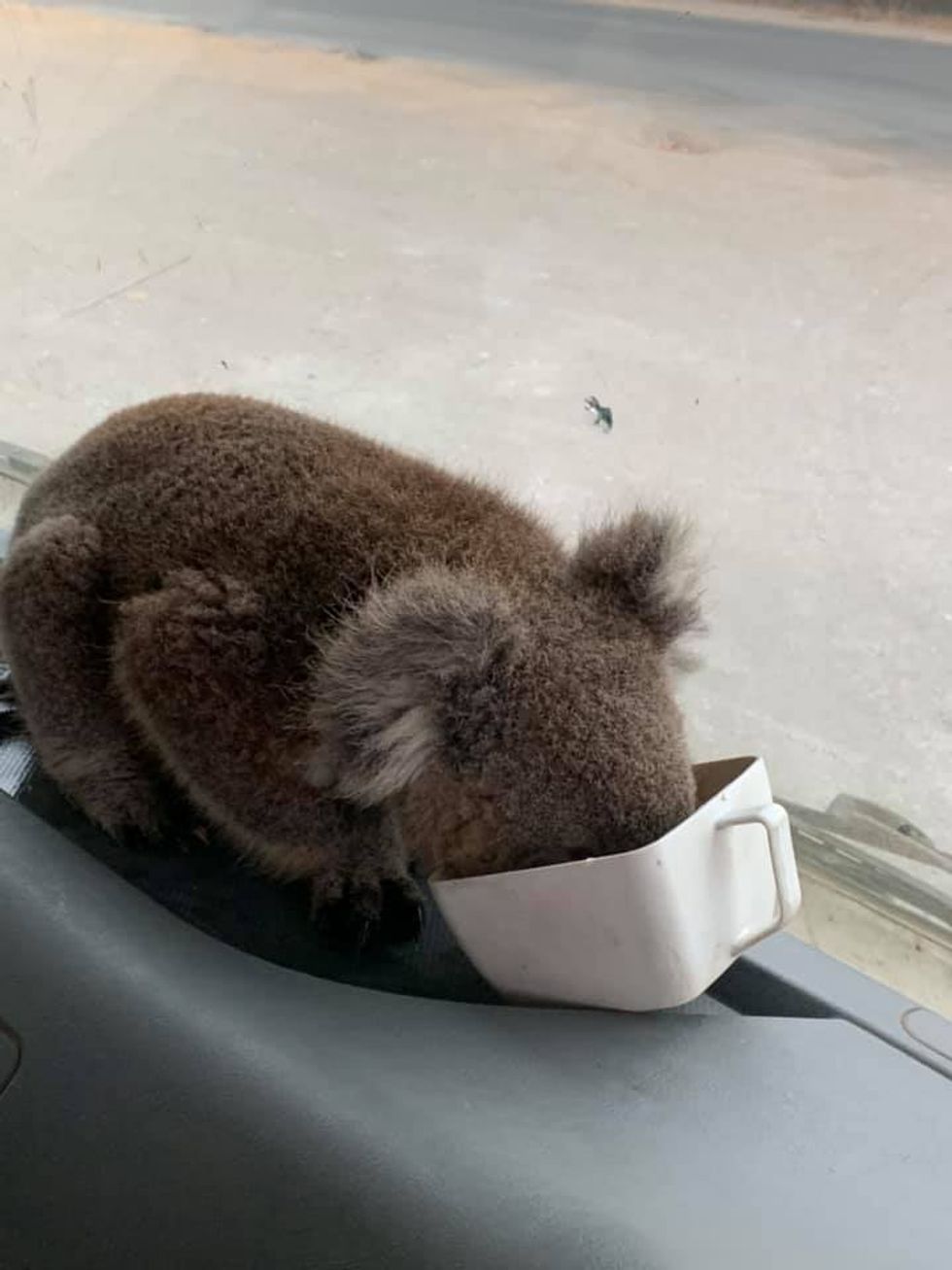 And enjoyed more water once safely inside the truck and away from the toxic air.
This isn't the only koala who is feeling the heat...
A couple of the little creatures have been caught on camera by Lorene McRae taking a cooling dip in a river in Tocumwal, New South Wales.
The photographs were taken over Christmas and New Year's Day...
Lorene said on Facebook that every day, the koalas would climb down and dip their bottoms in the water, despite the regular boats and jet skis flying past.
Lorene felt the photographs would cheer people up...
"Amidst the horror and heartache of the suffering and death of our beautiful wildlife, I thought it might be nice to share a 'feel good' story of hope," she wrote.
"Each day they climbed down the river banks at dawn to sit and sleep on the damp logs, on the sand or in the root systems of the fallen trees."
As cute as the photographs are...
This isn't usual behavior of koala bears, and it truly shows the desperation that these poor animals are currently in.
The unfortunate koalas are doing the best they can...
And all we can do is continue to hope and pray the temperatures in Australia will begin to dwindle so the country can start to rebuild itself.