Kris Jenner has finally broken her social media silence after her son-in-law, Kanye West, called her "Kris Jong-Un" in his alarming Twitter rant earlier this week...
It's been a difficult week for the Kardashian-West household.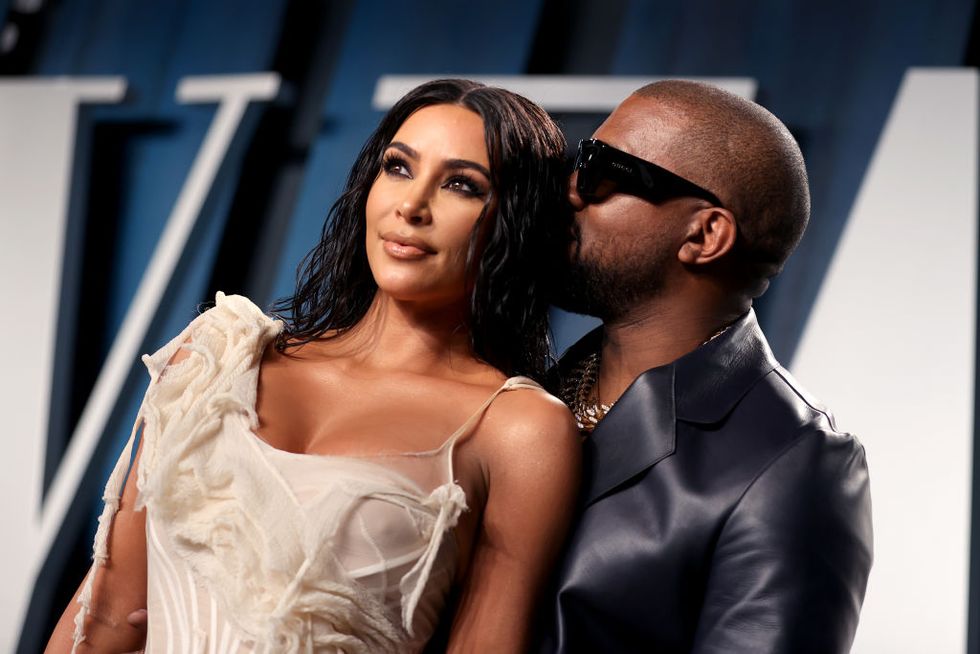 Earlier this week, Kanye West went off on an alarming and rambling Twitter rant in the aftermath of his debut campaign rally, where he claimed a
lot
of detrimental things about his wife and her family.
Now, Kanye has been a part of the infamous Kardashian family since 2011...
What do you think of this picture for America's next First Family?
Where do we begin when it comes to Kanye's erratic behavior?
Kanye has never been afraid of letting his opinion be known and, throughout the years, he has been in and out of the headlines for his strange and eye-opening antics.
But there was a heartbreaking explanation for these particular behaviors...
Last year, Kanye opened up about his battles with mental illness. He revealed that, in 2014, he was diagnosed with Bipolar Disorder, 2 years before he suffered his highly-publicized nervous breakdown in 2016, which was likely triggered by the anniversary of his mother's death.
Kanye has come a long way in his battle...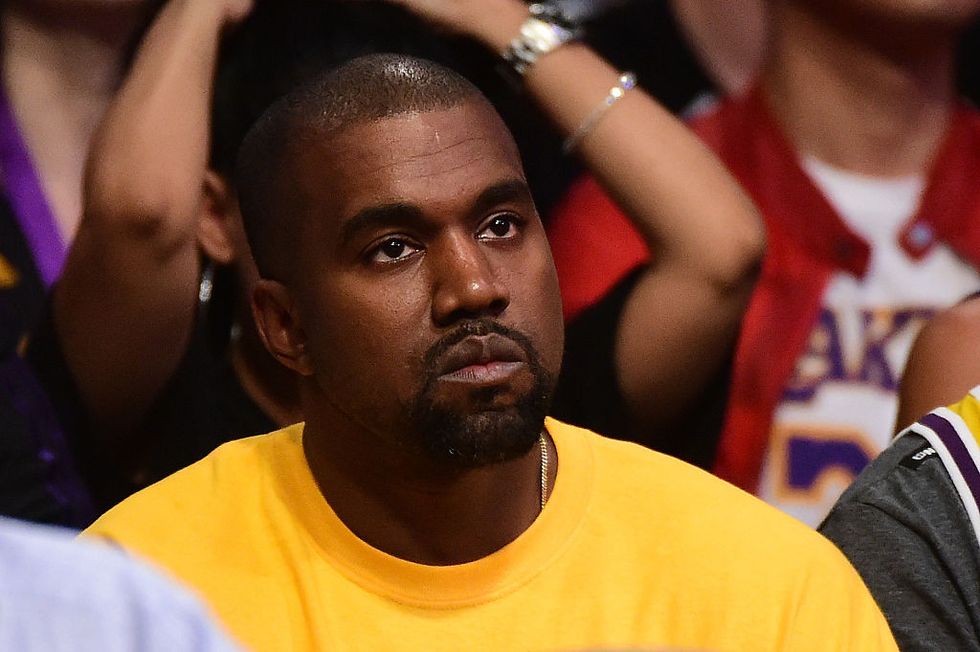 And he has been using his platform to help break down the stigma surrounding mental health issues.
But his most recent announcement stirred up the concern once more...
Because, earlier this month, he suddenly revealed that he would be running for president.
Now, in the last couple of years, Kanye has been dabbling in and out of the world of American politics.
Back in 2018, Kanye, who is an avid Trump supporter, sat down with the president in the Oval Office where he proclaimed his support and declared Trump a "hero" in a bizarre,
rambling televised monologue
 that spawned myriad parodies.
But, on July 4th, he took things to the next level.
We must now realize the promise of America by trusting God, unifying our vision and building our future. I am runni… https://t.co/MySzN3vjIB

— ye (@ye)1593909493.0
Taking to Twitter, Kanye wrote: "We must now realize the promise of America by trusting God, unifying our vision, and building our future. I am running for president of the United States! #2020Vision."
Despite teasing the idea for years...
@stonecold2050 I'd like to request a candidate with military,legal,business and humanitarian experience. OH ALSO wi… https://t.co/EcITA9pE98

— R° (@R°)1593978652.0
Nobody ever thought that he'd
actually
do it. Also, what happened to having an education and experience in politics before you could even
think
about being president?
But this is America 2020, and anything can happen...
Granted you have millions of dollars and a handful of powerful friends, that is.
But, regardless of the haters, the rapper has been deadset on his "2020 vision"...
And, over the weekend, he hosted his first-ever campaign rally.
However, his campaign proved to be an extremely chaotic and alarming experience.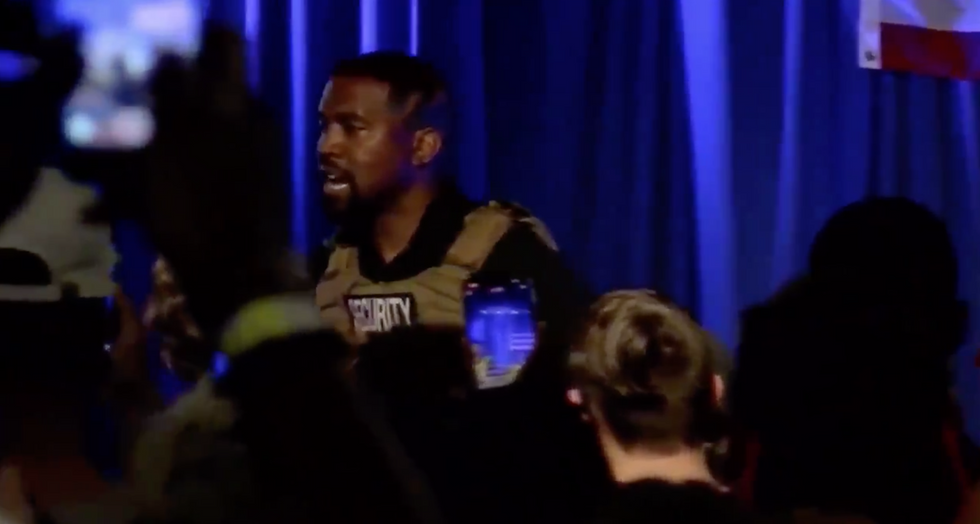 Kanye, who was clad in a bullet-proof vest with the numbers "2020" shaved into his head, threw his rally in Charleston, South Carolina, where he seemed to whip up various policy decisions right there on the spot.
And amongst many other problematic things, he completely humiliated his wife throughout it.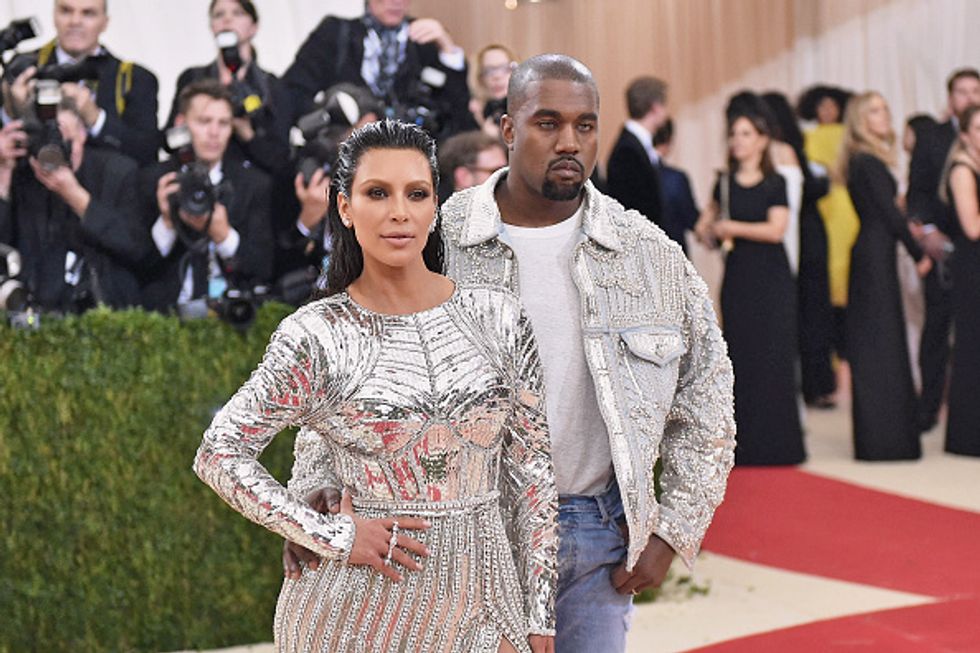 People couldn't
believe
what they were hearing.
Because in case you haven't already heard...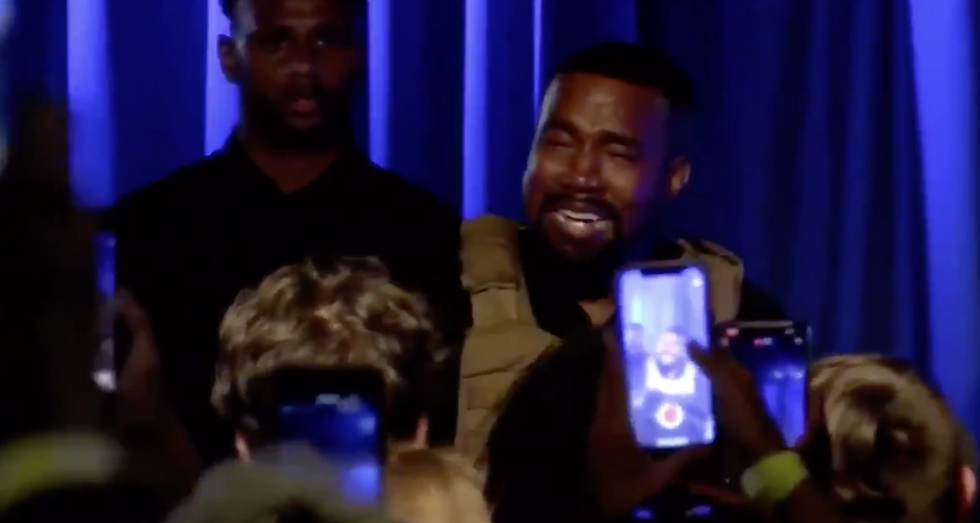 Kanye revealed some
very
private details about his family life.
He disclosed how he and Kim had discussed the possibility of abortion when she found out she was pregnant with North...
not give her permission to Kanye to disclose this private information, he didn't seem to care.
Through tears, Kanye ranted: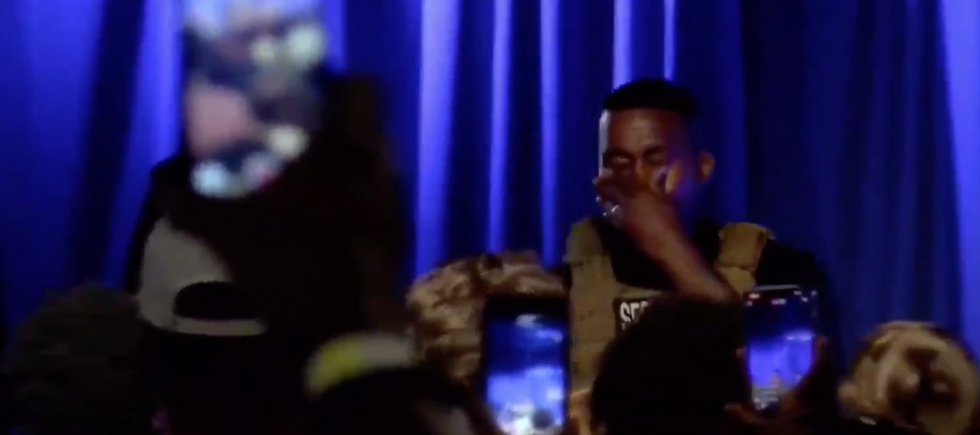 "Then she said, 'I'm pregnant.' I said, 'Yes!' Then I said, 'No.' I gotta tell you what was in my mind. She was crying. She said she was pregnant, and for one month, and two months, and three months, we talked about her not having this child. She had the pills in her hand. When you take the pills, and if you take it, the baby's gone."
He acknowledged that Kim may file for divorce following his revelation...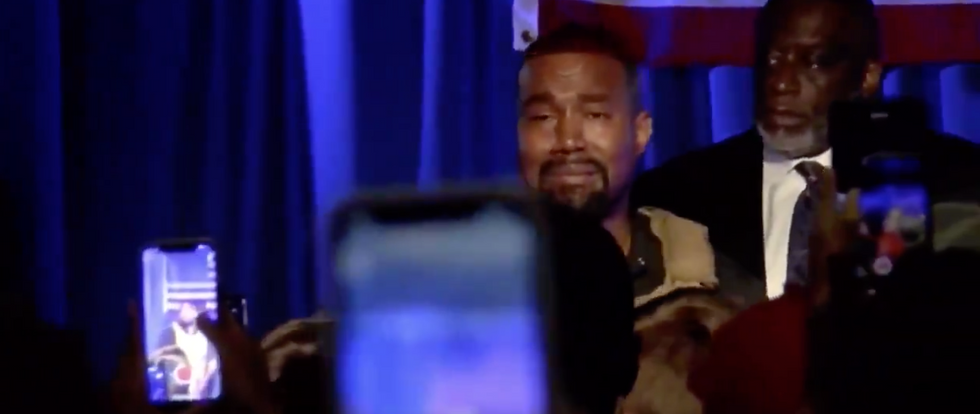 But, again, he didn't seem to care. "So even if my wife were to divorce me after this speech, she brought North into the world, even when I didn't want to. She stood up, and she protected that child."
Kanye was crying so hard, it was difficult to understand what he was saying...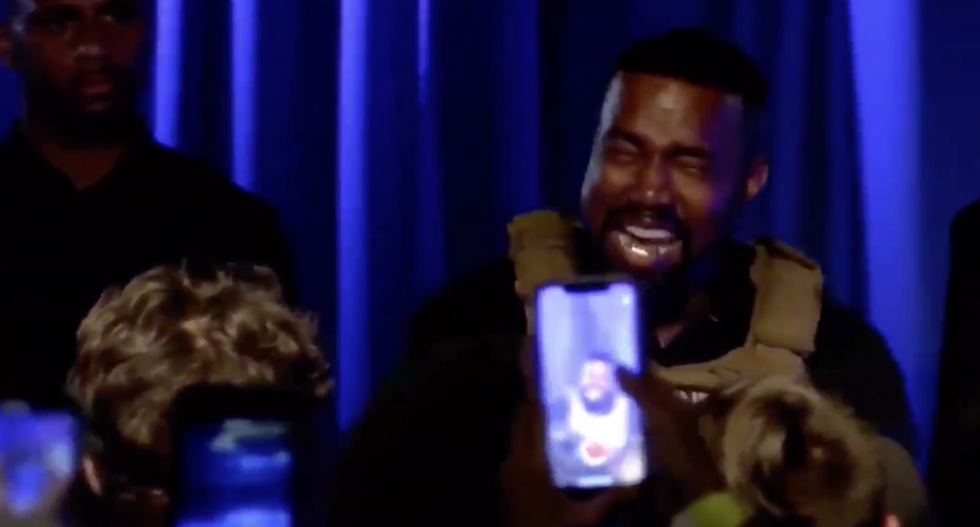 The man is clearly in a lot of pain which arises
so much
concern about him running for president.
Kanye didn't stop there, however.
The tweets have since been deleted but were screenshotted by fans who reposted them.
Firstly, he started off by referring to an alleged incident with Anna Wintour...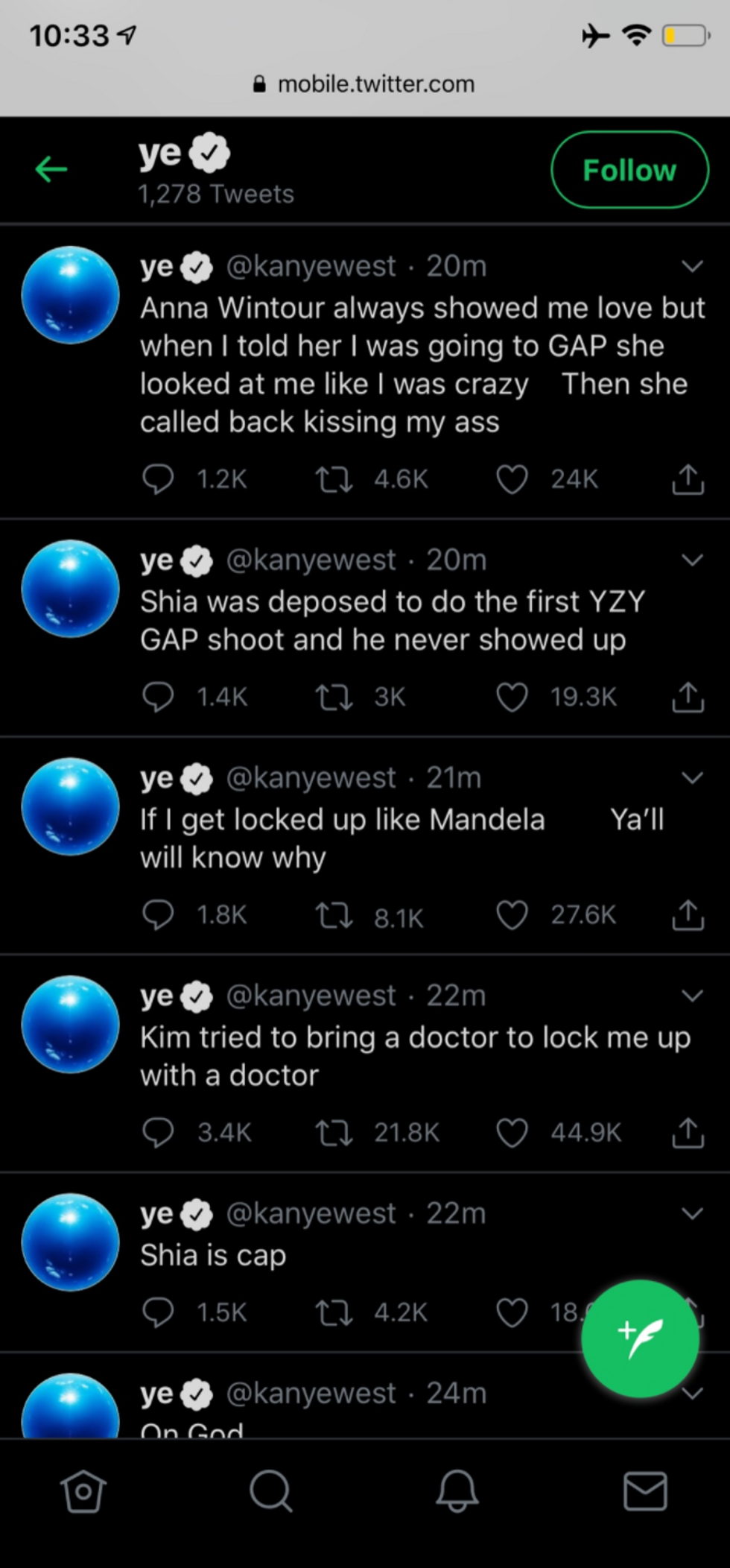 In which he said the fashion mogul was "kissing his ass." And literally minutes later, told us that "Kim tried to lock me up with a doctor."
He then went onto post a photograph of his kids and a Playboy shoot.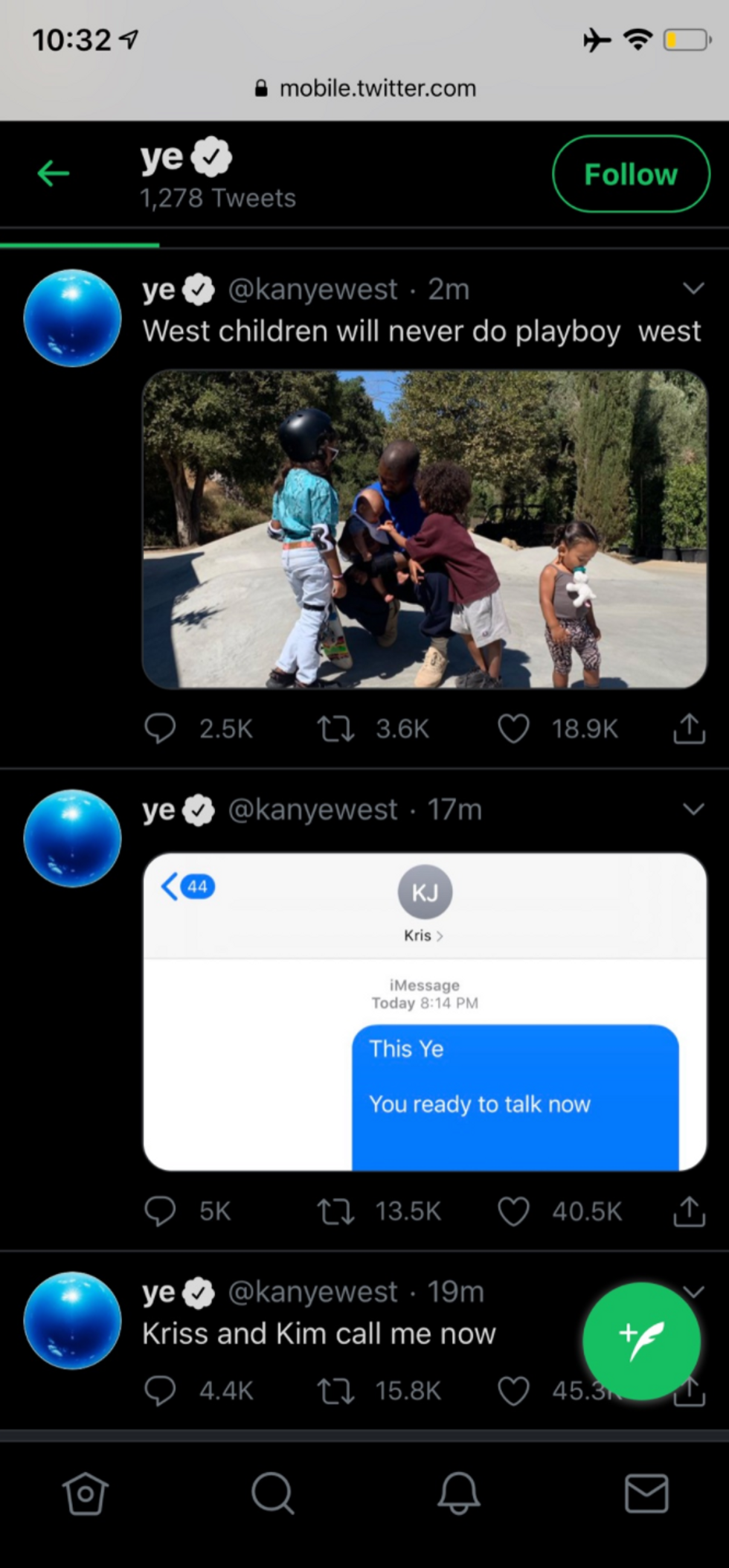 Kanye wrote this: "West children will never do Playboy... West."
But he continued...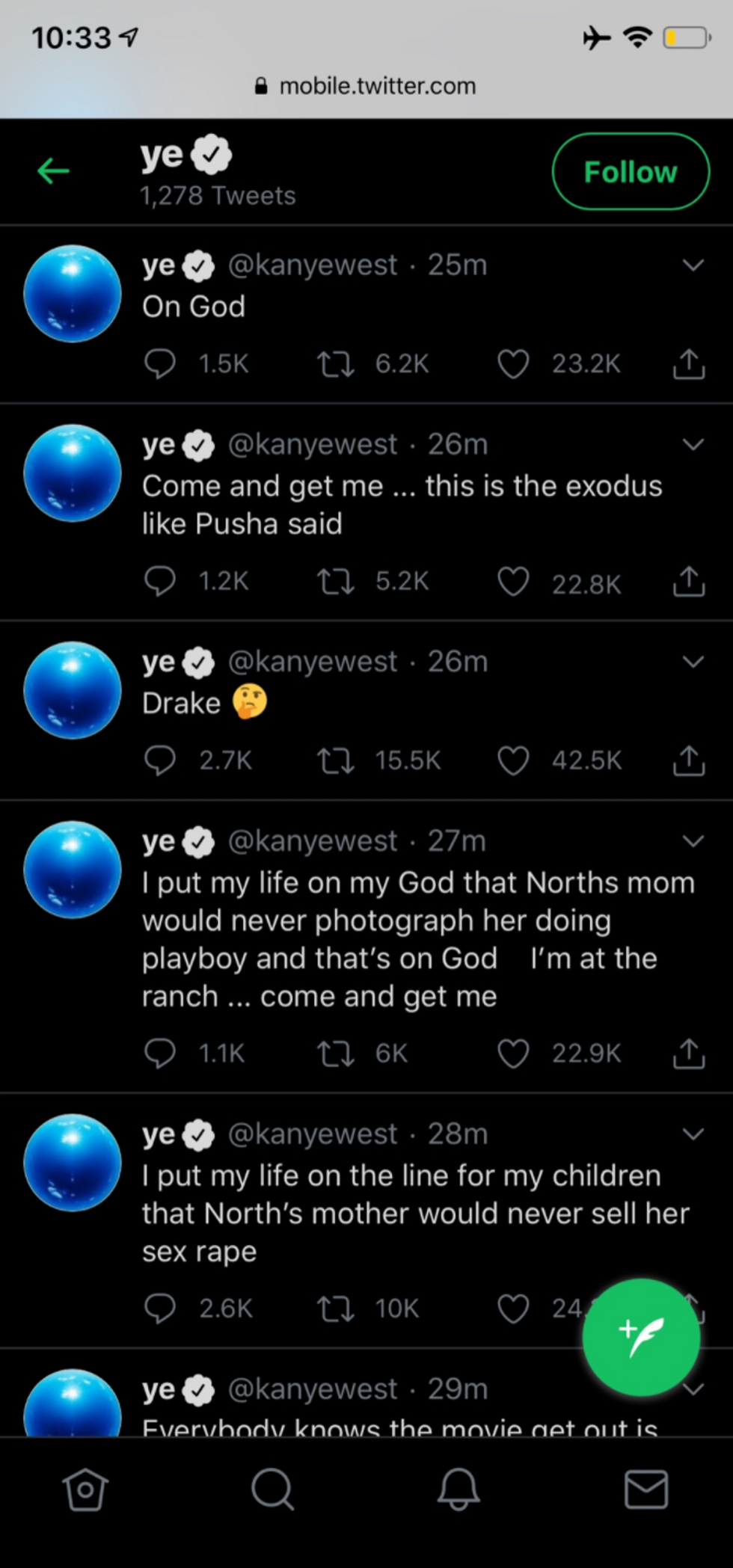 Firstly, he refers to his own wife as "North's mom," which is shocking enough already and then talks about her sex tape, calling it a "sex rape."
He then threatened momager, Kris Jenner, in another tweet.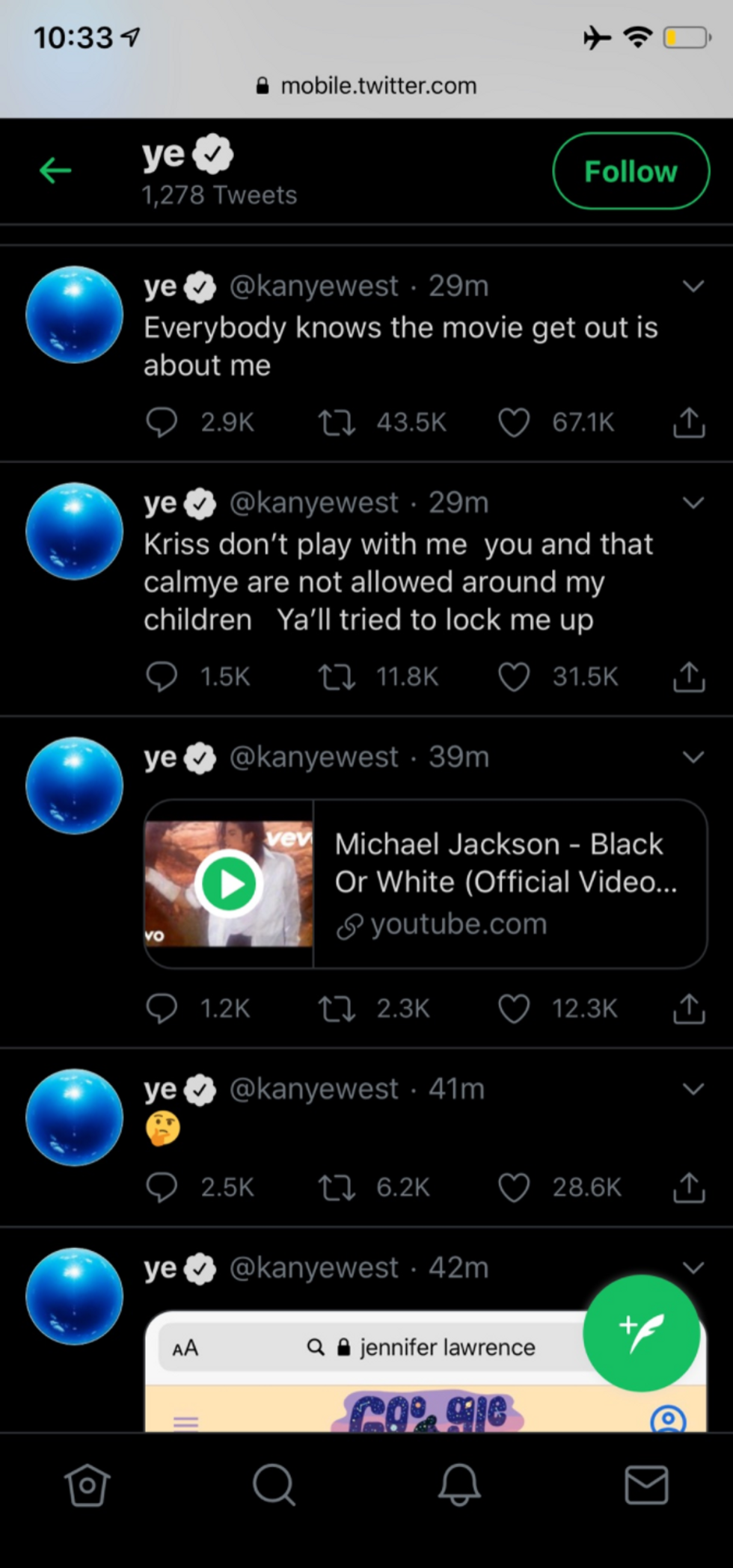 He urged her "not to play with him" which is a direct translation of "don't test me." He also wrote that she's not allowed around his kids anymore because she tried to "lock him up."
But, even after all of that, Kanye carried on.
again.
His allegations, once again, turned to his wife and mother-in-law.

He branded
both
Kim and Kris as white supremacists, after claiming that the pair put out a statement without his approval first.
He then went to say that he's been trying to divorce Kim for 2 years in the since-deleted tweets.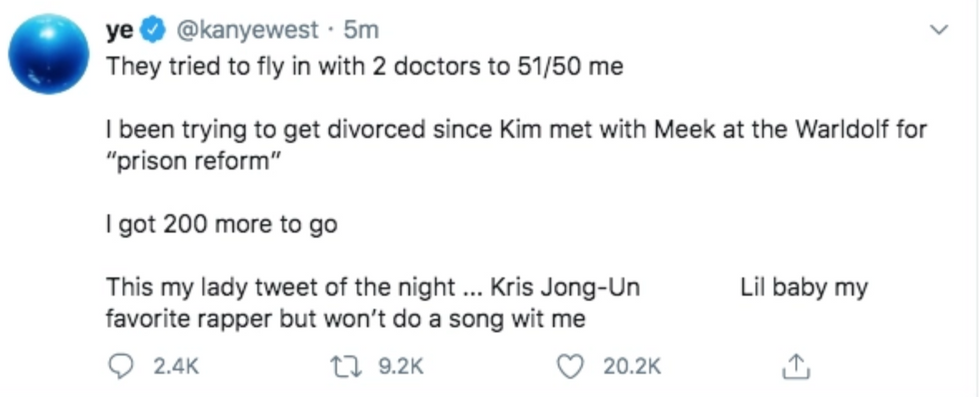 "I been trying to get divorced since Kim met with Meek at the Waldorf for 'prison reform.' "I got 200 more to go. This my lady tweet of the night … Kris Jong-Un. Lil Baby my favorite rapper but won't do a song wit me," he added.
He continued to slam his wife:

"Meek is my man and was respectful. That's my dog. Kim was out of line. I'm worth 5 billion dollars and more than that through Christ. But ya'll ain't listen to MJ and now ya'll believe them???"
During his rants, Kim has remained silent...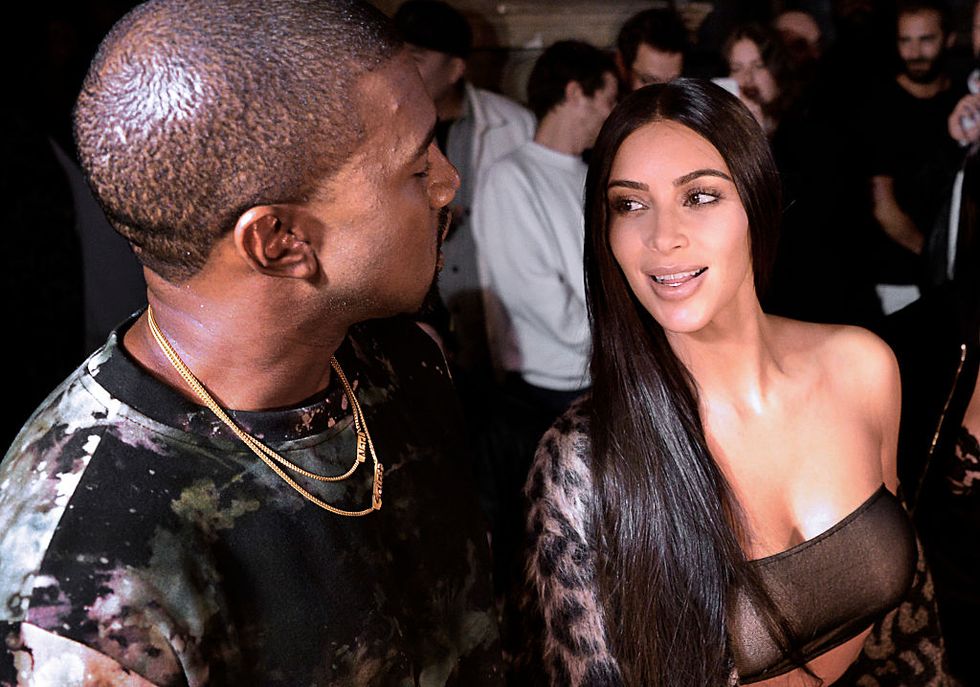 Which became somewhat of a cause for concern amongst her fans.
But then, after 3 days of silence across all of her social platforms, Kim spoke out.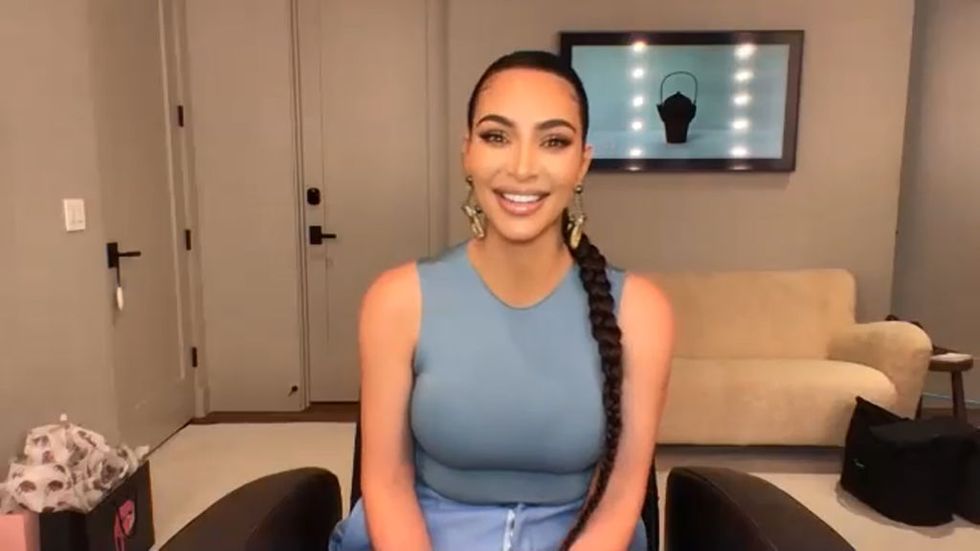 Taking to her Facebook and Instagram stories, the reality star released a lengthy statement.
Her statement started like this: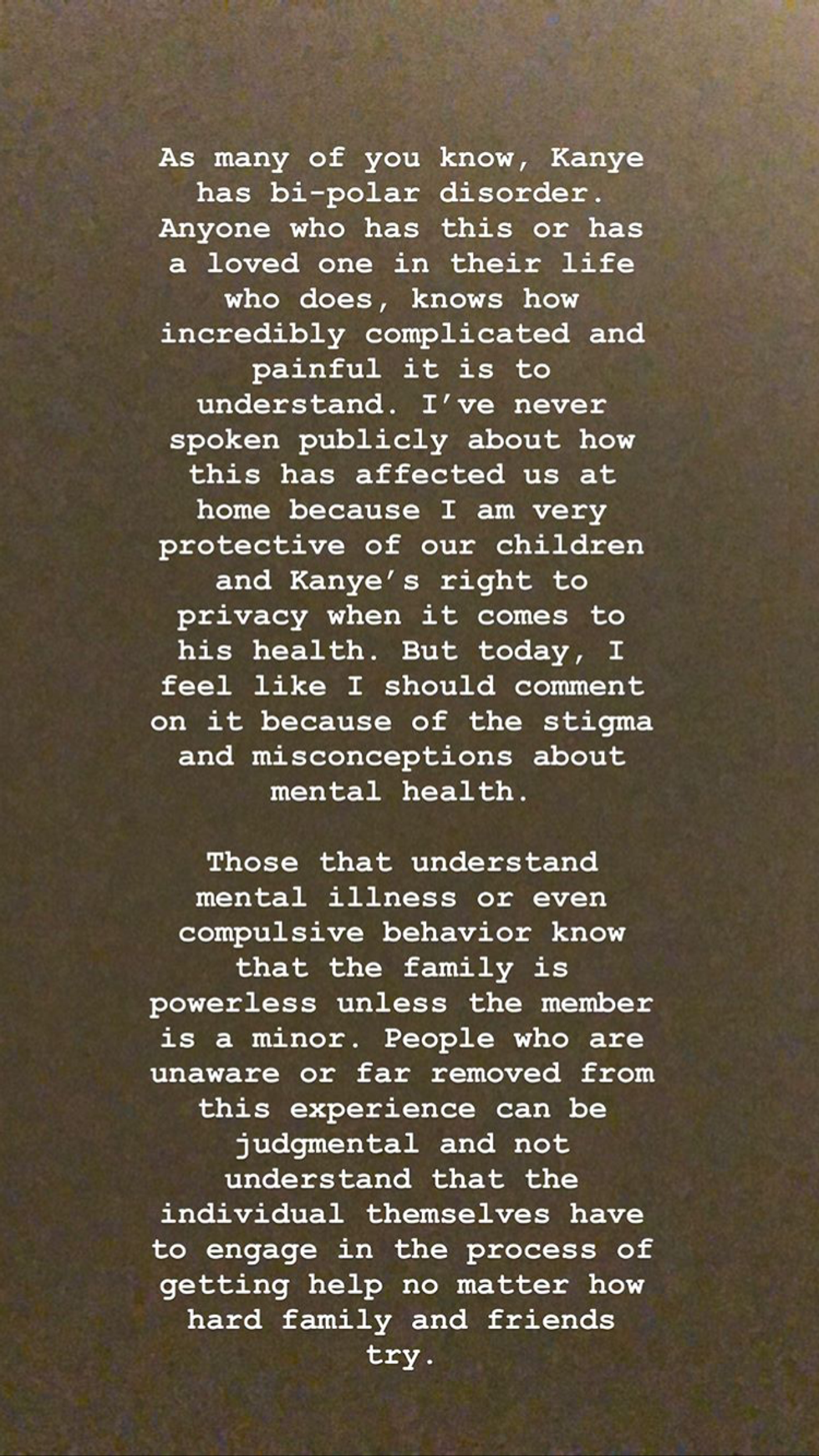 "As most of you will know, Kanye has bipolar disorder. As anyone who has this or a loved one in their life does, knows how incredibly complicated it is to understand." She then discussed how, in the past, she has respected Kanye's privacy regarding his disorder, and has remained silent in an attempt to protect her children.
She then went on to acknowledge her husband's complex, yet "brilliant" personality.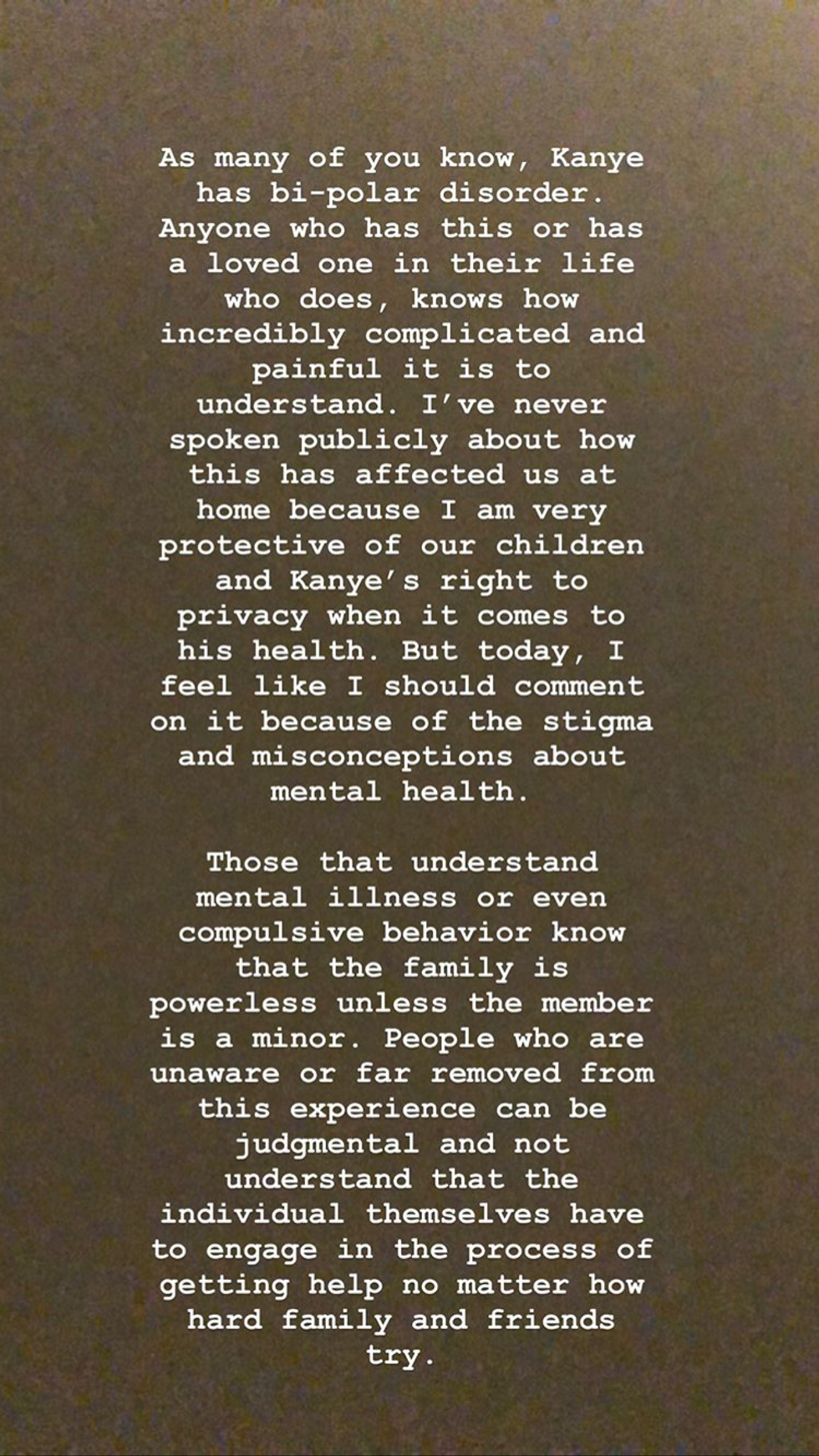 "Living with bipolar disorder does not diminish or invalidate his dreams and his creative ideas, no matter how big or unobtainable they may seem. This is a part of his genius, and as we have all witnessed, many of his big dreams come true."
She then went on to urge people to be more aware of mental health issues in our society...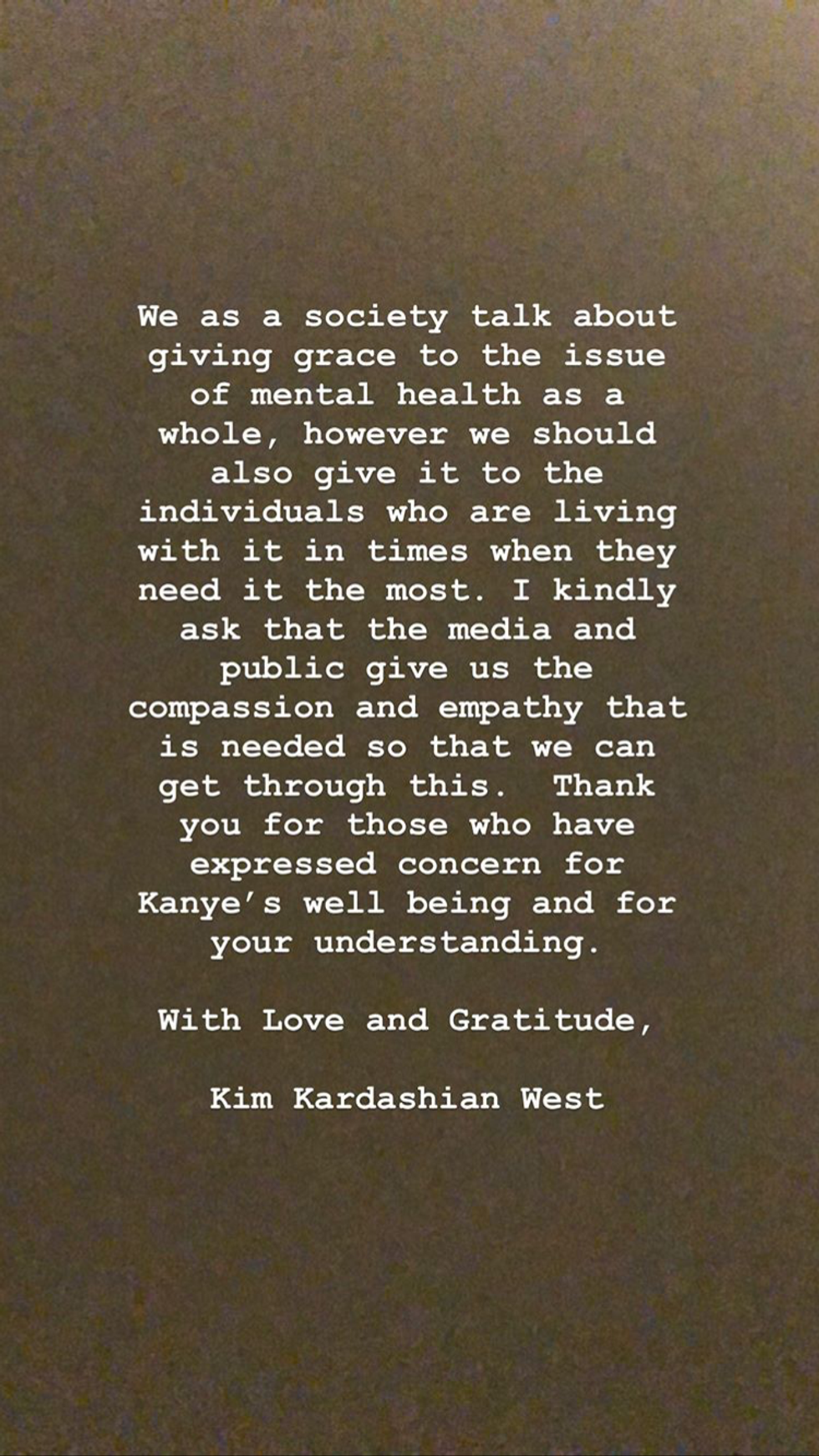 And thanked everyone so far for being so supportive and concerning for Kanye's health and wellbeing.
Kim's statement was widely applauded...
As someone who has bipolar disorder, I want to thank @KimKardashian for this dignified, respectful and compassionat… https://t.co/X70HnGoBLR

— Duchess Of Hastings™🇯🇲 מלכּה (@Duchess Of Hastings™🇯🇲 מלכּה)1595435042.0
And people commended the star for her "respectful" take on the somewhat sensitive topic.
And now, after a social media absence similar to her daughters, Kris Jenner has broken her silence.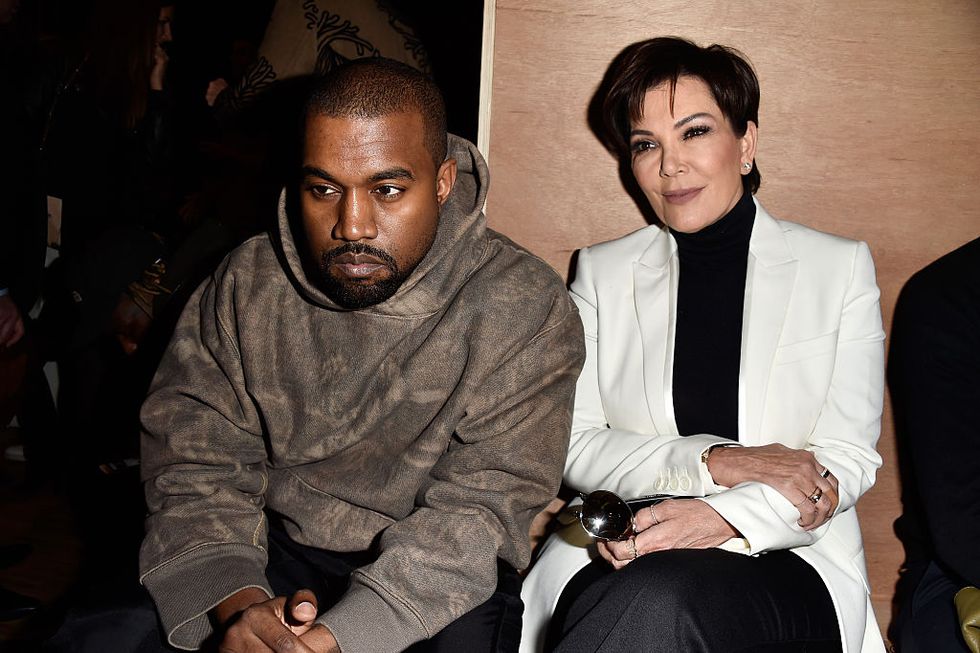 The momager was labeled as a "white supremacist" and nicknamed "Kris Jong-Un", in reference to the North Korean dictator, by her son-in-law, so people have been curious as to how she may be coping.
Well, it seems that Kris has been coping just fine...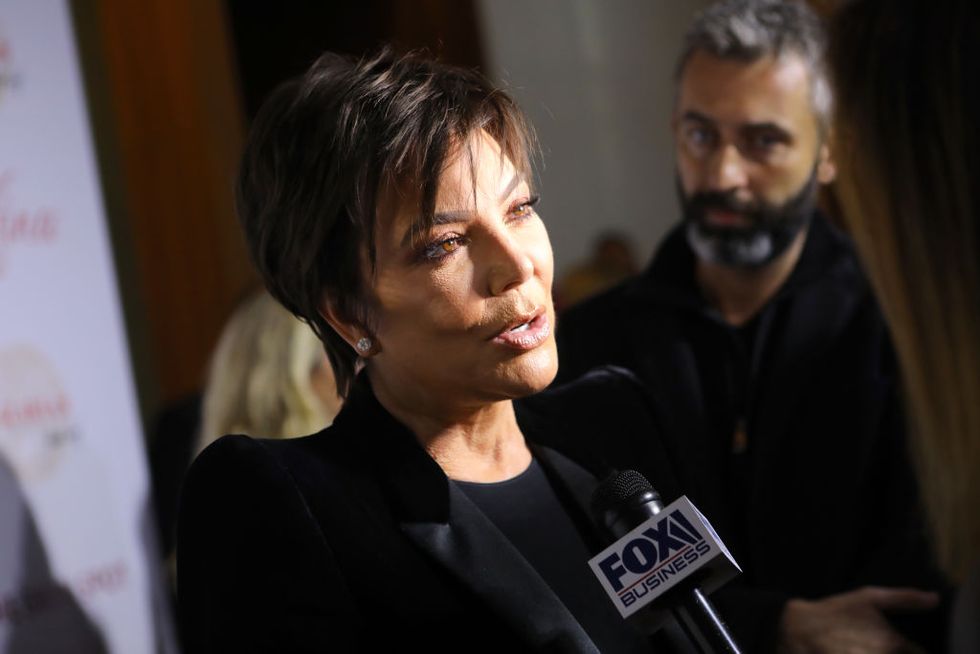 Well, going by her latest Instagram update, she has been.
After days of no activity, Kris is back.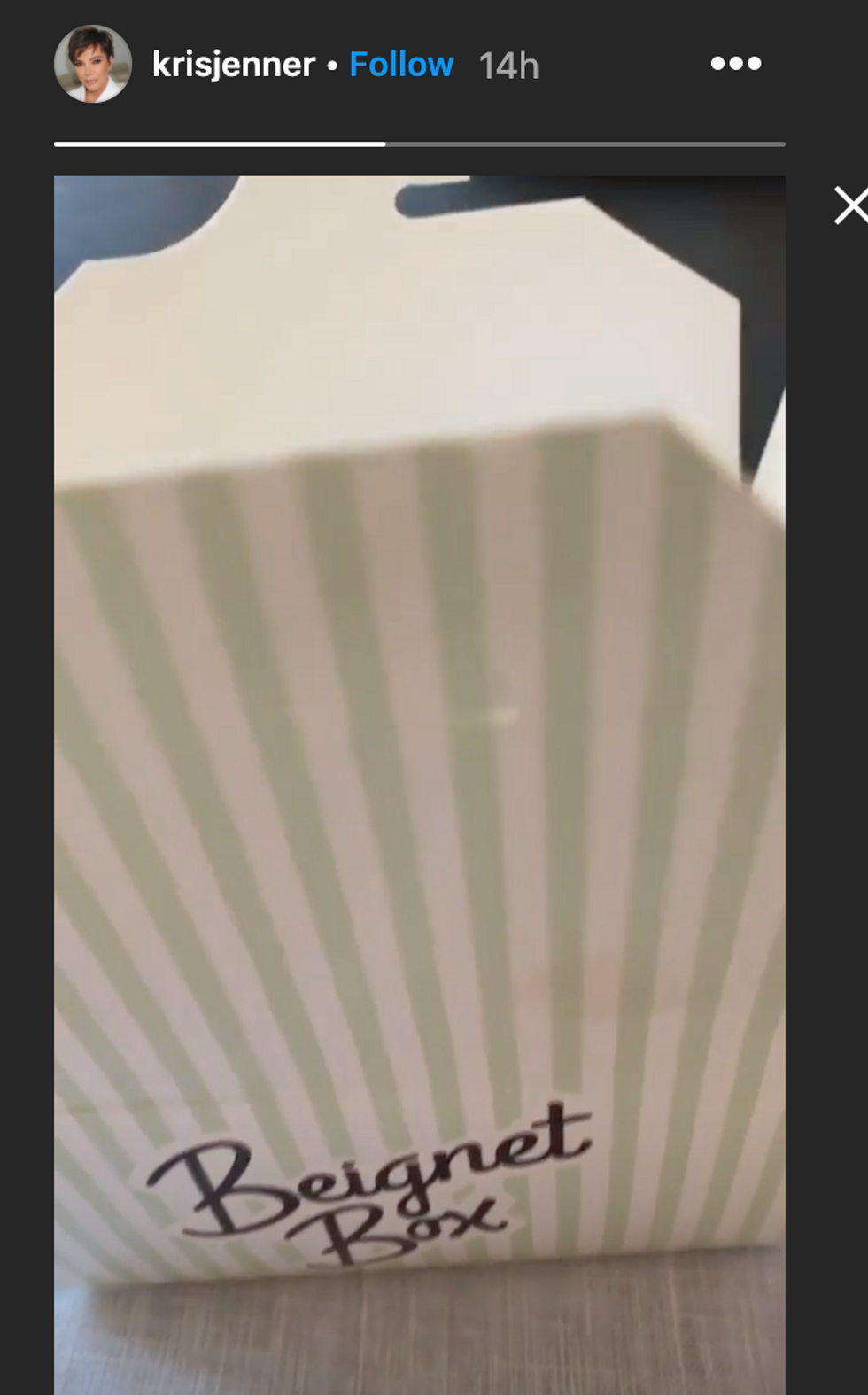 In a short video uploaded onto her Instagram Stories, Kris films her Beignet Box bakery delivery.
Feel-good music can be heard in the background...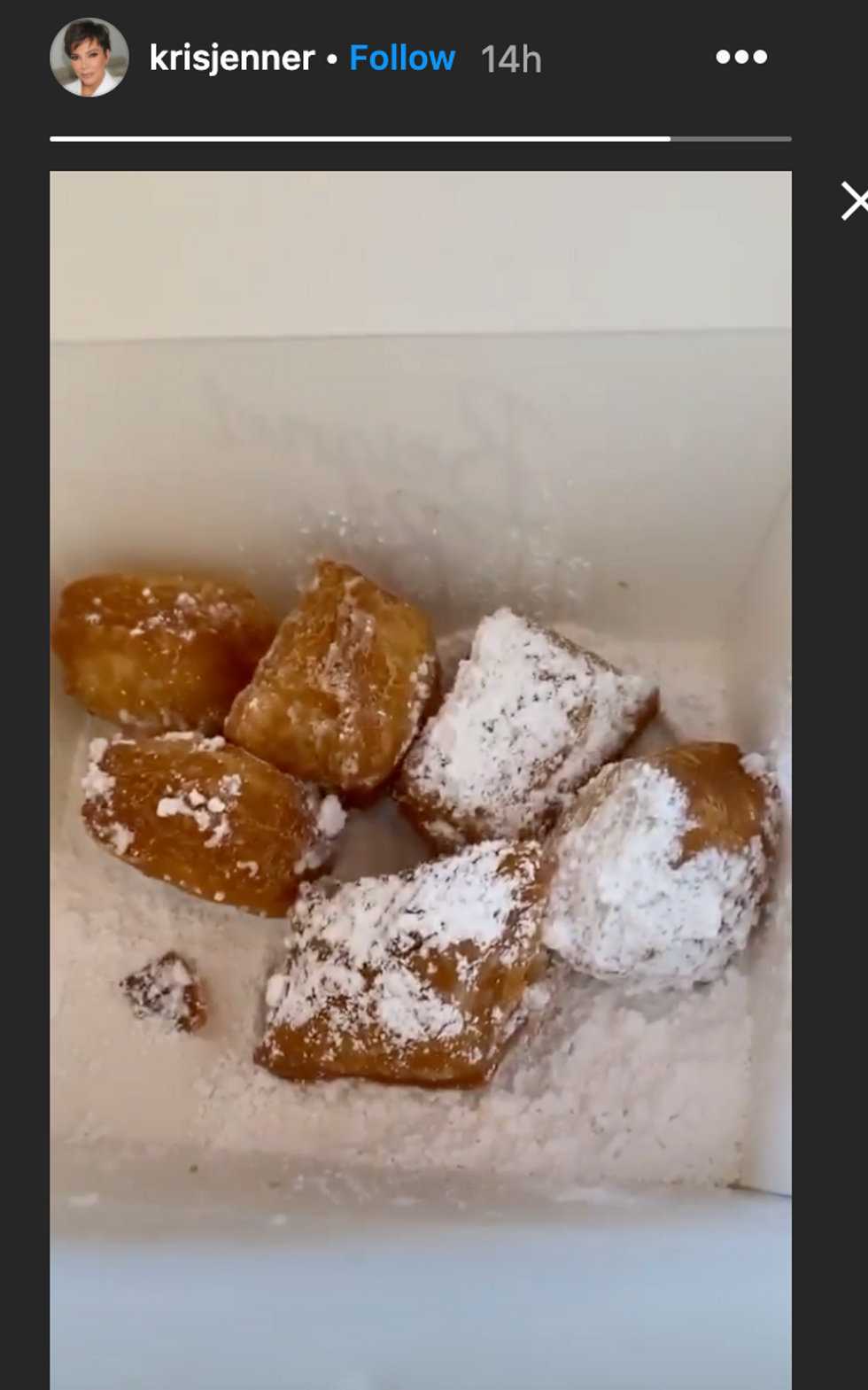 As Kris shows off her sweet treats in the box.
Very suspicious...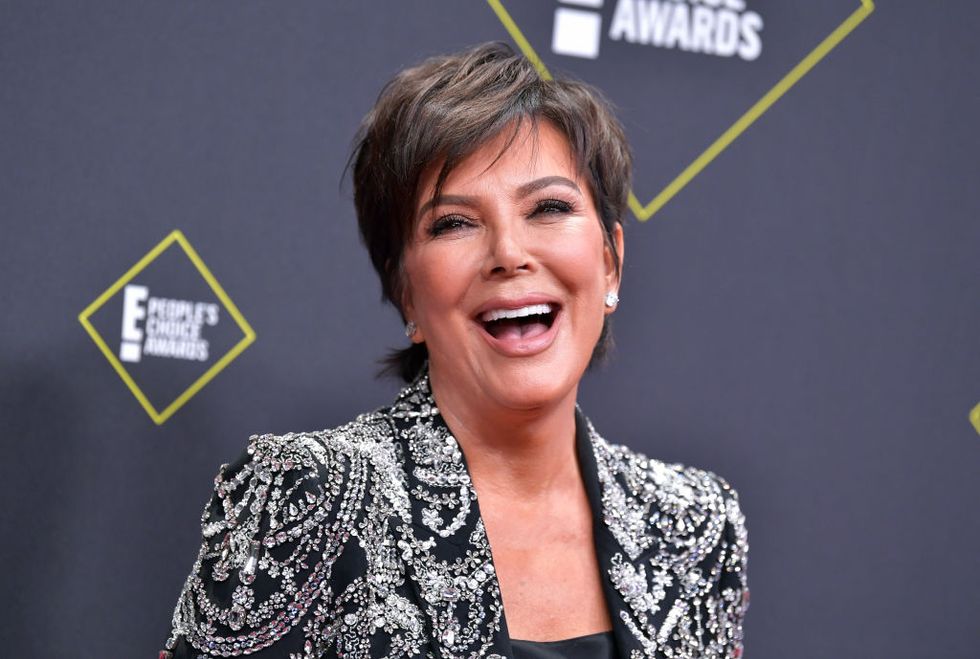 Kris is yet to release a formal statement as her daughter did but, for now, we can only hope that Kanye is getting the help he so desperately needs.