Well, everyone, it's almost St. Patrick's Day. And it may not be a 'get out of work and school' holiday, but we still have our fun. After all, it wouldn't be St. Patty's Day if we didn't buy, make, eat, and drink things that are as green as possible. What can we say? If you want the luck of the Irish, you've gotta work for it.
So before the day arrives, you might wanna check out some of the fun that awaits you. Stores everywhere are figuring out how to transform into a deep green wonderland! And that brings us to Krispy Kreme.
Krispy Kreme certainly has holiday traditions, like any other establishment. That means it's almost time for green doughnuts! Because it's not St. Patrick's Day if everything you eat isn't dyed completely green.
St. Patrick's Day is around the corner.
Now, it's actually a celebration of Christianity's arrival in Ireland. But for most of us, it means parades, bars, shamrocks, and green everything.
Seriously, Chicago turns its whole river green.
Because even on a holiday that isn't really about them, America goes hard.
As the saying goes, "Everyone is Irish on St. Patrick's Day."
Eh, after a bunch of beers at that St. Patty's pub crawl, it's probably impossible to tell who's Irish and who isn't anyway.
So stores everywhere are capitalizing on the St. Patty's mood.
And if you don't know how much 'green' food you can get your hands on...well, you're about to. It's not hard to do the holiday right if you know where to go!
Maybe you're after a different round, tire-shaped treat.
No need to adjust your screens… Green Bagels are back! 🥯 🍀 ☘️ Call your local Bruegger's to pre-order your green ba… https://t.co/SIIQM76sAJ

— Bruegger's (@Bruegger's)1551960010.0
Bruegger's Bagels will be baking up their annual batches of green bagels from March 15 through 17 this year!  Pre-orders for them started on March 7.
If you look, you can find deals for a drink or two.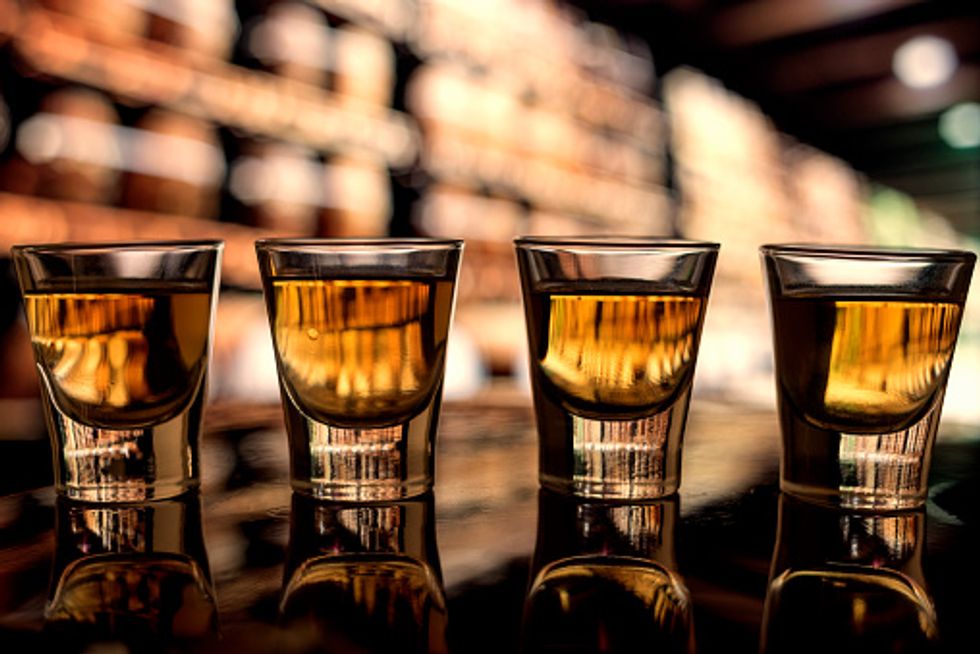 via: Getty
For St. Patrick's Day only, California Pizza Kitchen is serving $5 Irish Mules made with Jameson Whiskey.
McDonald's has an old, cult-favorite milkshake.
I drove 5 hours to get a Shamrock Shake #worthit 😂 @McDonalds https://t.co/l85qBxqOKN

— Manda (@Manda)1551905459.0
We're talking, of course, about the Shamrock Shake. The popular milkshake appears on McDonalds' menus every year mid-February and disappears again towards the end of March.
Are you a fan of Irish Creme?
Lucky you! Our Irish Creme coffees and Mint Brownie donut are back! Get them before your luck runs out ☘️ https://t.co/2NCjfH82oJ

— Dunkin' (@Dunkin')1551881488.0
Because Dunkin' Donuts is selling Irish Creme-flavored coffees and espresso drinks for your Irish-lovin' pleasure.
And of course, the green beer.
There's not even one 'main' place we can name here; green beer is just a huge thing on St. Patrick's Day.
Heck, you can make it yourself.
Green beer isn't rocket science. It's just yellow and blue food coloring. Just throw the food coloring into the glass before you pour the beer and boom! Green beer.
DQ has its Mint Blizzard.
Here it is: The créme de menthe of the crop. The Mint @Oreo BLIZZARD of the Month. https://t.co/zZYf2tvlrn

— Dairy Queen (@Dairy Queen)1552064011.0
Mint, chocolate, Oreo cookies...it sounds pretty refreshing, TBH.
Steak 'n Shake has one, too.
Every day should be this delicious. #NationalOreoCookieDay @Oreo https://t.co/hscsxbzt2s

— Steak 'n Shake (@Steak 'n Shake)1551898896.0
I mean, it's a pretty timeless combination of flavors.
AND so does Arby's.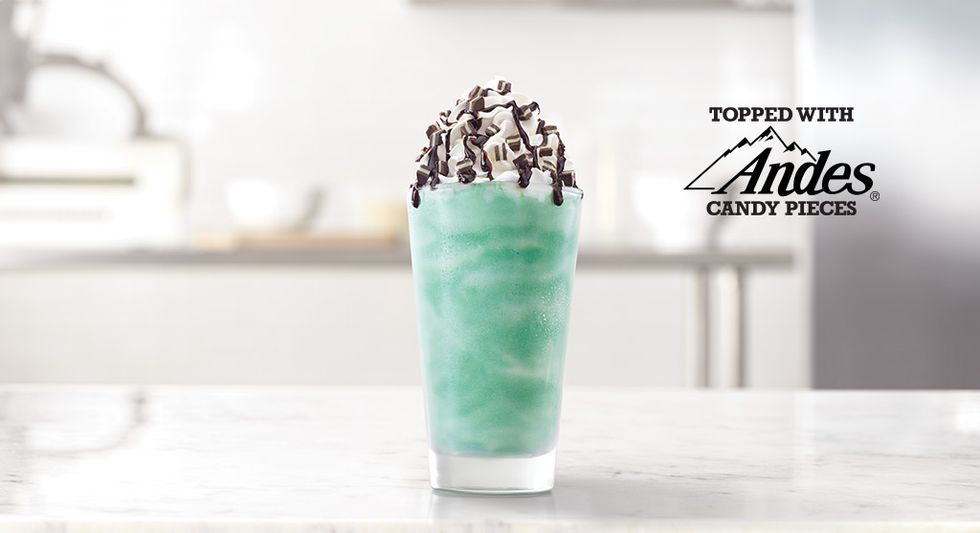 via: Arby's
You know what they say: don't fix it if it ain't broken. So it's basically just a question of which food you'd rather have 
with
the mint shake.
There are also more savory specials.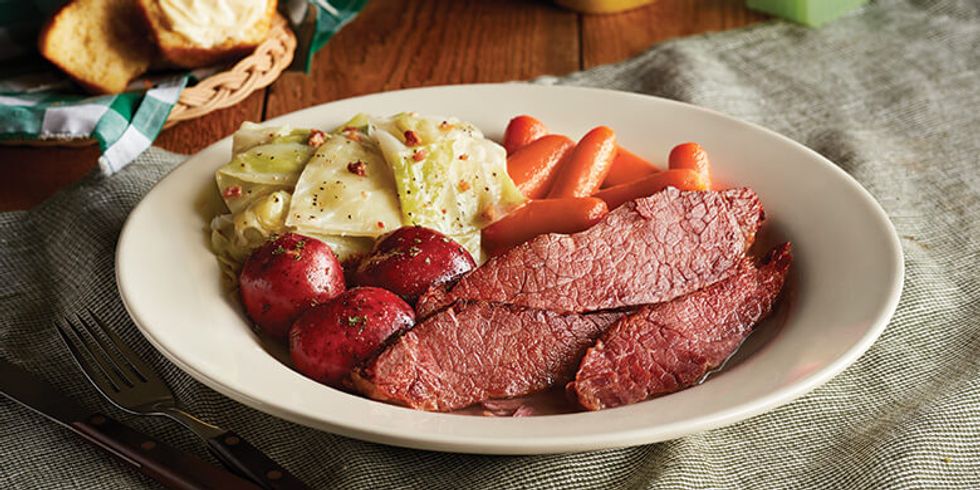 via: Cracker Barrel
For instance, Cracker Barrel's St. Patrick's Day tradition is a 'Corned Beef 'n Cabbage' special, available from March 11th through the 17th.
You may not be used to thinking of 'Chili's' and 'St. Patrick's Day' simultaneously.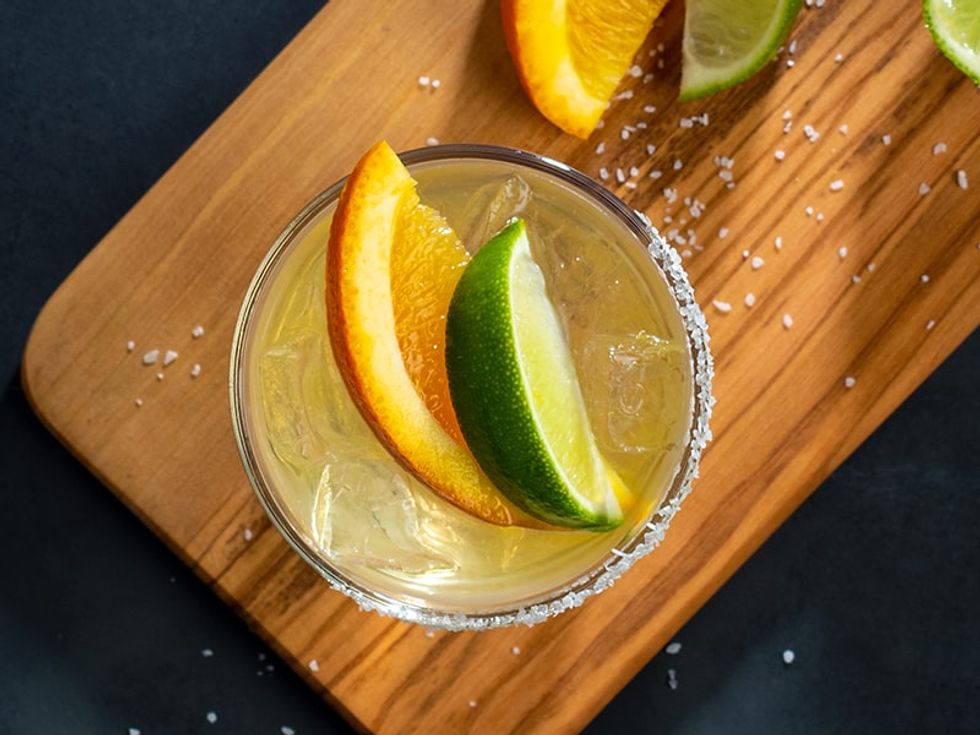 via: Chili's
But Chili's does have a month-long St. Patty's special: the $5 Lucky Jameson Margarita.
You could just go to the grocery store.
Forget following rainbows for a pot of gold, just follow directions to your nearest ALDI for these delicious Irish… https://t.co/2KoGyV2tNE

— ALDI USA (@ALDI USA)1550869272.0
Because Aldi is selling green cheese for St. Patrick's Day! And no, it's not just super moldy cheese. There are two 'green' cheeses for sale: a Pesto Gouda and an English Sage Derby. They're both about $4.
Aldi also has some cheese with another special twist.
No, it's not green. But it is infused with alcohol, which also qualifies it as a St. Patrick's Day special. The Irish Truckle Assortment includes an aged Irish cheddar, plus one cheese infused with whiskey and another with beer.
Or maybe you're more of a cookie person.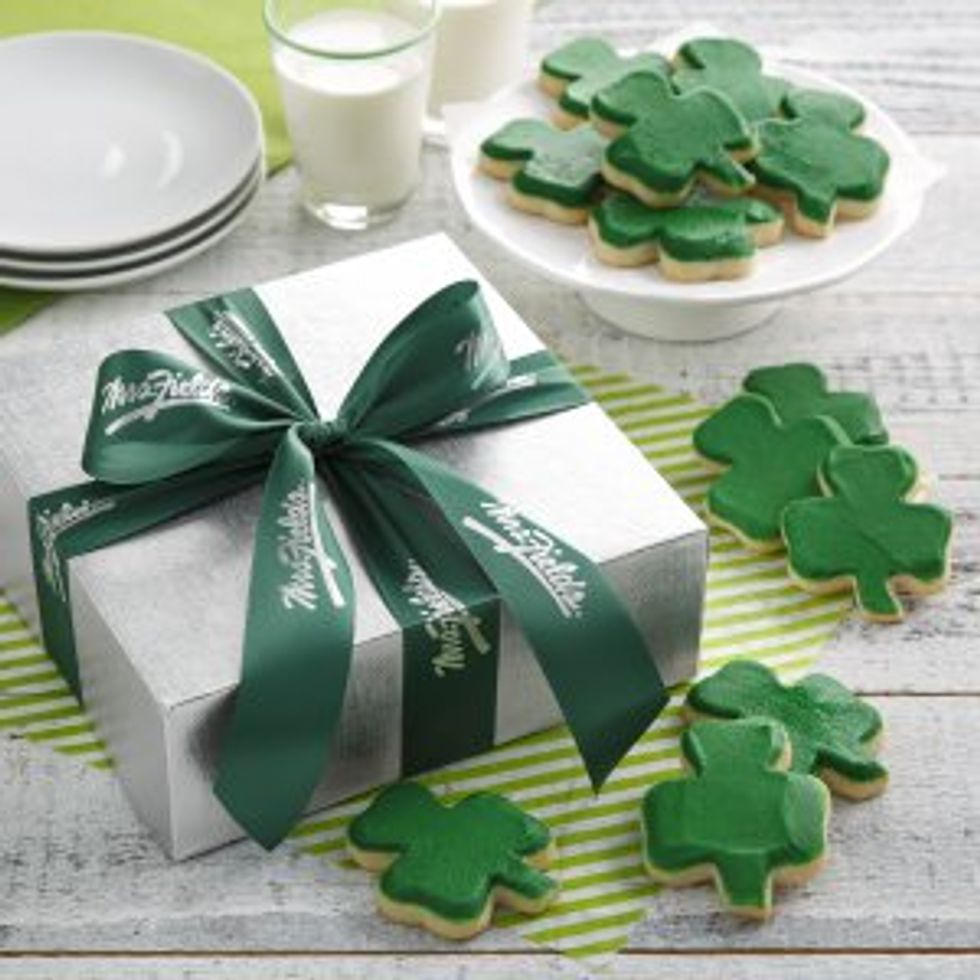 via: Mrs. Fields
There are plenty of those too, like a Mrs. Fields shamrock box.
But on to the star of the show!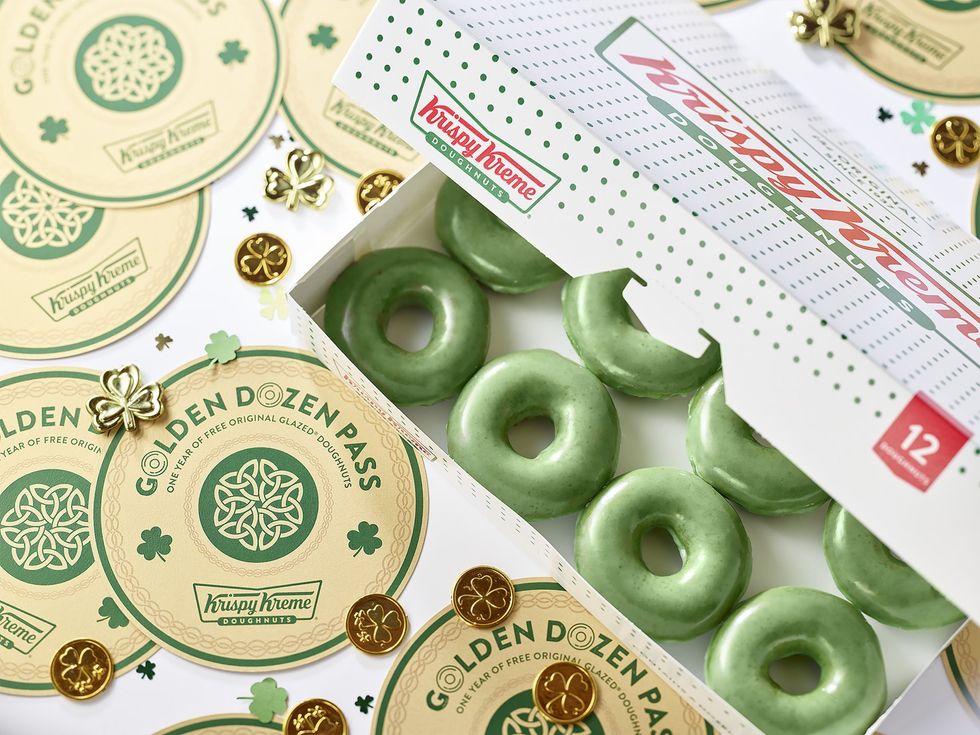 via: Krispy Kreme
Because starting March 15, doughnut giant Krispy Kreme is bringing back its green glazed doughnuts.
Last week, Krispy Kreme made the announcement.
Krispy Kreme #Doughnuts is going green for St. Patrick's Day https://t.co/Fk4TJz40mJ @krispykreme #StPatricksDay https://t.co/37tLF8pppZ

— ChewBoom (@ChewBoom)1457970057.0
You'll be able to get your fill of green sweet treats for St. Patrick's Day, as the green doughnut special runs through the 17th of March.
And you'll know what flavor you're getting.
The green doughnuts aren't some new flavor; it's just a colorful adaptation of the O'riginal Glazed Doughnut.
The green dough is specially formulated.
And then glazed. Voila! Krispy Kreme knows how to have a good time with its doughnuts.
They're also part of a special promotion.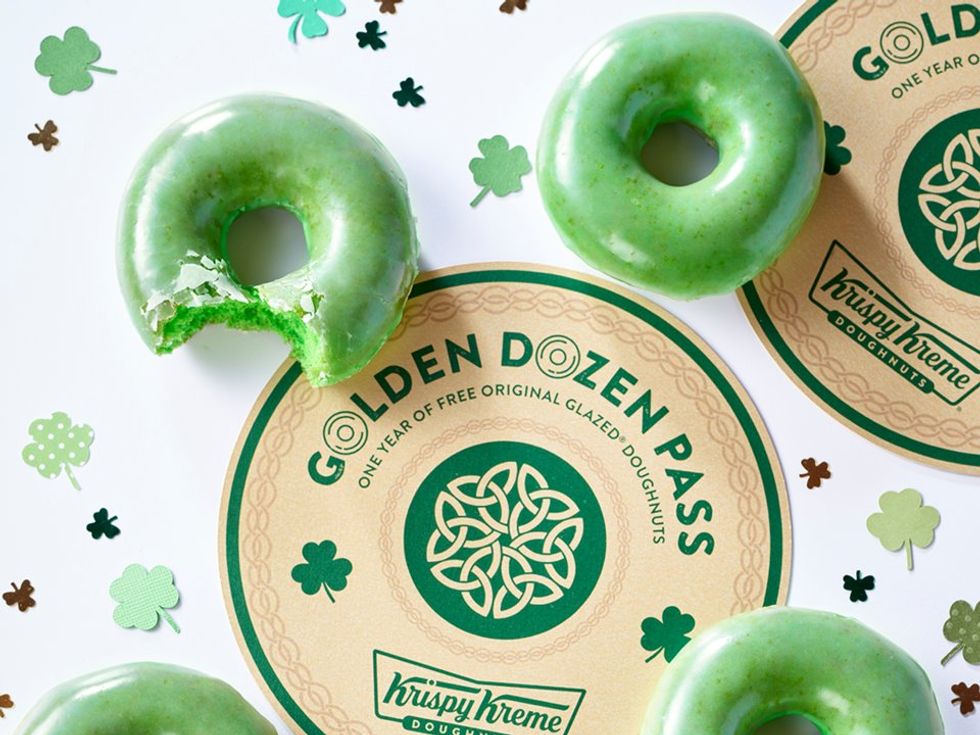 via: Krispy Kreme
Krispy Kreme is really taking the holiday spirit into account, kicking off a year-long giveaway of free doughnuts.
Krispy Kreme is taking a page out of Willy Wonka's book.
Although no, winners will not become the heir to the Krispy Kreme company. But there are 'golden tickets' involved!
To get one, visit Krispy Kreme on St. Patrick's Day weekend.
Everybody who does will receive a golden ticket, and some of those tickets will be selected as winners.
What will you win?
A years' worth of free doughnuts, of course. Specifically, a free dozen every month until St. Patrick's Day of 2020.
And there will be a lot of winners.
Krispy Kreme has promised that the number of winning golden tickets will be in the thousands. That's a lot of free doughnuts!
So if you're a fan of those glazed originals, this giveaway might interest you.
Dave Skena, Krispy Kreme's chief marketing officer, said, "What could be better than a green O'riginal Glazed doughnut? Not much. But free Original Glazed doughnuts for a year might do the trick. Stop by and maybe you'll end up with both."
Check out the green doughnuts getting their glaze on:
I don't know what you think you heard, but it
definitely
wasn't my stomach rumbling.
So, who's ready for St. Patrick's Day?!
The lesson of the day: whatever strikes your fancy, there's probably a green version of it being made for St. Patty's. Share this story with your friends and find out what their St. Patrick's Day guilty pleasure is!