There are few things in this world that are better than a dozen delicious doughnuts, especially if you get them warm and fresh. If you're a good old-fashioned American, then the best doughnuts around can't be bought anywhere: they're Krispy Kreme doughnuts. Which is why we're more than a little bit excited at the prospect of snagging a FULL DOZEN free Krispy Kreme original doughnuts (which are obviously the best of the best).
Lean in close. A little bit closer, we don't want this secret getting out to just anyone: you can get a free dozen Krispy Kreme doughnuts over the next two weeks. Get ready to celebrate the average week with some classic glazed doughnuts that would leave anyone salivating. Wipe your mouth, you're drooling. Then get in the car because we're going to Krispy Kreme RIGHT NOW.
You'll be drooling all week.
If there's one thing we know, it's that doughnuts make any week, day, hour, or even minute better. Honestly, you should probably be eating one right now.
Just look at those delicious babies.
We're about to make your week absolutely fantastic if you love doughnuts as much as we do.
FREE DOUGHNUTS
That's right we said it. Free doughnuts from Krispy Kreme through Jan. 27th. What a perfect world this is.
Few things beat a good Krispy Kreme.
Seriously look at that GIF. It's basically porn.
Straight from the Krispy Kreme's mouth
Want a FREE Original Glazed dozen with the purchase of any dozen? Sign up for Rewards today! https://t.co/kDGxQ6UJtJ https://t.co/ZZNaCqTE96

— Krispy Kreme (@Krispy Kreme)1547505070.0
They made the announcement on Twitter, and ever since I've been making plans to optimize my doughnut intake.
YES DOUGHNUTS YES
@krispykreme Yum 😋🍩💖🎉 Two loves in one 🍩 Will jump on this deal 🌟💕🍩 @krispykreme https://t.co/q5lwGZNobq

— Reality Love (@Reality Love)1547530227.0
We're not the only ones who are enthusiastic about this either. Twitter was INTO it.
Give me the deets!
So how do you go about getting your free dozen? Don't worry, we're getting to it. We just needed to stare at some sweet glazed doughnuts first.
Step One
Head over to
Krispy Kreme's website
. It's very easy to get distracted at this point but stay on task. You're not here to drool, you're here to get FREE STUFF.
Step Two
Sign up for a Krispy Kreme membership. Sure it's one more membership, but it's free plus you get other bonuses like a birthday doughnut!
Step Three
You'll get a coupon for buy a dozen, get a dozen! It's as simple as that. We haven't even gotten to the good stuff yet either.
Step Four
Ok, here's the tricky part. But also the best part. You have to pick which flavor of doughnuts you want to buy because you can buy ANY dozen and still get a dozen originals free.
That's easy!
.@krispykreme makes over 32 varieties of doughnuts 😋 https://t.co/cUlY7JIu7k

— Food Insider (@Food Insider)1547490600.0
Or is it that easy? Krispy Kreme has a full 32 kinds of doughnuts. That's a LOT of choices.
A chocolate glaze collection?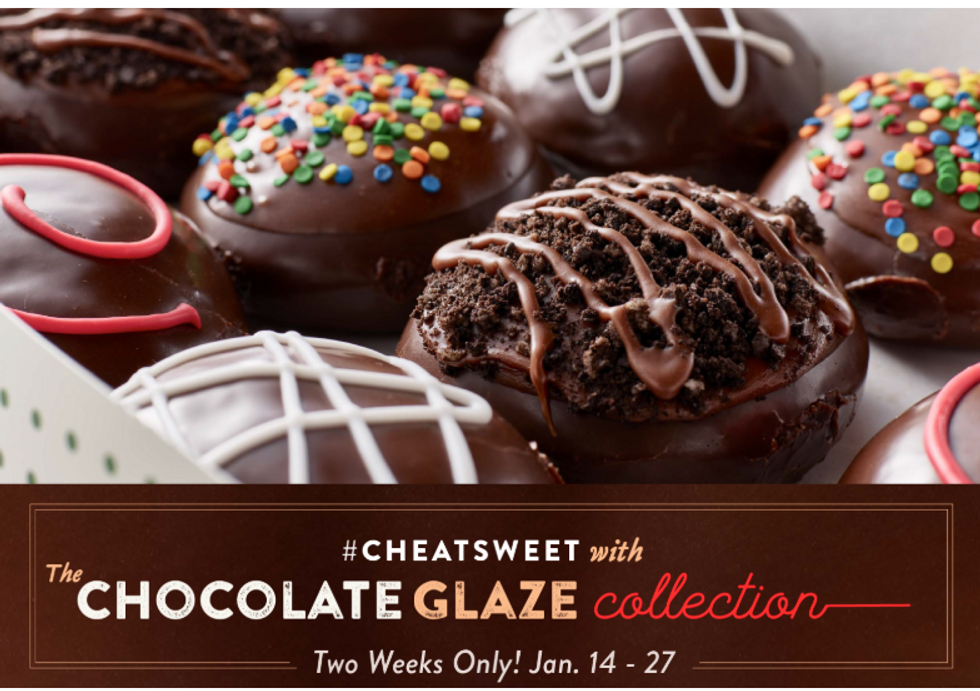 via: Krispy Kreme
What's that you say? They've recently introduced a new "chocolate glaze collection" that includes Oreo and Cookies and Kreme? Ok, maybe this decision will be harder than expected.
Part of your balanced breakfast
Resolutions that include cheating are 100X more delicious! Trust us. Try our Chocolate Glaze Collection! In shops… https://t.co/GxJ3FUzgwK

— Krispy Kreme (@Krispy Kreme)1547590020.0
They're making some pretty convincing arguments over on Twitter about how important it is to include doughnuts in any healthy diet.
Step Five
PROFIT. By which I mean EAT YOUR doughuts.
Savor those flavors.
The options with TWO DOZEN doughnuts are endless. Bring one dozen to work and keep a full dozen for yourself? Eat them all in a single sitting? Give them out to random people on the street?
Explore new doughnut-eating techniques
You can even think far outside the box for new ways to engage with your doughnut. Bobbing for a doughnut? Doughnut castles? The limit does not exist.
It'll be a wild ride.
Prepare yourself for a true doughnut journey.
Rude Krispy Kreme
Of course, there are a few holes in this system. What if you're already a member? Is your loyalty being discounted?
Is BOGO the same as free?
In fact, the true question here is whether or not BOGO actually truly counts as free since you DO have to buy something.
Free enough for me.
But enough griping. Krispy Kreme has given us a gift here and we're not about to look a gift doughnut in the mouth.
We've still got some decisions to make.

via: Krispy Kreme
There are a LOT of doughnut varieties and we need to make some decisions. If you're not into chocolate you can always grab cake batter.
Or maybe you're more into fruit?

via: Krispy Kreme
They've got strawberry icing, they've got raspberry filling, they've got lemon filling, they've got apple filling, they've even got blueberry filling. So many fruits, so many choices.
CHEESECAKE?

via: Krispy Kreme
What hasn't Krispy Kreme done?
Break that resolution!
I mean sure, it might be the new year, and you might be trying to keep up that diet, but is it worth it?
Heck no!
Sugar makes the world go round, so you better get in on this action.
Stop dreaming.
I mean don't stop reading this A+ article, but when you're finished it's DEFINITELY time to hit up your local Krispy Kreme.
Start acting!
Turn that dream doughnut into a real one. In your hand. That you're eating.
Whatever you do, make sure you enjoy your doughnut.
And don't forget that this only lasts through January 27th. Get that membership now!
Happy doughnut-ing!
Also, don't forget that your friendly
22 Word
s writer is always a happy recipient of any Krispy Kremes.