Well, folks, it's that time of year again! No, not Christmas. It's time for a giant sale on delicious Krispy Kreme doughnuts! The famous doughnut chain holds this tradition annually– and they just announced the date for this year.
So, keep ready to find out everything you need to know about this sweet deal. And we won't just leave you with that, because deals and specials are everywhere this time of year. We've also gathered up several good dates to find free sweet treats throughout the year. Because it's never the wrong time to track down a free doughnut– or five!
Happy holidays, one and all.
You can never have too many doughnuts.
Here's the sweet deal.
You'll be able to walk into any participating Krispy Kreme, and order a dozen doughnuts—and then you can get another dozen for $1!
It's one day only.
December 12th (a Wednesday) is your timeframe to take advantage of the deal. The window closes fast, but the reward is worth it.
There are rules to this.
Namely, that the $1 dozen are all original glazed doughnuts. But honestly, those ones are the best.
After all, the first dozen can be anything you want.
Do the math.
Because when you do, you realize that with the deal, you're paying about 42 cents per doughnut. Now, that's what I call a
sweet
deal.
Get all the doughnuts!
So why have 12 when you can have 24? We'll call it a Christmas gift to yourself.
It's Krispy Kreme's annual holiday promotion.
And that's not all they're doing for Christmas– check out these next mouth-watering holiday treats.
Are you going to an ugly Christmas sweater party this year?
Try bringing along ugly sweater
doughnuts
. Krispy Kreme has a new doughnut designed to look like an ugly Christmas sweater!
It's dipped in green icing, sprinkled with confetti, and topped with icing designs and candy pieces.
Another favorite is returning.
There are others, too.
And, like the other deal, the doughnuts are only there for a limited time.
Not as limited as the dozen for a dollar deal, but still. Christmas doughnuts are only available until December 24, so grab them while you can.
In fact, the holidays are just a good time to find specials and deals.
Krispy Kreme isn't the only nationwide chain doing it. Applebee's has a similar deal for their drink of the month– the "Dollar Jolly."
The Dollar Jolly is Christmas-themed, and flavored like Jolly Rancher candy.
You only need a dollar to de-stress.
You've got two flavors to choose from. Cherry or Green Apple. The drink is pretty much Jolly Rancher-flavored mixers with vodka.
Plus, there's a Jolly Rancher served on the side.
So if you're a fan of the famous hard candy, you'll definitely have a holly jolly Christmas!
Meanwhile, Taco Bell has an unorthodox holiday angle.
No special sales, but a pretty unusual product. Taco Bell is getting into the onesie game!
They're Taco Bell-holiday onesies.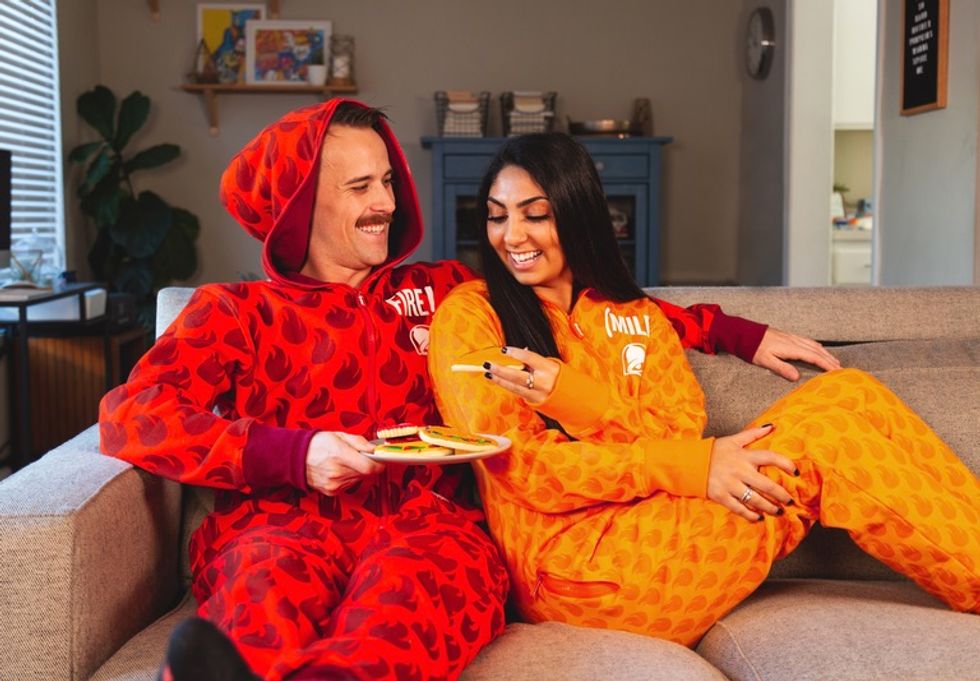 via: Taco Bell
In case you don't have enough Taco Bell in your life already, you can grab a sauce-inspired onesie (they come in mild, hot sauce, and fire sauce styles).
They're bizarre but comfy.
As a gift for only the most devoted of taco-fanatics, the onesies also have funny messages printed on the back—like "I'M SPICY, DEAL WITH IT."
If you know when to look, you can find freebie foods year-round.
You might think that the only holidays worth knowing are the biggies. But, it turns out, knowing when National Popcorn Day falls could be rewarding after all!
National Popcorn Day is in January, BTW.
Every year on January 19, many malls and movie theaters will hand out free bags of popcorn. So plan your movie trips accordingly!
On March 14, we celebrate International Pi Day.
You can find free slices of pie in restaurants like Waffle House and Village Inn. Plus, tons of pizza places have deals to check out.
You can get doughnut deals at least twice a year.
That's because National Doughnut Day is June 3, and some chains (Krispy Kreme among them) have given away freebies in the past.
Follow that up with some ice cream.
July 17 is National Ice Cream Day, and you can keep an eye out for some nice deals at places like Friendly's and Carvel.
Do we really need a National Hot Dog Day?
Americans collectively eat roughly 20 million hot dogs each year, so you may as well honor that on July – and look up deals at your local Sonic.
Morning coffee is very important. It sets the tone of your whole tone of the day!
Well, September 29 is National Coffee Day, and places like Dunkin' Donuts, Krispy Kreme, and Waffle House can give you a cup of joe for free.
There's also a National Dessert Day.
Because we can't
just
individually appreciate various sweet treats; we also need a day to appreciate all of the sweet treats. On October 14, various restaurants will hand out anything from samples to free treats!
We round out the year with National Cookie Day.
Free cookies are really a dream come true, and on December 4, bakeries like Insomnia Cookies do just that!
The more you know…
…the more free stuff you can get! With deals like this, picking up sweet treats has never been easier. Interested in getting in on the doughnuts? Share this story with other people who might be as well!