Kristen Bell is the proud mom of two daughters, Lincoln, 6 and Delta, 4.
The Good Place actress opened up this week about her family's Christmas traditions and how she told her oldest daughter, Lincoln, the truth about the man in red.
Frankly, if any parents out there don't quite know how to have this conversation, I'd recommend you take a page out of Bell's book.
Kristen Bell sure seems to have this parenting gig down.
Kristen Bell is the best person.
If there's anyone who you might want to take parenting advice from I'd say Kristen Bell was a safe bet.
Co-parenting goals.
These two absolutely adore their kids.
Christmas is a special time for the Shepard-Bell household.
ET
in 2016 about what the holidays mean to her, Bell said: "Just before Halloween, [I] start thinking about Christmas. It just makes you feel so good. My family was always really into Christmas and my husband and I decorate like crazy."
The whole family went as Christmas for Halloween this year.
Even the dog got dressed up!
Kristen doesn't believe Christmas should be stressful.
Woman's Day this month, Bell insisted that "It's tempting to think that everything has to be perfect. But if we decide at 2 p.m. on Christmas Eve to order takeout instead of cook, I will have a smile on my face."
Being a parent is no easy job.
Telling the truth about Santa is a tough one.
Ugh...had the "Santa is not real" talk with my 8-year-old son last night (after his probing inquiries...he seemed r… https://t.co/mr2aw4IdF2

— Jason Farman (@Jason Farman)1574175222.0
All parents know that having this difficult conversation with your kids can be a tricky one.
It's a difficult conversation for kids too.
Biggest dissapointment of my life was finding out Santas not real. Like thanks Dad for lyin to me for a solid 8 years.

— Nicole (@Nicole)1354064866.0
It seems as though some of us never got over finding out the truth about Santa Claus.
Parents never like being the bad guy...
And if revealing the truth about Santa is going to crush your kids, naturally, you'd rather not burst their bubble.
For some, Christmas is Santa Claus.
christmas got worse and worse since finding out santas not real

— B.A.D (@B.A.D)1324775660.0
It's this kind of Santa focussed Christmas perspective that Kristen Bell didn't want her kids to develop.
Kristen Bell doesn't consider herself the perfect parent...
"I'm not a good mom, I'm not a bad mom, I'm the mom I am and I try very hard and when I fail, that's okay." - Kristen Bell

— Riffie (@Riffie)1502302882.0
But by heck does she try her best. Bell gave her Santa talk
a lot
of thought.
Kristen Bell didn't tell Lincoln that they had been lying to her...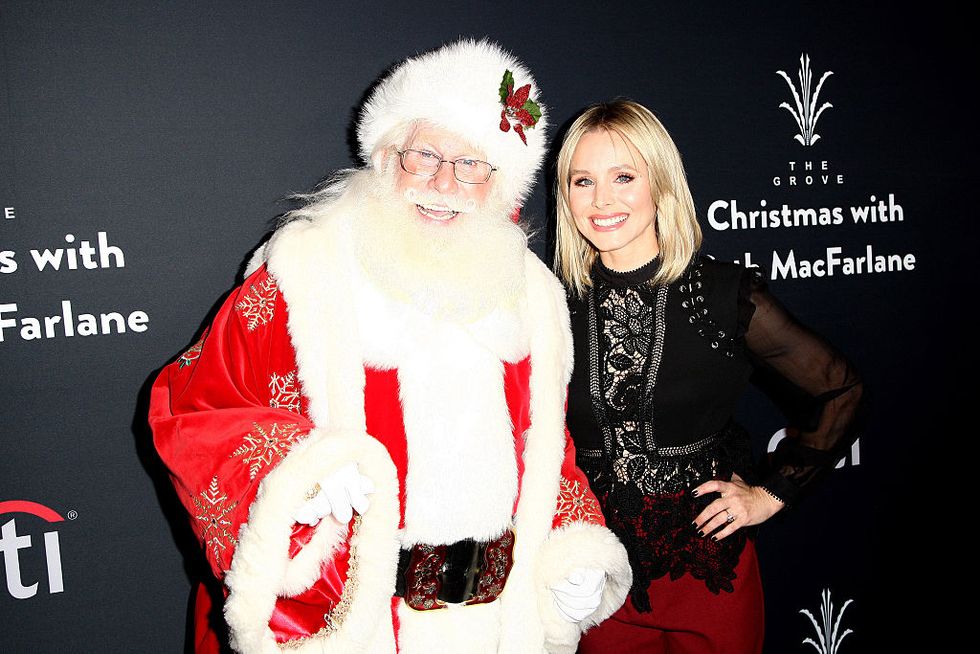 via: Getty Images
Instead, Bell explained that Santa is "an imaginary game we play because it's really, really fun." This gives her the opportunity to join in with the game too. We love this idea, Kristen.
It's all just fun and games!
I mean, Kristen Bell makes it all seem so easy. I guess that's the sign of a good parent. Continue scrolling to read about how Bell and her husband Dax were so busy they forgot it was their wedding anniversary. Those guys!