Since its launch in 2013, Frozen captured the heart of Disney audiences with its breathtaking scenery, heartwrenching songs, and beautiful message of love. And its much anticipated follow up, the imaginatively named Frozen 2, has been getting a similarly positive reception since its release.
One of the reasons the Frozen franchise has taken off so much is thanks to its adorable stars, including internet favorite Kristen Bell. And in one of her promotional interviews for the Frozen sequel, she opened up about the emotional undertones of the movie, particularly for a certain type of audience member.
Keep scrolling to find out more about the upcoming film, and its positive messages...
When it comes to heartwarming movies, there's one company that rules them all.
Disney has given us some absolute classics over the years. If you're feeling down, there's nothing better.
And a surprisingly recent addition became an instant classic.
Frozen came out in 2013 to massive critical and commercial success - and it's not hard to see why.
It gave us some incredibly cute new characters.
Olaf, the hapless snowman became an instant fan favorite - but badass sisters Anna and Elsa also had their fair share of praise.
Frozen also had some incredible tunes.
Including this Oscar winner.
But perhaps the underlying reason for its success?
It has to be the incredibly positive and important message the movie sends. It's all about sisterly love, independence, and individuality.
But there's another reason Frozen was so popular.
Its incredible casting. Idina Menzel absolutely killed it at Else, but Kristen Bell's Anna truly captured all of our hearts.
And so, it made sense ...
That such a popular and acclaimed movie deserved a sequel. And this year, Frozen fans were finally blessed.
But aside from being totally hilarious...
Bell is also eminently adorable. And her latest interview proves just that.
It concerns a certain character in the upcoming movie.
Kristoff is the closest Frozen has to a male lead. He also plays the love interest of Kristen's character Anna, FYI.
One of her interviews happened earlier this week.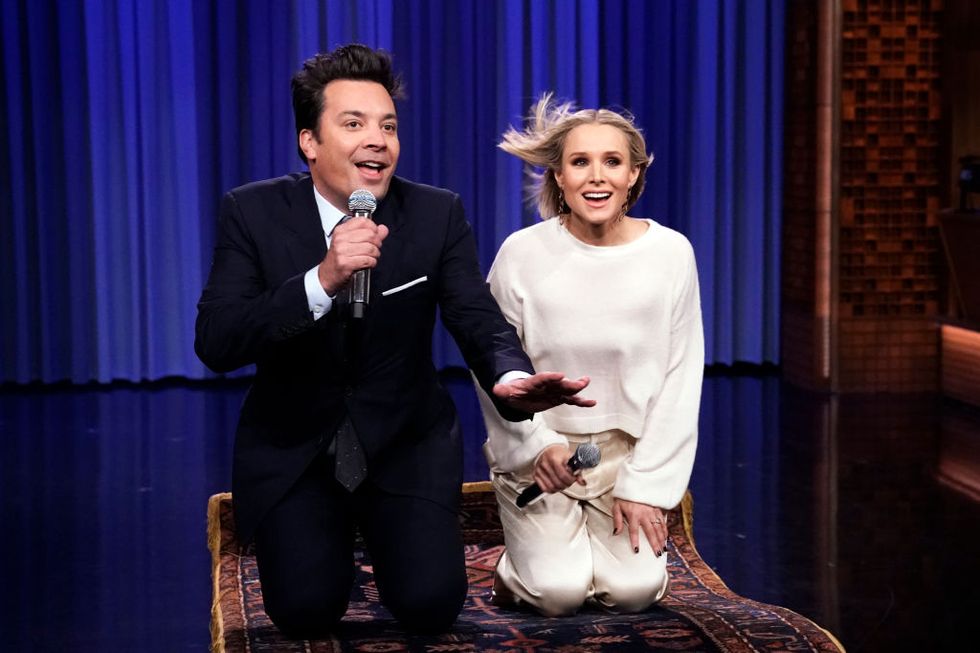 via: Getty Images
Bell appeared on 
Jimmy Fallon 
to promote her upcoming movie - and she offered something of a spoiler.
It's clear Bell is proud of the movie.
But there's one aspect, in particular, she's a huge fan of.
She claimed there was one aspect of the first movie she particularly loved.
The relationship between the two sisters - and the promotion of this type of familial love, rather than the prevalence of romance.
In Frozen 2 romance takes a more prominent role.
This means Anna's love interest Kristoff is set to get even more screentime.
But Bell thinks even this is handled correctly.
Because it's not all about Anna pursuing the dream of true love. Rather, Kristoff is depicted as vulnerable and emotional, too.
"Kristoff has a song that is going to blow your mind."
"It's called 'Lost in the Woods' and it's about his big feelings for Anna."
And Bell thinks this song is really important.
"Little boys don't often see a representation of other boys having really big loving feelings, and there's a line in the song that says 'You feel your feelings, and your feelings are real'."
She thinks this sort of representation is massively important.
"He rescued Anna at one point and he's in the midst of battle. Then, he looks at her and the first thing he says is, 'I'm here, what do you need?' He doesn't say, 'stand back, I've got this,' and I stood up when I saw that and was like, does anyone know how profound that line is?"
Even better?
Towards the end of the film, Anna apologizes to Kristoff and he responds, "It's okay, my love is not fragile." Awww.
Here's the full, very cute interview.
Want more Kristen Bell Frozen content? Scroll on for the costume she made her daughter dress up in.