After loyally campaigning for Joe Biden, Lady Gaga has faced the wrath of the internet, who have accused her of some very questionable things...
Lady Gaga has made her political views very well known over these last few months.
In the run-up to the ongoing presidential election, the pop icon has been strongly standing by Democratic candidate, Joe Biden.
However, as a result of her unwavering support...
Gaga has faced an awful lot of criticism as of late, with some people even accusing her of "witchcraft." Their accusations really do have to be seen to be believed...
Now, Lady Gaga wasn't always known for her political stance.
Born Stefani Joanne Angelina Germanotta in 1986, in New York City, the singer has gone on to rise in the ranks of the celebrity world as one of the most unconventional and unique artists of this generation.
Gaga started learning piano from a very young age...
Though it wasn't until she dropped out of Tisch School of the Arts at New York City University that the Lady Gaga persona was born.
After ditching college to manage her own career, Gaga well and truly got stuck in - transforming herself from Stefani to the global sensation-to-be... Lady Gaga. Her over-the-top fashion sense, and sheer grit, quickly gained attention and she signed with Akon and Interscope Records to work on her debut album - released in 2008.
Her 2008 debut hit single "Just Dance" secured her global fame.
The star made her mainstream breakthrough with her grammy-nominated single "Just Dance," which propelled her to commercial and musical stardom.
And, ever since, she has continued to deliver hit after hit.
It seems like everyone knows the words to anthems like "Born This Way," "Edge of Glory," and "Poker Face". There's no doubt that she reigned supreme in the '10s music scene.
Album's such as 2013's ARTPOP and 2016's stripped-back Joanne haven't had the same sucess as their former chart-topping precessdors...
But her long-anticipated Superbowl half-time show performance  (aka one of the biggest and sought after gigs you can land) in 2017 reignited some popularity with such tracks.
But her music isn't the only thing the pop icon is known for...
Her eccentric, outlandish fashion sense became a huge part of her identity and something that she quickly started being known for.
In the first years of her chart-dominating career, her fashion choices gained her just as much attention as her music...
And you have to admit, you can't blame people. After all, even her street-style ensembles were full-blown works of art. "Casual" and "paired-back" are clearly foreign concepts to the pop powerhouse - and that's what makes her so great. It's boring to be conventional.
But, Gaga recently admitted that she used to try and shock people with her eccentric looks to gain attention.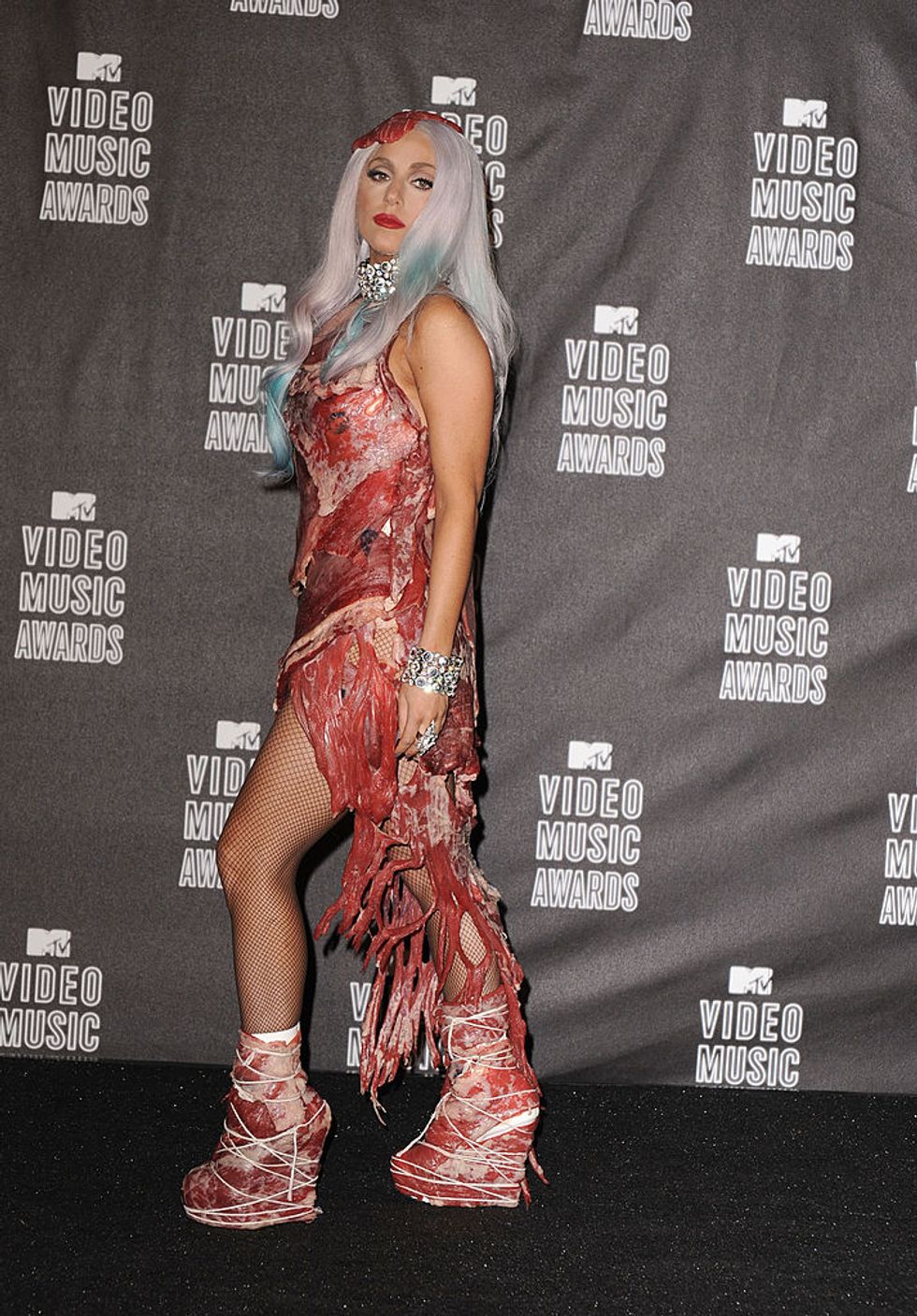 via: Getty
"I used to try to wrap my brain as heavy as I could around what I could do to...Instead of being shocking (I used to say "shock art" or "performance art"), I would use the word "bemuse," which is basically putting the audience in a state of confusion where they can't look away. I used to just go, 'What am I going to do next to get people's attention?'," she
explained
to Oprah. You only have to look at likes of the meat dress (which Gaga says she didn't actually think was that jaw-dropping) to understand her wacky artistic visions.
Her looks never failed to turn heads...
And what we love about Gaga is that she is
always
reinventing herself; whether it's changing her hair, make-up, or wearing ten-inch heels... no one can pull off memorable looks quite like she can.
Now, Gaga is a woman of many talents...
A Star Is Born and American Horror Story.
But the star is also well immersed in the world of activism.
Born This Way Foundation
with her mother in 2011. The non-profit aims to create a "kinder" world by improving the understanding of mental wellbeing, creating safe spaces for youth and mental health first aid in educational establishments.
In September 2012, Gaga was awarded the LennonOno Grant For Peace from Yoko Ono for her work with the foundation.
All in all, Gaga has boasted an impressive career so far...
And it's safe to say that she's certainly made her mark on the world.
Including in the world of politics!
Gaga has been endorsing Biden from day one...
HEY TIM HEY @realDonaldTrump SO HAPPY IM GLAD TO BE LIVING RENT FREE in your HEAD. #BidenHarris… https://t.co/0dMvQQSgdj

— Lady Gaga (@Lady Gaga)1604272355.0
And she hasn't been afraid to let her opinions of President Donald Trump be known.
So, of course, she has been subject to some online backlash.
Because what Trump-bashing celebrity hasn't?
But in this instance, the abuse has been a little unusual, to say the least.
One Facebook user stirred up a trend of calling the singer a "witch" by accusing her of practicing both witchcraft and satanism. Yep, I told you it was unusual.
The post, written by Facebook user, Marcus Rogers, has garnered a lot of attention...
Mainly from other users who are firm in the belief that Gaga is indeed a witch and satanist.
Rogers - who is presumed to be a Trump supporter - wrote this:
"Lady Gaga joined Joe Biden at the last minute. Lady Gaga is a high ranking witch in the music industry. Look at her close connections with Marina Abramovic who does the soul cooking where they eat the food shaped like bodies. Very demonic. These are real-life WITCHES."
The post also made reference to Biden campaign slogans, suggesting they were a cover for satanism. 
You can read the full thing above. For more on the election, keep scrolling to see the shocking precautions the White House has taken as the votes are counted...