When you go to a concert, you don't expect to get carried out by paramedics.
And you certainly don't expect a superstar to stop the whole show to make sure you're OK, but that's exactly what happened to Lady Gaga superfan Meredith Melendez!
We have a feeling the injury (from which she made a complete recovery!) may have been totally worth it.
Lady Gaga's fans are almost as intense as Lady Gaga herself.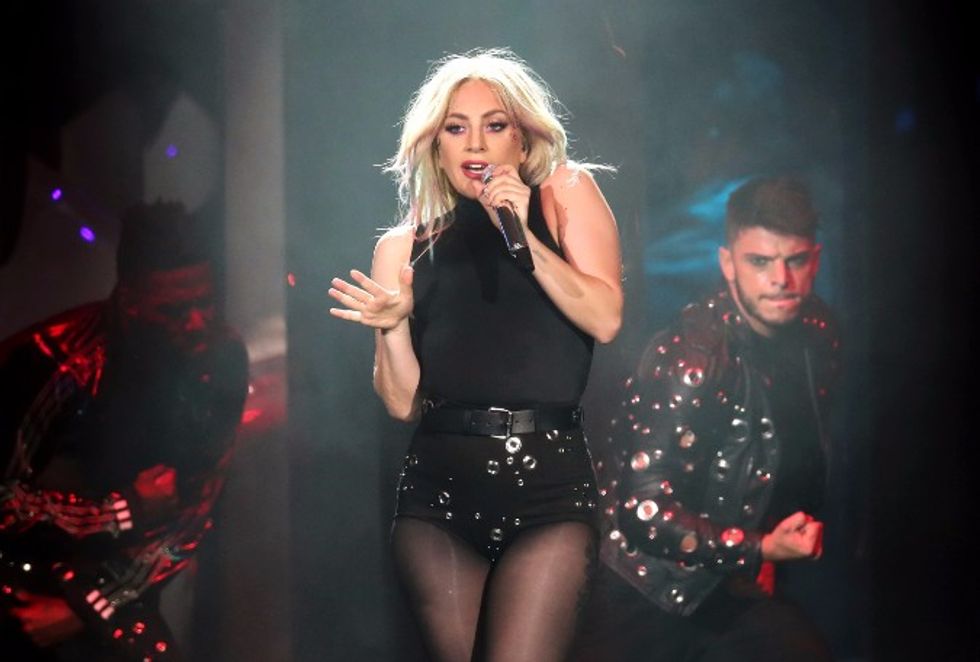 via: Getty
Almost. (Seriously. Who could compete with Mother Monster herself?) So it's no surprise that every once in awhile, things get a little out of hand at her concerts. Earlier this week, Lady Gaga was performing in Connecticut as part of her Joanne World Tour when one fan accidentally elbowed Meredith Melendez in the face.
Lady Gaga saw the entire incident go down and immediately stopped singing to check on the fan. Here's the video from the show:
VIDEO: A fan was hit in the face & started bleeding during tonight's show, so Lady Gaga stopped the show to make su… https://t.co/C3EItTyXDy

— Lady Gaga Updates (@Lady Gaga Updates)1510458502.0
While her backup dancers sat on the stage mid-dance move, Lady Gaga asked Meredith if she was OK and said, "Meredith, I'm so sorry you got hit in the face and that you're bleeding." As Meredith was led away from the crowd by a medical team, Lady Gaga said, "What we all need to remember is that there are some things that are more important than show business." She then said, "Make sure to get that girl a backstage pass, too."
People are pointing to the incident as evidence that Lady Gaga is more than just a great performer. She's also a great person.
Lady Gaga truly went above and beyond to make sure her fan was OK. It's so nice to see famous people prove that the fame hasn't completely gone to their head. Not that we ever had any doubts about Lady Gaga, of course. She's always been a real class act.
Meredith eventually replied to the tweet with the video saying that she's doing just fine now.
@ladygaga_JWT @ladygaga That was me guys! I'm Meredith.. And let me tell you, she was the sweetest celebrity I thi… https://t.co/P0USpOOwKD

— Meredith Melendez (@Meredith Melendez)1510651086.0
"I'll never forget my 25th bday present," she wrote. "Gaga is amazing and a hell of a performer." We'll say!
Other fans have already started plotting their own methods of getting noticed at Lady Gaga's next show.
Brilliant plan! If you can't afford a backstage pass, just ask someone to punch you in the face!* *Do not do this. This is a bad idea.